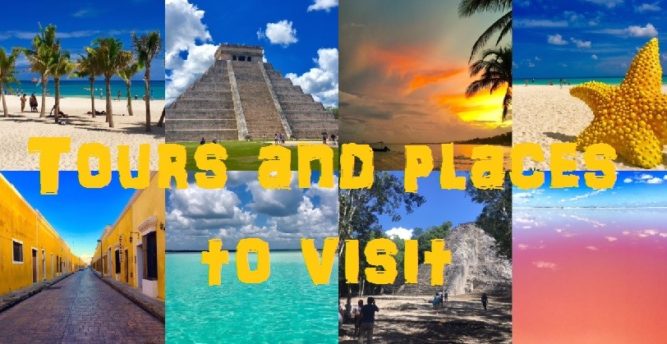 Playa Del Carmen tours and places to go
If you are coming to Playa Del Carmen or the Riviera Maya you no doubt are thinking about what to do here. There are a lot of Playa Del Carmen tours to choose from as well as places to visit. We wanted to make a big guide for you so you can choose where you want to go and make plans. In this guide we will talk about the best tours for Mayan ruins, cenote tours, what the best parks of Xcaret are and more!
Also be sure to read our article on booking tours in Playa Del Carmen and what is the best way. In our popular tours from Playa Del Carmen article you can see what are some of the top tours in the area.
Here is how to use the guide for tours from Playa Del Carmen
Below is our interactive map that we made for you. This map has all the places we have been and tours we have taken. When you click on the markers, a description will pop up along with a photo or video.
The markers are color coded for your ease of finding what tours you might be looking for
Here is the key:
Green is a destination you can go or take a tour from Playa Del Carmen.

Dark blue is a town,city or island that you can visit. Some of these have tours that visit them as well or you can take a bus, ferry or drive there to explore on your own.

Light blue is for cenotes.

Brown color is for Mayan ruins.

Yellow is for  beaches you can visit.

Orange is for museums.
We have also added "$" signs to give you some indication of how much the tour cost
Prices only give you a very general expectation of what it cost. But, please do not judge tours by price only. Some more expensive tours are really worth it and 4 times better then a slightly cheaper tour. Here is the key to our prices guide:
$-this means it is under $25 USD or a very inexpensive activity.
$$-this means this tour or activity can cost between $25-50 USD.
$$$-this means you should expect to pay around $50-100 USD.
$$$$-this means it is over $100 USD.
Playa Del Carmen Tours and places to visit
Shows in the Riviera Maya
If you prefer to see a show of perhaps a dinner show, here are some options.
Cirque du Soleil  $$$-$$$$
This is a permanent theater in the Riviera Maya and the show is year round except when they take a short break. You can buy several types of tickets to this show. You can come for just the show or have dinner and see the show. For more photos and information on what it is like to see the Cirque du Soleil show you can see our article here.
To check prices or book, click the photo below.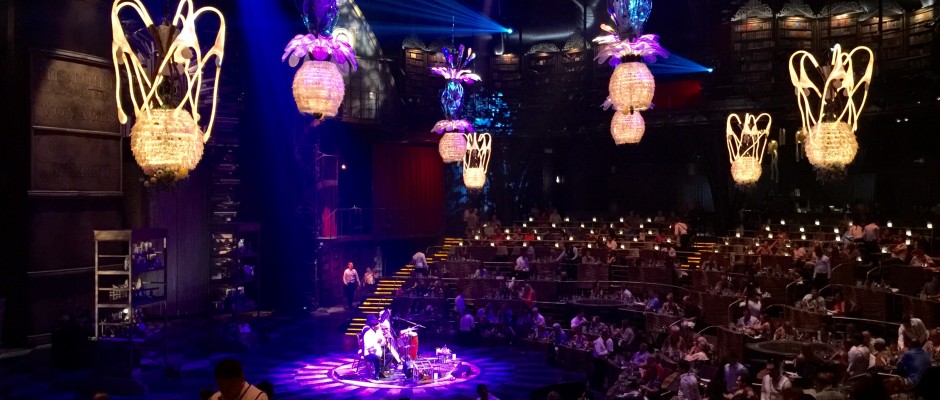 Rauxa Show and Dinner $$$$
This is a high quality show and gourmet dinner for those looking for a nice night out. Rauxa is located between Playa Del Carmen and Tulum at the Catalonia Royal Tulum Hotel. For more on Rauxa Show see our link here.

Take a Playa Del Carmen tour to an adventure park
There are three large parks to visit from Playa Del Carmen all owned by Xcaret. There are also parks owned by allTOURnative. Here are your options.
Xplor Park $$$$
Xplor is the most exciting active park in the Riviera Maya! The park is designed very well and offers you two different zip line courses. You will be going down some of the longest and highest lines, even going through waterfalls! The other activities include driving through the jungle which include tunnels and some water, paddling in the underground rivers and swimming in the caves. All food and drinks are included in the price of this ticket. The only extras are photos and souvenirs. This park is a full day of activity from 9:00am-6:00pm.
To book tickets you can click the link below. You get the official price here. Tip: Book online and in advance to get a discount!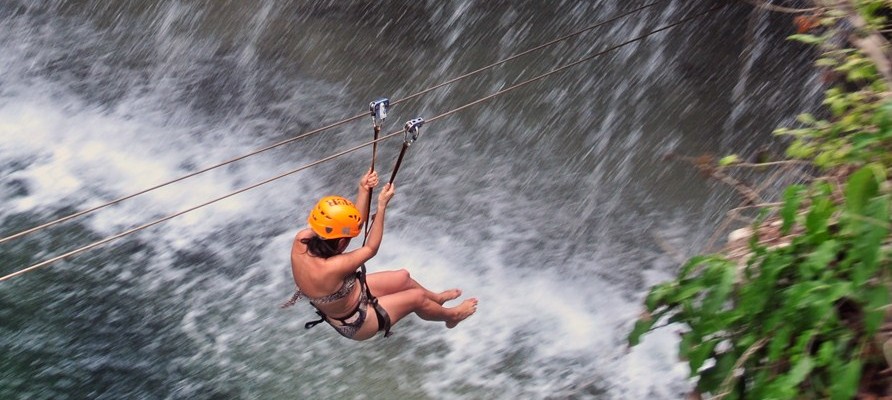 Xcaret Park $$$$
What is Xcaret Park? Is it all rides and like a theme park? No, it is not like that. It is a unique park that features a little history, it highlights the nature beauty of the flora and fauna and Mexican culture. This might sound a little boring but it is not at all! You can explore all day and not even see everything here. It is presented in a fun and interesting way.At the end of the night there is a grand show that features traditional dancing from around Mexico and has a storyline of part of how Mexico came to be what it is today. For more information and photos you can see our article on Xcaret here.
Best way to get tickets for Xcaret park
It is best to purchase tickets online for two reasons:
You save time in line when you arrive.
It is possible to save 15% buying tickets in advance.
You can go directly to the Xcaret website here and get the best prices available. Look at all the ticket options and see if you want to book transportation. Just click the link below with the photo.

Xel-Ha Park $$$$
Xel-Ha is all about swimming and snorkeling all day in this very large inlet. This is one of the big three parks to visit in the Rivera Maya. The others are Xcaret and Xplor.
At Xel-Ha you can snorkel and see fish, float in rafts, walk on the floating bridge, take a walk on the nature trail, bike, have the kids enjoy the special play area, and swim into some caves. All your food and drinks including alcoholic drinks are included in the ticket price.
How to get the best deal on tickets to Xel-Ha
You can buy your tickets online here by clicking the link below. This is the official site and you will get the best prices here. Tip: If you book ahead you can save 15% off your ticket! Don't wait until the last minute.


allTOURnative Emotions ATV Park $$$
Many people just think ATV's are a tour where you drive fast through the woods and kick up some dust. This tour is much more then that. This tour takes you through virgin forest and you stop at a traditional Mayan house. You get to walk around it and see the local flora and fauna. Then you will experience a traditional Mayan ceremony before going for a swim in a beautiful crystal clear cenote. You will also see some small Mayan ruins on this property. To see photos of this ATV tour and more information, see our article here.
Jungle Maya Park $$$$
This is allTOURnative's most active tour. You will start by arriving at the park and load into huge jeeps. These will bump along through the woods for several kilometers. Once you are deep in the woods you will unload and visit some cenotes and swim in them as well. One of the cenotes you will repel into. You will also zip line around the property and have a meal of Mayan food.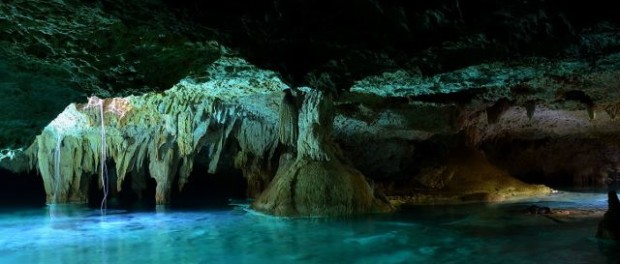 Bike Tours from Playa Del Carmen
Maybe you like to be a little active while on vacation. Bike tours are a great eco friendly way to get our and see nature. Check out these great Playa Del Carmen tours!
MTB Bike Tour $$
This is a great local company that does bike tours into the Mayan jungle. These tours are about 3 1/2-4 hours long. These tours have a meeting point just outside of Playa Del Carmen. At the end of your tour they stop in a beautiful cenote for you to swim in. You can read about this bike tour here and also see our video.
Cozumel Electric Bike Tour on the East Coast $$$
Do you know what the east side fo Cozumel looks like? It is beautiful! See our article here that will show you what this Cozumel Bike tour is like. This tour is 4 hours long and includes lunch.
Valladolid Bike Tour $
Bikers Zaci is a tour by passionate biker. They love showing people the rural Mayan countryside around Valladolid. For more on this bike tour, see our article here.
Playa Del Carmen tours for fishing
Fishing Tour from Playa Del Carmen $$$$
Many people ask about going out fishing from Playa Del Carmen and the good thing is that this is a year round activity here. Fishing tours leave right from the center of town. One of our recommended companies is La Reina Sport Fishing Rivera Maya. They have one of the larger fishing boats and have good service. They do private charters and you can do different lengths of fishing tours. You can do trolling or deep sea fishing. For more on this fishing tour, you can see our article here.
Catamaran Tours From Playa Del Carmen
Fat Cat Catamaran $$$$
This is a catamaran tour that leaves from Puerto Aventuras. This tour takes you up the coast to snorkel and then stops at another location where you can swim. For more on the tour see our article here.
Catamaya Catamaran Tour $$$$
Going out on the water is a great way to enjoy the Rivera Maya and this cruise will not disappoint. This catamaran is large and glides across the water. It is so relaxing on the front of the boat especially as you lie there in the net.
They take you to a good snorkel spot where you can see some coral, tropical fish and sea turtles. After snorkeling you have your meal ready for you and drinks aboard the catamaran. After that you can enjoy your sailing back to Puerto Aventuras. For more about what it is like you can read our article about Catamaya Catamaran here. See this article here for a special price!
Snorkeling or diving tours from Playa Del Carmen
Snorkeling the reef off Puerto Morelos $$$
Seeing the underwater world of the reefs is a highlight for many coming to the Riviera Maya. This tour will take you to Puerto Morelos where you will go just off the coast and snorkel. You will see lots of coral and fish on this snorkel adventure.
You can read about this Snorkeling Adventure Tour here and the article has information on how to book this tour. If you book this tour, transportation is included from your hotel or where you are staying.
We currently have two dive tour companies in the Playa Del Carmen area that we recommend. These dive shops offer dives in cenotes, off the coast of Playa Del Carmen and also Cozumel. The first one we recommend is:
Blue Life Dive Shop $$$$
To read more about this dive shop see our article here.
Tank Ha Dive shop $$$$
To read more about this dive shop see our article here.
Cenote tours
Private Cenote Tour
Cenote Ixtlan is a remote cenote that is only open by a private tour. You can see this beautiful cenote or visit other cenotes in the area. For more on Cenote Ixtlan, see our article here.
Tours on Isla Holbox
Cabo Catoche Tour $$$
This tour will take you up the coast of Isla Holbox to see a remote part of the island. You will start by trying your hand at some fishing. The fish that are caught are made into ceviche for you. You then will snorkel just off the coast. Here you will see manta rays, sea turtles and a lot of tropical fish. After you snorkel you will be shown some of the mangrove areas of Isla Holbox and then have that fresh made ceviche. For more about this tour to Cabo Catoche including our video of it, see our article here.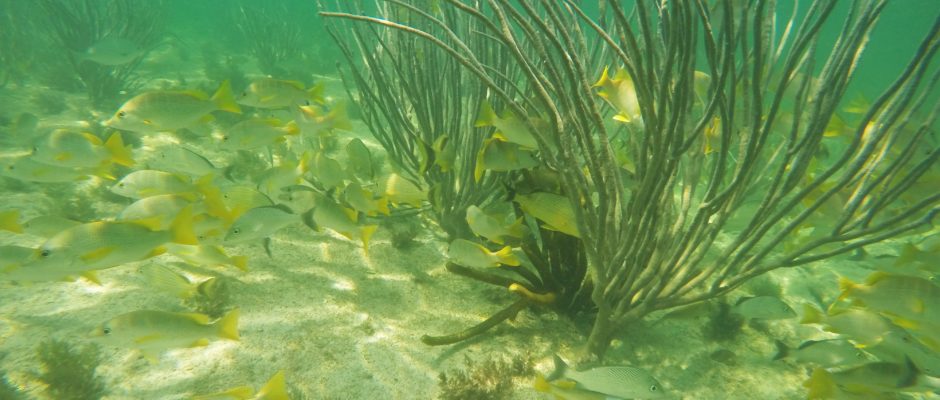 Three Island Tour $$
This tour will take you from Holbox to visit three points around the island. You will go to bird island where you can see many native birds nesting and feeding. This island is very populated with birds and you just might get to see some flamingos. The second point is a stop at a cenote where you can swim and the last stop is to Passion Island, a small island where you can also see birds. Around Passion Island you might get to see feeding flamingos in the shallow waters and your boat guide will slowly pass by them making for good photo ops.
Eco Tours and Cultural Tours from Playa Del Carmen
Ta'akbil Ja $$
This is a new and upcoming eco tourism area. Here you can go through caves and cenotes. You can even rappel here. This tour is very affordable but you do need to get to this area. For more about this tour of Ta'akbil Ja see our article here.
Lol Tun Caves  $$
The Lol Tun Caves are the largest in the Yucatan Peninsula. They are located in the south western portion of the peninsula. These caves are so large you should plan on being here an hour or more. This is a far area from Playa Del Carmen and often these caves are visited by driving the Ruta Puuc tourist circuit which is just south of Merida and involves seeing haciendas and the Mayan ruins of Uxmal. See our article for a detailed map and more information on these caves. There are really not any tour companies that take people here, only specialty guides or tours, so plan on driving yourself here.
Punta Laguna Tour $$-$$$
Punta Laguna is a community effort to support the natural exploration of the area. There are Mayan pueblos in the area that work this area. There are several activities you can do here:
Rappelling into a cenote.
Canoeing on the lagoon.
A zip line.
Nature walk and seeing Spider monkeys.
How to get to Punta Laguna
From Tulum you will drive toward Coba on the road marked 109 on maps. When you arrive at the traffic circle with the turn to Coba you will take a right and go toward Punta Laguna. This road is narrow and goes through a few very small communities. Watch for speed bumps. It is about 17 kilometers to the Punta Laguna area. It will be on the left hand side. There is a large sign announcing it.
Once you arrive there you can book directly with the people at the entrance.
If you want to visit this area with a tour you can look at the option below that also visits Coba ruins. This tour gives you a full day exploring the Mayan world and having fun too!

Mayan Inland Expedition from Tulum: Punta Laguna and Coba Ruins
Cities, Towns and Islands to Visit
Rio Lagartos
Rio Lagartos is a fishing village at the north tip of the Yucatan Peninsula. While it is charming in its own simple way, the real thing to do here is enjoy the surrounding nature preserve. Many of the local fisherman do tours into the ria (place where the ocean forms like a river) to see wildlife and especially flamingos. To see more about this town and tour see our article here.You can click the link below to see if this is something you are interested in.

Private Tour: Flamingos, Mayan Temples, Rio Lagartos and Ek Balam
El Cuyo
El Cuyo is a small fishing village on a peninsula that just happens to have a nice beach. The waters here are not as turquoise and the Caribbean but still nice. This is a sleepy town and has just a few places to eat and not much else going on. Kite surfing is the major tourist draw here and the few eco tours you can take. For more photos and information on El Cuyo, see our article here.
Isla Holbox
Holbox Island has been gaining in popularity due to stunning instagram photos and the tranquil shallow waters off the beach. This is a laid back Mexican Caribbean island where people drive golf carts around on sand streets and thatched roof hotels dot the coast. The vibe her is more relaxed and there are a good amount of well traveled people that come here. It is similar to Tulum with atmosphere but not as busy as Tulum. For photos and a video of what Holbox is like, see our article here.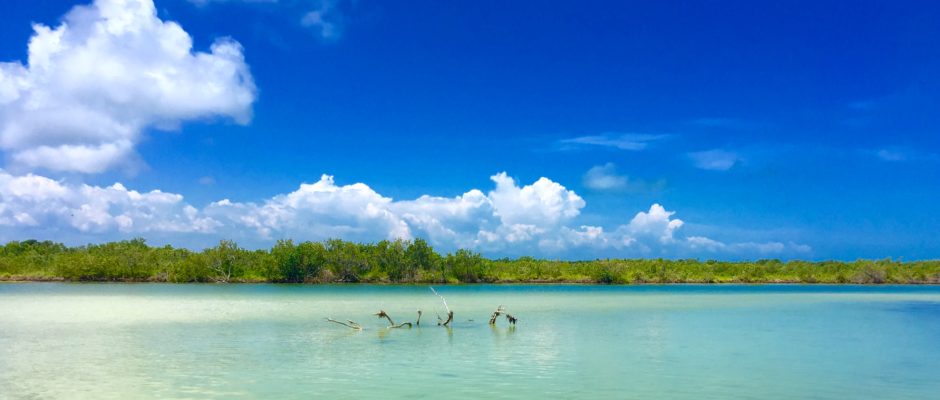 Isla Mujeres
Isla Mujeres is a small island off the coast of Cancun. On one end there is the main town and the best beach and on the other is a rocky bluff where there is a little remains of a Mayan ruin.
Some people come to stay here on vacation but most come here on a day trip to soak in the small island charm. For more photos of Isla Mujeres and information, see our article here.
This is not a remote Caribbean island but rather almost a suburb of Cancun. Here is what we recommend you do when visiting:
It is fun to drive a golf cart around and visit the southern end of the island where there are some bluffs.
On the north end of the island is the most beautiful beach and a popular place to take some photos and a dip in the ocean
Shopping is pretty much going to be the same tourist souvenirs you find in Cancun, so don't expect much different things. But do walk the pedestrian street in the middle of the island and take in the charm of some of the colorful small houses.
Las Coloradas
This is a small town know for the pools of pink water. There is not much to see here except the amazing waters but because it is so unique people go here to get awesome photos. To read more about going here see our article on Las Coloradas.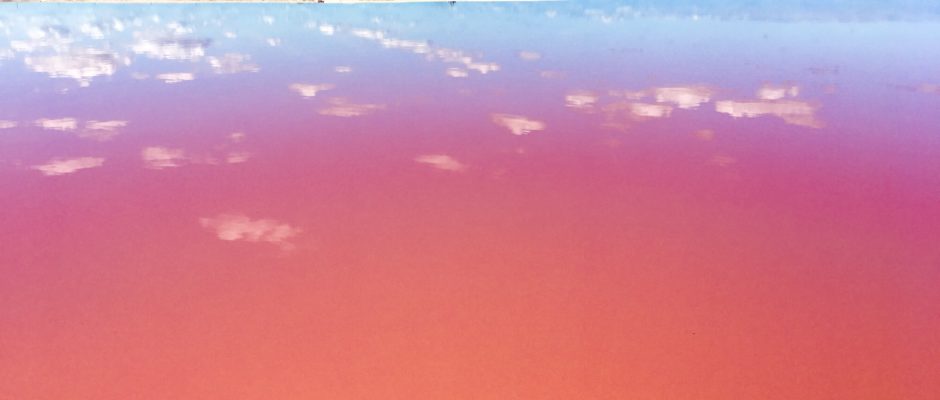 Cancun
Cancun is the largest city in the state and the place where most everyone flies into. So what does this large city have? Well for tourist it does not have much to offer except the Hotel Zone with it's beaches and clubs. The downtown does not really hold much for tourist and there is not much reason to visit just the downtown.
There are just a few specialty things that Cancun has to offer. For more about Cancun, see our article "Why go to Cancun?".
Puerto Morelos
This was once a more sleepy fishing village until more people discovered it was a nice escape from Cancun and there was beachfront. Now the town is half along the highway and the richer side is along the beachfront.
There is a small town center and a few restaurants here. One of the best draws is the affordable snorkeling off the coast.
San Miguel Cozumel
San Miguel is the main town on Cozumel and it serves as a jumping off point from the ferry and some of the cruise ships. Mostly this waterfront area is lined with jewelry stores and tourist traps for cruise people. The town itself is not particularly charming and only one main square is painted bright Caribbean colors.
Most of the tourist attractions are outside of town. The most popular thing to do is rent a car or scooters and drive the loop around the island. This can be done in two hours depending on how much you stop.
How to get to Cozumel
Cozumel can be reached by international flights or by a small airline company from Cancun airport. Otherwise you will be taking the ferry across from Playa Del Camren. For more on where the ferry is, parking and how to do it, see our article here on the Cozumel ferry.
Tihosuco
This is a small town well off the beaten tourist path. The town is famous for the Museum of the War of the Caste and the church in the central square. This area is also full of Mayan culture and if you look for it, you can find some interesting cultural activities. To learn more about Tihosuco and see our video, see our article here.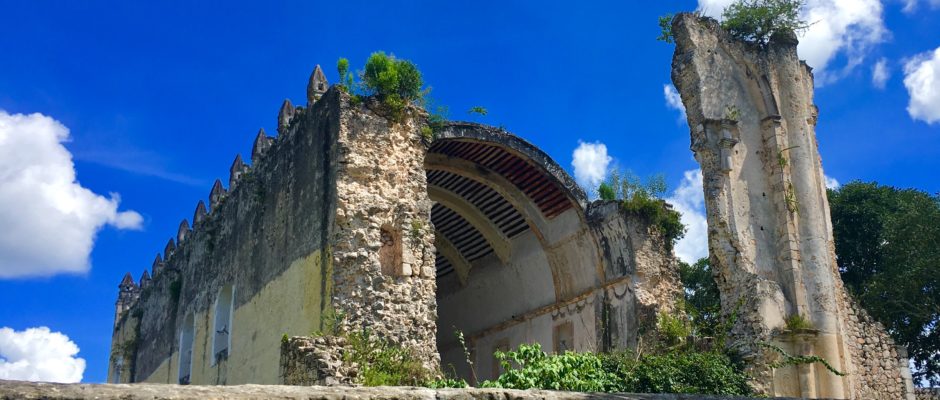 Tulum
Tulum is actually in three parts. There is the section with the ruins, the town along the highway and the beach front area including what is nicknamed the Hotel Zone.
The downtown or part along the highway has most restaurants and shops along this corridor. You can walk around on the main street but the best part or most desirable part is the individual areas of the Hotel Zone and the beaches. For more information on Tulum and photos, see our article here.
The other part of Tulum is what is called the Hotel Zone along the beach road. This area is popular with celebrities and people that like a little bohemian chic area. If you go here you should have a plan to visit a beach club for the day and have a meal and drinks.
Valladolid
Valladolid is a colonial town in the Mayan center of the Yucatan Peninsula. This small city is almost like a living museum with people walking around in traditional Mayan dress and reciting many customs that are centuries old. There is a lot of history here and colorful colonial buildings to see.
Valladolid is near to both Chichen Itza Mayan ruins and Ek Balam ruins and many cenotes are in the area, so this town makes a good base for exploring.
This town makes for a good base to explore the area or to spend the night before or after visiting Chichen Itza or Ek Balam ruins. For more on what is around Valladolid, see our article on things to see outside of town.
This town is great for people that like to dig a little deeper into the culture. For more about Valladolid and photos, see our article here.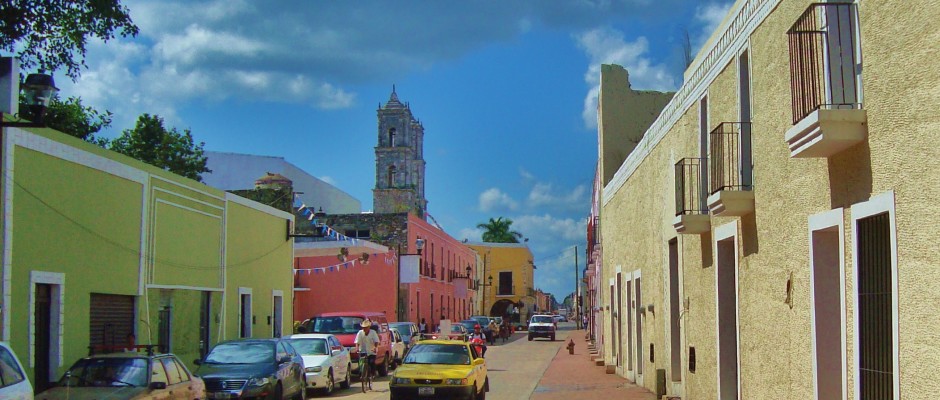 Izamal
Izamal is the yellow city. This colonial town was mostly painted yellow and is considered a Pueblo Magico. A day trip or overnight will allow you to take in the charm of this town. There are Mayan pyramids to climb, traditional restaurants and colonial architecture to see. For a complete list of things to do and see in Izamal, see our article here.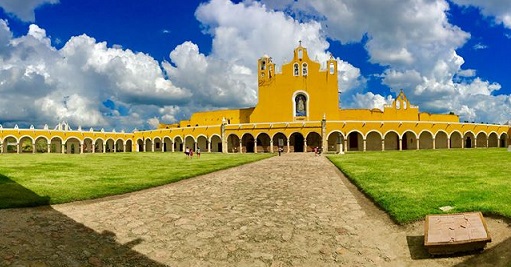 Merida
Merida is the capital of Yucatan state and a great colonial city to visit. For more on visiting Merida and a video guide, see our article here.
Bacalar
Bacalar is the town next to Laguna Bacalar. This lagoon is known as the lake of seven colors because the different shades of water.  When it is a nice sunny day this place is very photogenic. When it is rainy it can seem like you came to the wrong place and there is not much to do.
Besides the lake, the town is rather sleepy and this area only offers a few Mayan ruins nearby and some nice small hotels on the lakefront. For amazing photos and more information on Bacalar, see our article here.
Mahahual and Xcalak
Mahahual is a small fishing town that has a beautiful reef. The town was practically wiped our by past hurricanes so it is not architecturally charming. The true beauty is walking next to the ocean and observing the tranquil waters. This is a good place to come for an overnight or longer if you plan on snorkeling or diving.
Xcalak is further south at the end of the state. It is very remote and lost in time. Only a few brave souls have set up camp here and some offer guest houses. The ocean is so calm when you look in the water you see many fish and snails.  For more on Xcalak and Mahahual, see our article here.
Mayan Ruins to visit on a tour from Playa Del Carmen
Mayan ruins are usually on everyone's list for Playa Del Carmen tours to check out. Here are all the Mayan ruins you can visit and what ones might be best for you. Most have tours to them but some of them are better if you drive yourself. You can compare which if the Mayan ruins might be best for you to visit by reading our article here.
Chichen Itza $-$$$$
This is the most visited of all the Mayan ruins with about 1.4 million people coming here each year.  This site is large and takes over an hour to walk around. Much of these Mayan ruins are restored or in good condition
How to get to Chichen Itza or book this tour
There are so many tours from Playa Del Carmen that go here it can be hard to pick one. It should be noted that this ruin site is almost 3 hours away from both Cancun and Playa Del Carmen. The tour below stops at one cenote and you get a buffet lunch included in your tour.  To see more photos and read more information see our article here on Chichen Itza.

Chichen Itza Day Trip from Playa del Carmen
Both of these tours are good options if you want a tour to Chichen Itza.

Tour Xichen Clasico
Ek Balam Mayan Ruins $-$$$$
These ruins only opened up in the past two decades and are smaller then Chichen Itza. The site is fairly compact and you are able to climb on many of the buildings including the largest one. From the top you get a great view of the Yucatan.
There is also a large cenote off on a trail from the entrance of this cenote. You can visit the ruins and also pay for the entrance to the cenote if you want to cool off and swim afterward. To see photos of Ek Balam and more information, see our article here.
Here is one tour that we have taken and recommend for visiting Ek Balam.

Ek Balam Tour from Cancun Including Cenote Maya Park
El Meco Mayan Ruins $
This is a small size ruins just on the outskirts of Cancun. It gets forgotten about but is fairly well restored and while it does not really replace a trip to one of the other large Maya ruin site, it can be worth a stop at. To see more about El Meco, see our article here.
Coba Mayan Ruins $-$$$$
Coba ruins are unique because they are in more dense woods and you can see how the jungle has wrapped itself around these buildings. You can feel like a bit of an explorer when visiting. Another thing that makes these ruins unique is the fact you can ride bikes between the sites. You are able to climb the main pyramid or temple.
If you want to visit these ruins with a tour we recommend this tour below. Click the link for more details.

Coba Mayan Treasures Tour
This really is one of our preferred ruins to visit. We like the tall trees around and the fact that you can ride bikes through the woods to the different parts of the ruins. It is also great you can climb the tall pyramid or temple. Because of the setting and the fact they are less busy with people, we suggest you go here either as a first option for seeing a ruin site or if you have been to Chichen Itza, go here next. For more information on Coba ruins and photos, see our article here.
Tulum Mayan Ruins $-$$$$
Tulum ruins are famous because they look out over the turquoise sea. The ruins themselves are a small walled area and lets be honest, most people just come for the photos of the ocean.
You can drive to these ruins from Playa Del Carmen. Drive south on the 307 Highway and the ruins are just before you get into town on your left. You will enter the parking area market with the large TULUM sign . Parking is getting more expensive here all the time.
For public transportation you can take the colectivos or ADO bus. To see how to do this, see our complete Tulum guide here.
Here are two Playa Del Carmen tour options we recommend.

Tulum Ruins and Akumal Turtles Combo Tour


Viator Exclusive: Early Access to Tulum Ruins from Playa del Carmen with Archeologist
To read more about Tulum ruins, see our guide to planning your trip there.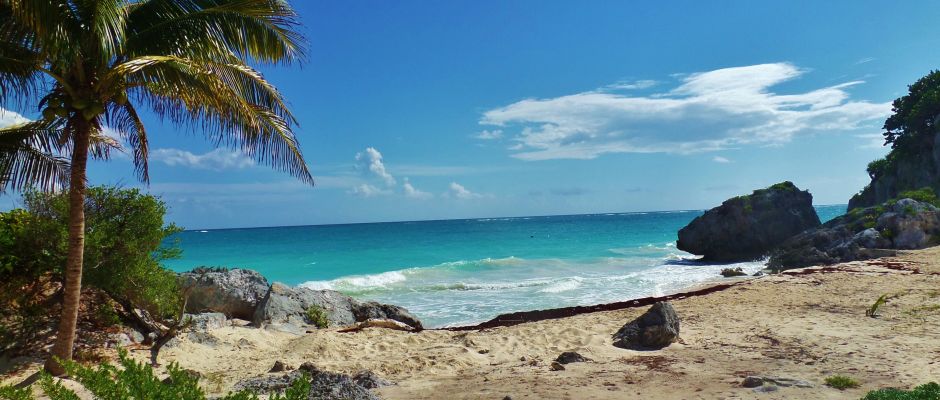 Muyil Mayan Ruins $
Muyil is a smaller size Mayan ruin site just south of Tulum. This site is not visited much. The site is very clean and has some structures in the woods.  Behind the main Castillo is a trail into the woods that has a boardwalk to Sian Ka'an nature preserve. Make sure you take this trail and pay the separate entrance for this. For more on Muyil and photos, see our article here.
Muyil is so little visited and overshadowed by Tulum that there are not many tours that go here. One tour we do recommend takes you to Muyil ruins and also to the Sian Ka'an reserve. This is an eco tour and you will get to see this untouched natural area along with visiting the ruins. Click the link below for more information on this tour.

Sian Ka'an Biosphere Reserve Eco-Adventure Including Muyil Ruins

If you drive here follow the 307 Highway south out of Tulum for 17 kilometers. On your left will be a small sign and you will see the free parking lot
Chacchoben Mayan Ruins $
Chacchoben ruins are situated in the southern end of Quintana Roo. This area has several nice Mayan ruin sites but they are seldom visited.  The settings for these ruins is quite nice because of the green fields and jungle like surroundings.
There are a large ruin complex and a good place to stop if you are in the area perhaps visiting Bacalar or Mahahual.  To see photos and more information for Chacchoben ruins see our article here.
Calakmul Mayan Ruins $
These Mayan ruins are some of the most remote to get to but are rewarding is you go. Buried deep in the jungle, these ruins boast many structures including tall pyramids. You are able to climb the ruins and see the surrounding roof of the jungle with other pyramids peaking out.
Where are the Cenotes to Visit
Cenote Cristolino $
This is one of three cenotes that are good to visit from Playa Del Carmen. All three have crystal clear waters and all three are in a row along the 307 Highway. The cenotes are Cristalino, Azul and El Jardin. To see what makes this one a little different see our article here on Cenote Cristalino.
Cenote Azul $
This is one of three cenotes that are good to visit from Playa Del Carmen. All three have crystal clear waters and all three are in a row along the 307 Highway. The cenotes are Cristalino, Azul and El Jardin. For photos of Cenote Azul and more information, see our article here.
Cenote El Jardin $
This is a medium size cenote a cenotes go. It is open and surrounded by nice plants. There are platforms and rock ledges to jump off into this cenote.  One end  is pretty deep and overall this cenote is about 15 feet deep. There are a lot of things to see with snorkels here and large rocks in the middle of the cenote where you can sit in the water and rest from swimming. To see photos of this cenote and what makes it different from the others, see our article here.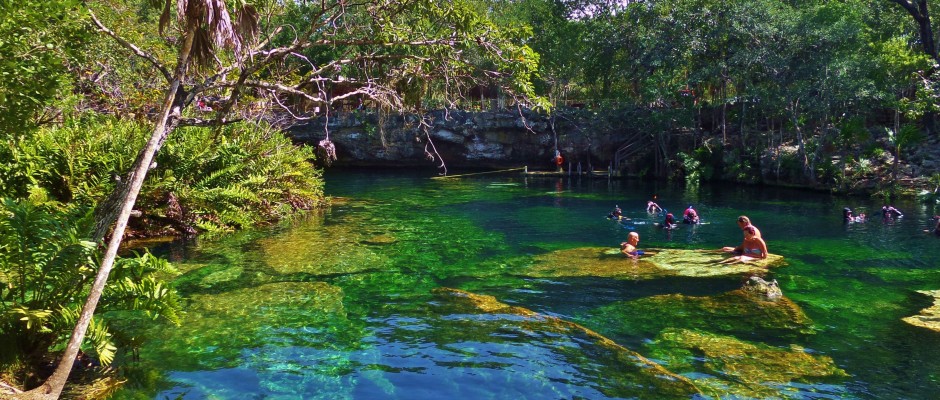 Cenote Xunaan-Ha $
This cenote is in the community of Chemuyil between Playa Del Carmen and Tulum. It is a small open cenote with clear water. This cenote is fairly deep and surrounded by big ferns and tropical plants. It is not that well know and a beautiful place to come to. There are local tours that come here about twice a day and some divers, but other then that you have the place pretty much to yourself.
This cenote is in the community of Chemuyil between Playa Del Carmen and Tulum. For a map and more detailed directions see our article about Cenote Xunaan-Ha here.
Cenote Xux Ha $
This is a deep cenote where the roof has collapsed. There are steep steps going down into it and a small island in the middle. It is possible to swim here but the water is not the clearest. It is nice to be deep down and see the roots from the trees stretching down to drink. This cenote is run by a rural family and the walk and atmosphere is more remote feeling.
You will need a car to get here. It is off the old 180 road between Chemax and Valladolid. See the map on in our article and more photos of Cenote Xux Ha here.
Cenote Encantado $
This cenote looks like a large lake and you might be fooled if you did not know better. It is dark in color and a good place to swim but you cannot see too deep in it. This cenote is not visited as much as at the far south end of the Hotel Zone in Tulum. It is on the back of two properties and only a few people stop by here for a dip. For photos of this cenote see our article here.
Cenote Zacil-Ha $
This small cenote is on the road from Tulum to Coba. This cenote looks like a swimming pool and has crystal clear water. Around this cenote are pavilions and people come here to relax with their families. There is a small store for soda and chips and a restaurant is open sometime.
Cenote Zacil-Ha is on the Tulum/Coba road. It is about 8.5 kilometers from Tulum. You will need a car to drive here. If coming from Tulum the cenote will be on your left. For a map and photos of Cenote Zacil-Ha, see our article here.
Cenote Cenotes of Coba $
These are three cenotes near the community of Coba and the Mayan ruins. Each of the three are different and offer  swimming or looking at a cenote. All of these cenotes are underground in caves.
You will pass through the town of Coba and around the lake. There are some signs that point you in the direction. A new paved road take you to these. A good map and further directions are in our article about the cenotes of Coba here.
Laguna Kaan Luum $
Although this is called a lagoon, it is a cenote in the center that spills out and makes a lagoon to swim in. This is a nice hidden place to discover just south of Tulum. For more about visiting Kaan Luum Lagoon, see our article here.
Cenote Maya $$
Cenote Maya is the largest cenote in the Yucatan.  Here you can rappel down into the cenote, swim, use a zip line and jump off platforms. The park area is designed very well and this is a great representation of the Yucatan environment. You can see photos and our video of Cenote Maya here
This cenote is on the outskirts of Valladolid in Yucatan State. It is hard to find and best if you go with a tour. The cenote area is a park. You can book a tour here that also includes a tour to Ek Balam. Just click the link below.
Beach Destinations
The map above has a few beaches to visit. Many of these beaches do not have much more then just a beach to visit. Of course there are many places with the beach to visit so we will mention these as well at the bottom of this list.
Isla Blanca
This  peninsula is a beautiful place to go to the beach. This beach is just north of Cancun. There are several places to stop and go to the beach when driving out on the peninsula. The best place is if you go to the end of Isla Blanca. This beach is more popular on Sundays with local families.
To get to this beach you will need to drive or find a taxi that is willing to take you there from downtown Cancun. It is about 40 minutes out of Cancun. For where Isla Blanca is and photos, see our article here.
Xpu Ha Beach $
This is a public beach club and access point to the beach. You pay at the entrance and have access to this beach club and area. There is a restaurant, bathrooms and parking. If you want to bring your own food and beach blankets you can.  For a video and photos of this beach, see our article here on Xpu Ha Beach.
Yal Ku Lagoon $
Yal Ku Lagoon is a natural inlet on the north end of Akumal. This area is shallow and where the fresh ground water flows into the ocean. This area is a park like area where you pay to enter and use the facilities.
Akumal Beach $-$$$
Akumal is a small beach town between Playa Del Carmen and Tulum that just happens to have very nice beaches and it is famous for swimming with the sea turtles. The beach has the town at one end and guest houses and a few bigger hotels. You will also see areas with markers where there is turtle nesting sites.
How to get to Akumal
The best way is to drive here yourself or take an organized tour to swim with the sea turtles.
If you drive to Akumal you head south on the 307 Highway. It is about 30 minutes to Akumal. There is a turn off and the town is about 3 minute drive from the highway.
If you want to go on this Playa Del Carmen tour and swim with the sea turtles we recommend the tour below. Click on the link for more details.

Turtles, Snorkeling and Cenotes Adventure in Akumal
Xcacel Beach $
This is one of two good options for visiting a beach that is not in a town or at a resort. This beach is more natural. There is also a very small cenote that you can dip into. For more photos and a video of Xcacel, see our article here.
Tulum Beaches
Tulum has some of the best beaches in the Riviera Maya. All along the coast in front of Tulum there are good beaches. On the north end you have flat and wide beaches with some beach bars. In the middle you have beach clubs. Then on the south end you have the start of Sian Ka'an nature reserve and there are some remote beaches you can access there like Playa Akun.
How to get to Tulum Beaches
The beach is actually a few kilometers from the downtown area. See our article "Tulum a Tale of two towns". You will need to go down Avenida Coba to the beach from the 307 Highway. When you reach a fork in the road you have the choice of going north or south. There are beach in either direction.
Other Beaches
The above are just some of the beach destinations to visit. Here are some other places to check out if you are a beach lover.
Best Playa Del Carmen Tours According To Us
Now that you have seen all these Playa Del Carmen tours and activities you might wonder what is the best one for you? Well, that is going to depend on your interest. Here are our top picks in different categories.
Do you have a question about which Playa Del Carmen tours are right for you? or did you just find this helpful? Let us know the comments below, we love hearing from readers and helping answer questions.