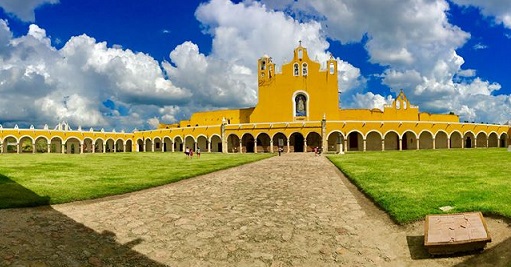 The Everything Guide To Visiting The Yellow City Of Izamal Yucatan
Izamal Yucatan is know as the yellow city and for good reason. You will find this charming colonial town awash in the color yellow. Izamal is also know as the city of hills for the pyramids that dot the town. these two facts make this an interesting place to visit among other things. Putting this city on your tour plans of the Yucatan will reward you with a visit to a unique place.
We like visiting this town because it is unique. It has a lot to offer the visitor and the residents have keeps up with preserving the history and culture of the area. We hope this guide helps you discover Izamal Yucatan on your next trip. (See the map at the end of the article for all the places mentioned).
Our video introduction to Izamal Yucatan
What things to do when visiting Izamal Yucatan
What is there to see in Izamal? Here are some things to check out when visiting.
Kinich Kak Moo Pyramid. (Also spelled Kinich Kakmo). There are five large remnants of pyramids in Izamal. This one is the largest Mayan pyramid you can visit in Izamal. In fact this pyramid has the largest footprint of any pyramid in the Yucatan, making it the largest by this estimate. Entrance is free and open daily from 8:00am-5:00pm. The first part is easy to climb but the second pyramid has a little bit more challenging steps. There are no railings or rope to balance you, so be careful climbing.
The Convent. This structure was actually built on an ancient Mayan pyramid. After the Spanish invaded Mexico this Mayan temple was partly leveled and constructed into this building. The convent was finished in 1561 and boast the second largest outdoor atrium in the world. The convent is open from 6:00am-8:00pm daily. A small museum is in the back of the church. This museum highlights the history of the building and commemorates the Popes visit in 1993. Entrance is 5 pesos.
Rent a bike to explore. The town if Izamal is small, but a nice way to see the streets is by renting a bike. You can rent bikes at the store Izamal Bikes and Crafts, located on the map below.
Take a horse drawn carriage. These tours can be longer or shorter. The longer tours allow you to get our and explore a bit and then get back on the carriage. Prices are negotiable. It is nice for you and the horses to take these later in the afternoon.
See the video mapping show at night. This show takes place three days a week. Like many things in small towns, the schedule and times change, so check with your hotel for the exact time and location.
Visit the Hoctun Cemetery. This cemetery is about 20 minutes out of Izamal but interesting enough to see. It is also on the way to Merida if you are going this way. What makes this cemetery so interesting is the decorative mausoleums and tombs. This is perhaps one of the most decorated cemeteries in the Yucatan Peninsula. You can see a few photos here in our gallery of cemeteries in Mexico.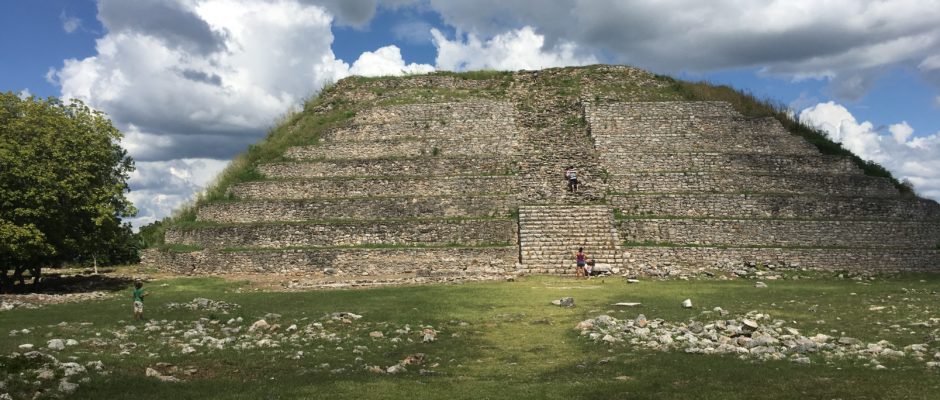 Restaurants that you should not miss when in Izamal
There are not a lot of restaurants in Izamal but there a few good ones to check out.
Kinich Restaurant
This is the main tourist restaurant in Izamal and where many people come for a nice meal. It may be the tourist location but it still is good on flavor and authenticity. We always stop here because of the atmosphere, regional dishes, value and handmade tortillas.
This restaurant is located on Calle 27 between 28 and 3o. Kinich Restaurant is open from 12:00 noon to 9:00pm daily. Here is a link to their Facebook Page.
Zamna Restaurant
This is a more recent option for a restaurant in Izamal. Here you can get authentic Yucatecan food. This even includes regional rabbit dishes which are the specialty of the house.
The interior is clean and regional feeling. This restaurant is larger and can handle groups.
The restaurant is on Calle 22 between 33 and 31. Zamna Restaurant is open from 12:00 noon to 8:00pm daily.
The Mercado of Izamal
If you are looking for something very local and low key, you can head over to the municipal market. Here among the vegetable stands, fresh meat and other items for sale, you can find small eateries. You can even find the famous deer tacos. Expect to eat at small plastic tables and for just a few pesos.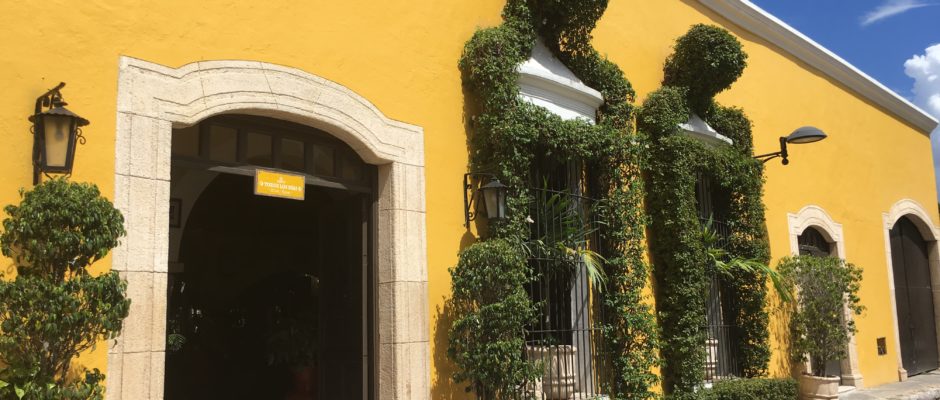 What crafts or things should you buy when here and where to find them
Small towns in Mexico often surprise you with local made things and craftsmen in small workshops. Here in Izamal you can find such things.
Taller de Madera or Woodcarving Workshop
Here you can meet Gabriel who has been working for about one decade carving things out of wood. He does Mayan mask and animals and also more detailed dolls and figures. All of his work is hand carved and painted. His shop is on Calle 21 between 22 and 24.
Centro Cultural Y Artisanal
This is where the Museum is for Izamal. There is a sampling of items mainly made in the Yucatan here. Things include jewelry and things made from henequen. Items sold here come from 16 local communities. There is no need to pay for entrance to the museum is you want to just visit the gift shop.
Raices Maya Henequen store and more
Henequen is a fiber that grows very well in the Yucatan. It was used for ship ropes for its durable properties. Nowadays it can be used for household items like lamps and rugs. This store just off the main plaza is a good stop to see what can be made out of henequen and what you might take home with you. We have a complete article about the use of henequen here.
Hecho A Mano
This store is chocked full of items made from around Mexico including the Yucatan. Hecho a Mano store is located in the lobby of the San Miguel Arcangel Hotel. The store is open from 9:00am-2:00pm Sunday to Friday and Saturdays from 5:00pm-9:00pm.
Izamal Bikes and Crafts
This store has bike rentals and also items made in the local area including many clothing options for women. The location of this store is on Call 31 between 30 and 32, just a few doors down from the Museum.
Kinich Restaurant
There is a nice gift selection also in the front of this restaurant. See the restaurant section for more details.
Hotels to stay the night in this colonial city
Hotels in Izamal range from budget to high end Hacienda. Here are a few to mention.
Hotel Real Izamal
This is a three story modern hotel that is out of the center of Izamal. The hotel is clean and slightly colonial looking. A small pool can be found in the courtyard, making this nice on hot days. This is good if you want a budget option and you have a car.
San Miguel Arcangel Hotel
San Miguel Archangel Hotel is right on one of the main squares and allows you to walk around and then easily go to your room to rest and head out again. This property is actually backed up against one of the pyramids in Izamal. The rooms are good value and this is also a budget option. The garden and public spaces are very nice and full of art.
Hotel Rinconada del Convento
This is in the center of Izamal with just 12 rooms. This hotel is a little step up from the previous hotels. A small pool and green space will relax you from your travels and touring around the city. From the back patio and roof of this hotel you have nice views of the convent.
Hacienda Hotel Santo Domingo
On the upper end of the hotel spectrum is this hotel. Sitting outside of the immediate center of Izamal, this hotel gives you a more spacious green property to enjoy. If you are taking the slow tour of the Yucatan and want to spend some time in a hammock or enjoying the pool, this might be a nice hotel for you. This hotel features a pool, restaurant and bar on property.
To check out these hotels as well as other options, see our deals finder for Izamal.


Where is Izamal and how do you get there?
There are a very few tour companies that will take you to Izamal, so it is good to plan on coming here yourself. The best way would be to drive yourself. The second way would be taking a public bus. Here is how to get to Izamal.
Driving directions to Izamal Yucatan
Driving from Playa Del Carmen to Izamal takes 2 hours and 47 minutes. You can take the new highway from Playa Del Carmen to Xcan which connects to the 180 Highway. This is a toll road and tolls will be 390 pesos one way. If you want to check the current tolls or the none toll roads to get to Izamal, see this handy government website: http://ttr.sct.gob.mx/mappir/
Public bus directions to Izamal
If you are coming by bus you can leave from Merida with direct busses to Izamal or from Cancun or Valladolid. Busses from Cancun take about 3:26 minutes. From Merida the bus takes 53 minutes. From Valladolid to Izamal the bus takes about 1 hour and 18 minutes.
There are no direct busses from Playa Del Carmen to Izamal. You would need to go to Cancun ADO Bus Station or take a bus to Valladolid and connect there.
Map of Izamal Yucatan
In the map below we marked the locations of the places mentioned in this article.
Looking to see more in the Yucatan and places from Playa Del Carmen? See our article on places to visit and tours here.
Have you been to Izamal? What did you think about it? Let us know in the comments below. We would love to hear from you.