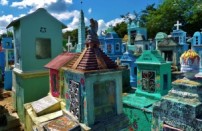 A look at cemeteries in Mexico
Death is commemorated differently all over the world. In Mexico is it s fusion of thousands of years of traditions all rolled into what most people call the "Day of the Dead" or "Hanal Pixan". Both of these holidays bring families to the cemetery. Cemeteries in Mexico are usually colorful and expressions of the culture. Here is our look at Mexican cemeteries.
Traditions at the cemetery in Mexico
Cemeteries are important because it is where Mexican families come to visit the souls of the departed. They bring gifts in hopes to attracts the souls of loved ones. At the cemeteries in Mexico the family will talk about humorous anecdotes that happened in the life with that family member. Great care is given to memorials and tombstones often with bright colors and interesting designs.
Cemeteries in the Yucatan Peninsula of Mexico
We wanted to bring you a gallery of notable cemeteries in the Yucatan. The closest one is in the park of Xcaret. There is a Mayan cemetery there that replicates and highlights many of the traditions. Toward the north tip of the Peninsula is the small town of San Felipe where there is a colorful cemetery. Hoctun Cemetery is also a notable stop for many tourist. It is located between Merida and Izamal. Memorials there include replicas of Chichen Itza and the Latin America Tower in Mexico City.
Be sure to check our other gallery of Halloween in Playa Del Carmen. It is a fusion of Mayan and Mexican customs all rolled into a fun holiday period.