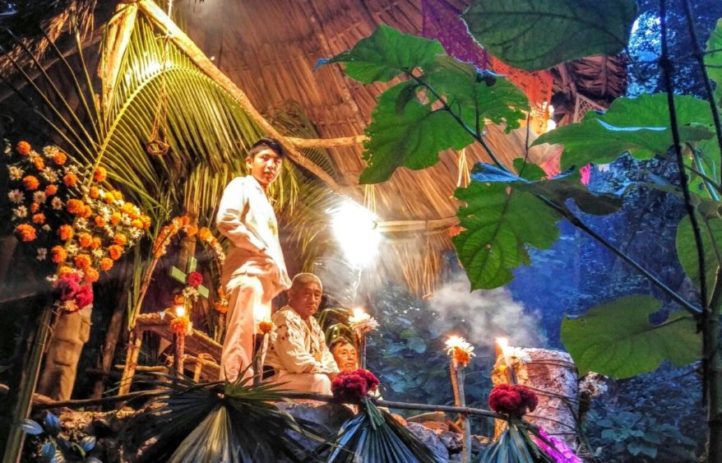 See Hanal Pixan in the Riviera Maya
Many people know the Mexican holiday of the Day of the Dead (Dia de los Muertos). This holiday was originally a fusion of cultures. Many indigenous communities have similar celebrations for the dead like the Maya. In our area of the Riviera Maya you can still see the Mayan celebration of Hanal Pixan which is the equivalent of Day of the Dead.
When you are in the Riviera Maya you will see the modern holiday of Halloween celebrated and Day of the Dead. You might want to see this more traditional celebration called Hanal Pixan.
This celebration of Hanal Pixan takes people to a small Mayan community where the celebration takes place in a large cenote. This not only distances you from the mass tourism on the coast but transports you to a magical place. A better location could not be had.  Anyone looking for a special cultural activity should plan on attending.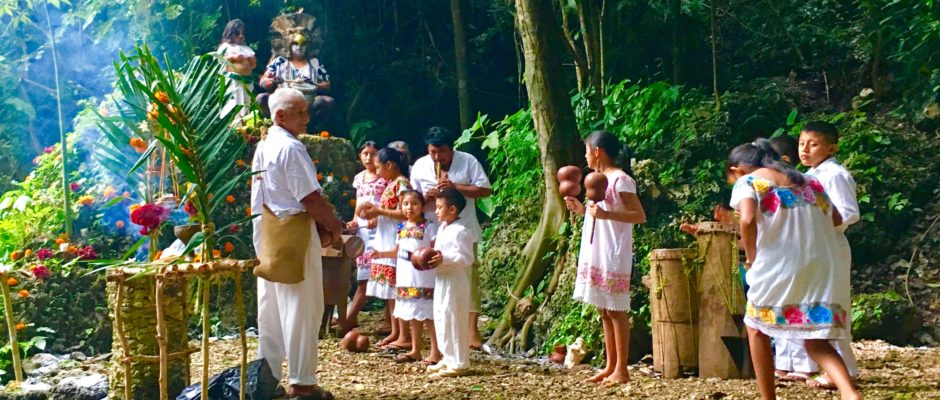 Our video introduction to Hanal Pixan with allTOURnative
We wanted to show you in a visual way just how magical of a location and how beautifully the people of this Mayan village decorate for this event.
Traditional food served for dinner
Many people that come to the Riviera Maya never get to fully taste Mayan cuisine. There are not even a lot of restaurants in Playa Del Carmen that serve Yucatecan food.
This tour gives you a good opportunity to experience local Mayan food. This was one menu that they served:
Turkey and vegetable soup with steamed tamales.
Pork ribs in a tamarind and chile arbol sauce accompanies by a brazo de reina (hard boiled egg filled tamale) with pumpkin seed salsa.
Candied squash for dessert.
Drinks included atole ( a thick sweet corn drink) jamaica water (hibiscus flower tea) and water. Beer is sold for those that want it.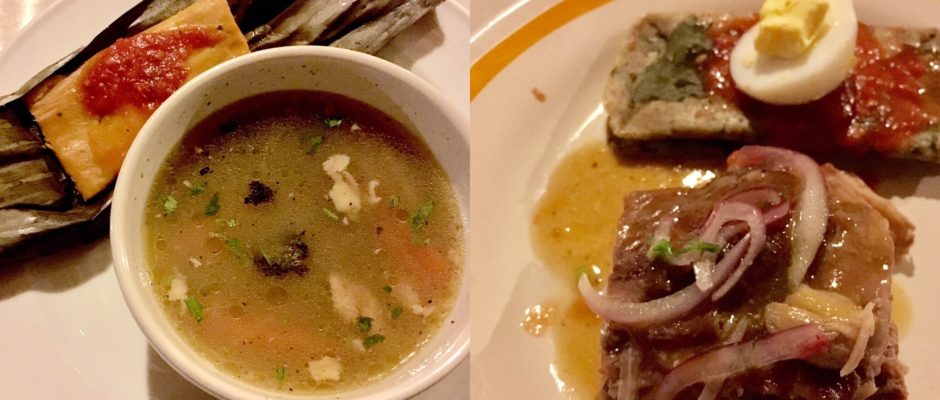 How this event is organized
This Hanal Pixan event is organized by allTOURnative Tours. This company works with local Mayan communities to promote cultural and ecotourism. Much preparation goes into this once a year event.
The Mayan community cooks, decorates the cenote and prepares for visitors to come to the town. Much pride and joy is taken by the community as they welcome visitors to observe the traditions and culture they have. Everyone from the community elders to the young children partake.
allTOURnative promotes these event and reserves tickets ahead of time. allTOURnative also gets busses ready and has staff on hand so they can be bilingual guides to assist visitors. On the day Hanal Pixan is celebrated, allTOURnative guides take small groups around to see the alters and makes sure everyone gets from the cenote to the dinning area. The guides also help serve the meal and then guide people to the busses.
What is included in the Hanal Pixan Tour
Bus transportation from Playa Del Carmen to the Mayan community.
Bilingual guides.
Time to walk around to see the decorating of the alters.
Traditional Mayan Hanal Pixan ceremony.
Regional Mayan cuisine for dinner.
This tour usually is about 500 pesos a person or about $27 USD. This is a great deal for a half day tour and dinner! We really recommend people experience this. If you are planning to be in the area during this time (October 30-November 2) this is something you should plan on attending.
For 2017 this event might be held on two different days because it is getting so well known. This will still keep the experience intimate for those that attend.
Have you been to see this Hanal Pixan celebration before? What did you think? Let us know in the comments below.