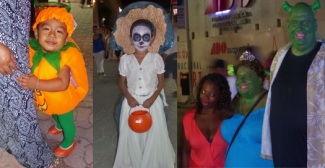 Halloween in Playa Del Carmen Photos
Halloween is a big deal in Playa Del Carmen. Not only is Halloween a big holiday in itself, it is also combined with the Day of the Dead and Hanal Pixan, a Mayan celebration of the dead. In Playa Del Carmen it is usually a four day holiday. There are events on the 30th, Halloween night on the 31st and more Day of the Dead events on November 1st and 2nd. One thing that is different from other countries is the happy vs. scary. When you are out on Halloween night in Playa Del Carmen you will notice how HAPPY everyone is! Families, adults, kids, dogs, everyone is smiling and having a good time. It is not really about scaring people compared to other places and perhaps this is a carry over of the Mexican view of celebrating life and not making death a scary thing. At any rate, Halloween is an amazing time in Playa Del Carmen!
Playa Del Carmen prepares for Halloween and Day of the Dead
Leading up to this holiday period you start to see decoration go up in Playa. Especially in grocery stores you will see displays. In bakeries you will see the special bread, pan de los muerto. This special bread is a soft bun with two crossed bones on the top of it made out of dough. This bread is traditionally eaten at the graveside of the deceased on The Day of the Dead. Nowadays it is sold for nearly a month in the bakeries and is a reminder that time of year is coming. People now just eat it as a sweet treat at this time of year now.
Here are a few pictures of store in Playa Del Carmen preparing for the holiday.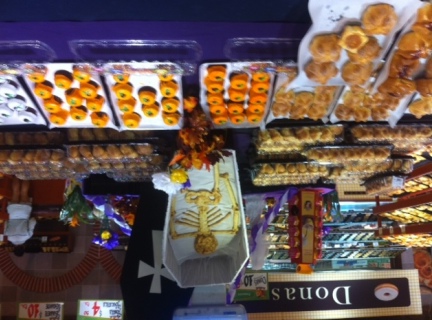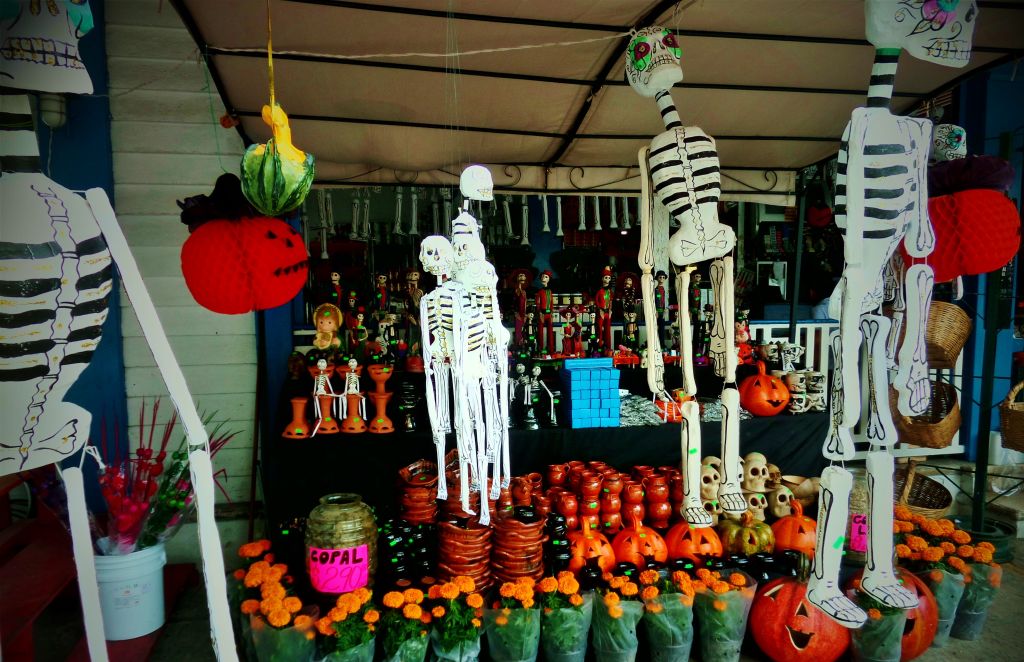 A visit to a Mayan Community with allTOURnative to see Hanal Pixan
Hanal Pixan is the Mayan celebration of the dead. This is the equivalent as the Day of the Dead. To see a traditional celebration we highly recommend going on this once a year event with allTOURnative. They take people about one and a half hours from Playa Del Carmen to a Mayan community. Here you will see  traditional alters being decorated and then a Hanal Pixan ceremony. Afterward you will have regional Mayan cuisine for dinner and then return back to Playa Del Carmen. To read more about this and see our video, see our article here.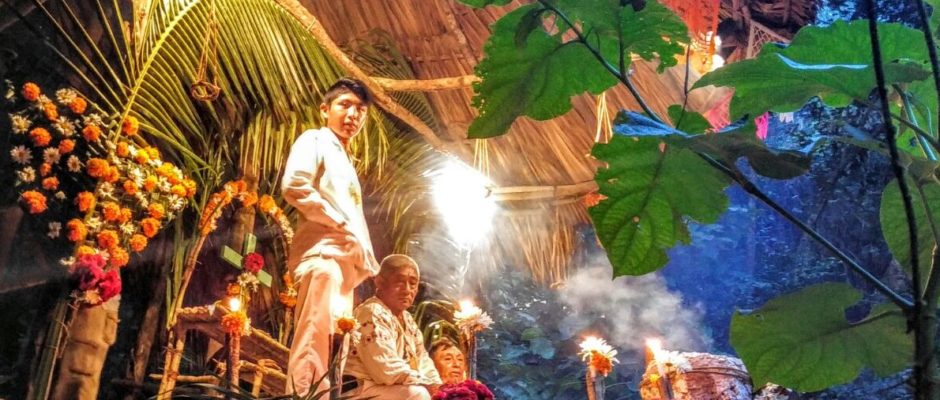 Xcaret's Day of the Dead Festival
 Each year Xcaret Park puts on a festival for the Day of the Dead. This is a four day event that people attend in the evening times. There are alters, decorations, candles, shows and events for kids. To see more about the Day of the Dead at Xcaret, see our article and video here.
Alters around Playa Del Carmen for Day of the Dead
Alters for the dead are very popular displays. Here are just a few of the ones we saw.
5th Avenue stroll to see costumes
For those of you that want to see a lot of costumes and stroll around for free, 5th Avenue in Playa Del Carmen becomes one big parade of scary and funny creatures. It is a very popular night to be out on 5th Avenue. If you are in Playa Del Carmen during this time of year you should definitely plan to go out that night.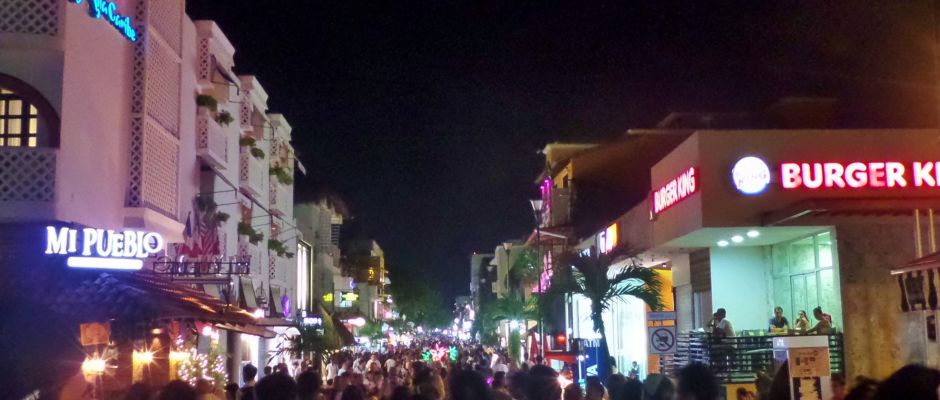 Tip: Bring candy for kids. People do not really go house to house trick-or-treating here  but there is a big custom to bring your kids to 5th Avenue and walk around and get candy.
Usually the costumed people come out at sundown and party all night. Later most bars will have costume contest and the night clubs party till 3,4,5,6 in the morning. The most popular areas are from Juarez Avenue until 34th St. all along 5th Avenue. At 11:00pm the kids start to go home and by 12:00 midnight everyone starts to fill 12th Street between the beach and 10th Avenue.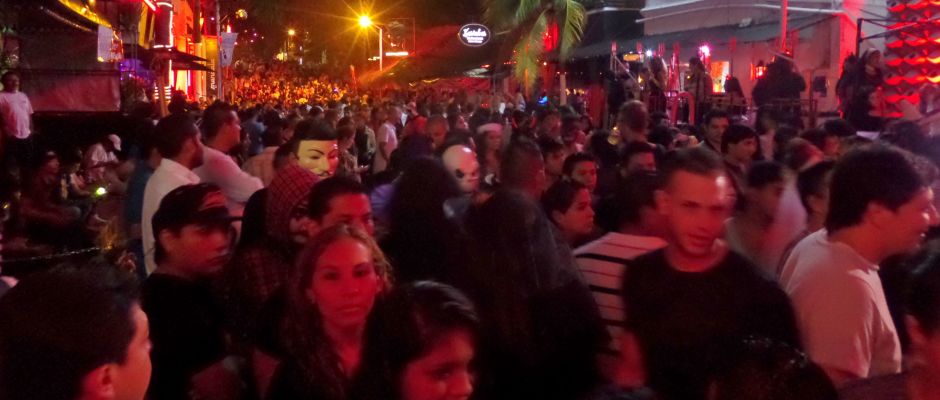 Popular this year were spider costumes on dogs, the ever popular Catrina face and Malefica from the Disney movie. We only saw one ebola costume and a whole lot of other great stuff. We covered Playa for hours looking for good photos to bring to you.
Here is our gallery of characters we saw this year. We hope you enjoy the photos and this event in Playa Del Carmen.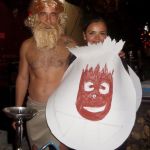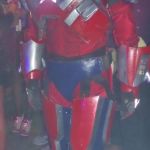 If you liked these photos of Halloween in Playa you should check out our other galleries. For out best photos please follow us on Instagram.