Restaurants in Playa Del Carmen
Food is a near and dear thing to us here at EverythingPlayaDelCarmen.com . We have eaten at over 300 restaurants in Playa Del Carmen. Everything from tacos in the street to world class restaurants with famous chefs. We love exploring the food scene here and the international aspect of our city makes it exciting to see what people serve up. We share this article with you with the hope you can find some great Playa Del Carmen restaurants.
How to choose a good restaurant in Playa Del Carmen
With hundreds of restaurants to choose from it can be overwhelming and you might just be walking on 5th Avenue and decide to take up one of the waiters offers that is standing outside. It can be hard for tourist coming to Playa Del Carmen to choose from the many places. We want you to have a great meal so we work hard to visit all levels of restaurants and bring you not just the popular places.
So here are some basic tips for choosing a good restaurant in Playa Del Carmen. Make sure you explore off 5th Avenue. Rents are high and people with a passion for serving good meals might want to focus on reputation rather than location. Also some advisor website are often full of fake reviews to bolster the bottom line and get people in the door. We have seen over and over that many of the "recommended restaurants" are not anything special.
For more tips about eating out at restaurants in Playa Del Carmen, see our guide here.
Restaurant Guide for Playa Del Carmen
We have visited hundreds of restaurants in Playa Del Carmen and made articles of the ones that might interest our readers. We then complied the restaurants onto our printable guide so you have a basic description, hours and locations. This should be able to help you choose a place to eat and perhaps avoid some tourist traps. Here is our Restaurant Guide for Playa Del Carmen.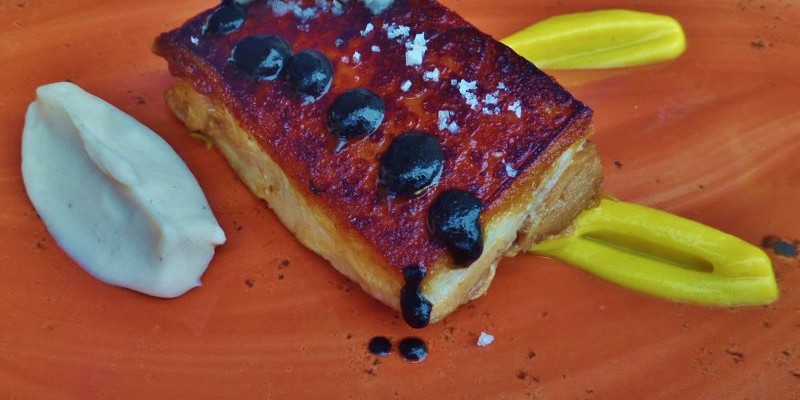 Now we will break it down by category so you can easily find what you are looking for and we will tell you our best recommendations in each category.
Here are the categories of restaurants in Playa Del Carmen:
Asian Restaurants

Italian-Pastas and pizza

Mexican Restaurants in Playa Del Carmen

This list is in alphabetical order. We do not like to say what is the best because what is best for you is different then for other people. We just supply a good list of places for you to choose from and you can see what is a good fit for you.

Axiote Restaurant is one of the best Mexican restaurants in Playa Del Carmen to get an authentic taste. Chef Xavier Stone has created a menu and a culture in this restaurant to fuse together the past traditional food with a modern twist. The atmosphere is casual but the menu for fine dinning.

Axiote Restaurant is on 34th Street between 5th Avenue and 10th Avenue in the downtown. They are open from 1:30pm-11:00pm daily. See the link to the article for menu prices.

Just one of the great dishes at Axiote Restaurant in Playa Del Carmen.

This is a small street side seafood restaurant that is most known for ceviche. They make dishes based on the style of Sinaloa, Mexico. This place is in the center of Playa Del Carmen but a few blocks off 5th Avenue. It is just open during the day and is a very casual place to eat. The prices are very reasonable for ceviche (about 130-180 depending on size). We think this is one of the best ceviches in Playa that is not a specialty ceviche like coconut/Thai or something like that. This place has great Mexican ceviche and is a little hidden place in Playa Del Carmen. Come here during the day if you want a casual seafood place.

This is where many concierges and taxi drivers will send people to get authentic Mexican tacos and the "real" experience. This restaurant has several locations in Playa Del Carmen and they are used to getting tourist coming in. We suggest the location on Constituyentes Avenue between 25th Avenue and 30th Avenue or the location on 30th Avenue and the corner of 6 Bis Street.

This may not be the best taco place in Playa Del Carmen but it does offer a good overall advantage over some of the smaller places. Here is why it is good:

Firstly there is a large menu with a lot of options.
You can get alcoholic drinks here.
It is fairly clean for a taco restaurant.
It is easy to get to.
and you leave feeling like you had an authentic time in Mexico.

If you are staying at a resort, there is nothing like this there and you will feel like you really visited Mexico when coming here. Both locations are not on the touristy 5th Avenue and locals also go here to eat. You can pretty much eat here any time of the day because they open early and stay open until the wee hours of the night.

One of the tourist favorite places for Mexican food in Playa Del Carmen, El Fogon!

This is perhaps the best authentic restaurant to try regional Mexican food in Playa Del Carmen. They work hard to bring you authentic food from different areas of Mexico. They even have traditional drinks like mezcal and cocktails with mezcal.

This restaurant is on 34th Street just off 5th Avenue in a palapa roofed (thatched roof) building. Explore the menu taste of Mexico. This is not an overly commercialized restaurant and sometimes has live music in the evenings.

If you come here for dinner it is mid to higher end prices. If you want a budget option try here for there menu of the day lunch option. It is a nice introductory way of getting to know the restaurant, although dinner time has a nice atmosphere with low light and music.

Authentic Mexican food can be found here at La Perla Restaurant.

This is a small and affordable place just one block off 5th Avenue. It is bright a colorful with a mainly Mexican menu. Here you can find soups, tacos, fish dishes and regional food. Prices here are about 120-220 per person. Many Mexicans that are here on vacation like to stop in here because it is near 5th Avenue but provides a calm atmosphere, Mexican food and good prices.

The owner speaks English and the young guys that work here are nice and helpful and speak a little English, enough to take your order.

We recommend this for lunch or dinner for an affordable option and some Mexican food that is not too over commercialized.

For an authentic taste of the Yucatan you can stop by here during the day for their menu of the day. Here you can find a fusion of Mayan food mixed with the centuries old Spanish culture here. Here you get some of best representations of Yucatecan food in Playa Del Carmen.

This restaurant is open air and under a palapa roof on Avenue CTM between 10th Avenue and 15th Avenue. Open Monday to Saturday from 8:00am-5:00pm.

A true tasting meal of food from the Yucatan.

We put this very small basic restaurant on the list because it is so simple, it is good. They are the only ones in Playa Del Carmen that we know of that do this style to tacos. They have imported the style from western Mexico from the state of Jalisco. This simple tacos are made from beef cooked in sauce until very tender. Then they dip the tortillas in the sauce and heat them, adding an orange color to them and a good full taste.

The prices here are rock bottom and you can eat here very cheaply. Top off your meal with a jamaica juice or horchata water, two very Mexican drinks that go great with tacos.

Just some of the best Mexican food you ca

Seafood Restaurants in Playa Del Carmen
This Playa Del Carmen restaurant is on top of the Thompson Hotel and features a stunning view overlooking the roof tops of Playa Del Carmen and out over the ocean. This is a seafood and meat restaurant that is upscale. It basically comes down to it if you can afford it, check this place out, you will have a good time and a good meal. You can expect to pay 300-1000 pesos per person for a meal. The cocktails are also very good at this restaurant.
Modern seafood restaurants in Playa Del Carmen
This was one of the original restaurants in Playa Del Carmen that veered off the traditional taco and tostada recipes. While still good and popular, the newer restaurants have taken some of the wind from their sails. There are two locations for this restaurant but we prefer the location on 34th Street because it is more calm and seems to be better. They have two casual open air restaurants in Playa Del Carmen.
This place has rocketed to the top because they have great tasting tostadas and good value (aka good prices). For about 40-50 pesos you can get a nice gourmet tostada and two can fill you up. From the small original storefront they now have opened right on 5th Avenue! This is a youthful and casual place and they have put on notice the old standby restaurant, Los Aguachilies. The new fusion of modern seafood taste on a tostada is a winner with most people. Try the Tuna Sellado tostada and Camaron Roca tostada! Their tuna burger is great as well!
This is a restaurant designed by a famous Mexican Chef. This restaurant is a little more corporate than a boutique standalone restaurant. This restaurant is right on 5th Avenue and poised to allure tourist in. It is a decent place with some menu items better than others. This is a large restaurant with a good amount of seating. This is an easy place for tourist to come to and get a full meal of seafood. Also this is the best seafood restaurant in Playa Del Carmen for a large group due to their seating capacity.
They have a small menu that focuses on seafood tacos and burgers all with an Ensenada, Mexico twist. This is a cute outdoor restaurant just off 5th Avenue that affords clients to enjoy a meal with interesting salsas. They offer some craft beers, Mezcal and Tequila here. We do really like the seafood burgers here.
Seafood tacos at Tacontenedor seafood restaurant.

Seafood restaurants with a local feel
This local feeling and their location on 34th Street will almost make you feel like you are eating at someone's back yard. There is a small pool here for kids. The menu goes great with beer and is a casual restaurant. This is a lower mid priced restaurant. This is the perfect place to get a michelada (a beer with lime juice, chili and Worcestershire sauce). We much prefer the location on 34th over the location on Constituyentes Avenue.
A small corner ceviche restaurant with a few other options. It is too bad it is kind of hidden from street passerby's and traffic. It is close in the center and have one of the best ceviches in Playa. They cook in the style if Sinaloa, Mexico. This is a vey casual restaurant with benches and plastic tables but the focus is on the food. This is a low mid priced restaurant.
El Pirata is an old institution in Playa Del Carmen. This seafood restaurant that is always busy. It is not gourmet but old school fried fish and beer type of place. It is not necessarily the most fancy but does have fresh fish and locals like it for the consistency. Go here for a casual local feel. Plastic chairs and sometimes live music. This is a mid priced restaurant.
This is a seafood taco and seafood restaurant on the highway. This is similar to La Floresta Restaurant so if you had to choose one, we recommend this one. There is a bigger menu at El Oasis and a slightly more cheerful and fun atmosphere in the open air restaurant. The food is decent with a local traditional way of making the seafood. Think fried shrimp tacos and fish in garlic and butter. That is the style of seafood here. This is a very casual restaurant. It has lower mid priced food.
This is an old school restaurant in Playa Del Carmen that has a lot of care for the seafood and customers. They have several restaurants and have about 30 years of experience in the area. While this restaurant in Playa Del Carmen is not in a popular location, people do seek it out and some like the fact that it does not change much. The plates have not gone new fangled gourmet but the quality of the seafood is there. This place has a local feel and mid to upper level prices. You can go here for a nice meal out and be able to take the family here. There is seating under the palapa or in the garden in the back.