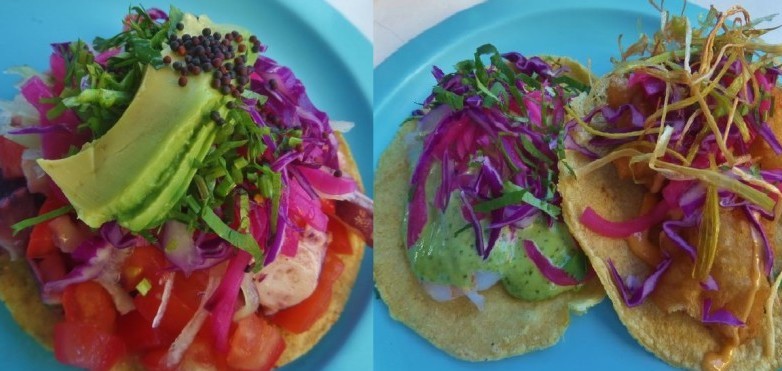 Los Aguachiles Restaurant is very popular for seafood in Playa Del Carmen for both locals and tourist. This place is trendy but still casual at the same time. Most people come here for tostadas and seafood tacos but they also have fuller seafood and Mexican entrees. The food is well presented and they have a consistent quality to the dishes.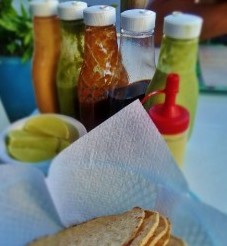 We like the salsas and tortilla chips they bring to your table when you sit down. There is a nice range of flavors which include a sweet tamarind, sauce, cilantro sauce, chipotle sauce and the ever spicy habanero salsa.
This is a good place to have a beer and seafood tacos but as we mentioned they have a lot of other choices. We do like the style of their food and the presentation. They have two locations in Playa Del Carmen but we like the location on 34th Street better because it is a little more trendy feeling and has more regular visitors and less touristy.
Prices are about 45 pesos for tostadas and 25-35 pesos for tacos. Menu items like plates can range from 100 pesos and up.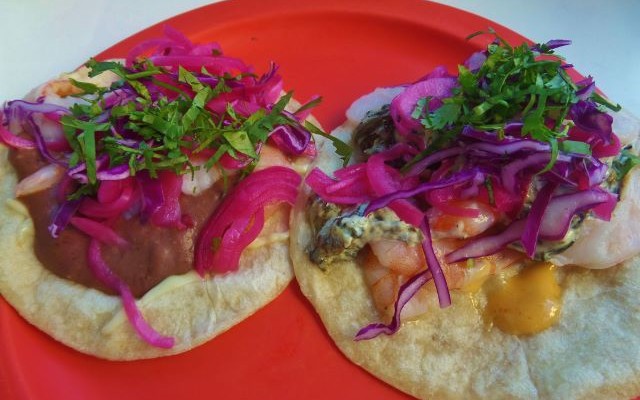 If you like this place and want more taco suggestions in Playa Del Carmen make sure to look at our Ultimate Taco Guide for Playa.
If you are looking for other seafood restaurants in Playa Del Carmen, check the link here for more.
For more restaurant reviews and information see our full Playa Del Carmen Restaurant Guide here.
Have you been here? What did you have? Let us know in the comments below.
Hours at Los Aguachiles
Constituyentes Avenue location: 12:00 noon-10:00pm everyday.
34th Street location: 12:00 noon-7:00pm everyday.
Phone
984-873-0862
Website
Locations
Los Aguachiles has two locations in the center of Playa. One is just off 5th Avenue on Constituyentes Avenue between 1st and 5th Avenue. The other is a little off 5th Avenue and a little walk for tourist. It is located on 34th Street between 25th Avenue and 30th Avenue.