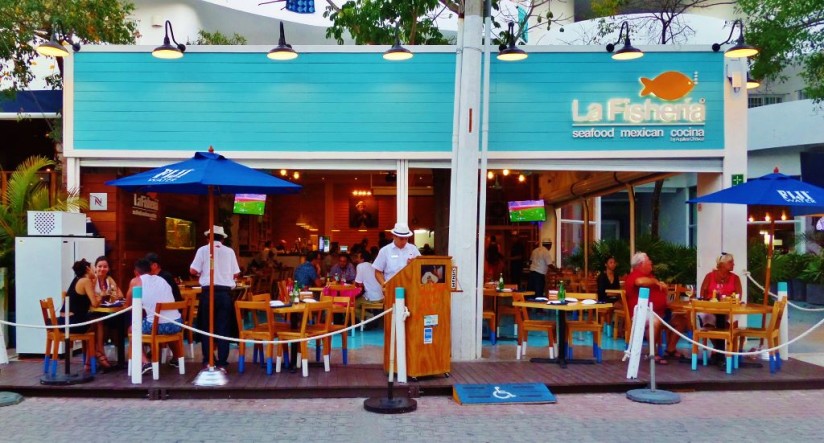 La Fisheria Restaurant is a relatively new comer to the restaurant scene and brings a needed addition to the seafood category. For a beach town, Playa Del Carmen does not have an overabundance of seafood options. As Playa grows and gets more sophisticated, so has the restaurant scene. La Fisheria is seafood with a Mexican flare. This is not so much that seafood lovers with be put off, it just hints at the taste of Mexico.
This restaurant offers consistency of it's celebrity inspired menu. It is also a good place for groups since they have more indoor seating options.
Background
La Fisheria is a creation of the styling's of famous Mexican chef Aquiles Chavez. You may not of heard of him before if you are not from Latin America but he is on par with Wolfgang Puck and other celebrity chefs. He is also famous for his unique mustache. Aquiles Chavez was born in Tabasco Mexico. He moved to Mexico City to study at Colegio Superior de Gastronomía (CSG) to advance he study of food. After that he has worked on several TV shows and is becoming more and more known in the food world. He even has a restaurant in Houston, Texas and now Playa Del Carmen.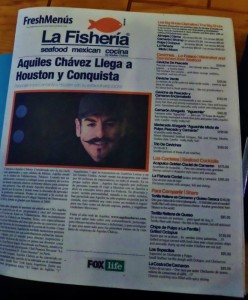 Menu at La Fisheria Restaurant
To start off you can have ceviches or seafood cocktails. There is also a sharing starters menu which has the grilled octopus. You should definitely try this dish! It is called "Chips de Pulpo a la parilla". It is a large plate of food and is one of our favorites! Also for starters you can have tostadas or soups. It should be noted the soups are hearty. Make sure you ask what the fish of the day is, this is often the most recommend entre item. Of course this is a very seafood heavy menu but you can get a variety of vegetarian salads, salads with chicken or beef main courses. Make sure you try some of their fun margarita drinks with jalapeno or habanero pepper in them!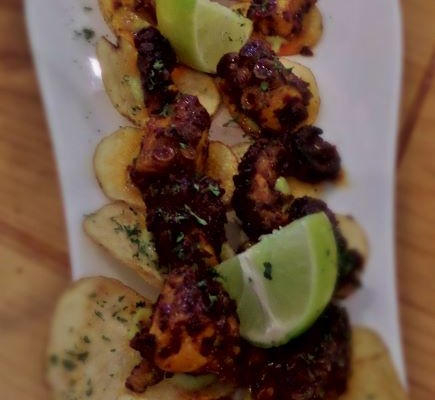 Prices
Appetizers are about 85-185 pesos. Main courses 170-380 pesos, that is of course with lobster being on the high end of the price scale. Desserts 60-70 pesos. Drink prices are about 65-120 for cocktails. Beer is about 35-40 pesos each.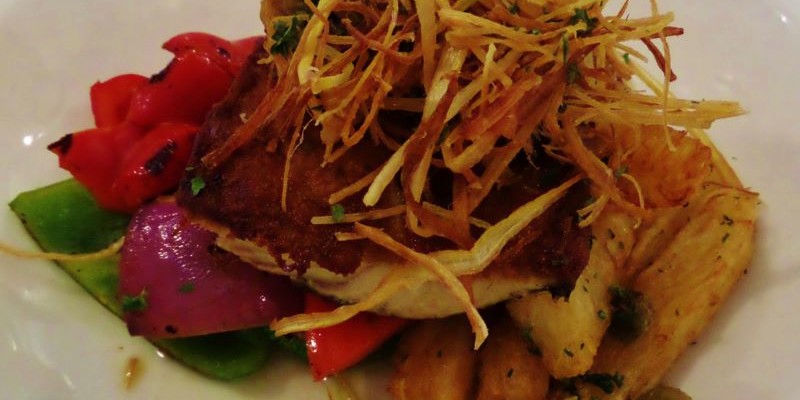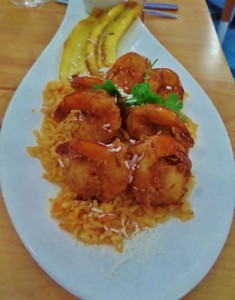 Hours
Open everyday from 11:00am-1:00am
Website
Phone (reservations)
984-147-5848
Location
La Fisheria is on 5th Avenue between 20th Street and 22nd Street on the east side. It is in the middle of the block. You will recognize it by the turquoise blue front with white trim.