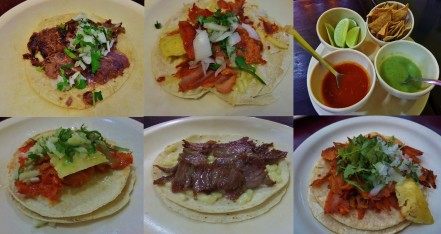 Where to Find Tacos in Playa Del Carmen
Tacos are as Mexican as anything and many tourist want to go to an authentic taco restaurant while visiting Playa Del Carmen. We set out to compare side by side what each place was like and what they served up. Here are some good places to get tacos in Playa Del Carmen.
Our Standards of comparing tacos
You cannot really find too many tacos on the busy tourist pedestrian street of  5th Avenue. There is not too much profit in selling the humble taco to pay the pricey rent there, so you need to get off 5th Avenue. We wanted places that tourist would be able to find and easily get to. So we choose the popular Don Sirloin, Señor Taco, and El Fogon. We tried to order the same thing at each one. Pastor tacos are the most common tacos and cheapest and we compared a beef taco.
There are hundreds of taco places in Playa Del Carmen and many can provide a more authentic experience and taste. These will just have to be explored by locals or for the adventurous.
Pastor Tacos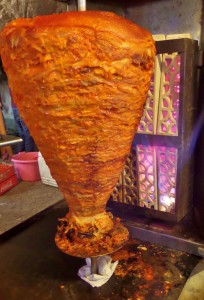 The name "al pastor" comes from the Spanish meaning "in the style of the shepherd". The meat used in Mexico is pork and it is marinated and sliced thinly before putting it on a skewer. The triangle of meat is called a trompo. This might look like a middle eastern shawarma. This is a carryover from all the Lebanese immigrants to Mexico and now has been adopted here as if it were Mexican.
A pineapple is placed at the top of the skewer. The pineapple is not just a tropical decoration, it's juice contains enzymes that break down the meat and make it more tender.
The trompo turns and cooks against the flame. When a taco is ordered the cook turns the meat and slices it right onto a tortilla. Then he will swipe his knife at the pineapple and put a slice on the taco. A true artist will hold the taco out on one arm and slice the pineapple and catch it with the taco like a baseball mitt catching a ball. This can be a nice little show while you wait for your food when you get a good cook.
Condiments that come with tacos in Playa Del Carmen
When you sit down at a taco restaurant it is important to know what salsas they have. This is as important as a restaurant that serves good bread and butter before your meal. We took photos of the three restaurants and actually they were pretty similar. Chipotle salsa and a green salsa was served (sometimes the green salsa had habanera peppers). All three also served the traditional lime slices to squeeze on the tacos (El Fogon served them on the plate)
Usually chopped cilantro and onion are added to the top of your taco, but usually the waiter will ask if you want it.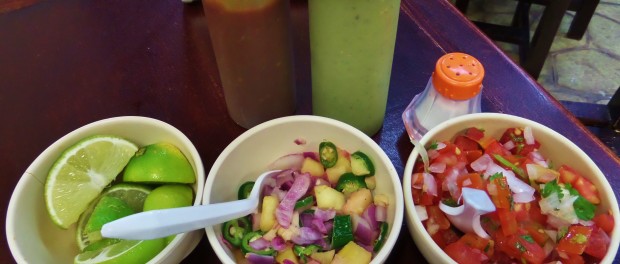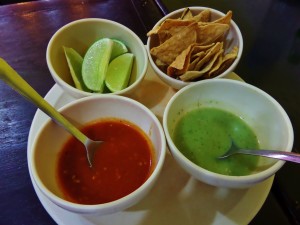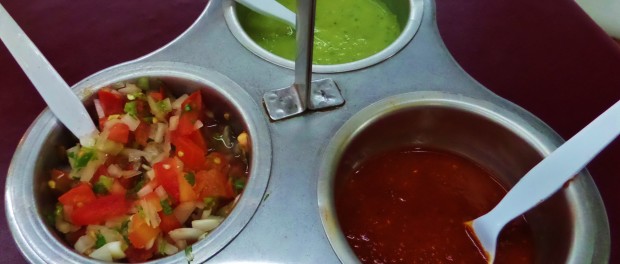 Don Sirloin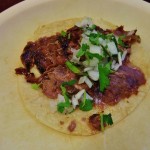 We visited the Don Sirloin on 10th Avenue between 12th Street and 14th Street. They also have another new location on Constituyentes Avenue at the corner of 25th Avenue (next to Mega).
The tacos were good. This was the only place that used one tortilla where the others served double tortillas. Double tacos are nice because they are more filling and can be used to catch all the things that fall out of your taco or make a little one with the leftovers.
Drink prices are 20 pesos for the traditional flavored waters (jaimica, horchata, or tamarind) and come in plastic bottle. They do serve beer here.
Service is always consistent here, friendly and fast. We know this from many visits here.
Prices: Pastor taco with corn tortilla 10 pesos and with flour tortilla 13 pesos.  Sirloin taco on corn tortilla was 15 pesos and 18 with flour tortilla.
They took cash only at this restaurant.
Note: Late at night this taco joint is busy with the nigh club crowd since it is so close to 12th Street. You can pass by at 3:30am and it can be full.
Señor Taco
Senor Taco was the only one with specials on food and drink. There was a two tacos pasto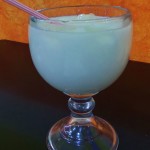 r for 15 pesos and they also had some drink specials. Normal prices for tacos pastor are 12 pesos on corn tortilla and 13 on flour tortilla. For sirloin tacos it is 17 pesos on corn tortilla and 18 on flour tortilla.
The tacos come on double tortillas but we found the meat to be of poor quality and taste.
Drinks for the traditional flavored waters are 18 pesos. Their horchata drink here is better then normal. Besides beer they also have liquor drinks.
El Fogon Tacos
El Fogon has two locations in the center of Playa just like Don Sirloin. We visited the older of the two locations on 30th Avenue and the corner of 6 Bis Street. The other location is on Constituyentes Avenue between 25th Avenue and 30th Avenue.
El Fogon also serves liquor and beer. The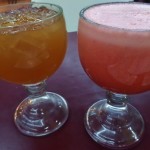 ir traditional flavored waters were 22 pesos and served in large glasses.
They only have beef tacos in packages so there is not a price for single ones here. The pastor tacos are 13 pesos with either corn or flour tortillas. They serve the double tortilla here as well. They were the most tasty, it was a little more crispy then then the other places and a method of heating the tortillas on the grill with a little oil makes them even more tasty.
One thing we like about all the locations of El Fogon is the fact they stack everything up each night and scrub the entire restaurant down, floors, sidewalks, drills etc. Most people would not know this since it happens late at night or early in the morning, so we thought we would mention it.
Tip: Although tourist come here and some even come from all inclusive resorts, it is better to use pesos because they do take dollars but you will be loosing a good percentage. At the time of writing the official rate is 14.6 and they exchange at 12.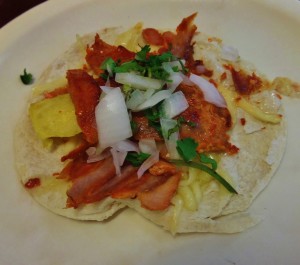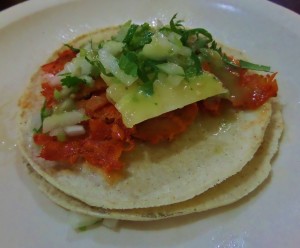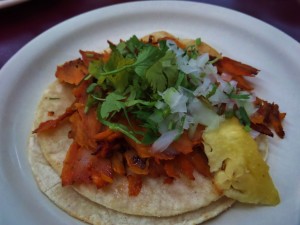 And the Best Tourist Tacos in Playa Del Carmen is….
Well, you might have guessed it by the review, but El Fogon has the best tasting tacos along with large menu, fastest service and will make you feel like you got the Mexican experience. Even though they are a few more pesos for tacos and drinks, in this case, you get what you pay for. It is no wonder why we saw so many tourist coming there while we were eating.
#1 El fogon!!
#2 Don Sirloin
#3 Senor Taco
If you are looking for a taco experience while in Playa Del Carmen, why not check out El Fogon at either location. If you are looking for seafood tacos you might want to read about El Oasis Tacos or for an even more local experience check out our article on the best street tacos in Playa Del Carmen. If you are a little more daring you might want to read our article on bone marrow tacos in Playa Del Carmen so you can try them also.
Where do you like to get tacos in Playa? Let us know in the comments below. We would love to hear from you.