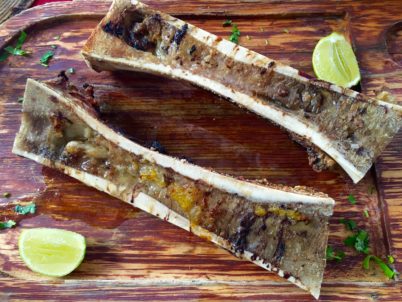 Bone Marrow Tacos
Bone marrow tacos might sound like something a little on the odd side. Actually bone marrow is used in many food cultures because of the intense and savory flavor. Mexico has a tradition of cutting open the bones to extract the marrow. This is a highly prized dish. Here is what they are like and where you can find them.
What does a bone marrow taco taste like?
Heaven! They do taste like heaven to some. You might think it taste fatty and greasy but no. It is very buttery but not like melted butter. When you put the marrow on a taco there is not much consistency, just flavor. If you have never tried a bone marrow taco you should treat yourself to one. Below are some restaurants in Playa Del Carmen where you can find them.
How to eat these tacos
To eat this tasty dish you take a spoon to scrape out the marrow. The two bones in the photo will fill up about 6 tacos. You do not need to put a lot of marrow on each taco. The marrow is very flavorful. After you put the marrow you add salt and squeeze the lime on it for just a little juice. Wow! You just might be surprised how good these are. The salt mixed with the savory buttery flavor, hint of lime and corn tortilla will give you something to remember about Mexican food.
Where you can find bone marrow tacos
Here are three places to go for a taste of these tacos in Playa Del Carmen.
El Curandero – This is a Mexican style seafood restaurant with some meat options. This is a casual restaurant on 34th Street between 25th Avenue and 30th Avenue.
Tacos de Barba y Birria  – This simple taco stand/restaurant on the side of 30th Avenue quietly carries on the traditions and flavors of Mexico. Here you can ask for bone marrow tacos that are flavored in the adobo sauce. For more details on this restaurant see the link.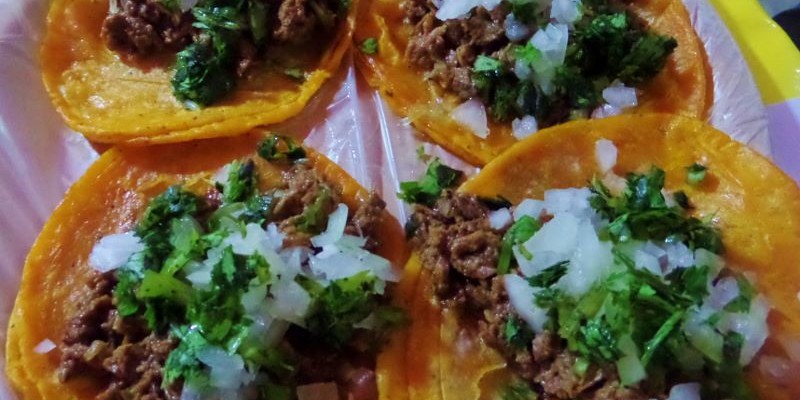 Have you had bone marrow tacos? What did you think? Let us know in the comments below. We would love to hear from you.