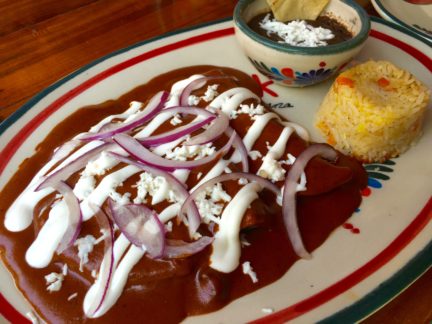 Enchiladas- Mexican Food Culture
What is an Enchilada?
An enchilada is a corn tortilla which is rolled and filled with meat, cheese, beans or other filling. It is then covered with  a sauce. It traditionally has chili in the sauce. In fact the word "enchilada" comes from the Spanish word for "enchilar" or to add chili.
In Mexican homes or in restaurants enchiladas are served as a meal. These usualy come on a plate of about 3-4 enchiladas. Since the dish is covered in sauce, you eat these with a fork.
Where can you get enchiladas in Playa Del Carmen?
Fortunately you can get some great enchiladas in Playa Del Carmen.
Piknik Restaurant on 10th Avenue between 24th Street and 26th Street offers some really authentic enchiladas. This is a simple and humble restaurant that offers good food at good prices. You will often find Mexicans eating here because they like the food and since it is only one block off 5th Avenue people love the fact that prices are more real and not really tourist prices. Take a look at some of the photos of enchiladas below that this restaurant serves up.
La Perla Pixan and Mezcal Store. This is a Mexican restaurant that brings you dishes from all over Mexico. This restaurant is on 34th Street between 5th Avenue and 10th Avenue.

Enchiladas in mole sauce at Pik Nik Restaurant in Playa Del Carmen.
Other Mexican food that you can find in Playa Del Carmen
If you have liked reading about enchiladas, you might like to read these articles we have on our site about Mexican food and where you can find it.
We hope you enjoyed reading about enchiladas and where to find them. If you have any questions or comments we would love to hear from you in the comment section below.