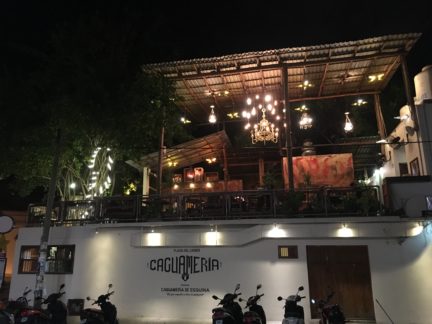 Caguameria Restaurant and Bar
Update: August 2018 The Caguameria is not closed but is open as a Mexican beer/restaurant.
We have always liked the cool design of this bar and restaurant in Playa Del Carmen. Caguameria has always been more of local place to go and many tourist did not know it has great Mexican food and drinks. We wanted to show you just what this place is all about.
Located just a block off 5th Avenue and the center of town, this cool open air restaurant and bar will give you an authentic feel for being in Mexico. You can get great modern Mexican cuisine and drinks here.  This place makes for a great night out in Playa Del Carmen.
The name Caguameria comes from the large bottles of Mexican beer called caguamas. So this bar and restaurant is the place for beer. This holds true because they have a wide selection of Mexican beers and also are adding craft beers to the menu.
Our video introduction to Caguameria
Since writing about a place does not always describe it the best, we made this brief video introduction for you. We hope you enjoy it.
The menu at Caguameria
The menu here has a lot of lighter and smaller bites, so feel free to order several things and enjoy the range of variety.
Here are sample food prices and what is on the menu
To start off with there are a lot of snacks to go with drinks or pre dinner appetizers 60-135 pesos
Tacos 35-46 pesos
Tostadas 45-70 pesos
Burritos 125-130 pesos
Make sure you check out their bone marrow tacos here. It is something unique on the menu.
Ceviches (they come in small and large) 99-225 pesos
Baked dishes from the over like filet of fish backed octopus 159-280 pesos
Hamburger 135-170
Tortas or sandwiches 105-130 pesos
Desserts 35-150 pesos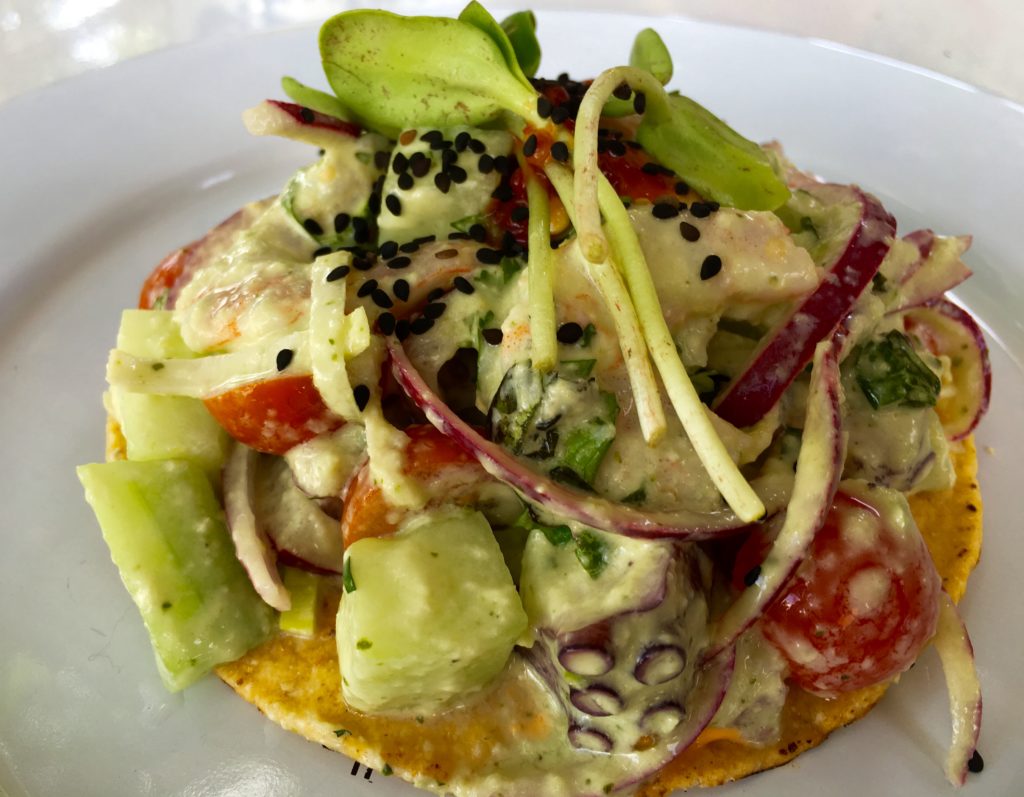 Bar menu at Caguameria
Cocktails are 95-105 pesos
Mezcals can be by glass or bottle. Glasses range from 80-110 pesos
Tequilas can be by glass or bottle. Glasses range from 90-105 pesos
Beers 35-40 pesos
Large beer bottles 75-79 pesos
In addition to these basics they have beer buckets and mixers for the beers.
Our recommendations
This restaurant and bar is a nice local place with stylish design vibe. Caguameria is a good place for a casual evening. It is close to 5th Avenue but you don't get the busy, packed or tourist feel that you do on 5th Avenue sometimes.
We recommend this place if you are looking for somewhere different in Playa Del Carmen, for those looking for modern and authentic Mexican food and a place to discover the great drinks of Mexico. These include beers, mezcal and tequilas.
This is also a good place for a group. Contact them to reserve a section.
Hours
Monday-Saturday 2:00pm-1:00am Sunday 2:00pm-10:00pm.
Website
Be sure to check out their Facebook page for live music events. Usually these are Wednesdays at 8pm.
https://www.facebook.com/caguameriadeesquina/
Where is the Caguameria?
This is on 1st. Avenue and the corner of 20th Street.

Have you been to the Caguameria? What did you think? We would love to hear from you in the comments below.