Everything about the MTB Bike Tour in Playa Del Carmen
We went out to experience this bike tour in Playa Del Carmen. There are not a lot of tours that can take you out on a bike or to get deep in the woods so we were excited to bring you this tour. Here are all the details for you.
MTB Bike Tours is a company based here in Playa Del Carmen. They have a passion for biking and wanted to provide a great experience to get out and go biking. This is a very professional company. They provide tours in Spanish and basic English. Their shorter tour is described below.
MTB Bike Tours also has longer tours available. If you are a group and or want a more professional tour, you can contact them or us and we can get all the details for you.
What this bike tour is like
You will start early in the morning. Usually there is a 7:00am start time. This way you will have the coolest part of the day and also have an opportunity to see some wildlife. It is good for people that don't bike everyday but still like biking. This tour is about 30 kilometers (18.5). It last for about 3 1/2-4 hours.
You will take off from a main road and enter onto a dirt road in to the Mayan jungle. The nice thing is this area is ancestral land and you need permission from the communities to cross onto it. This bike tour company has  gotten permission, so you will be one of the only ones here.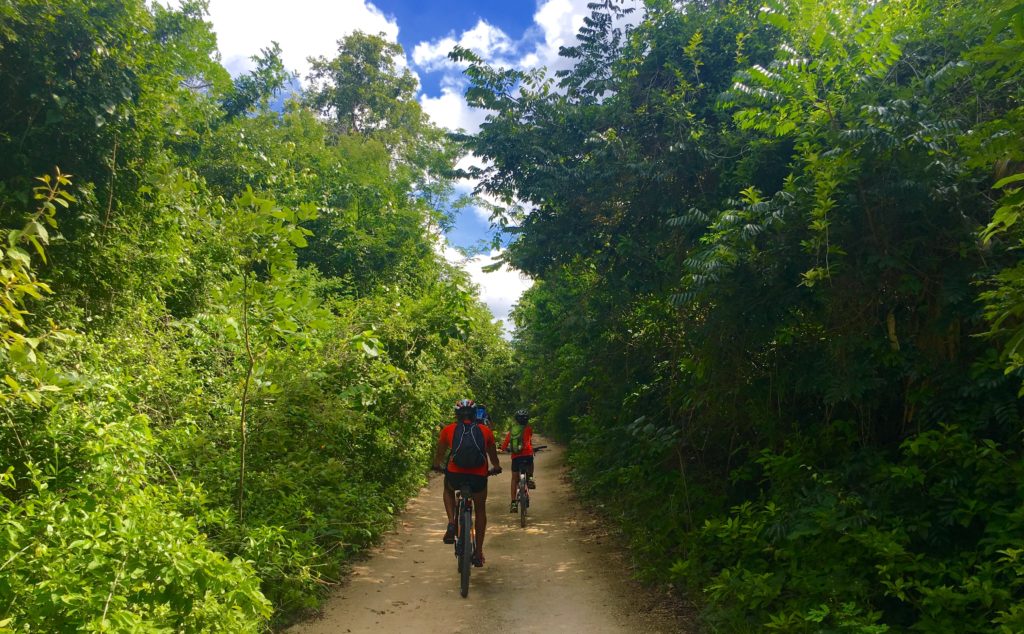 Your professional local guide will take you on different trails. Some of the trails are wide and hard packed dirt and others are narrow and more technical trails for mountain biking. Most of the route however is flat with only minimal hills.
Toward the end of your bike tour you will stop at a remote cenote. This cenote does not have a name but is a beautiful spot deep in the Mayan jungle. It is semi open with crystal clear water. Here you will have an opportunity to swim and cool off.
The tours are limited to 8 people for now. These tours have a minimum age of 9 years old. People with back problems or pregnant.
Our video of this bike tour
We are excited to bring you this short video of this bike tour. Videos always tell so much of the story. The scenery and experience was really good too, so we hope we captured it in this brief video.
What is supplied on this bike tour
Here is what is provided for this bike tour:
A Giant mountain bike. This is a well recognized bike company with quality bikes. The bikes ride very well and are comfortable.
A helmet. Safety first.
Gloves. These are good to have since you put a lot of pressure on your hands when biking. These gloves are padded.
Water for drinking.
What you can bring for this bike tour
Here are some things you can bring with you to make the tour more comfortable.
Comfortable clothes. This would be a closed shoe, shorts, and a shirt.
Something to swim in for the cenote and a small towel to dry off.
Any food snacks you might want.
Sunglasses.
Biodegradable bug spray. Most of the time you are on the move but there are mosquitos. We mention biodegradable only because you will be getting into the cenote for a swim. Non biodegradable sunscreen and bug spray have dangerous chemicals that damage the fragile eco system. They also leave a skim of oils on the waters surface.
Money for a tip.
Arrange your transportation to the meeting point or pay for MTB Bike Tour to reserve it for you.
How to book the MTB Bike Tour in Playa Del Carmen
Since space is limited to 8 people per tour right now, we do recommend booking in advance. This will also give you a chance to arrange transportation to the meeting point and for them to ask you questions so they can make a customized tour.
The cost is $46 USD. There is more information on the booking page.

Our recommendation for this tour
We really recommend this tour. It was very enjoyable. We never knew all the paths and trails were out in the woods just beyond Playa Del Carmen. The people that run the company are very friendly and want to provide a great activity for people to get out and experience nature.
This is a very affordable tour and is good for locals and for tourist. For tourist this is something more authentic and real. It is also a great eco friendly option for a tour.
For more in biking in Playa Del Carmen see our article here.
Have you been on this bike tour in Playa Del Carmen? Let us know in the comments below. We would love to hear from you.