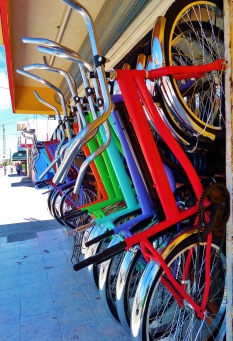 Bikes and Bicycling in Playa Del Carmen
Bicycling in Playa Del Carmen with blue sunny skies and beach breezes may be your perfect idea of a nice day. Here is our guide to help you know where to buy bicycles, where to bike and some tips for things related to biking in Playa Del Carmen.
Where to buy bicycles in Playa Del Carmen
Buying used bicycles in Playa Del Carmen
You can search online classified for a used bikes. You might luck out and find another tourist looking to sell his bike at the end of their vacation (check Facebook marketplace and Facebook groups for Playa Del Carmen), but usually you will find basic bikes for a high asking price. Used items in Mexico are often not sold as used but looked at "it still works so I will ask almost new price" mentality. This will make you soon move to looking for a new bike. Most of the time it is best to just buy a new bike.
Buying a new bike in Playa Del Carmen
The large grocery stores have bikes, but these are cheaply made and will only last about four to six months. Usually these are assembled by people working in the toy department and if it needs pedals fixed, tires inflated or anything adjusted before you roll out the door, you are going to find it hard to get good service.
Playa Del Carmen has some good bike midrange stores. Fortunately these bike shops are all in the same area. These are located on 30th Avenue just north of Constituyentes Avenue up until 30th Street. . There are about five bike shops there. These bike stores handle beach cruisers, mountain bikes and road bikes. The service is good at these store and they will be able to fit you to a bike. Prices range and depend on your bargaining skills. Expect to pay 250-7000 pesos for a good basic bike. If you shop on Sundays you will find most of the stores closed.
The Liverpool department store on the south end of Playa Del Carmen on the 307 Highway is also a decent place to find quality bikes. They don't have a huge selection, but ordering off their website gives you more options and they are pretty good about home delivery.
Another alternative is ordering on Amazon.com.mx. They do have a large selection and delivery to the area. the quality is similar to grocery stores, so anything less than 4500 might not be that good of quality.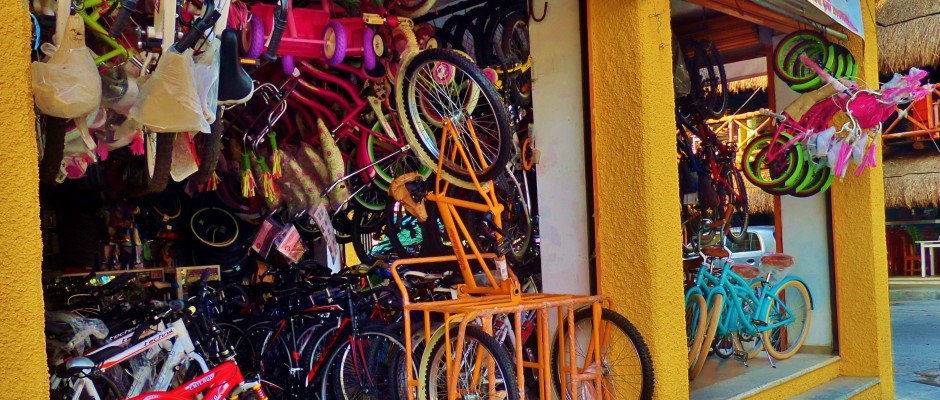 Electric Bicycle shop
If you are looking for an electric assist bike, there is a store on 10th Avenue near the corner of Constituyentes Avenue. It is directly behind Quinta Alegria Mall. Here you have a selection of mini bikes and ones that will give you a little boost for getting around.
High end bicycle shops in Playa Del Carmen
If you are looking for a high-end bicycle or need something to compete in a road race, we suggest you go to Teknobike. Here is their information:
Teknobike
Carretera Federal Playa Del Carmen – Tulum Km 2.5 Parcela 17, Manzana 337, Lote 027
Colonia Ejido Sur CP 77712
Playa Del Carmen Solidaridad, Q. Roo
Tel: 01(984) 859-3205 https://www.facebook.com/teknobikeplaya
Renting Bikes in Playa Del Carmen
Want to rent a bike while here? You can find a few places in the downtown that rent although the city now have bike rentals with stations all over. These are the most convenient for short term rentals.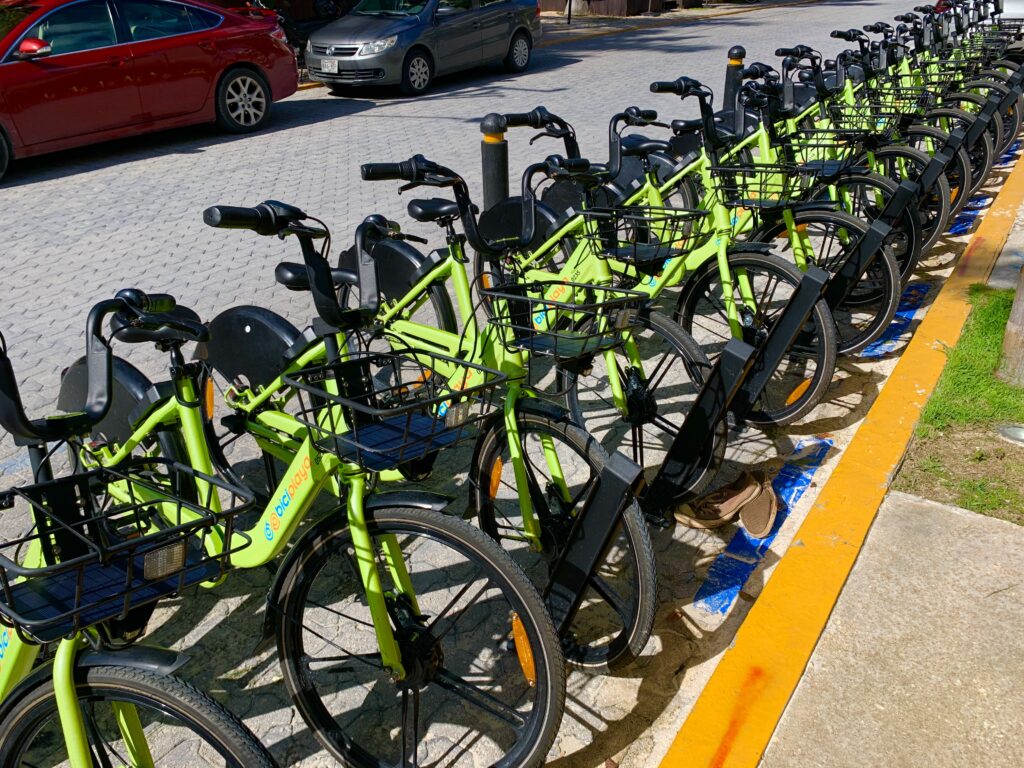 Long term bike rental in Playa Del Carmen
Are you going to be in town for a longer period of time and want to rent a bike? We found a great option for you. Ian Kelley is a local fitness instructor and personal trainer that also rents long term bikes.
He has a pick up location just off 24th Street between 10th and 15th Avenue in the center of Playa Del Carmen or he can also deliver the bikes to you. The bikes come with locks and he has 15 bikes available. Unlike a lot of tourists places that rent bikes, he make it easy and he just requires a credit card impression or people can leave an ID for the rental. If people want to rent he ask people to contact him at least one day in advance so he can set up a deliver of the bikes or arrange a time to meet. People can contact him via email: [email protected] or phone: 984-142-1638 English spoken.
Reminders for renting bike rental in Playa Del Carmen
The rules of the road are basic as everywhere else. There are comprehensive rules here but it is another thing to see if they are enforced. Under "Reglamento De Transito" Articles 11,32, 38,39,40, and 41 all apply to bicycle transit. It basically says you need to obey the rules of the road, only one person per bicycle. Helmets, reflective vest, closed shoes, and reflectors are all recommended.
Tip: If you are going to own a bike, buy a good lock. (Kryptonite locks are a good recommendation) Don't be lulled into a peaceful sense and forget about security for your bike. Most cheaper bike locks can be cut easily and your 1000+ pesos bike is gone in seconds.
Where to ride bikes in Playa Del Carmen
Where to ride? Most people use the bike to get around town, go to the beach, and sometimes grocery shopping. Most of the main avenues should be avoided since drivers are not used to or respect cyclist. There are more streets to avoid then use so we have provided a basic map for riding for exercise. It is the similar to the area for running in Playa Del Carmen.
Biking in Playacar
The first map shows Playacar. It is a private development that has many trees and a sidewalk for biking. If you are not a resident in Playacar or staying there, the guards can ask for ID and can say that you cannot enter this private community. You can say you are going to some of the shops of businesses there and they will allow you in.
There are two phases to Playacar. The red line is Phase 1 and a shorter road, there are side streets but only the one main road in and out. You will see some stunning ocean views on this ride. The green line is Phase 2 of Playacar. It is a loop that goes through the development. There are side streets but they all dead end. Bikes are supposed to ride on the inside loop unless otherwise permitted on the outside loop. You will see some all inclusive hotels as well as some fine homes on this ride. For more information and photos of Playacar check out our article.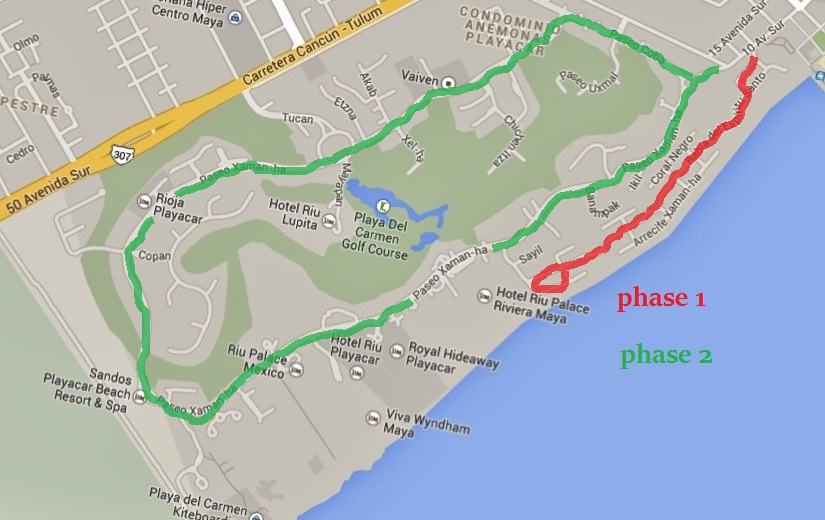 Other places to ride a bike in Playa Del Carmen
This map shows all of Playa Del Carmen and a basic overview of where it is good to bike for exercise. You can see the highlighted yellow lines that show Playacar as above. There is also a nice bike route that follows the highway all the way to Xplor park. It is 5k on the highway from the airport to the entrance of Xplor park. (Be careful riding at night, there are guide wires from the telephone poles in the bike path, you may not see them when it is dark).
The upper section of Juarez Avenue now has a bike path down the center of the road. It is newly planted with trees and a nice addition to the city. Through the downtown, 10th Avenue is the best. It actually has a bike lane from the entrance to Playacar until Constituyentes Avenue. This is shared with pedestrians and large tricycle bikes so care should be taken. From CTM Avenue going north on 5th Ave there is a nice bike path. It will take you up to about 110 St.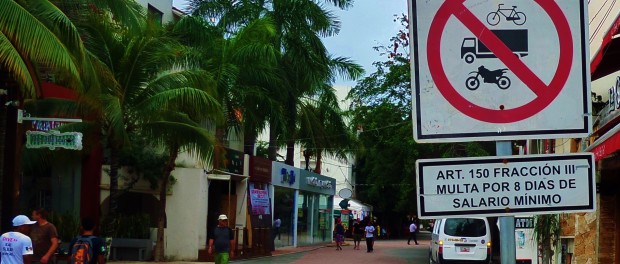 Note: Bikes are NOT allowed on 5th Avenue on the pedestrian parts. You may see bikes there in the early morning but really any bikes at any time are not allowed. Besides being not permitted, it really gets too crowded with shoppers and people walking. Technically according to this sign you can get fined. This does not happen but it technically could.
Bike routes for special events
Bicineta is a group that promotes bike riding in Playa Del Carmen. Here is a link to Bicinets Facebook page to check dates for upcoming events. These can be a great way to join a group of cyclists and enjoy a ride in Playa without the traffic and a little safe condition.
Biking out of Playa Del Carmen
Want to go farther and get out of town? You can bike on highway 307 but you should note that this is the only road that goes through Quintana Roo State, so it receives all the traffic. Big trucks, busses, zipping colectivos and tourist renting cars in a foreign country all ply the road. There is a shoulder but all in all, it is not the safest road to be biking on. Some bike groups do rides to Tulum or other destinations on this highway. There is safety in numbers, so you might want to find a group to bike with. The interior roads in the Yucatan are a bit slower and have less traffic. Most are narrow though and drivers are not used to navigating around bicyclist. In some areas where there are more Mayans you will find bike paths next to the road. This is true around Valladolid where there are some trails and nice trips to small communities if you want to do some more biking in the Yucatan.
Bike map for Playa Del Carmen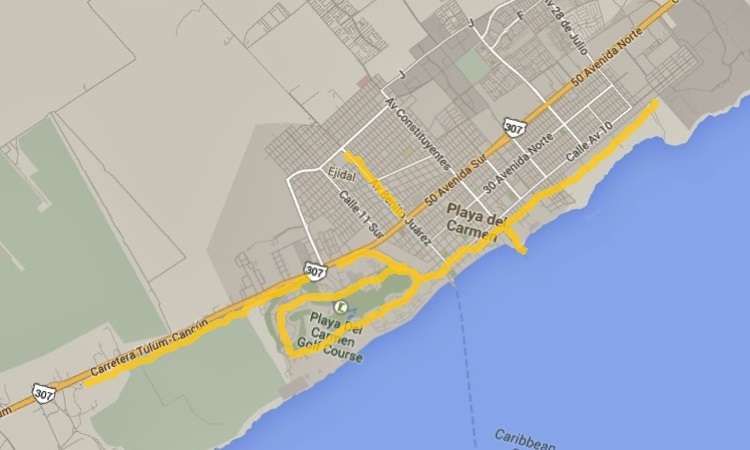 Bike tours to check out in our area
If you want to see some of the Mayan back country there is a great local bike tour company called Bikers Zaci in Valladolid. This town in easily reach and is in the center of the Yucatan Peninsula. It is about a 1.5 hour drive from Playa Del Carmen. Check our article on this bike tour with Bikers Zaci here.
Do you have a bicycle in Playa Del Carmen? Do you have some tips you would like to share? We would love to hear from you in the comments below.