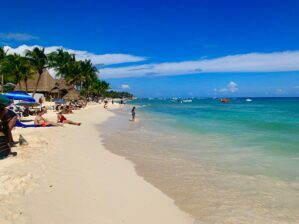 10 Things that have recently changed in Playa Del Carmen
Things are always changing in Playa Del Carmen. Ever since it was a small fishing village, it has grown and grown. Every time we turn around there is a new restaurant opening and one closing or other things we notice. We try hard to keep all of our website updated so the information is helpful and current. That way you can trust our guides and enjoy everything that is in the area. We recently wanted to update you on some things that have changed that might affect your next trip to Playa.
#1 Public Bikes
Many cities have instituted public bikes to promote a more friendly way to get around. BiciPlaya is the program to install bike stands around town for riders. The details of joining and using them is still in the works (as you can see from the website that is not fully working). Hopefully with more bikes and these special green bikes, the theft of bikes goes down.
Of course, having a place to ride the bikes is another thing to think about. There are some bike lanes in Playa Del Carmen but not enough nor as many places to ride. You can see a map and more information about biking in Playa Del Carmen here in our article.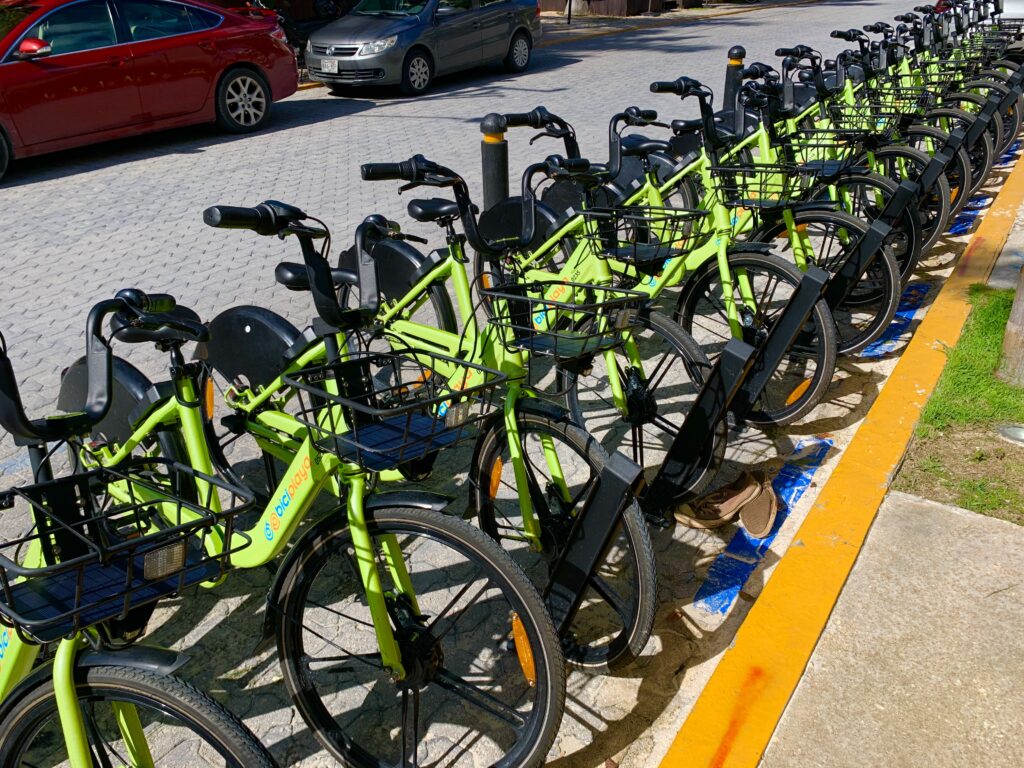 #2 Parking Meters in the downtown of Playa Del Carmen
As we predicted back in 2015, parking has gotten more difficult in the center of Playa Del Carmen. Between residents, tourist and people working in the downtown, parking spaces are harder to find. The city of Playa Del Carmen has installed parking towers on blocks to regulate the parking. Right now the prices are very cheap, but this is subject to change as demand grows. Perhaps now, more people will think about driving into the center and might take public transportation or walking. For more on parking, see our article about where to park in Playa Del Carmen.
More and more of the larger newer condo buildings are also adding parking below them. In the past basements were not dug as it was not cost effective. Now there is more demand and buildings offer this, although not all units have spaces often.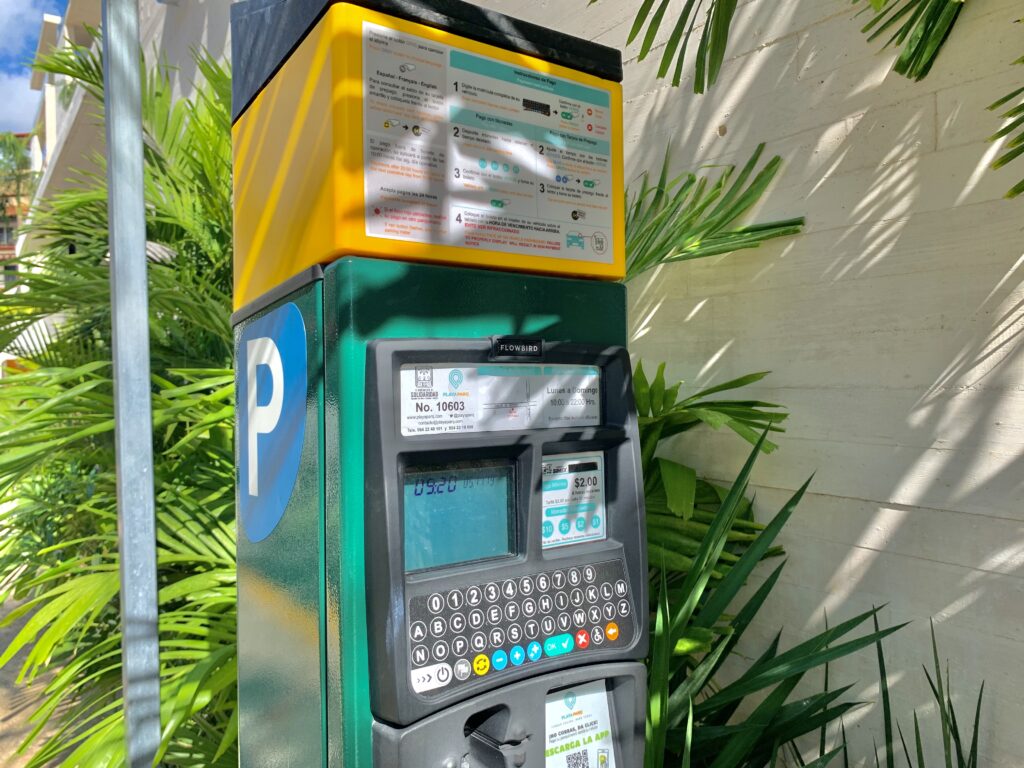 #3 Restaurants that closed recently
As Playa Del Carmen grows, some areas get less popular and taste change also. Playa Del Carmen in the past half decade has gone from a small seaside town to a more cosmopolitan chic place to visit. It is less about the beach and more about the experience of Playa. The people coming to Playa have also changed and some have changed their expectations of what they want in regards to restaurants. All of this effects business, and many open and close each year.
Here are some of the recent restaurants that have closed.
La Mission was a long time local seafood restaurant that is now closed. It has struggled over the past year to maintain the customer base. Since this restuarant was at the south end of 10th Avenue, it received less people. More and more people are staying more north of Constituyentes and this makes it more difficult to go to the south end to go out to eat. Not having a lot of parking close by also was a problem.
Cenacolo was a high end Italian restaurant that was once at 28th and 5th and then moved to 32nd and 5th. It was famous for the hand made pasta stand out front. Cenacolo is now closed.
Mi Pueblo was on 5th Avenue and 8th Street. It was a low key Mexican restaurant that also served a good cheap breakfast. It has closed and is not a bar.
Rollito Dulce was a small stand on 2nd Street where George made delicious buns with different toppings. Unfortunatly they have closed also.
#4 Ah Cacao opens a new location
Ah Cacao is the local coffee house that is just in the Riviera Maya. They are a green company that imports Mexican coffee and chocolate for their products. They are popular in part because they offer great products, have good locations for meeting people and people watching, and offer good prices. Since they are so popular, they opened a new location on 5th Avenue and 2nd Street. Now you have a new place to grab a coffee or one of their great brownies.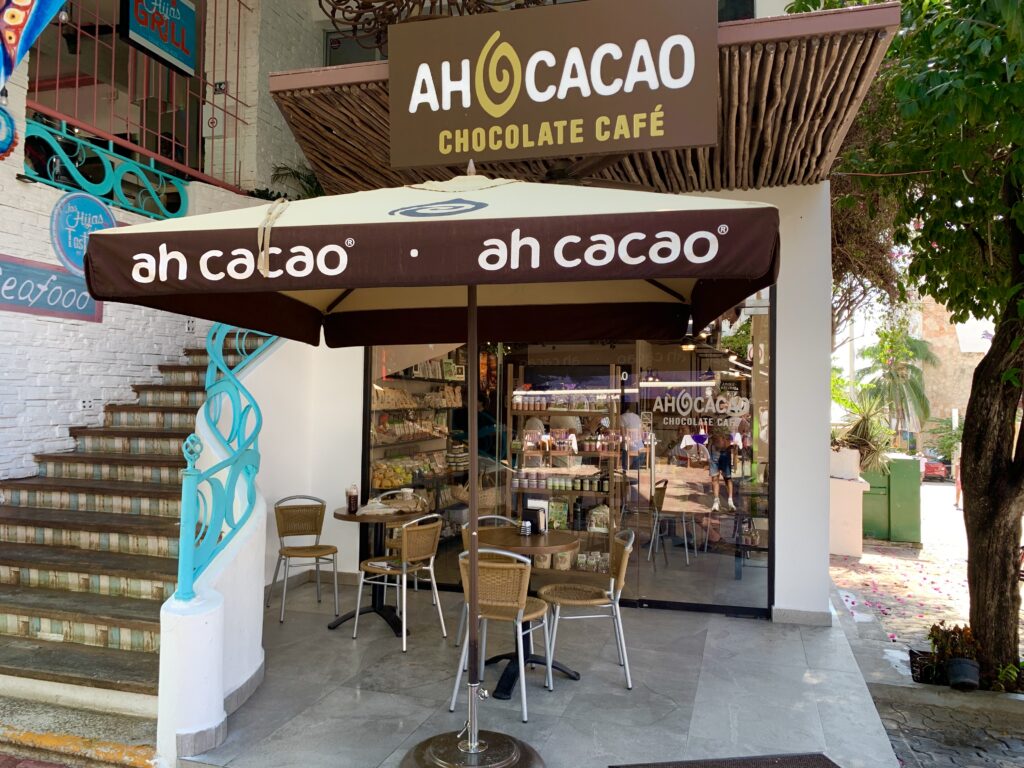 #5 Beautiful fall beaches!
The Riviera Maya and many parts of the Caribbean have been suffering with seaweed washing ashore. Recently we have gotten a reprieve. The past month or so have been very good to the beaches in Playa Del Carmen! Just look at this photo taken the first week of November 2019! Of course, all beaches are not equal. Check out our map and article about what local beaches get hit hardest and which beaches receive the least amount of seaweed.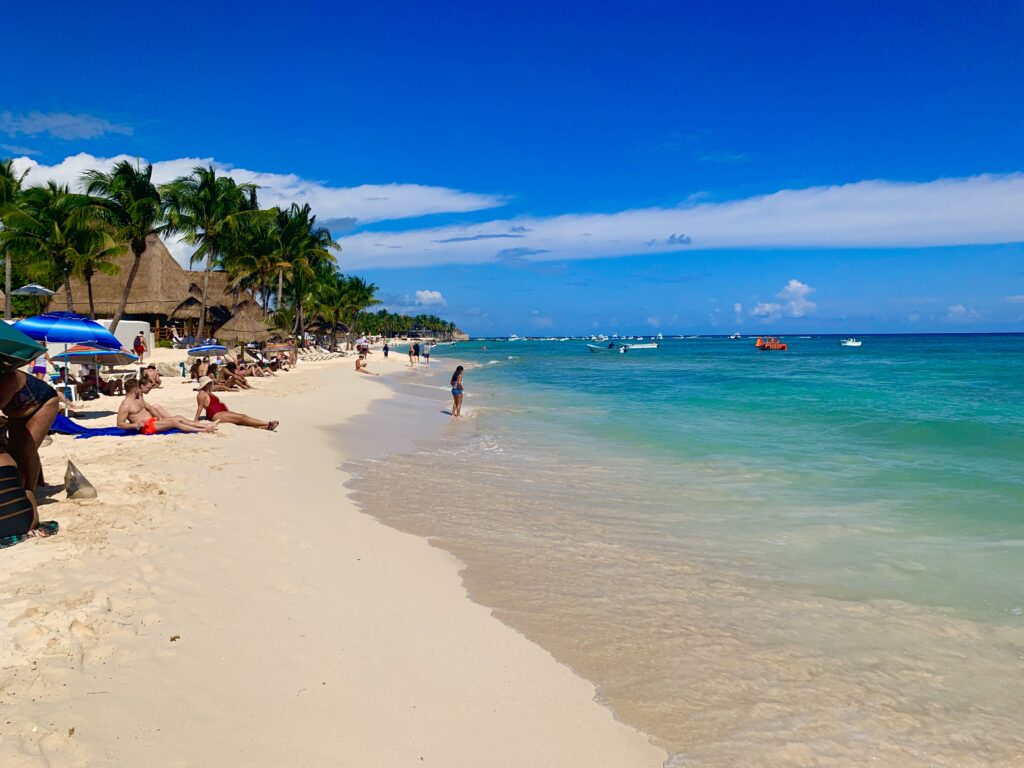 #6 Mini So store takes Mexico by storm!
There is a new chain of Japanese style stores popping up all over Mexico (although Chinese owned). Mini So has one store in Paseo del Carmen shopping plaza and the latest on 5th Avenue. Most items are under 400 pesos in these stores and that is part of their popularity. You can find well designed items like home incense, small kitchen things, headphones and toys.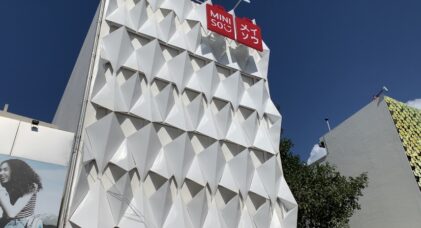 #7 New Restaurants and bars open in Playa Del Carmen
One of the most notable new restaurants is Belmonte. This is an upscale restaurant brought to you by the same owners of Oh Lala and Yum Yum Restaurant. With such a good reputation for the other two restaurants, this one is sure to be good.
A new (or shall we say another) Senor Frogs Bar has opened on 5th Avenue and the corner of 22nd Street. This was where the Guy Fieri's Restaurant used to be.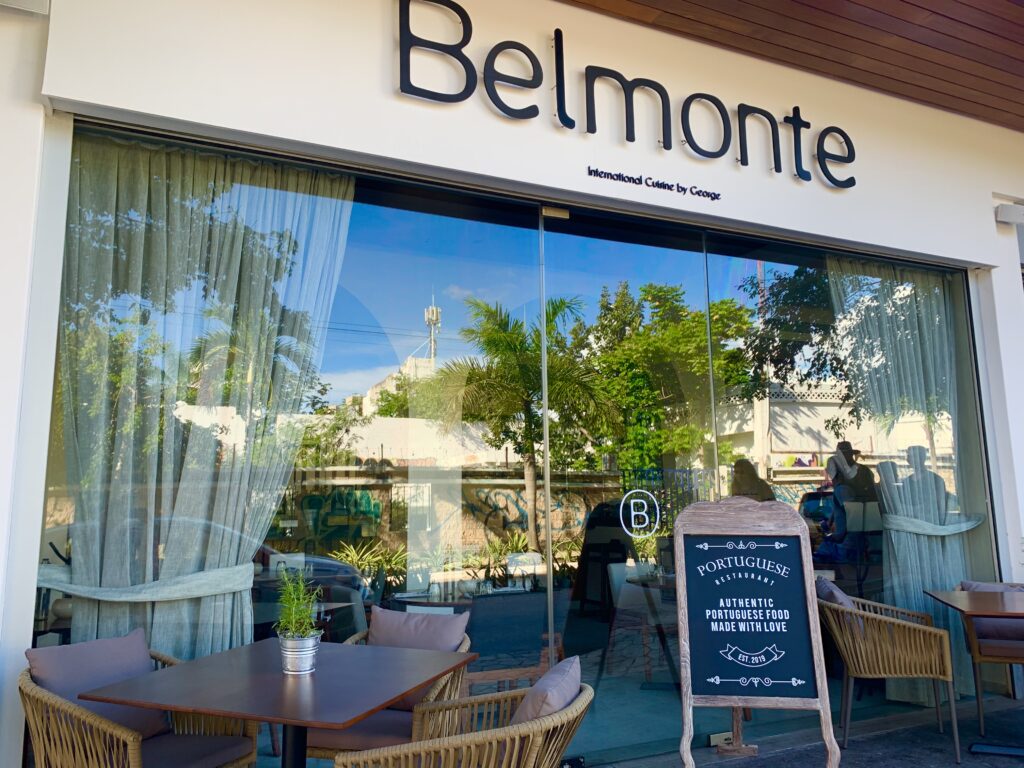 #8 The Cozumel Ferry Terminal gets a makeover (sort of)
What was a bad design to start with, the glass front with a water flow on it has been removed. The minerals in the water stained the glass. The inside also has some new places. Even though this larger new terminal has been around for a little bit, there have been empty spaces. It is gradually being filled with new businesses in the empty locals. A new tenant is an exchange house which currently offers some of the best rates to customers.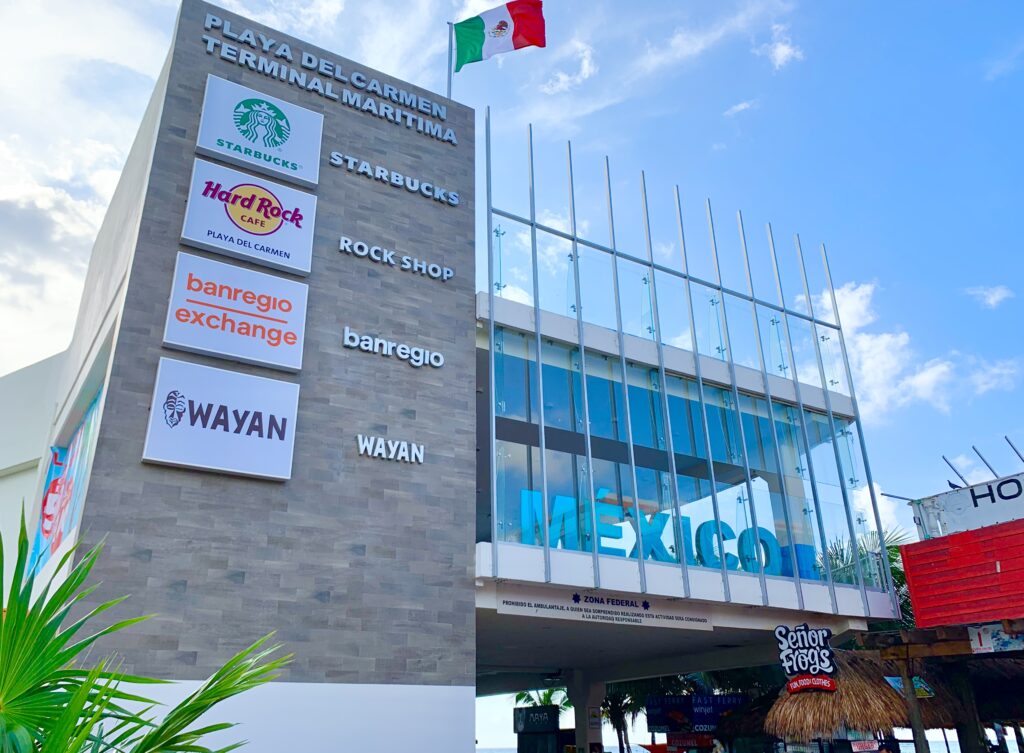 #9 Cerveceria Chapultepec take over!
If you like beer, and Mexican beers for that matter, you have a few more options to go to. Cerveceria Chapultepec chain that now has three locations in the center of Playa Del Carmen. The latest one is on 5th Avenue and 8th where the Mi Pueblo Restaurant used to be.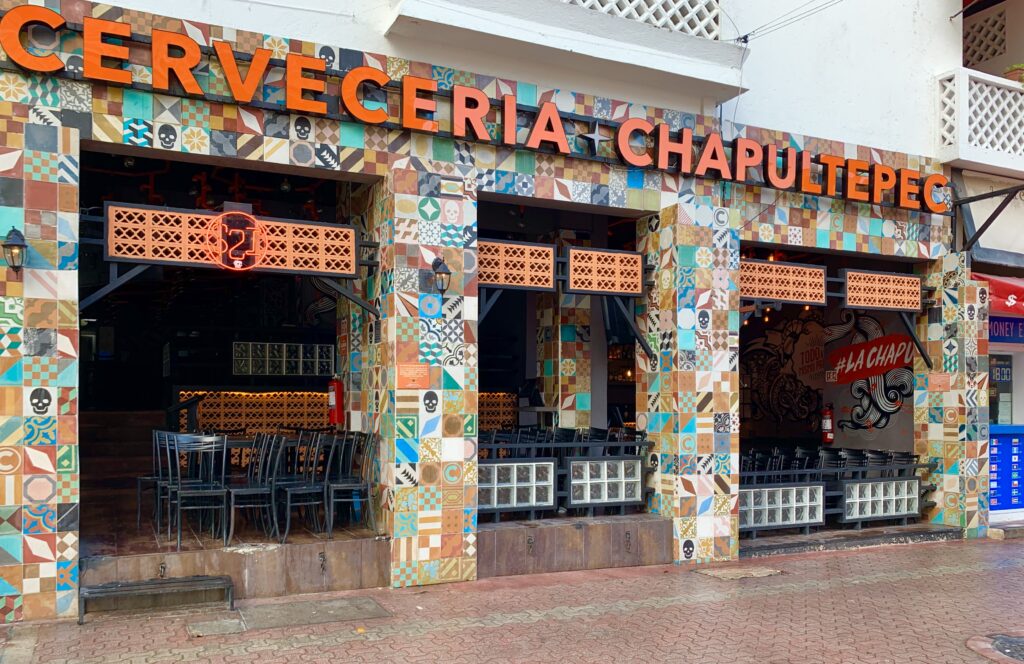 #10 A new beach club on the north end of Playa Del Carmen
To help you enjoy these beautiful days we have been having, there is a new beach club near CTM Avenue. This area of the beach is known as Coco Beach. The name of the beach club is Mandarino Beach Club. There are also a couple of nearby beach clubs to chose from as well as the beach clubs in the Playa Del Carmen area.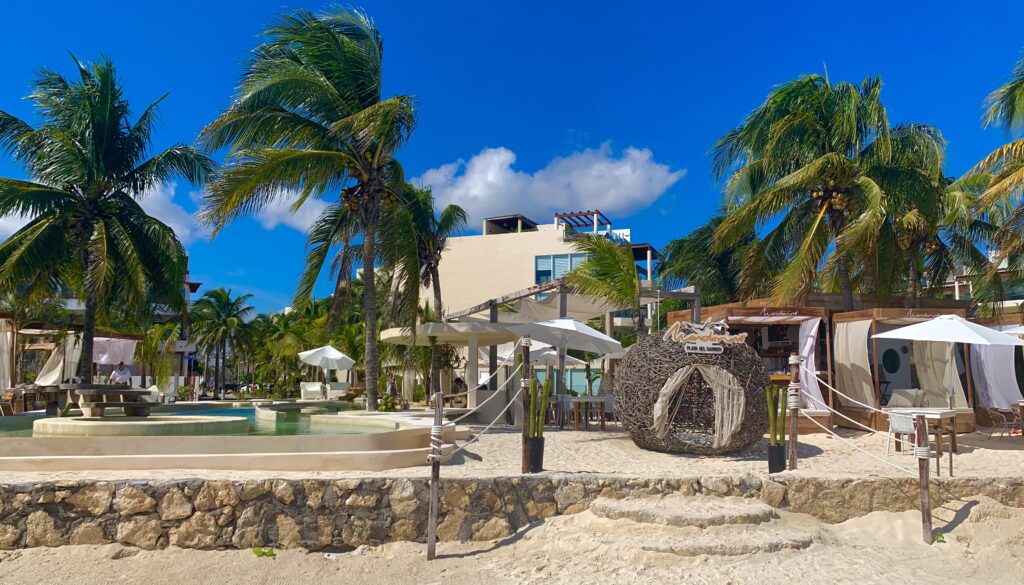 We hope you have enjoyed our little update on new things in Playa Del Carmen. Things are always changing in Playa and we hope you check in often to see what we are up to. You can always use the search box to look for things as well.