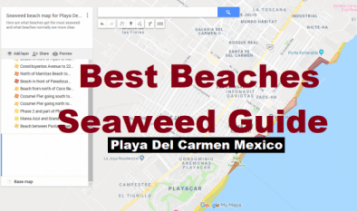 Beaches in Playa Del Carmen that normally get less seaweed
For the past few years the Riviera Maya and Playa Del Carmen, as well as many parts of the Caribbean, have been getting unusually high amounts of sargassum or seaweed (as many people refer to it). We wrote another article about seaweed and how to predict it and how it is impacting the area. We wanted to follow up with a more specific article relating to the beaches of Playa Del Carmen. Many people post pictures of the beach on the same day, and they can look very different. This is because not all the beaches are the same.
While it is hard to predict how the seaweed will be at any given point, because it changes daily, you can plan ahead by looking at this map and knowing what might be the best places to visit the beach. This map might also help you plan on where you want to stay in Playa Del Carmen or what hotel you choose. At the end of the article we will have other great options for enjoying the area with no worries of seaweed and also other beaches in the area that often are not affected.
Our Map of Playa Del Carmen Beaches and Seaweed
We made this map to help our readers know what beaches are usually cleaner and what beaches tend to get more seaweed in Playa Del Carmen. Over the past few years, these areas hold true to the reputations. The areas that receive more seaweed are mainly affected by the currents and the form of the coastline. We color coated the map from light yellow to red to show light to heavy accumulation of seaweed, when there is a problem with seaweed. We also labeled the beaches Levels 1-4. Level 1 is the lightest amount of seaweed and level 4 is the highest amounts and accumulation areas in front of Playa Del Carmen.
A slight consideration of how clear the beaches are, is how the hotels on that segment of beach clean. For example, Playacar Phase 2 is home to all large resorts. Each day crews clean the beach and remove seaweed if necessary. Compare this to a similar stretch of beach from CTM Avenue to 88th Street, which receives about the same amount of seaweed. There are no hotels or homes on this stretch of beach, so when seaweed lands, there is usually no collection of it. Therefore, this beach is one level up on the scale.
In the section below, we talk about each of these areas in detail and access to beaches that are better off.
Note: If you like our maps and find them helpful, we have a whole map section here on our website.
Check out these live webcams in the area for current conditions
We have compiled a few of the local webcams so you can see live views of beaches in the area. Check them out there in our article about Playa Del Carmen webcams.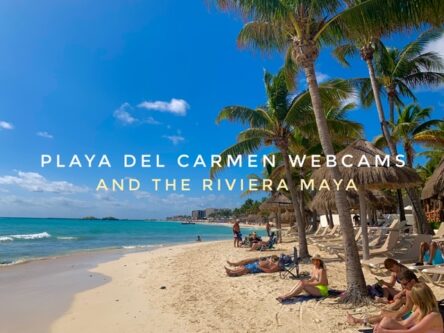 Breakdown of the beaches of Playa Del Carmen for seaweed
After looking at the map above, we will comment more about what the beaches are like and what hotels are in these areas. We will also talk about going to other beaches that are cleaner and free of seaweed. We will start on the south end Playa Del Carmen and work our way up the coast. Any of these beaches you are interested in going to, cross reference with our beach club guide here.
Playa Phase 1 Beach, Level 1
This long stretch of beach is a Level 1 on our map. We rank this a Level 1 because this beach normally does not receive as much seaweed as other beaches. Also, the amount of large hotels that send employees out each day to clean the beaches when there are issues helps maintain them. If you are interested in staying in this area of Playa Del carmen, here is a list of hotels that are along this stretch of beach:
Public access to this beach is limited. Both Playacar Phase 1 & 2 are gated communities. All beaches in Mexico are public, but access to them is not. The main access to this beach area is by walking south from the Cozumel Ferry Pier. It can be about a 15 to 20 minute walk down the beach to get to some of the better beach areas.
The beach in front of Playacar Phase 1 to the Cozumel Ferry Pier, Level 3
Ever since the extension of the Cozumel Ferry Pier the erosion and collection of seaweed of this stretch of beach has gotten worse. The seaweed collects especially in the corner between the Cozumel Ferry Pier in front of Senor Frogs. This is a shame because this beach is easy to access from town and the ocean is free of rocks. An alternative to visiting this area is walking further along the beach toward Playacar Phase 2 where the beaches are much nicer, wider and normally a Level 1.
There is one large hotel in this area on the beach called Playacar Palace. A little further south there is a second hotel that is a smaller all inclusive hotel called Sunset Fishermen Beach Resort.
The beach from the Cozumel Ferry Pier to 12th St., Level 2
This is the central area of Playa Del Carmen. This beach normally does not get as much as some beaches and it does not pool up as bad. The past few years there has been some erosion in this beach area which has left some of the sand worn away. It is normally a little smaller in the winter months and when there is strong wind.
In general, there are some affordable hotels from the Cozumel Pier to 6th Street along the beach. Two notable beachfront hotels near 8th Street are the Carmen Hotel and the Thompson Beach house.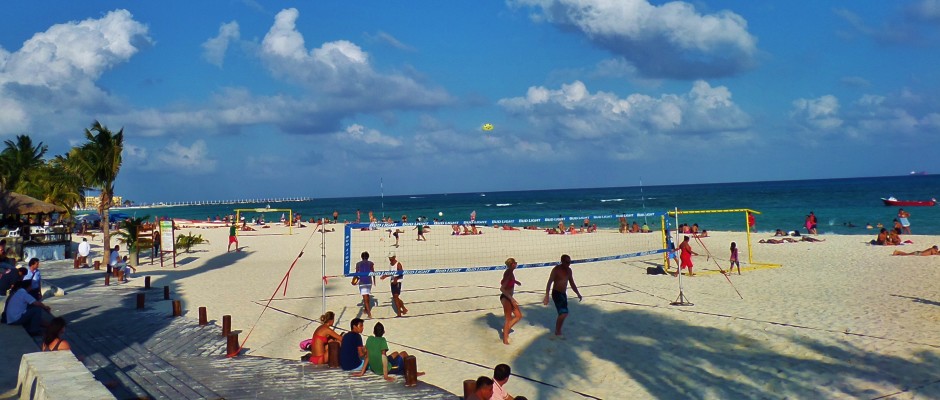 12th Street to Constituyentes Pier beach area, Level 4
This area tends to get more seaweed because the currents. Especially in the corner where the Panama Jack Resort is located. We feel sorry for the people that stay at this resort because the beach is often eroded, has sand bags, and collects seaweed at one end. The front side of the beach on the south side of the Constituyentes Pier is usually more clear, but the beach is rocky in this area.
Constituyentes Pier to 22nd. Street beach area, Level 2
This beach has one large resort on it. It is the Hilton Resort formerly know as The Royal. Not too much seaweed builds up on this beach and the resort does a decent job of cleaning it up. It is easy for the public to access this beach from Constituyentes Avenue. If you stay at this resort, you don't have too much to worry about because there is a large pool area and the beach is usually not that bad.
Grand Hyatt and Mamitas Beach, Level 1
In the downtown of Playa Del Carmen this is perhaps the best beach to visit. It is wider than most other beaches, there are not rocks and between re receiving less seaweed and getting cleaned well, it is a good beach to visit. This beach is a Level 1 for seaweed. The good news is, there are several large beach clubs that you can visit in this area and it is pretty central in town.
For beach clubs, there is the Coralina Beach Club, Kool Beach Club, and Mamitas Beach Club. Coralina is more of a daytime club for the party crowd. The Kool Beach Club is more of a large average beach club and Mamitas is one of the most popular beach clubs. Mamitas has chairs, beds, a pool and VIP area, restaurant and children's pool area.
If you want to stay in this area, the main hotel is the Grand Hyatt. This is a large hotel that offers guest dinning options or easy access to 5th Avenue in Playa Del Carmen. What else is nice about this hotel is the elevated pool level at the beachfront. So even if there is seaweed, you can be at the pool and still have a great view out over the Caribbean.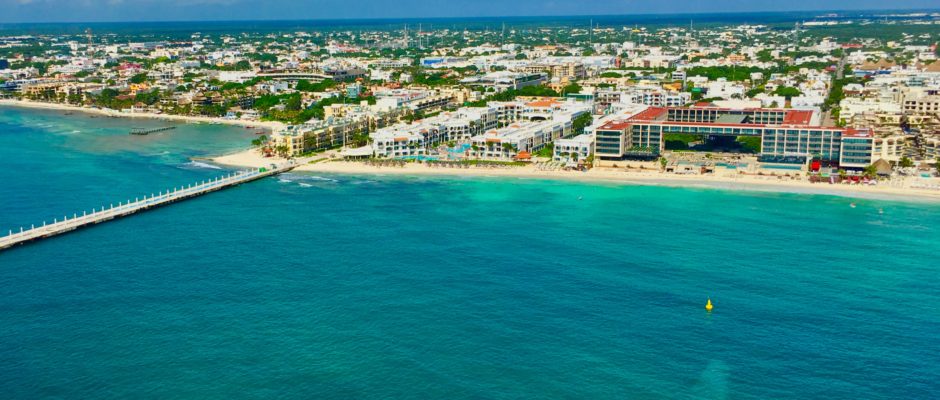 North of Mamitas to the Reef Coco Beach Resort, Level 3
The area just north of Mamitas is the Mahekal Resort. This area is not that bad, but as you progress north it normally is worse if there is seaweed. The condition of Coco Beach (38th Street to 48th Street) has been consistently bad over the past few years. There are some beach clubs in this area and they often have to entice visitors with a pool or music when there is seaweed.
There are a lot of nice rentals in this area, just note that the better beach might be below 38th Street.
Reef Coco Beach Resort to 88th Street beach, Level 2
This beach is a narrow stretch of empty beach. There are only a few public beach access points from the Colosio neighborhood. Everyone that comes to this beach brings their own towels and chairs to spend the day at the beach. This beach is a Level 2 on our seaweed scale. Since there are no houses, condos or hotels on this stretch of beach, most of the seaweed that makes landfall, stay on the beach and dries.
The one resort in this area is the Reef Coco Beach. This is a smaller resort at the north end of Playa Del Carmen. In the past few years they have built two docks and tried barriers to keep a part of the beach clear for guest. Usually the beach is in ok shape, but it has not resulted in the best looking beach.
Beach in front of Paradisus Resort, Level 4
This area of the beach often collects a lot of seaweed especially on the north end. We labeled this beach a Level 4 for seaweed. This is ashamed because this is right in front of the two Paradisus luxury resorts. If you stay at either the Paradisus La Perla All Inclusive Playa Del Carmen or the Paradisus La Esmeralda All Inclusive Playa Del Carmen and the beach is not in good shape, you can try the southern most areas of the resort or enjoy the large pool areas. The beaches to the south and north are not really going to appeal to people staying here since you are paying for services. The beaches adjacent to this area are more remote because with no good services.
At the north end of this beach in the corner is a cenote that boils up water into a natural pool. This pool of fresh water flows into the ocean. It is a popular place for local families to come. You can read and see more about this area in our article here.
Beach area between Punta Esmeralda and Marea Azul
This is a more natural stretch of beach where there are no hotels. The only access point is the long beach access road at Punta Esmeralda. This area is popular with local families on the weekend.
Going north up the beach there are remote stretched of beach where mainly locals go on the weekends. Some parts of this beach are rocky and others are good areas for swimming. We give this a Level 2 rating on our seaweed scale.
Marea Azul and Grand Coral Beach Club area
This area is not really accessible to the public except people staying at Marea Azul or visiting the Grand Coral Beach Club. This area of the beach does not get that many people. The beach is wider and offers calm waters to swim in because there are outlying reefs. When there is a lot of seaweed in the center of Playa Del Carmen, some hotels will send people to this beach club to enjoy the day at the beach.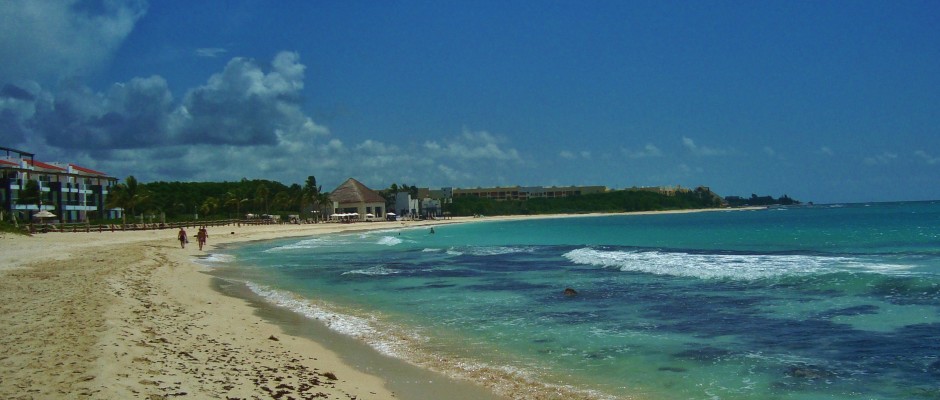 Alternative beaches in the Riviera Maya area that are free of Sargasso
Since most of the Riviera Maya faces east, many of the beaches are in a similar state if there is a lot of seaweed. This means going to beaches that are positioned differently. Here are some alternative places to visit:
The west side of Cozumel. These beaches often are crystal clear turquoise color with very little seaweed. You can take the Cozumel Ferry over for the day and visit some of these beaches. One good park to visit that has a good beach and facilites is Chankanaab Park.
Playa Norte on Isla Mujeres. This beach faces northwest and is often not affected by seaweed.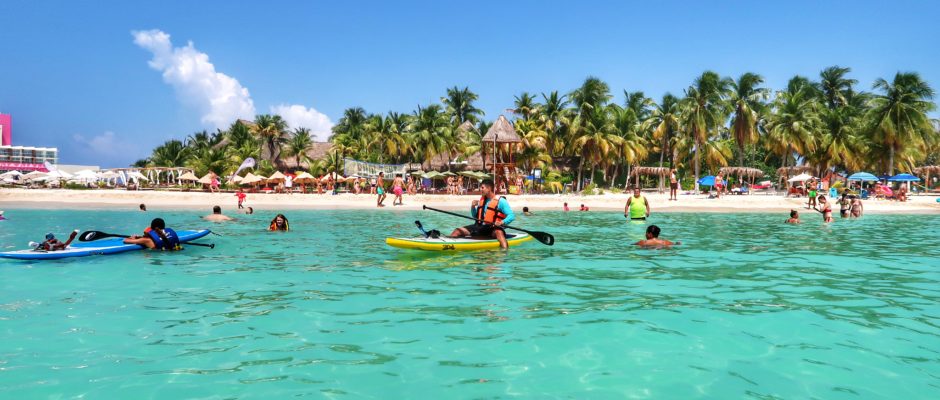 Activities to enjoy that are great no matter what the beaches look like
Playa Del Carmen is more than just the beaches. It is the center of the Riviera Maya and many places are just a day trip away. Here are some of the great things you can do that will not be affected by sargassum.
Cenotes
Cenotes are something unique to our area. These are fresh water pools in the limestone of the peninsula. Here you can swim, snorkel and enjoy an afternoon with no seaweed. There are some great cenotes close to Playa Del Carmen.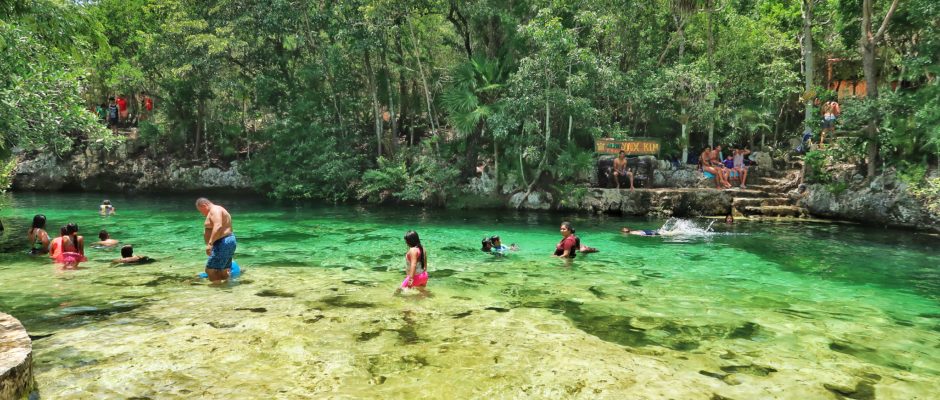 Eco Parks in the area
These parks will keep you entertained for sure! Many people include at least one of them while they are here on vacation. There is Xcaret, Xplor, Xavage, Xenses, Xenotes, Xel Ha and Xoximilco. You can find out information here and also searching on our website for our article and videos for each place.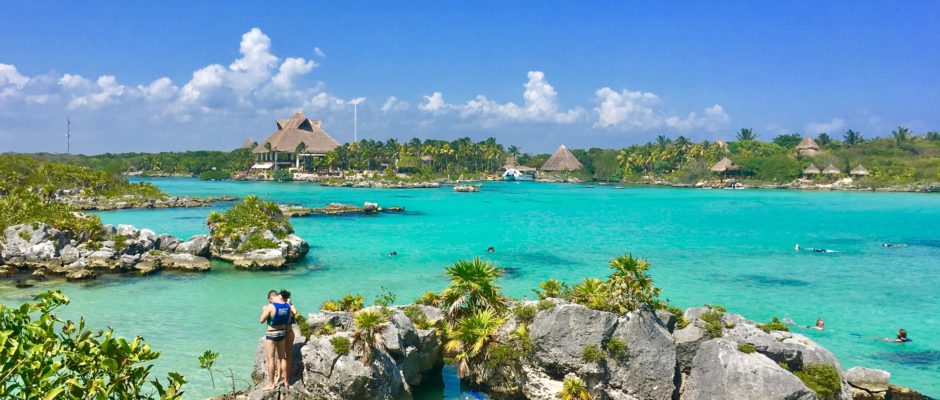 Bacalar
Technically, this lagoon is filled by fresh water cenotes, this 40 mile long turquoise paradise will make you swear you were at the beach. It is called the Lake of seven colors of blue because the way the white sand bottom reflects the colors. Bacalar is about a three hour drive from Playa Del Carmen, so it is more than a day trip. But after seeing this place you will surely want to spend some time there.
Mayan Ruins
Take in some impressive history of the past 1000 years or so by a visit to one of the close by Mayan ruins. Most of these are available by a tour from Playa Del Carmen, and will take a full day to explore.
Colonial Cities to visit
Many people think about the Riviera Maya and think beach only. But did you know there are towns that are over 500 years old? The Spanish built colonial cities here, and they still offer a lot of charm and contrast to the Riviera Maya. The closest is Valladolid (1.5 hour drive). A day trip or overnight can be a great way to include some history and culture to your vacation. See our link to colonial cities above for more information abut visiting them.
Rooftop pools in Playa Del Carmen
If the beach is not in the best shape, there are more and more rooftop pools that are open to the public. Most of these are on the roofs of hotels. These are a chic way to chill, have a cocktail and splash around. Here is our guide to rooftop pools to visit in Playa Del Carmen.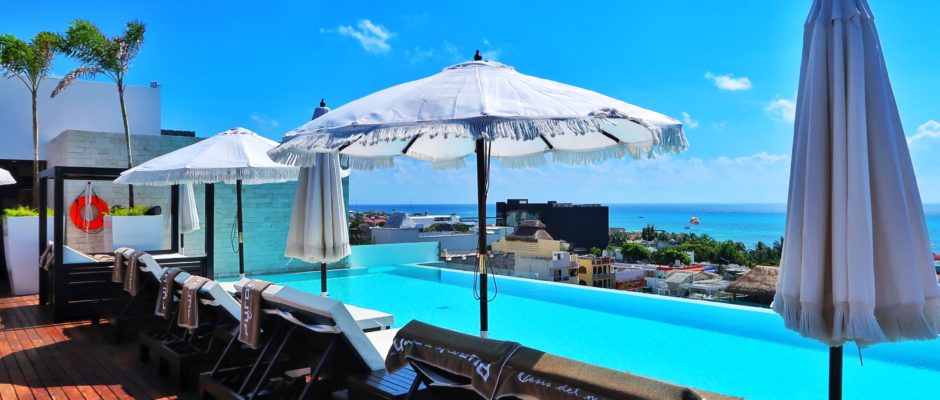 Enjoy the great restaurants in Playa Del Carmen
Not only are you in Mexico, and can go to some good Mexican restaurants in Playa Del Carmen, you can take in the international restaurants in the area. Due to the fact Playa Del Carmen is a landing point for many people from around the world, you can pretty much find any type of cuisine here. Just take a look at our restaurant guide here or use the search box on the website to look for something you have a hankering for.
Conclusion
We hope this map and information helps you plan your trip. If you have any questions or comments, please let us know below. Just because there is this natural phenomena going on, it does not need to ruin your vacation. There are ways to plan around it and enjoy many of the great things the area has to offer. And maybe when you arrive there will be no seaweed, but at least you are prepared.