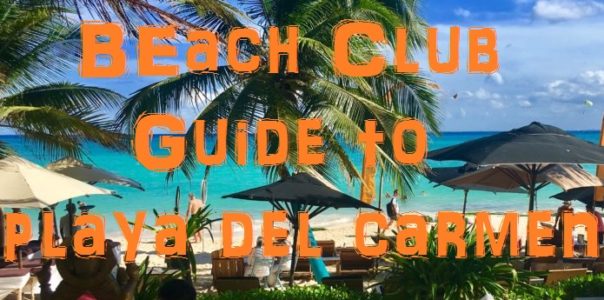 Ultimate Beach Club Guide to Playa Del Carmen
Everyone likes to go to the beach in Playa Del Carmen. You might want to just go and sit on a towel but you can also visit some of the beach clubs in Playa Del Carmen. These beach clubs will offer you chairs, bathrooms, food and drink service and more. Spending the day at a beach club can make for a nice relaxing time. Here is the guide to all the beach clubs along the coast and what they are like so you can find the right one for you.
Our Video Introduction to the Beach Clubs of Playa Del Carmen
This video will give you a nice introduction to what the beach clubs look like below and also what the beach looks like.
The List of Playa Del Carmen Beach Clubs from South to North
These are the major beach clubs along the front of Playa Del Carmen. There are some small ones and some that often do not have the best beach. So the list below should give you enough choices to choose from.
Tips: Remember that in high and low season prices and polices change. We try to mention prices in the individual articles for each beach club. Sometimes you can just pay consumption at a beach club and get free use of a chair or beach bed. Some of the larger beach clubs will charge per person or for the beds. Remember, if you don't feel welcome at one beach club there are more to choose from.
Each beach club has a different vibe or feel. Some beach clubs are more popular with young people and some are popular with people seeking a chill day at the beach. We hope you can find what you are looking for in this list.
Senor Frogs
This beach club is just south of the Cozumel Ferry Pier. The beach club has chairs, outdoor showers, bathrooms, and a restaurant. Senor Frogs is known for the cheesy factor but the beach here is no laughing mater. This is a nice beach and it usually is not that crowded.
Soundset Beach Club
This is a new beach club in an old location. What used to be a local hangout along with beer and ceviche is now the SoundSet Beach Club. This beach club is a little more music oriented and has some events. For more about this beach club, see their Facebook page here.
Inti Beach Club
What was more of a yoga center, this now is a chill beach club and restaurant. Bathrooms and showers are available here. Inti Beach is tucked back from the beach and has a smaller feel to it. For more about Inti Beach see our article here.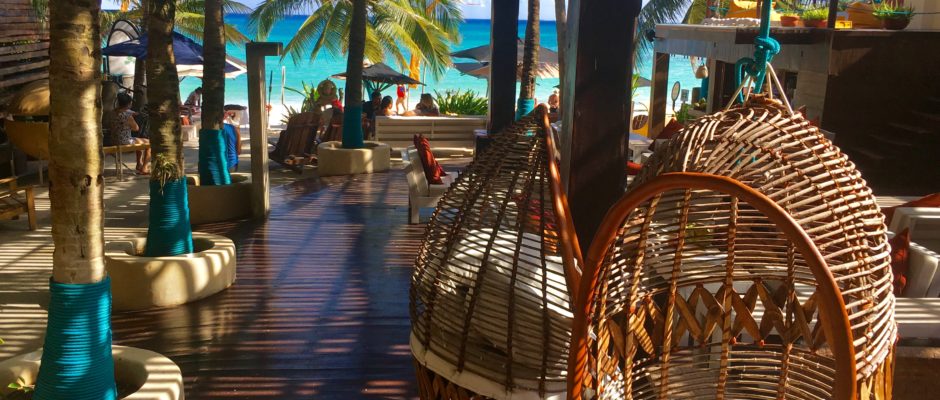 Zenzi
Right in the middle of Playa Del Carmen at 10th Street is Zenzi. During the day this beach club offers low laying beds and a restaurant. At night this is a spot to enjoy the beachfront restaurant.
Lido beach Club
Midsized beach club with beach bar and food service.
El Taj Beach Club
On 14th Street and the beach is El Taj. This beach club has nice umbrellas and a relaxed atmosphere. There is a restaurant as well here.
Coralina Daylight Club
Coralina is described as a nightclub in the daytime and that is about accurate. This is more of a see and be seen beach club. If you like a club with a DJ and pool then you might like here. Beach chairs and beds are available along with bottle service and high-end services. See our article about Coralina and you might note the reviews at the end. Many readers give this beach club low scores.
Kool Beach Club
This is a large beach club with a lot of chairs. There is a small pool and restaurant here.
Mamitas Beach Club
Perhaps the most popular beach club in Playa Del Carmen, Mamita's Beach Club is the popular club with young people and people that want a lively atmosphere. There are many beach beds and chairs available In the inner courtyard of this beach club there is a pool that offers a different feel then on the beach. Most of the time at Mamitas there is lounge/chill/electronic music paying. To read more about Mamitas Beach Club see our article here.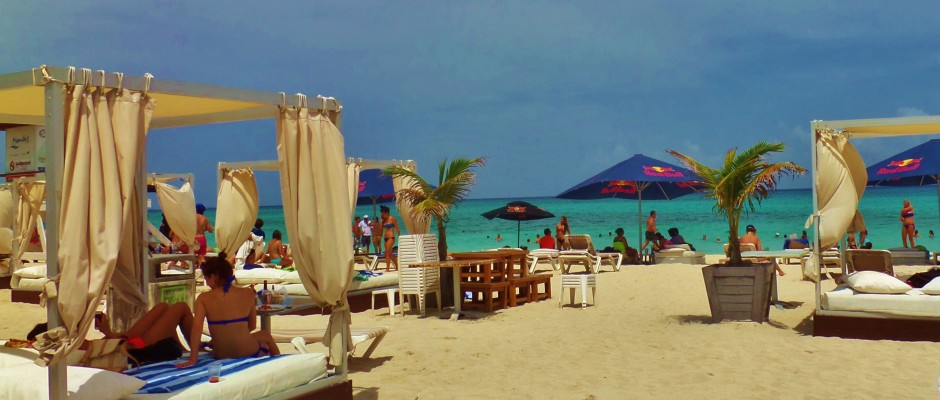 Martina Beach Club
This beach club is on the north end of Playa Del Carmen and has a decent amount of beach beds. There is bar and food service here. You can read more about this beach club in our article and also read reviews from readers. This beach club often gets negative comments.
Mandarino Beach Club
This is a new beach club in the area. It is a calmer beach club with food service. It provides a nice contrast to Martina Beach Club since that is a little louder and youthful. For more information see their website here.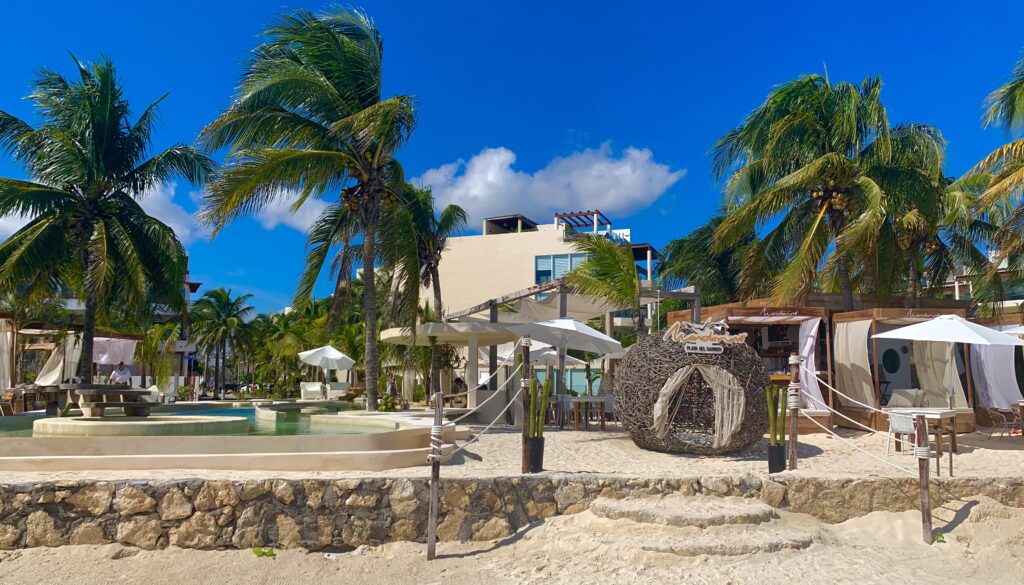 Cocoa Beach Club
UPDATE: This Beach club is now closed. This is a small and casual place by Punta Esmeralda. This is just past the Paradisus Hotels on the beach access road. Here you can find a food truck with basic seafood tacos and a few beach chairs. What makes this place so interesting is the more remote location and just casual vibe.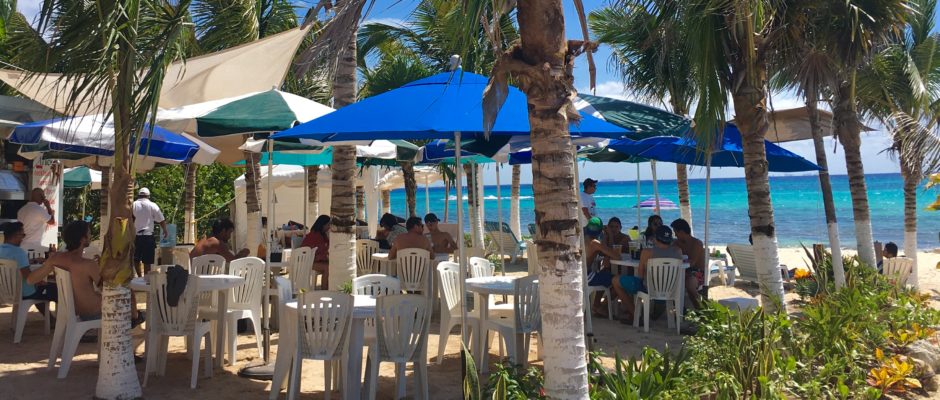 Beach Club Map for Playa Del Carmen
More reading about the beach in Playa Del Carmen and the Riviera Maya
If you enjoyed our guide to beach clubs in Playa Del Carmen you might also like to look at these articles:
What is your favorite beach club in Playa Del Carmen? Let us know in the comments below. We would love to hear from you!