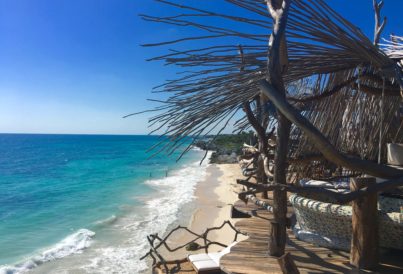 Inside of the Boutique Hotel Azulik in Tulum
Would you like a marvelous hotel to stay in while visiting the Rivera Maya? One of the most spectacular hotels in Tulum is Azulik Hotel. Azulik is designed not only in harmony with nature, but also designed to make your stay one of the most memorable. We spent several days here exploring Azulik and getting to know what it offers, including insider tips for your stay.
We hope you enjoy our video and even better if you get to experience a stay here at Azulik. This truly is a one of a kind property!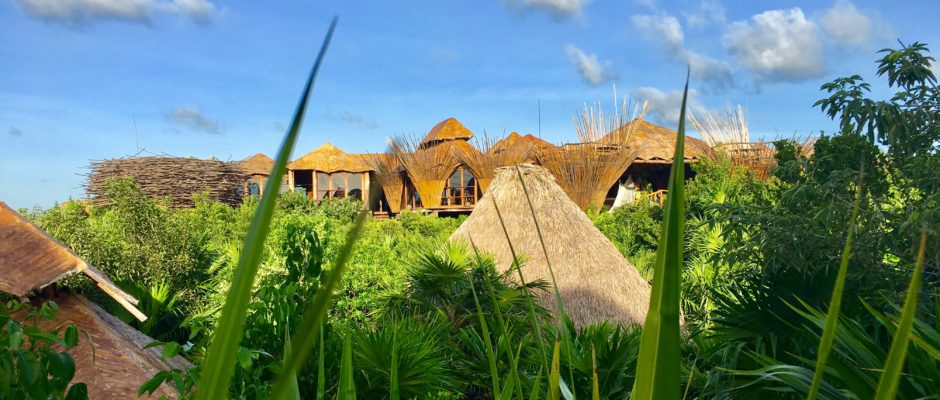 Our video introduction of the Azulik Hotel in Tulum
We complied this video over a few days of spending time in Azulik. We show you in the rooms and what it is like to stay at this boutique hotel in Tulum.
What makes the rooms so unique here?
Everything! Well, that is a start! Each room is unique in its own way. We will try to enumerate in this, but hang on because this hotel is so creatively designed, there is a lot to describe.
Outside space at Azulik
The rooms at Azulik are tucked into the jungle and some are on the cliffs overlooking the Mexican Caribbean. Each room has an outdoor patio or balcony with seating you so you can enjoy the natural area. Some of the villas have large round beds that you swing in while watching sunrise or just enjoy those warm tropical afternoons.
You might see photos on instagram or other famous photos of this hotel (there are a lot of middle photo shoots at his hotel). Some of the rooms have swings that swing out over the ocean or large nets where you can lay suspended over the crashing waves below (you can see these in our video above).
Many of the rooms have a custom made soaking tubs outside. These have hot and cold water and make for luxurious places to enjoy the views.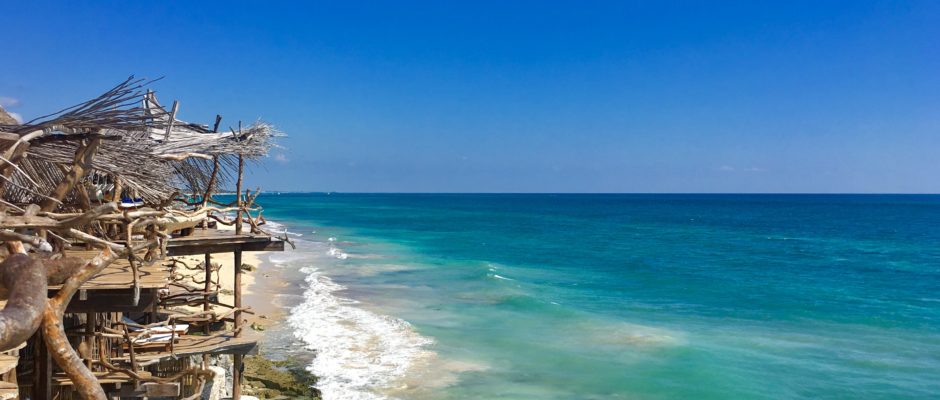 In the rooms at Azulik Hotel
The rooms here are very natural feeling and the architecture makes you feel like you are in a tropical treehouse at times. The rooms are large and open feeling. A large bed awaits you that has netting around it and a fan above for a cooling breeze.
A separate toilet is in a closet and an open bath is in the room. There are no showers at Azulik. The custom mosaicked tubs slow you down to enjoy the ritual of bathing. A whole range of products is available from Azulik Hotel to make bath time fun and eco friendly.
There is one plug in the room where you can charge things. There is no Wi-Fi in the rooms. The only Wi-Fi is in the designated public area of the hotel.
Tip: The staff pick for most popular rooms are the sky villas. These are rooms on the second level and have slightly better views. If you like taking more sun on your private patio, these rooms offer more full sun for bathing.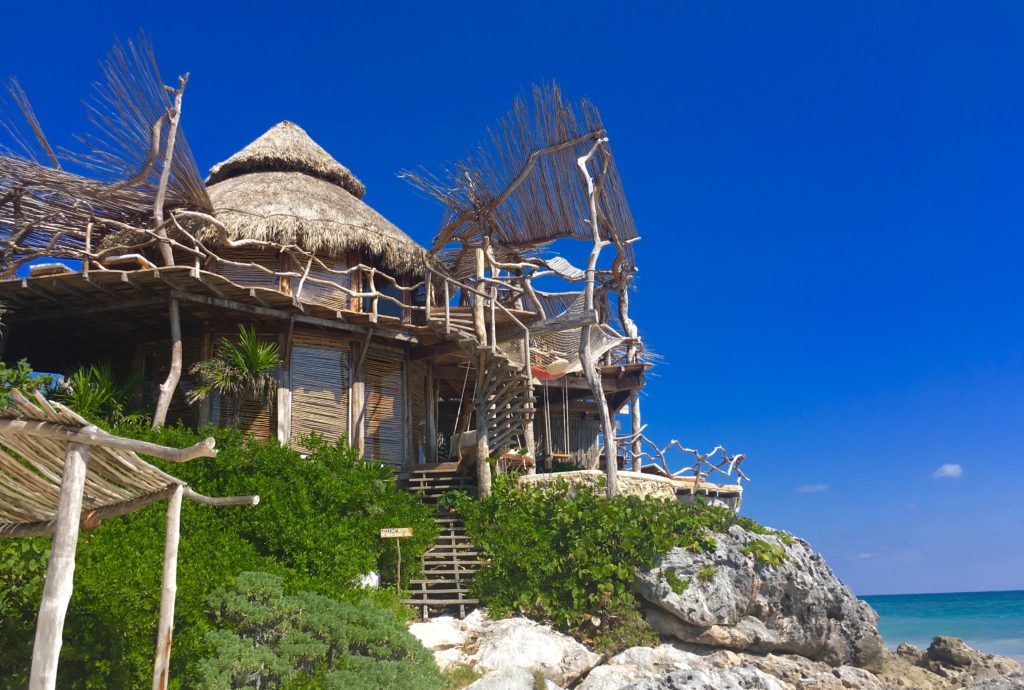 Nighttime in Azulik
Since this hotel is designed not only to be eco friendly, but also to help you disconnect from the outside world, the rooms only have a plug and fan. This means that the rooms are illuminated with candlelight. Each evening someone will come to light the candles in your room or leave candles for you if you do not wish to be disturbed. These candles flicker until dawn and provide a warm glow of light in the room.
The candles not only make it romantic, but also are eco friendly. This is because the beach is a turtle nesting area and naturally when turtles are hatched, they follow the light of the moon over the ocean. When there are man-made lights this can confuse the baby turtles.
Just think of this as glamping in luxury. Since this hotel is really for couples, you will be making experiences here. Part of the experience will be nighttime at Azulik.
Dinning options at Azulik
Azulik Hotel currently has two options for dinning and one exciting option to come (we will tell you more about this soon!).
Beach Bar
At the beach you can get sushi or other plates of food accompanied by drinks or tropical smoothies.
Cenote Restaurant
In the center of Azulik is the Cenote Restaurant. You can eat breakfast, lunch or dinner in this natural setting. Here they use local flavors and home grown ingredients to energize you for your days in Tulum.
Traditional breakfast foods are offered, vegetarian food, healthy option and delicious desserts.
Activities, Tour and Things To Do When Visiting
Spa and Massages
One look at where the massages can be, and you will be sold. Image overlooking the Caribbean and hearing the waves for an hour while getting a massage! They also have an indoor spa as well.
Traditional massages are offered and also Mayan massage treatments are possible.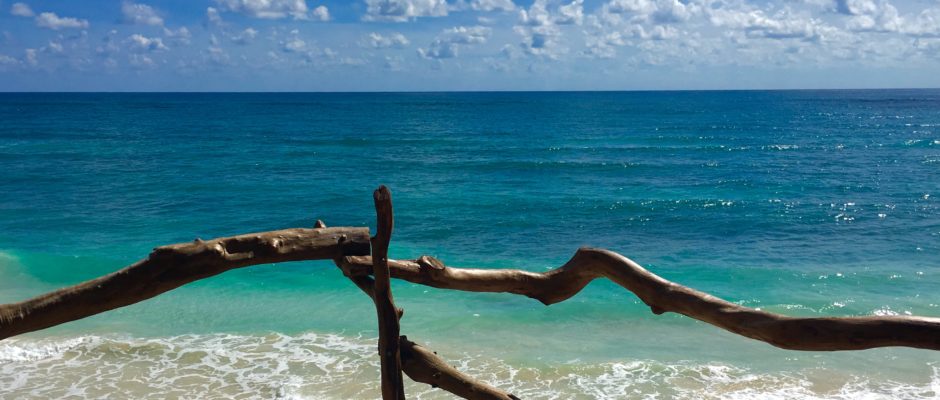 Private tours from Azulik
Especially for couples or small groups, a guide will take you out to explore what makes Tulum and the surrounding area so special. Mystikal Wanders is the name of the tour company. You can read more about these tours and see a video in our article here.
These are custom tours with well selected destinations. These can include a romantic catamaran tour, Mayan villages, Mayan ruins and other interesting places to see.
What is the beach like at Azulik?
Of course, if you are coming to Tulum you expect to see the beach and spend some time here. You might wonder what the beach is like here at the Azulik Hotel. This is where the property really excels. Since the hotel is on a rocky bluff, this outcropping separates the beach from the rest of the public beach. It is hard to walk around the rocky outcropping, hence making a more private beach for guest of Azulik.
The beach is wide and since this hotel is adult only, the beach is also clothing optional.
On the north side of the rocky outcrop is a nice long stretch of beach. Some of the villas have direct access from the rooms down a staircase to this beach.
Tip: If you want a room with its own stairs, ask for a villa (not sky villa which is second floor) on the north end of the hotel. There are several rooms with stairs directly to the beach.
Overall, both beaches by Azulik are secluded from areas where there are more people. Most of the public access beaches are far north of this hotel.
Where is the Azulik Hotel in Tulum?
Azulik Hotel is in the Hotel Zone of Tulum. When you come from the center of Tulum and come to the beach, you will take a right and it is the second property on your left.
Have you been to Azulik Hotel in Tulum? What did you think? Let us know in the comments below.