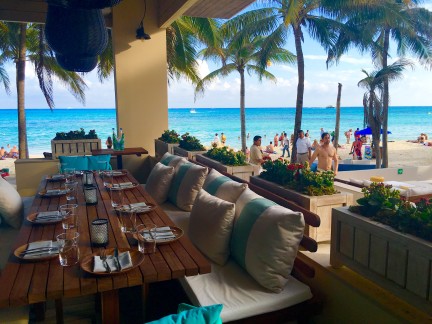 Everyone likes to come to Playa Del Carmen and sit on the beach and have a meal at a restaurant. Here is our list of beachfront restaurants in Playa Del Carmen. See the end of the article for our recommendations for the best beachfront restaurants to go to.
Map of Beachfront Restaurants in Playa Del Carmen
Senor Frogs

This is a beachfront bar/beach club/restaurant. Senor Frogs has been in Mexico so long it has practically become part of the culture. It is cheesy and serves typical bar food but guest seem to enjoy the lighthearted atmosphere. You can use the chairs for free when you eat here if you want to chill on the beach. You can also eat in the restaurant overlooking the beach just south of the Cozumel Ferry Pier.

La Tarraya Restaurant

Perhaps the oldest beachfront restaurant in Playa Del Carmen. Here the food is basic and the recipes are about as old as the restaurant. There are nice palm trees in front of this place and their drink prices are good. If it is a beautiful day out and you like the charm of old Playa, you might come here just don't expect new fangled cuisine or gourmet. Portions are on the smaller side but the prices are small also. To see more about Tarraya, see our article here.

Inti Beach Club

This was formerly know as more of a yoga place but now has transformed into a beach club and restaurant. With a relaxed setting and nice space you can enjoy healthy eating here. To see photos and more on Inti Beach See our article here. For dinner see our article here about Inti Beach.

Inti Beach for dinner on the beach.

La Famiglia Italian Restaurant

This restaurant is as close to the ocean as you can get. The La Famiglia Restaurant is in the Carmen Hotel on 8th Street and the beach. This restaurant is a well know Italina restaurant with really good pizza!

The Keel Restaurant at the Carmen Hotel.

C-Grill at the Thompson Hotel

This new option is one of the high end options on the beach where you can have breakfast, lunch, and dinner. Perhaps best suited for a nice dinner overlooking the ocean, you can find a Mediterranean inspired menu with seafood and meats. Most things hit the grill before hitting your table. This is a small scale restaurant so you still get an intimate feeling here. To read more about C-Grill see our article here and also video.

Zenzi

This is a bar and restaurant with tables inside and on the deck so you don't have to get your feet sandy if you don't want to. This is more a place to come in the evening with friends for a drink. It is popular because it has a nice beachfront location that is open later and many of the smaller and older restaurants close by sunset.

Indigo Beach Club

Breakfast is the time to come here. They have a breakfast menu and a small buffet of things like breads, cereals and fruits. You can start your day here with your feet in the sand and a beach view for your eyes. To see more about this restaurant, see our article here.

Mamitas

This large beach club has a restaurant. This can be a good place for a beach business meeting or a place to get out of the sun for a while. Most people forgo the restaurant and just order from their beach bed. But if you are looking for breakfast, you really should check it out from 7:30am-11:00am daily. It is one of our favorite places because of the good food and setting. See our article here about breakfast at Mamitas Beach Club/.

Fuego Restaurant

Hidden on the property of the Mahekal Beach Resort, this restaurant is open to the public. Here everything is cooked with wood. Expect international ,Mexican and Argentine cuisine on the menu. For more about Fuego Restaurant see our article here.

Sink your feet into the sand and enjoy a seaside diner at Fuego Restaurant.

La Piaggia Italian Restaurant
This is the newest beachfront restaurant in Playa Del Carmen. It is an upscale Italian restaurant that offers good views and air conditioning which is something rare for a beachfront restaurant. This is a good restaurant for a romantic dinner or just a more relaxed atmosphere place that you can enjoy the views and food with less of a tourist crowd.
Our Recommendation for Best Beachfront Restaurants in Playa Del Carmen
For breakfast we recommend Mamitas Beach Club. The new menu is gourmet and delicious! Itis a good way to start your day.
For lunch we like Inti Beach Club. Enjoy the fresh food and good views.
For dinner if you are looking for that special occasion and an upscale restaurant, the C-Grill or Piaggia Restaurant is the place to go. It is quiet and the sea breeze through the palms will make for a memorable time. For very special occasions try Fuego Restaurant.
Do you have some favorite beachfront restaurants in Playa Del Carmen, let us know in comments below!