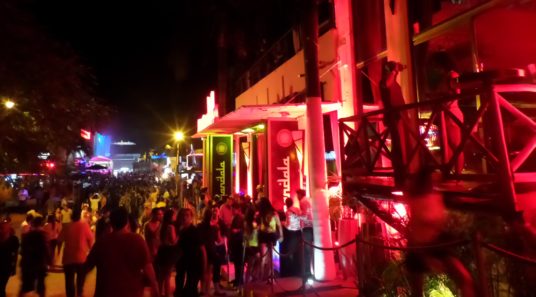 Nightlife and going out to a club in Playa Del Carmen is almost a right of passage for most tourist. Playa Del Carmen nightlife is almost legendary and sets itself up as one of the best destinations for going out.
For people staying in the Rivera Maya along the coast, many choose one night to come into Playa Del Carmen and party for real because nightlife at all inclusive hotels can be, how shall we say, amateur. Since many people have a limited time here, it is best to know where to go and have a plan.
Here is our guide to clubs and night spots where you can go out. See what is a good fit for you.
Clubs and Nightlife in Playa Del Carmen
Here are all the big clubs in Playa Del Carmen. They are mostly located on 10th Street or 12th Street. There is a wide range of these clubs so everyone should have something to fit your likes.

Palazzo Disco. This club is on the upper level of the building and you cannot see much from the street except the guards and chandelier at the entrance. When you go up you enter a large club with stages and a dance floor. You can get table service here. This club is just open Thursday, Friday and Saturday nights starting at 10:30pm. Palazzo is right next to Coco Bongo on 12th Street.
Mandala Night Club is a true club that is always busy. It is one of the top three in Playa to go out to for dancing and a full on club experience. It is decorated in deep red and pinks with an Asian theme. The music is loud and parting crazy. This club opens daily at 9:30pm. You can get bottle service at this club. If this clubs is what you are looking for and you want an epic night out, you can book an night here with entrance and open bar. For details just click the button below.
Coco Bongo Club and Disco. You will see a lot of advertising for this show. It is advertised as a dance club but it is more like a Vegas style show and you can dance in your place if you want while you watch the show. This club is open Monday-Saturday night. The show starts at 11:30pm and goes to 3:15am. After 3:15 is plays just music and people can enter just for the club until about 6am. This club is best for the show rather then coming late night to dance, leave that up to the other clubs that are all about dancing like Palazzo and Mandala. But if you are walking around you might just want to go in and see the place especially if there is not cover. To see a video of what the club is like and read more, see our article about Coco Bongo here.
Tribeca is a club with music and nothing that makes it stand out among the other clubs. It just is an option if you like what music you hear planning. Sometimes you can get in without a cover when other clubs are charging. Just make sure you ask drink prices before getting them to make sure you are not overpaying for that free entrance. This club is on the corner of 12th Street and the end by the beach.
La Vaquita is a loud club with an open front on 12th Street. The large plastic cows are it's trademark. This is more for younger crowd 20-29. If you like what you hear and see then step into this club.
Abolengo. This sits right at the intersection of all the clubs and is a good place to start your night or calm down a little. This place is more  bar then club. You can read more about Abolengo in our article here.
Diabito Cha Cha Cha is similar to Abolengo because it is more a bar and also serves food. Diablito Cha Cha Cha is a little more adult and have more food selection. This is a good place to start your night or grab some food while getting ready to go out.
Coco Maya is a beachfront club with a large open space. Often people walking down 12th Street get sucked into other clubs before arriving here, so there may not be too many people at first and usually you cannot see in from the street to know if it is banging or not.
Salsanera is a Latin style dance club. If you are tired of electronic music and want something different, this club is usually open from 10:30pm-5:00am each day. This club is just across from Coco Bongo on 12th Street.
Our video of clubs in Playa Del Carmen
Nightlife on 5th Avenue in Playa Del Carmen
There is actually not as much going on at night on the most touristy and most walked street in town. Most of it is on 10th and 12th Street just off 5th Avenue. However there are a few bars with live music on 5th. Avenue. They are:
Fah. This is on 5th Avenue between 8th Street and 10th Street. This is an open air space at street level. Here they have a restaurant and bar with a small stage. The theme is mostly light rock.
Thompson Hotel Roof. This lively hotel has DJ's and events on the roof over looking the city. This is a chic way to spend an evening. Some events are free and some have a cover. The entrance for the Thompson is on 12th Street between 5th Avenue and 10th Avenue. You can check out what is going on here by looking at the link to their site here.
Kitxen. This is an open air bar with small stage. This bar is on 5th between Constituyentes Avenue and 20th Street. There is live music here each day later in the evening.
La Bodeguita Del Medio. This is a Cuban style restaurant and bar with live music at nights and dancing. The dance floor is small but if you like the Latin sound and some mojitos, this is a good place to go.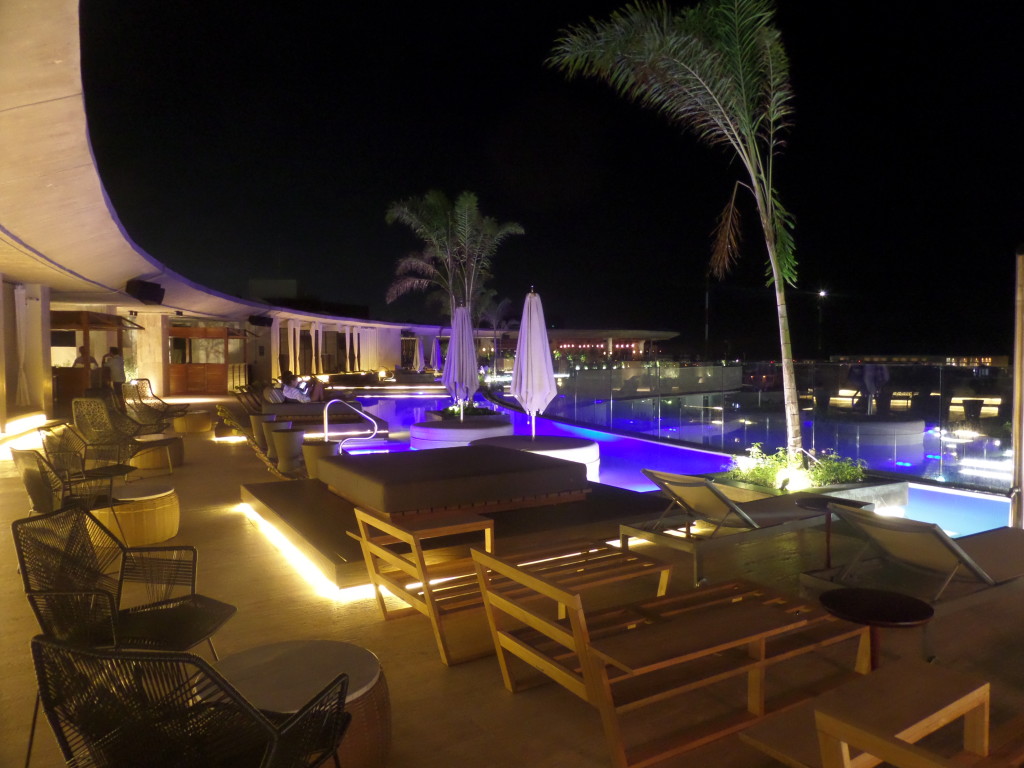 What to go out on a nightclub tour in Playa Del Carmen?
If you are coming by yourself you might feel a little shy about going out. Why not join a group and have some fun. All of the work of figuring out where to go is taken care of. If you don't speak Spanish and want to go out for a night of fun, why not look at going on a VIP tour.
This tour also works for a group. See the reserve now button for details and prices.

Gay Clubs in Playa Del Carmen
There is one gay club that is 100% gay. It is Club 69. This is a bar/club that is down an alley off 5th Avenue between 4th Street and 6th Street. Look for the rainbow flag.
This club is a little older and does have a drag show on the weekend late at nights. This club is usually only busy on Friday and Saturday nights.
Some tourist do find this bar but you should not be limited to just this bar. The truth is many bars and clubs in Playa are mixed and many are 20-25% gay. For more about gay Playa Del Carmen see our complete guide here.
How much are covers at clubs?
Most clubs charge about 100 pesos entrance fee to get in. This goes up to about 200 pesos during holidays and special events.
One big tip if you want to save some money is go out earlier. Many clubs will let you in for free before midnight. Some will give you a wrist band and you are in. The bad thing is that if you decide to leave early they will remove your wristband and you will have to pay to enter since it will be later. Many club do this to lure in people to start filling the club.
What is the best days to go out for Playa Del Carmen nightlife?
You would think that being a vacation destination that it would be a weekend any day of the week. This is not true though and Friday and Saturday are the best times to go out. If you had to pick just one night to go our we suggest Saturday. Usually clubs are more packed and have more energy this night in part because more locals have off on Sunday.
Many clubs and discos are closed Sunday, Monday and Tuesdays.
Playa Del Carmen Nightlife Dress Code
What should you wear when going out? Well it depends on what bar or club you are going to. Overall, Playa Del Carmen is a casual place by most standards. Not many actually have a strict dress code but here are some rules to go by.
Local do like to dress up a bit. Even on those hot summer nights, locals will put on pants and guys will have a button dress shirt. Tourist are usually more casual because you are on vacation after all and most don't want to bring a huge wardrobe.
Bars are more casual then clubs. Most bars you can wear about anything you want. You can wear sneakers, shorts, and t-shirts. Sports bars are the most casual and anything goes.
Higher end nightclubs have a two tiered system for judging people and what is allowed for dress code. Tourist get more of a free pass on casual shoes and shirts. Locals are held to higher standards. Some clubs will not allow tank tops on guys or sneakers.
Mandala would be the more dressed up club but not by much. Guys usually have a polo or button up shirt but not necessarily tucked in. Women wear  dressier tops sometimes with nice shorts, pants or a flirty skirt.
Women normally do not wear too flashy of jewelry. This can be good because it is best to leave the good jewels at home and attract the wrong attention. Outfits are based more on the dress and makeup than jewelry in Playa.
Coco Bongo is a very casual club and anything goes. Pants might be better here because it is air conditioned. Also comfortable shoes are recommended because you are standing most of the night unless you paid extra for the limited seats they have.
If you are going out to party hard in Playa Del Carmen, we recommend you read our Dangers and Safety article because there are some things you need to be aware of when going out late.
We hope you have enjoyed our guide to Playa Del Carmen nightlife and reviews of the best places to go. You might also like our Ultimate Bar Guide to Playa Del Carmen here.
Let us know if you have any questions or comments about Playa Del Carmen nightlife in the comments below.