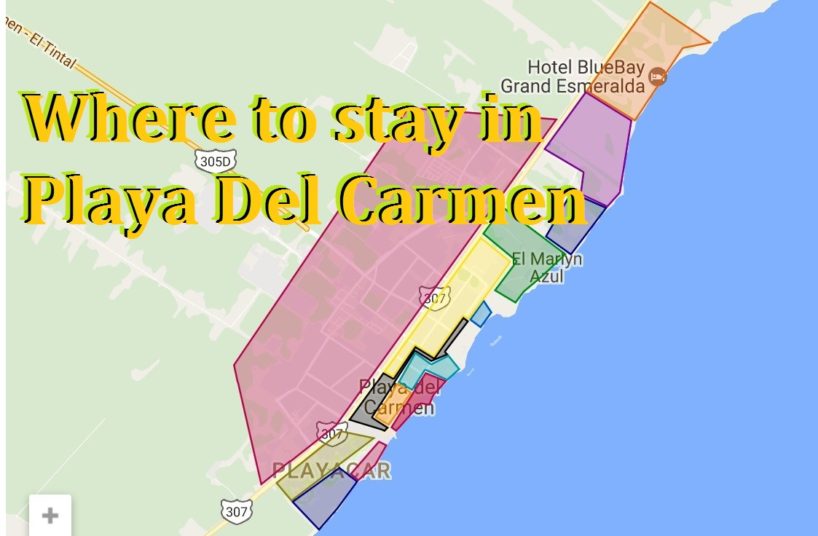 Where to stay in Playa Del Carmen
Choosing where to stay in Playa Del Carmen can be hard. When you search for hotels in Playa Del Carmen, many come up and sometimes it covers miles of the coastline. Sometimes these hotels are not even in Playa Del Carmen. That is why we wanted to help you with a guide to the best areas and what might fit your wants. This is the type of guide we would want for a destination we were traveling to. So that is what we based it on and hope it is helpful to you.
So what are you looking for in a hotel for your vacation? Do you want an all inclusive resort? boutique hotel? a hotel in the center of the fun? or a beachfront hotel?
Below you will find our map to guide you. We give honest descriptions of areas so you can narrow your search and find the best hotel for your stay!
Be sure to check out our recommended transfer from the Cancun Airport to your hotel. These are not only some of the best prices but excellent service. We also have a guide to the cheap hotels in Playa that offer good value and good location.
Our map of what areas are the best to stay in
We have put together a helpful map for you. This helps you know what an area is like and what hotels are in that area that we recommend. Some people want a resort but also want access to Playa Del Carmen to go shopping and eating out. Others want to be in the center of the action while others want a more residential area for an Airbnb. Click around on the map and get a description of what generally the areas are like.
Riviera Maya north of Playa Del Carmen area
This area is just like most of the Riviera Maya. It is just alone the coast and not part of Playa Del Carmen in any way. It is closer to Playa and some of the eco parks but that is all. Consider this just like areas between Tulum and Playa Del Carmen and the area north of here up to Cancun.
Several good things to note about this area is the fact the resorts are more spread out and you are far from population centers. The beaches are considered very good here and you will have more of a resort feeling staying in this area.
Recommended hotels in this area
The Secrets Capri is an adults only resort. The beach is large here and a nice place for a wedding. Hacienda Tres Rios is a good all inclusive for active people and is family friendly.
Luxury resort section
Grand Velas and the four Mayakoba resorts are in this section. These hotels are some of the best and most luxurious in the Playa Del Carmen and Riviera Maya area. This area is very exclusive and shows off some of the more spacious resort properties in the area.
Where to stay in this area
You cannot really go wrong staying anywhere in this area. All of the resorts are good and well recommended. The only drawback is the price. Not everyone can afford to stay in this section.
Grand Velas Riviera Maya all inclusive is one of the most luxurious resorts in the Riviera Maya. It has a beachfront location and top notch restaurants. For more about staying at Grand Velas, you can get info here.
There are four hotels that Mayakoba runs. All are on the upper end of service and quality. We recommend all of the hotels. The four hotels are:
Andaz Mayakoba is the newest property on Mayakoba's list. This is a slightly younger trendy hotel compared to the other three. Rosewood Mayakoba: Fairmount Mayakoba: This hotel is a car free resort and you can walk the nature scaped property. As with all the Mayakoba properties, it is close to their El Camaleon Golf Course. Bayan Tree Mayakoba: Most of the rooms here are actually separate villas. This property gives you more exclusiveness and less of a big hotel feel. You can also see more photos and description in our article on Bayan Tree.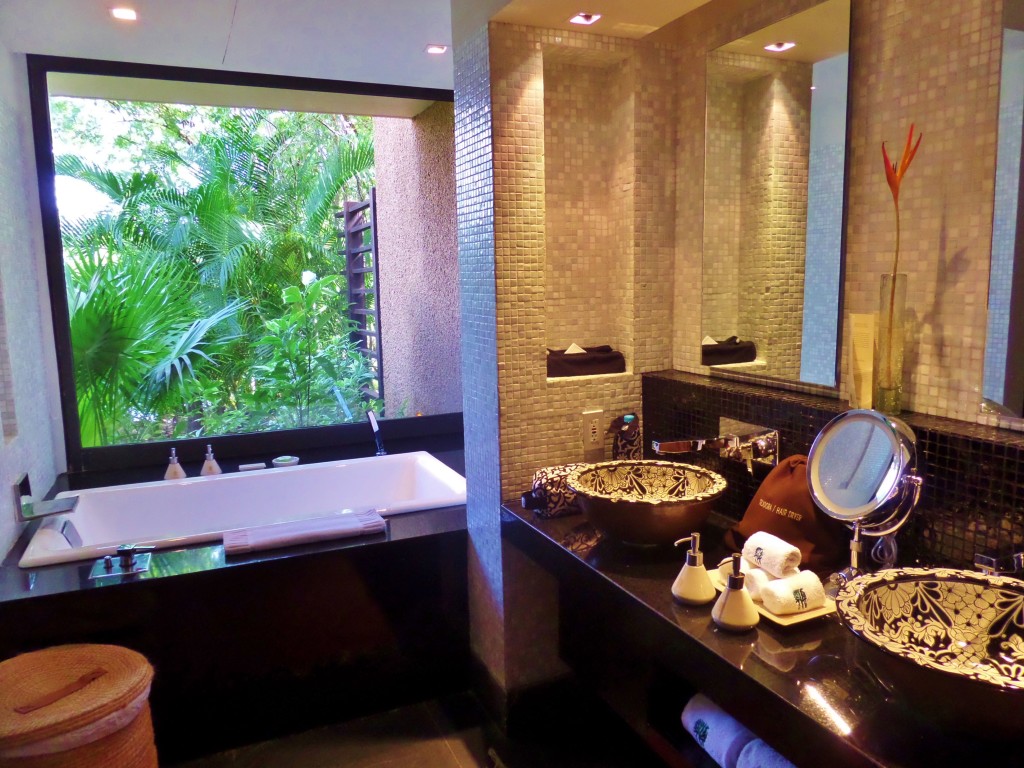 The Fives and Grand Riviera Princess area
This zone just on the north end of Playa Del Carmen is a separate area from the city. Many people ask us what is nearby, and we say nothing. You need to take a taxi into town that will take about 10-15 minutes. These hotels are basically where you will stay when you visit here. You might get into town one night or just arrange some tours from there.
Resorts and hotels we recommend in this area
Grand Riviera Princess all inclusive is an adult only resort. The sister property of this hotel is the Family Club at the Grand Riviera Princess. Le Reve Hotel and Spa is a smaller resort in this area. The Viceroy Riviera Maya is a more upscale resort that is great for couples. The Fives Hotel is a good family hotel that is calm and stylish.
Grand Coral area of Playa Del Carmen for staying
This gated section has some large all inclusive hotels and condos to rent. If you like a quiet setting and golf you might like this area. There are no real services like restaurants besides where you stay. You will need a taxi to go into Playa Del Carmen. This area is like Playacar but with more space, less houses, and more golf.
The beaches tend to be more quiet in this area. Only Mareazul boarders an public beach area, but even then, there are not many people that frequent the beach there because it is far from a beach access.
What accommodations are in this area for you
Sandos Caracol is the largest resort in this section. There is the adult only side called Sandos Caracol select club and the family resort is Sandos Caracol Eco Resort. If you want a condo and a resort feel, then Mareazul might be for you. These large condos are on a quiet property. This is beachfront with one of the largest pool at any complex we have seen. Here are 5 rentals that you can book at Mareazul.
Staying at Paradisus Hotel Complex
This large resort complex is beautiful inside and one of the closer resorts to the center of Playa Del Carmen. But if you think you can walk into town when you want, you should know it is a long walk and not through the nicest neighborhood. The surrounding area is a poor area with no tourist attractions. We would describe this as the kings court on the inside and the paupers village outside. The contrast is striking.
The beach is located between two public beach access points. The hotel staff watches the beach and discouraged locals from using it, but all beaches in Mexico are public.
Inside the property there are nice pools and very good restaurants.
The Paradisus resorts
There are two sides to Paradisus Resort. The two sides share 14 restaurants and 11 bars. There is Paradisus La Perla which is adult only and Paradisus Esmerelda for families.
The "not a tourist area to stay in" area
For the most part, this is a poorer area of Playa Del Carmen where tourist do not stay. There is the occasional good Airbnb listing but other then that, this is not an area to look at. One of the main names of this area is the Colosio neighborhood.
Cheaper Airbnb area of central Playa Del Carmen
There are very few hotels in this area but for those looking for Airbnb rentals that are lower in cost, this is the fringe area of downtown Playa Del Carmen.
What are some good places to stay in this area of Playa Del Carmen?
We don't have any exact places to recommend, just some general information about the location. Most people prefer the area from Juarez Avenue to Constituyentes Avenue and from 30th to the Highway. This area is nicer and closer to things. For what options are available you can click here.
North end quieter rentals
This area is where people mainly stay in more upscale condos and rentals. It is quieter then the center of Playa Del Carmen yet walkable to 5th Avenue, tourist restaurants and shops. As Playa Del Carmen has moved north in development, this area has seen a boom in luxury condo buildings. Most of these go up for vacation rentals.
Where to stay in this area
Hotel La Semilla is a hidden gem. It has only 9 rooms and Tulum style. The adult only hotel will keep you relaxed in simple elegance. For a condo building we like Horizonte. It is a small building with nice rooftop pool. It is walkable to 5th Avenue and in a nice open area of Playa Del Carmen. Here is one condo for rent in the Horizonte you can check out. The Palmares is a new condo building right in Constituyentes Avenue. This handsome building is perfect for a week stay if you want to be a little more independent. You also have easy access to the grocery store. Check out what a one bedroom unit is like here in Palmares.
The heart of Playa Del Carmen
Here you can find beach front hotels, trendy hotels, boutique hotels and for the most part, you can walk out the door and be in the midst of the energy of Playa Del Carmen. This is a good area to stay in if you want to take advantage of what Playa has to offer. If you want to go out to restaurants or enjoy the nightlife, this area offers it all!
Great hotels and places to stay in this section
There really are too many hotels to mention in this section, so we will just name some of our favorites. Hotel Aventura Mexicana is in the center of town and well run. It offers a family side and adult side. The rooms are very Mexican feeling. A more budget option in the center is the Hacienda Paradise Hotel. The Royal is one of the few all inclusive hotels right in the middle of Playa Del Carmen. This is an adult only resort. Acanto Hotel and Condos is a small hotel tucked into the center of Playa Del Carmen. This hotel is very comfortable and spacious. The Grand Hyatt offers a big hotel feel but is not all inclusive. It offers central location and great access to 5th Avenue. The Carmen Hotel is a new boutique hotel right on the beach. This hotel is modern and youthful. The Thompson has to hotels in Playa but we prefer the one on 5th Avenue. There is a trendy vibe and always a scene around the rooftop pool. The Live Aqua Boutique Hotel is a medium size hotel with nice rooftop. This is a good hotel for couples to have that romantic stay.
Downtown hotels that are in a quieter area
Here you can find more of the mid range hotels that offer close proximity to 5th Avenue but a few blocks away from the busy tourist area.
Recommended hotels in this area
Magic Blue is an urban oasis. This is a small hotel with nice garden and pool just steps from 5th Avenue. Cache Hotel is modern hotel just two blocks off 5th Avenue. It is quiet and has a pool. This would also be the cheapest of the three options here. HM Playa Del Carmen is just on the edge of this zone and a newly renovated hotel. It is stylish with pool in the courtyard. It is very central and everything is at your door. We are impressed with how they turned this hotel around.
Playacar Phase 1
For the most part this is a residential area with houses. There are just a couple of hotels in this section. This is a private neighborhood with nice beaches. Expect to pay a little more for exclusivity of this area. While it is walkable to the center of town, you might find yourself taking taxis around.
Places to stay in Playacar Phase 1
Sunset Fisherman Beach Resort is a smaller all inclusive. This hotel is surrounded by a high end residential area. You have easy access to downtown but feel like you are out of the city. Xaman Ha Condominiums is a beach front building with units for rent. This is good if you want a kitchen and close access to Playa but a private neighborhood. These condos are a little older but do give you good beach access and views.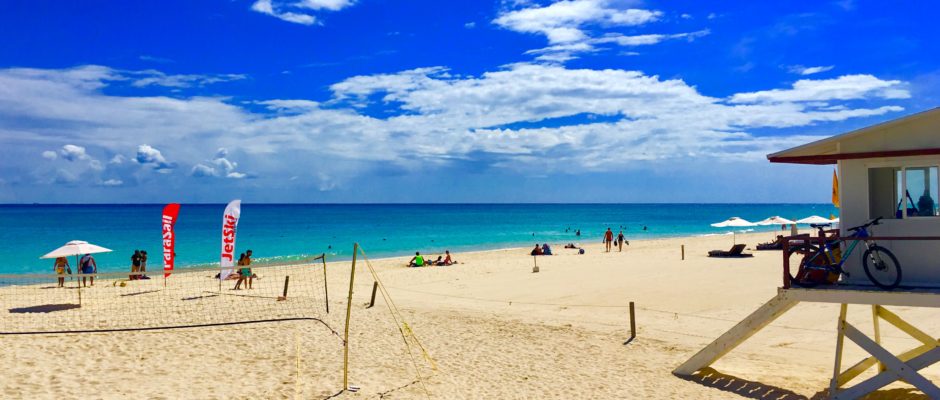 Playacar Phase 2 all inclusive hotel area
Here is where all the all inclusive hotels are in Playacar Phase 2. This is a good option if you want a resort but the option to walk or take a taxi into Playa Del Carmen for entertainment, shopping and restaurants.
Recommended resorts in Playacar Phase 2
Royal hideaway is an adult only all inclusive. This resort gets good feedback form our readers. It is a quieter hotel so it might be better for older couples. You can also see our article here about the Royal Hideaway. Viva Wyndham Maya all inclusive is another resort that is beautiful and gets good marks from our readers. Not be confused with the last hotel, Viva Wyndham Azteca is all inclusive that gets good reviews. Iberostar Tucan and Iberostar Quetzal are the same resort, just two different sides. Which ever one you choose, it is a good option.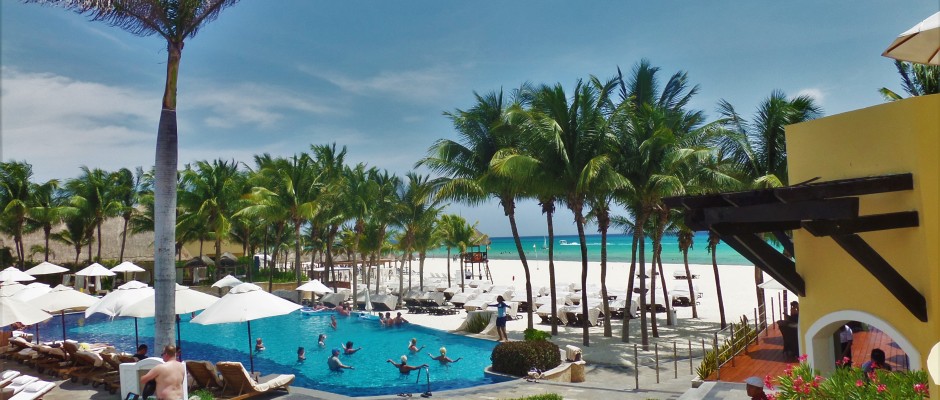 What the backside of Playacar Phase 2 is like
This area is called Playacar phase 2. On the front side are the all inclusive hotels and the backside more houses and condos for rent. If you stay here be prepared to have a car or rely on taxis to get into the center and to the grocery store. It is also a about a 15 walk to the beach. The area is a private neighborhood with a park like atmosphere.
Places to stay at on the backside of Playacar Phase 2
We do not have any specific places to mention here because all options are single condos or houses. The only tip we have is to look at places that are near the main loop road and not up near the highway. In this are there is some staff housing for the hotels and locals apartments. It is less vacation feeling in that area. If you do want to see what is available when you are coming, see here. There are over ten options to select from.
The other side of the highway
There are few hotels on this side of the highway but at any rate, it would be a bad choice to stay in this area because it is far from the beach and most tourist attractions. While lodging and rentals will tell you it is only 10minutes to the beach (by car) the logistics can be hard. For one, parking near to the beach can be difficult.
Even for short term rentals this means you will need to find transportation to the center of town and even if you have a car, this means finding parking in the center of Playa Del Carmen.
To make your stay in Playa Del Carmen, there are other areas that will be more convenient and more interesting neighborhoods. This area is more for locals to live in.
Looking for an all-inclusive hotel in Playa Del Carmen?
Are you looking for a place to stay that is all inclusive? There are several areas of Playa Del Carmen where you can find these types of hotels. See our full guide on the best all inclusive hotels to stay at in the Playa Del Carmen area.
We hope you have enjoyed our guide on where to stay in Playa Del Carmen. We try to give you an honest appraisal on areas so you can pick what best suites you. Let us know if you have any comments or questions below. We would love to hear from you.
On good place to search for hotel bookings it the combined search engine below. It checks multiple sites and gives you the lowest price.