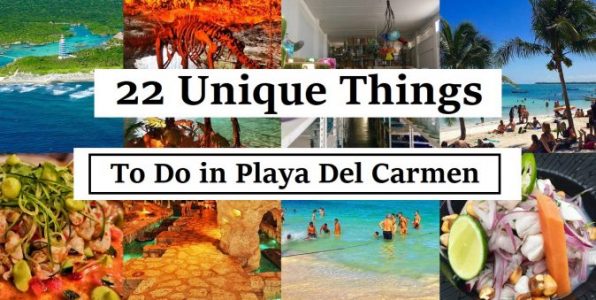 22 Unique Things to do in Playa Del Carmen
If you have been to the area before or it is your first time visiting, here are 22 unique things to do in Playa Del Carmen. These things will get you a little off the normal tourist routes and help you enjoy the things that make the area and Playa Del Carmen special. In each section we have links and videos so you can further explore your options so you can find the best things to do for you.
1. Hit the beach
Playa Del Carmen is known for the beach and one of the main reasons people come to visit the area. It will depend on where you stay in Playa Del Carmen what beach you are close to. The best beaches in Playa Del Carmen are in front of Playacar Phase 2 and the beach by the Mamitas Beach Club. All beaches in Mexico are public and you can enjoy them. Access to the beaches though, is only via public access points.
If the beaches in town are not for you, you might want to visit some of these beaches close to Playa Del Carmen.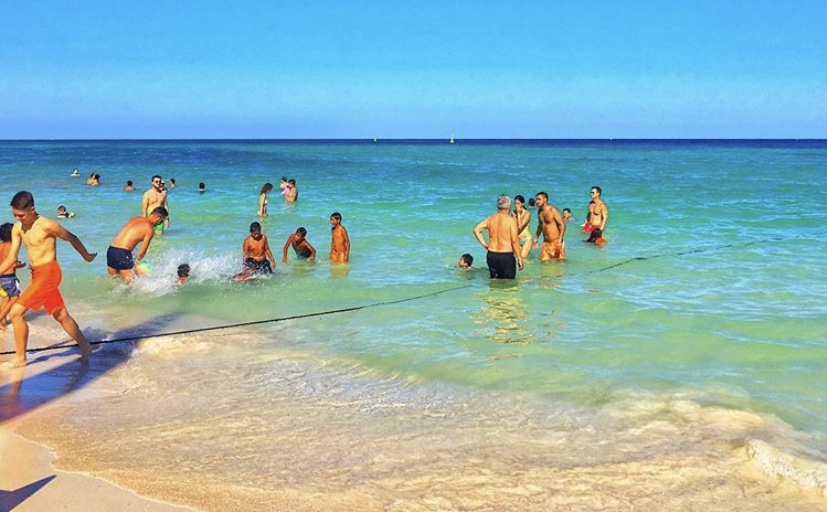 2. Visit a chic rooftop pool
Rooftop pools have become more trendy in the past few years in Playa Del Carmen. As more hotels added them, it seems like each new one tries to outdo the other. Spending the day at a rooftop pool is an alternative to the beach. This can be a good option if there is seaweed or you just want some sun and relaxation without the sand. See our guide here to 8 rooftop pools you can visit in Playa Del Carmen.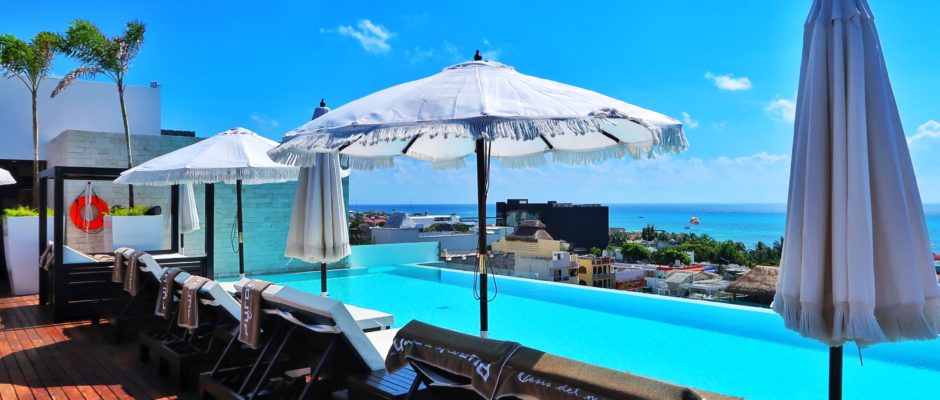 3.Take a Mexican cooking class
Learning a little about a culture when visiting a country is never a bad thing. It is even better when you get a meal out it! Here are some cooking schools you can go to when visiting the area. All of these have Mexican cuisine classes and some other types of classes as well. These are a fun way to learn, taste and meet new people. See a short video below of just one of these classes.
4. Visit Xcaret Park for culture, nature and so much more!
Xcaret is the largest eco park nearby. It is a little hard to describe this park because it is so unique. It is not about rides, but it is about nature, activities, shows, museums and more. This lush paradise has underground rivers for swimming, replica Mayan ball court with a show, Mexican history, a special area for young children called children's world, scenic tower, small shows during the day and a two hour grand show at the end of the day with about 300 performers! Xcaret is also does a large tribute to the Day of the Dead called the Festival of Life and Death four days a year. This really is a unique thing to do in Playa Del Carmen.
To visit here, the best way to get ticket is online and in advance. You can save up to 15% off entrance by clicking the link below.

5. Take a walking food tour of Playa Del Carmen
If you love food, tasting local things, and are looking for a unique thing to do in Playa Del Carmen, this might just be for you! Here are several walking food tours you can join. Get a non touristy view of some of the local spots or try some gourmet food at great restaurants. There really is something for everyone.
6. Taste great tequillas at a tasting
If you like tequila or want to get to know some of the best makers of it, this tasting is a great start. You will learn how it is made, how to choose a good bottle and best of all, taste great tequilas. Tequila Academy does group tastings as private tastings. Sometimes they arrange for a food pairing with tequilas. You can also see more about this unique activity here in our article.
7. See the Riviera Maya by flight
This was one of the most unique things we have done in Playa Del Carmen! These flight tours are incredibly beautiful and an extra special thing you can do. There are several different routes you can take, like flying to Chichen Itza, over Cozumel, and flying down the coast of the Riviera Maya. You can see their website here for more information about these tours. You really have to see our video though!
8. Visit a glass blowing shop
Mexican hand blown glass is something that is well known as an art form. One of the unique things in Playa Del Carmen you can do is see glass being made. Vidrio Soplado Mexicano is the place to go! This is not in the center of town, but just a short taxi ride can take you here. Here you can also buy products of glass that are made here. The hours are: Monday-Friday 10:00am-6:30pm, Saturday 10:00am-5:30pm, Closed Sundays. See our video below for a look at what this place is like! Also here is their website for more details.
9. Dine on great Mexican food at these restaurants
Mexican food is known all around the world and one of the cuisines getting a lot of attention lately. We are not just talking about tacos, but rather the many regional dishes and taste from all over the country. In Playa Del Carmen we have some good Mexican restaurants that offer authentic flavors. Try some of these Mexican restaurants when in Playa Del Carmen. In our link here we guide you to some of the best ones.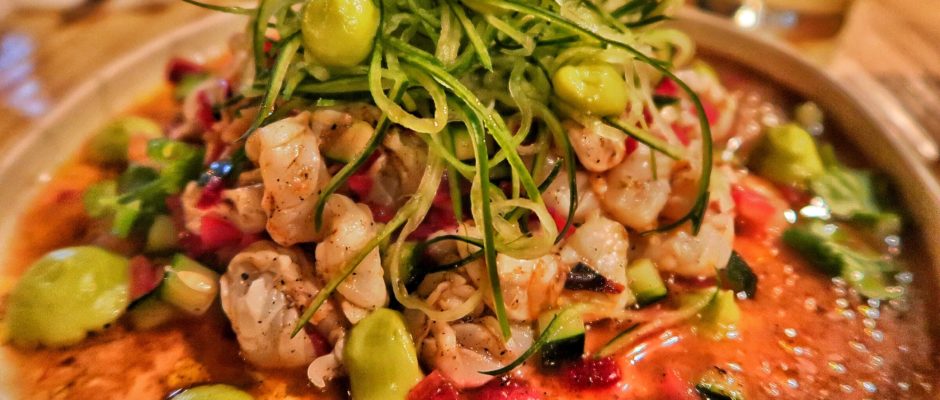 10. Walk 5th Avenue during the day and night
5th Avenue is the main tourist attraction in Playa Del Carmen. It is a pedestrian street that goes for about 22 blocks and has many shops, restaurants and places of interest. You can start at one end and work your way to the other. You are bound to find something of interest and it makes for great people watching.
During the day it is more calm as people dodge the heat of the day at the beach, but in the evening it becomes more popular. Street performers come out and there is a palpable energy. Walking here both in the day and during the evening gives you something unique to do in Playa Del Carmen. Many people find this one of the most memorable things to do.
11. Snorkel all day at Xel Ha
Xel Ha is another unique eco park near Playa Del Carmen. This is a huge inlet where you can swim, play, snorkel, float, go on the new waterslide, and explore the natural area. You can spend all day here and not see everything. Xel Ha is fun for all ages and one of the most memorable things you can do while on holiday. There are also unique things to do as add ons like the adrenalina speedboat, or the zip bikes.
Another unique thing you can do is combining a tour of Xel Ha and Coba ruins or Tulum. You can see a video and read about what a tour is like in our article.
If going to Xel Ha sounds like a great thing (and after seeing our video below) a great tip is the discount you can get by booking this in advance. You can save up to 15% off by clicking the reserve now link.

Our video of this unique thing to do in Playa Del Carmen area
Here is our video we made for you of what a typical day is like at Xel Ha park.
12. Jump into a cenote
Cenotes are fresh water pools formed in the rock base of the Yucatan Peninsula. These are really unique places you can visit and each one is different. There are cenotes close to Playa Del Carmen you can visit and other cenotes that are more of a longer day trip to see. Most of these are less than $6 USD for entrance. You can spend half a day relaxing at one and then move on to another or other activity.
13. Party the night away at Coco Bongo Club
Coco Bongo is a club that is a four hour show. People come from the all inclusive resorts to this club to spend a whole night. It is one of the best performed shows and it is non stop entertainment. Between acrobats and dancers they plan music videos and most tickets come with open bar. If you would like to get Coco Bongo tickets, see our article here with booking links. This is just one of the unique things to do in Playa Del Carmen for nightlife.
14. Visit some of the Mayan ruins nearby
Mayan ruins are high in the list of things to see for tourists coming to Playa Del Carmen. There are not too many places in the world you can see 1000 year old temples. The number one on peoples list is Chichen Itza followed by Tulum ruins, Coba ruins and then Ek Balam. There are more ruins. however that can be visited. You can see a list and descriptions here in our article about ruins you can visit from Playa Del Carmen. For the best tours to Chichen Itza, see our article here. This will help you have a great tour to visit one of the most important sights. If you would like to go to Coba ruins, we have some recommended tours here as well.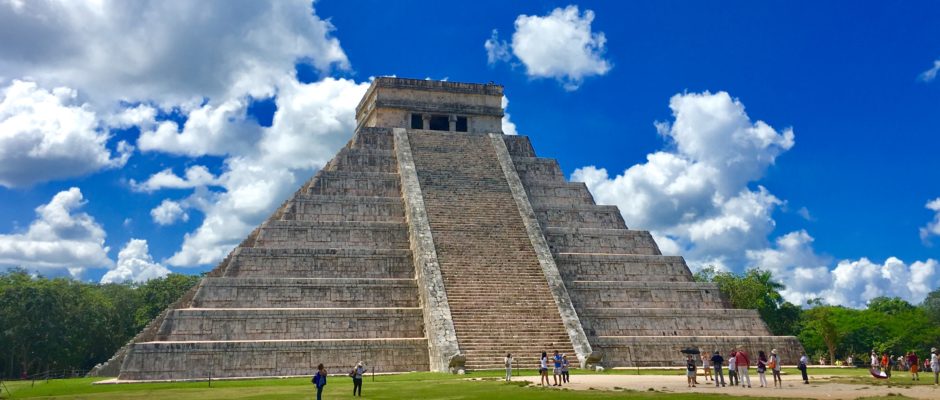 15. Relax at a beach club
Beach clubs make it easy to visit the beach because they offer chairs, beach beds, bathrooms and service. Of course you can just go to the beach with your towel, but beach clubs make it a little more enjoyable. All along the beachfront you can find different beach clubs. Each one has a different feel to it. That is why we made this article and guide for beach clubs in Playa Del Carmen.
Depending on where you stay, some hotels have agreements with beach clubs for discounts or free chairs. If not, most beach clubs either charge about 100 pesos for a chair or just have a minimum consumption charge per person.
16. Shop for Art on 5th Avenue
One of the unique things to do in Playa Del Carmen is shop for art. Art is unique and no artist is alike. You can find several art galleries along 5th Avenue and you can also find artist on the street. Every Thursday there is art on 5th Avenue. From about 24th Street to 34th Street you can find artist setting up in the middle of 5th Avenue. Also during the week next to the Quinta Alegria Mall on 16th Street, just off 5th Avenue you can find artist set up.
These are all local artist, or artist that currently live in the area. Some of these are well known and offer you an up close look at their art and special prices because you are there in person.
17. Go out for a special dinner in Playa Del Carmen
If you are on vacation and celebrating some event or just want that special dinner out, where do you go? We have you covered in our guide to the best restaurants for a special night out. These restaurants include a rooftop view, a cave and some great food. You can choose which one works for you in our guide.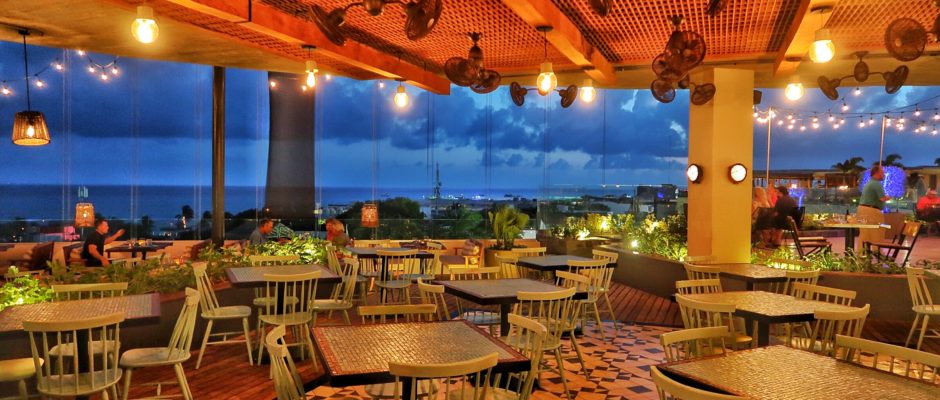 18. Act like a kid at Xenses Park
Xenses is another park by Xcaret. This park is a half day experience and we describe it like a fun science museum without the boring stuff. It is very interactive and you get to do some fun things. This is geared a little more for young children, although, we have to say it is a fun place to visit for most ages. Xenses tickets can be purchased in advance and it is the only way to get a discount. You can do some with the direct link below.

See our video here to see what Xenses Park is like.
19. Go to Xavage Park
There is another park that is open that is perfect for adventure seekers. This is another park by Xcaret. See everything about it here in our article.
20. Zip through the treetops at Xplor Park
How does a full day of adventure sound with some of the best zip lines? Xplor Park not only has two routes of zip lines, but there are 3 other activities you can partake in. Xplor really knows how to make a unique park and create a special environment for your day. They even have a nighttime access called Fuego! We have an article here that compares the daytime Xplor to the night Fuego experience.
21. Take in all the entertainment at Park Fundadores
Park Fundadores is the public park just north of the Cozumel Ferry Pier. This large public space also is home to the famous statue called the Portal Maya. In this park you can find people doing an interpretation of Mayan dancers and also papantla dancers. The Papantla dancers do a traditional dance with is done from a tall pole and they swing from rope tied to their feet. It sounds crazy and is even more interesting to watch! The best time to view it is in the afternoon and evening time. The performances are open to see, they just ask for a tip.
22. Sip on Mexican hot chocolate or coffee from Mexico
Who doesn't like coffee? But you don't have to rely on just Starbucks to get that shot of caffeine. In Playa Del Carmen you can go to a good local place called Ah Cacao. Here they serve coffee from Mexico and they also serve traditional Mexican hot chocolate. This is hot chocolate with spices. Also, be sure to check out what they sell. You can find chocolate and even chocolate massage oil.
Ah Cacao has three locations all on 5th Avenue, where you can sit and sip plus people watch.
Thank you for reading our article about 22 unique things to do in Playa Del Carmen Mexico. We hope you get to try some of these and enjoy your time visiting. If you have any questions or comments, feel free to ask below and we will get back to you.
Be sure to check out all our Playa Del Carmen Guides here for your next trip to the area!