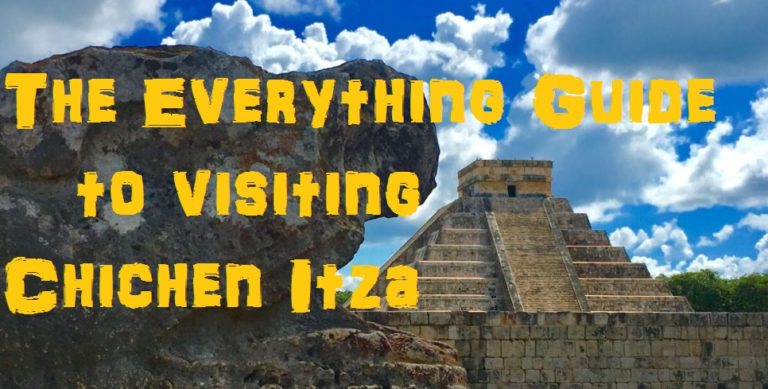 Everything Guide To The Best Way To See Chichen Itza
It seems like everyone wants to visit Chichen Itza ruins. And the numbers don't lie, there are nearly 1.4 million visitors a year here. So since so many of you want to visit, we decided to write a simple guide for you so you can enjoy your day visiting Chichen Itza Mayan ruins.
Our video tour of visiting Chichen Itza
Like everything on our website, we like to go and experience it so we can give you good details. Here is a video we made for you to offer tips for all types of trips to the ruins of Chichen Itza.
Top 6 things to see at Chichen Itza
Here are the must sees when visiting Chichen Itza Mayan ruins.
Great Ball Court. This area is where the Mayan ball game was played. This is the most preserved ball court of any of the ancient ruins. This one is also impressive to see because it is so large. This ball court measures 551 feet by 230 feet wide (168 meters by 70 meters).
El Castillo or the pyramid. This is the name of the main pyramid and the most photographed building at Chichen Itza. You are able to walk to all sides of it and even see where it was covered up and built upon.

The main pyramid of Chichen Itza called "El Castillo".

Sacred Cenote. This is where they believe that human sacrifices where made. Archeologist have found human skeletons and jewelry at the bottom of this cenote.
Building of a thousand columns. This impressive building was most likely had an extensive roof built over it with wood. The size of this is impressive.
Las Monjas also called the Nunnery in English was named by the Spanish invaders. This is the most impressive and detailed building at Chichen Itza. Although this was not a nunnery, it was a governmental palace.
The observatory. This building is impressive because the shape is so different and eerily similar to an observatory of today.
Our tips for visiting these Mayan ruins
Here are our top tips for you so you can enjoy visiting Chichen Itza.
Be prepared for the sun. A good portion of these ruins are out under the sun. Bringing an umbrella, sun hat and or sunscreen is a good idea.
Many tours go to a cenote after visiting Chichen Itza. Since this is the ground water and crystal clean, you should wear only biodegradable sunscreen. The oils and chemicals of regular sunscreen pollute this fragile eco system.
Since the ruins are spread out, be prepared to walk. Bring comfortable shoes. The ground is mostly flat.
We like to do the ruins in a clockwise route. This way you see everything in an organized manor. Of course if you have a guide you will need to follow them.
There are bathrooms just past the ticket sales in the entrance. There are also bathrooms three other locations in the ruins.
Food is sold in the visitors center at different stands. This is not the most authentic or best priced food options. If you are driving yourself, drive out of the historical site to eat somewhere.
Drinks are also over priced at Chichen Itza. You can just bring a bottle with you or pay a little too much for one there.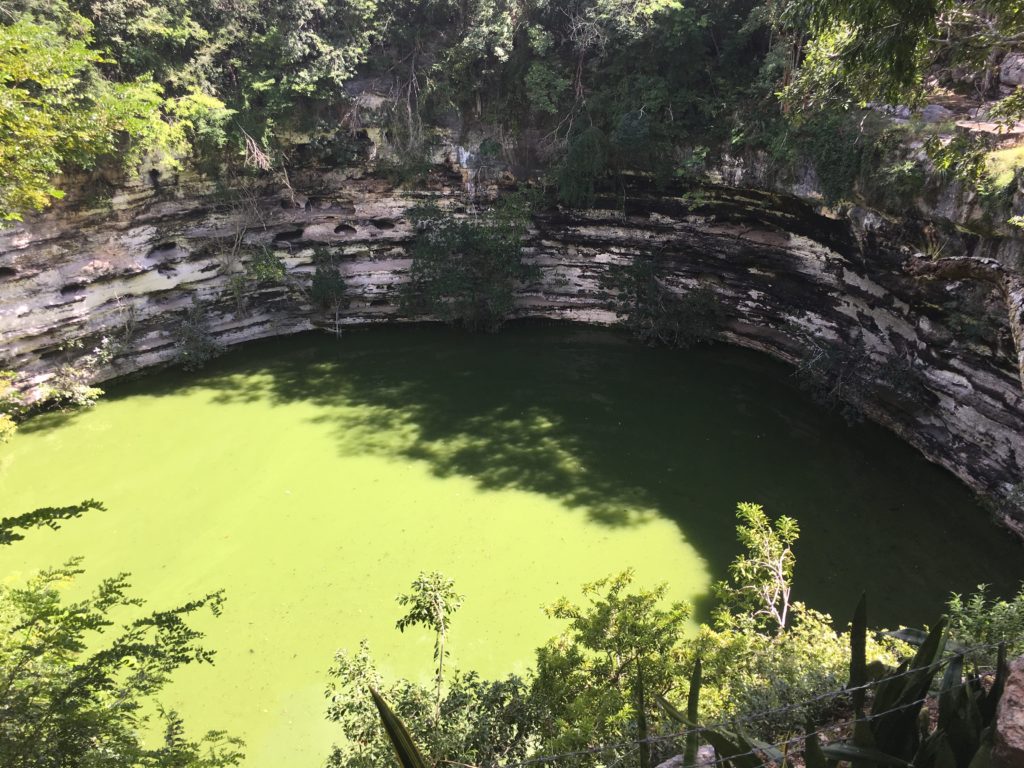 Check out the light show at night
If you have driven to the area, you will have a good opportunity to see the light show at night. This show brings history alive and is a way to see the ruins with a lot less people. See our article here for details and video below to see what it is like.


Should you take a tour to Chichen Itza or drive yourself?
This is a common question that people ask especially if you are a family. What are the cost of going to Chichen Itza yourself compared to taking the bus or a tour? Here we will show you the numbers and tell you the pros and cons.
Taking a tour to Chichen Itza pros and cons
Pro. The ruins are about a 3 hour drive from the Riviera Maya so it does not only mean renting a car, it also means paying for gas, tolls and stress of driving in a foreign country.
Con. You are locked into going where the tour goes. You are not able to stop at that small local restaurant you saw next to the road.
Con. Some tours are expensive for a family spending the day visiting the site.
Driving yourself to Chichen Itza ruins pros and cons
Con. You have to calculate renting a car, gas, parking and tolls. The parking cost 80 pesos for a car. Tolls range from about 300 pesos each way depending if you take the toll roads. Gas round trip cost about 400 pesos.
Pro. You are able to customize your day. If you want to spend more time or less time at Chichen Itza, you can! You can also stop along the way and see things that interest you.
So as you see, it is up to you how you want to get to Chichen Itza. Tours usually range from $60-$140 USD per person. This means for a family of 4 it can be $160-$480 USD to visit Chichen Itza. If you go on a tour, ask what is included. Is there a meal, entrance fees or another stop included in the tour?
Driving yourself to Chichen Itza can cost a family of four about $241 USD but that does mean you have to do some planning. This price would include, basic car rental, gas, tolls, parking , entrance to Chichen Itza and a basic meal somewhere.
How much is the entrance to the ruins?
The entrance cost is about $28 USD (571 Pesos) per adult. For the most accurate up to date prices, consult the official INAH website here.
Chichen Itza Tours
In this section we are going to be posting tours we have been on and written about.
Xichen Deluxe Tour to Chichen Itza
This is a large bus tour by Xcaret. This tour includes going to Chichen Itza and then to the colonial city of Valladolid. You will have transportation to and from your hotel, a tour, buffet lunch and stop at Cenote Zaci all included. To read more about this Xichen Deluxe Tour and our video, see our article here.
Xichen Clasico Tour to Chichen Itza
This tour to Chichen Itza includes a stop in the community of Ebtun, a guided tour of Chichen Itza and a stop at Cenote Ik Kil. This tour will pick you up from your hotel and includes a small buffet lunch at Cenote Ik Kil. The Xichen Clasico tour is cheaper then the Deluxe version above and we prefer the Deluxe tour. But if you want something that cost lower and you are more interested in swimming in a cenote, this tour can be good for you. See our complete article and video of the Xichen Clasico tour here.
Taking the bus to Chichen Itza ruins
If you are more of an independent person you might consider taking the public bus (ADO) to Chichen Itza. You might take the bus to Chichen Itza and then onward to another destination. If you are doing this there is a bag check at Chichen Itza in the visitors center. This service is free and fairly secure.
Here are some sample prices and times for the bus to Chichen Itza. Note: Times and prices change often, so please check before booking.
If you do want to take the ADO but round trip from the Riviera Maya you should consider the schedule of the return bus. There are not many daily busses doing the direct route. You might be stuck at the ruins for hours.
ADO Bus From Playa Del Carmen To Chichen Itza
There is one direct bus a day at 8:17am that cost about 292 pesos. This bus takes 3 hours and 50 minutes. This bus leaves from one of the ADO Bus stations in Playa Del Carmen.
ADO Bus From Cancun To Chichen Itza
There is currently no service direct direct to Chichen Itza. Sometimes there is a bus leaves from the Cancun Bus Station in the downtown. Check with ADO to see if they start a service again.
ADO Bus From Merida to Chichen Itza
There are three morning busses that leave from Merida to Chichen Itza. The cost is 130-150 pesos. This route takes 1:45-1:55.
Alternative public transportation to Chichen Itza
Here is another option for getting to Chichen Itza by public transportation. If you are in Valladolid or spend the night there, there are colectivo vans that depart from almost next to the ADO station on 39th Street between 44th and 46th Street. These vans run all day with tourist going to Chichen Itza. They are more frequent in the morning and take about 40 minutes to get to the ruins.
Hotels to stay at near Chichen Itza ruins
To really take advantage of what the area has, it can be good to stay in the area. There are two good options for locations of hotels, one is in Valladolid and the other is the area surrounding Chichen Itza. Below are recommended hotels.
Hotels in Valladolid
Valladolid is a charming colonial city that is about 45 minutes east of Chichen Itza. Valladolid is much more charming than Piste, the town closest to the Chichen Itza area. In Valladolid you have more options for eating also. See our guide here on restaurants in Valladolid. For hotel recommendations we have a whole article here with photos the best places to stay in town.
Good places to stay close to Chichen Itza
There are not that many hotels near to Chichen Itza compared to the amount of tourists that visit everyday. Many people arrive by tour group and leave the same day. There are some roadside hotels in the area and some larger, more upscale hotels that are right next to the ruins.
More reading for you on visiting Mayan ruins
If you want to read about visiting more Mayan ruins in Mexico and the Riviera Maya, we have a guide that compares what they are like and suggest what ruins might fit what you are looking for. If you are looking for other tours we recommend, see our article on tours here.
Have you been to Chichen Itza? How did you go? Do you have any tips for other readers? Let us know in the comments below.