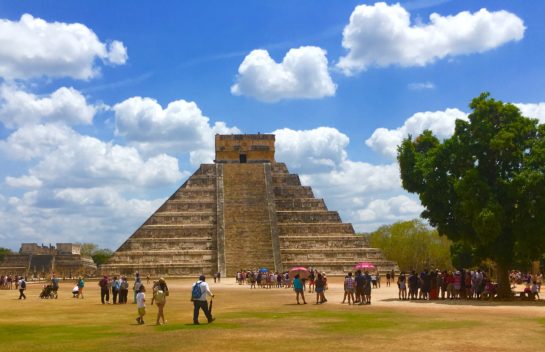 Xichen Clasico tour to Chichen Itza
Have you been thinking of going to the world heritage site of Chichen Itza? There are many tours that go there. Here is what the Xichen Clasico tour to Chichen Itza is like. The basics of this tour are: pickup from your hotel, souvenir stop, guided tour of Chichen Itza, buffet lunch (drink not included) and cenote swim in Cenote Ik kil.
Our video introduction to the Xichen Clasico tour
This is what our day was like on the Xichen Clasico tour.
What is your day like on this Xichen tour?
Like all the tours on our website, we go on them so we can tell you about the details. We also like to be able to compare them to other tours. This way we can help you find the tour that fits you best.
Pick up from your hotel
Most of the pickups will be between 7:00am and 8:00am from your hotel. If you are staying at a smaller hotel in the center of Playa Del Carmen, there are meeting points where you can get on the bus.
You will be transported to Xel Ha. This is where Xcaret has a transportation hub. Here you will transfer to your appropriate tour bus. From Xel Ha your bus group will set off for the center of the Yucatan Peninsula.
When you return to the Riviera Maya, your bus again will come back to Xel Ha and from there you will transfer to the appropriate bus to your hotel.
First stop, Ebtun community
Most people don't realize that going to Chichen Itza requires some transportation time (about 3 hours each way). So the Xichen Clasico tour tries to break this up. On your bus ride to Chichen Itza your guide will tell you about the culture of the Mayas and some of their traditions.
At the small community of Ebtun you will have about a 30-40 minute stop. Here you can have customized jewelry made with Mayan symbols or dates hand made in Mayan numbers and symbols.
There is also rows and rows of tourist souvenirs here. This is also the only place you can get a snack if you are hungry. The options for food are more junk food like. Prices are tourist prices.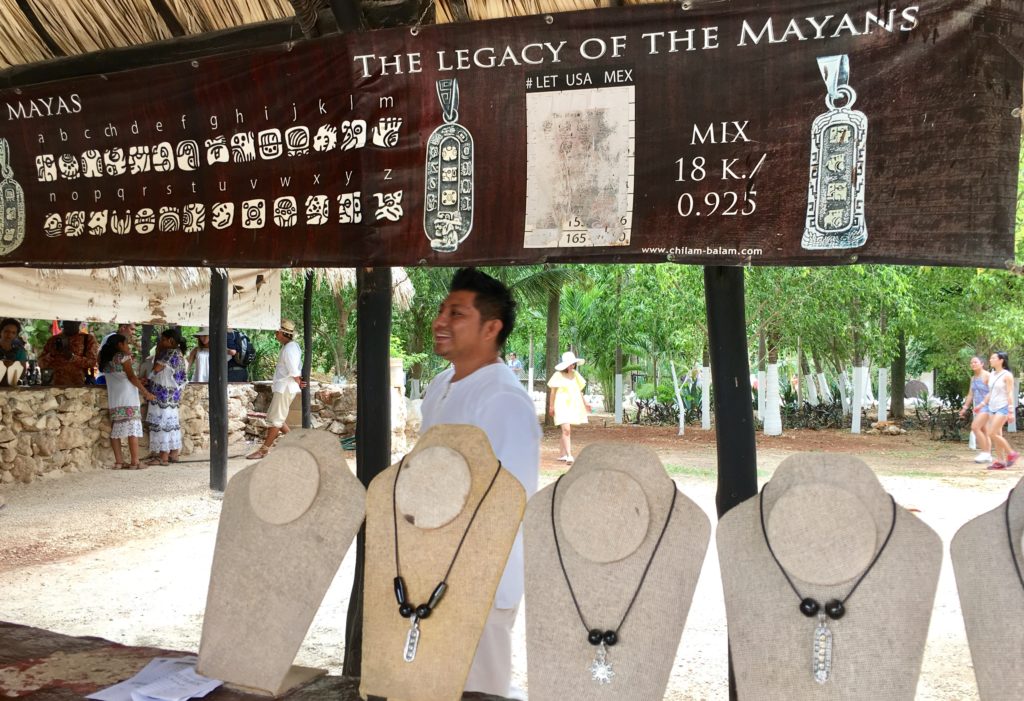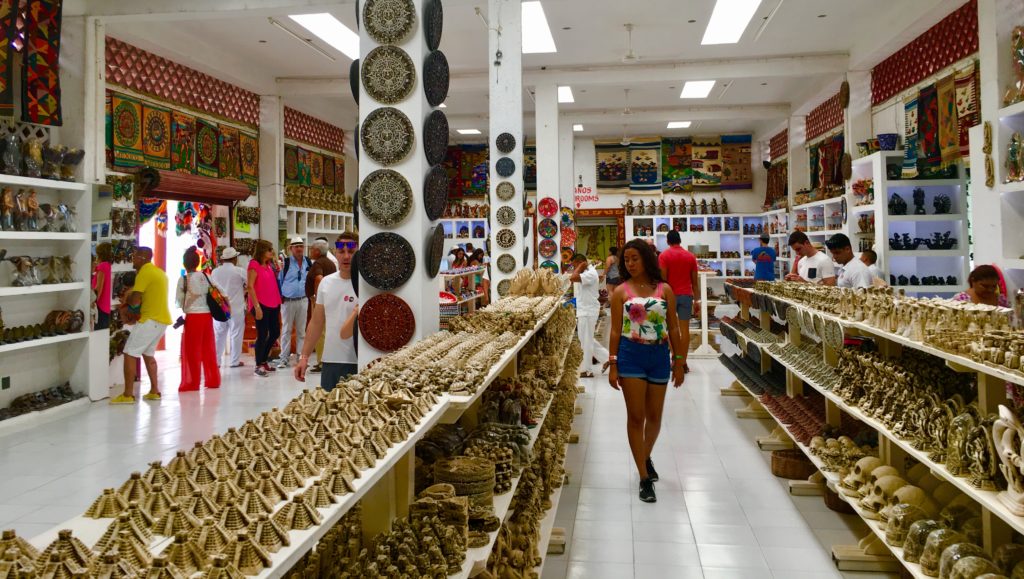 Time and tour of Chichen Itza
When you arrive at Chichen Itza your group will be given waters and enter the ruin site. Your guide will take you to the main buildings of importance and go into the history of the ruins. After the guided portion of the tour you will have about 45 minutes to one hour to walk around the ruins and look at souvenirs.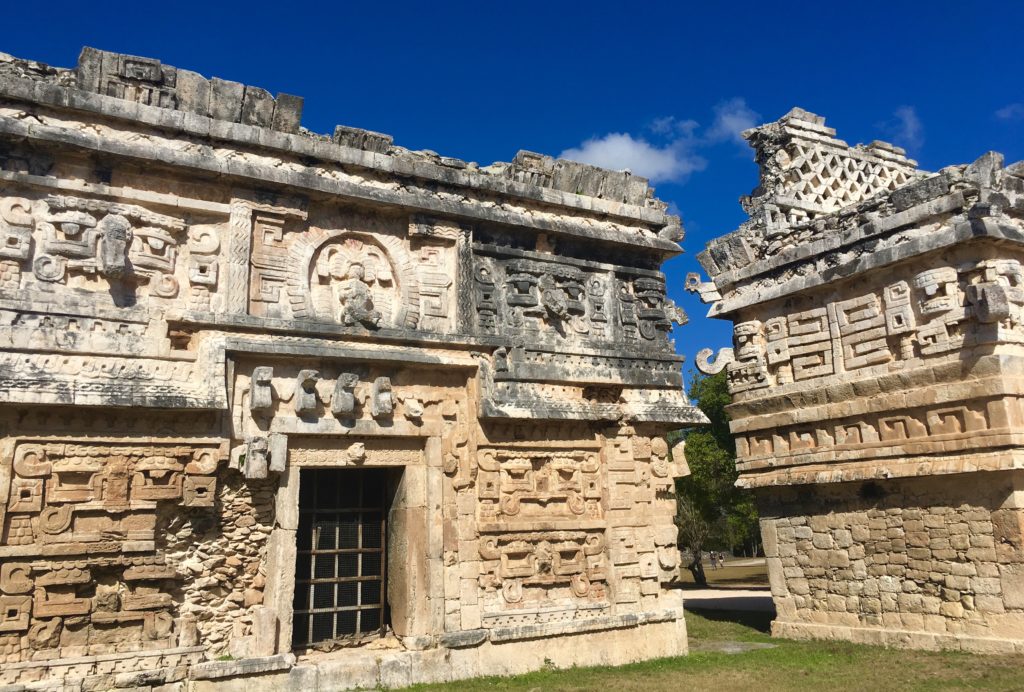 Cenote Ik kil and buffet lunch
Cenote Ik kil is like an eco park just 5 minutes away from Chichen Itza. This cenote park is visited by many bug groups that have gone to Chichen Itza. Usually there are at least 5 bus groups here at any time.
This is one of the most instagramed cenotes in the Yucatan and you are sure to recognize it. Here you will have the option to eat first or swim.
The buffet at Cenote Ik Kil
If you decide to take lunch first you can head to their restaurant that has a small buffet. Inside is air conditioned and there is outside seating on the porch. There is a buffet inside and outside.
You will be directed to shared tables where you can sit. Waiters will take your drink orders. All drinks here are extra, this is not just alcoholic drinks. Most drinks are 35 pesos and you must have cash for this, no credit cards.
One the buffet you will find some basic options like garden salad, fried fish, potato salad, pasta, rolls, rice, beans, beef, chicken and pork dishes. For desert there is sliced fruit and small containers of a custard. The buffet does not reflect the region well and is merely food for your tour.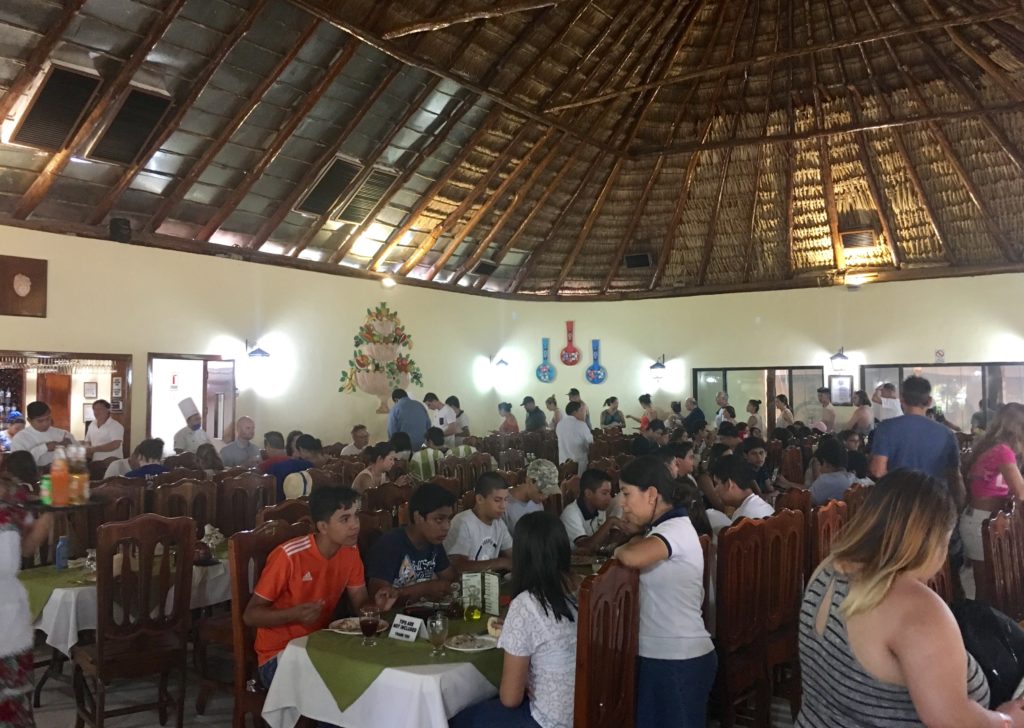 Swimming and visiting the cenote
A highlight for many is Cenote Ik kil. It may be the only time you get off your resort and get to visit a cenote. This cenote is beautiful despite the hundreds of visitors every day.
It is a deep cenote that will require you walking down stone steps. The steps are wet and slippery, so it is advisable to use the chain railing.
Before visiting the cenote for a swim, you will need to change and are required to rinse off in the showers. Rinsing off takes off chemicals from your body and helps keep the cenote water clean.
There are locker for your use. These are a small fee. Life vest are also available for a small fee.
In the cenote there are several lookout points and even if you do not go down into the cenote, you can see in from the top sidewalk.
The water is fresh. In the photo below you can see the place for jumping and diving. This is a popular thing to do in Cenote Ik Kil.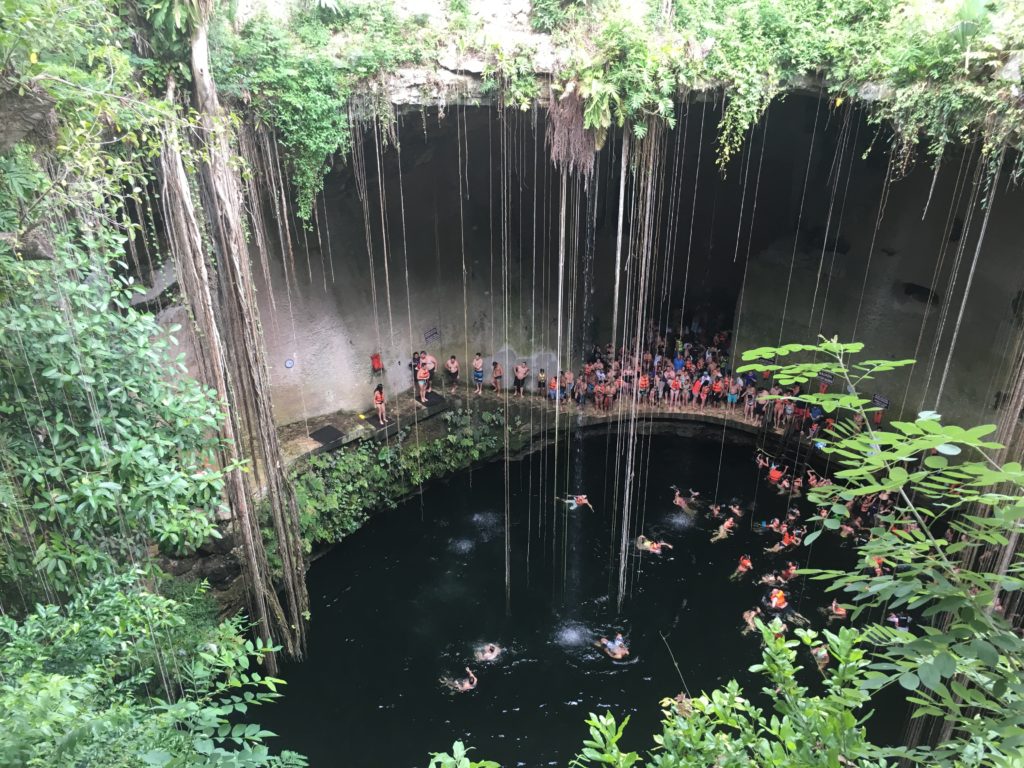 How to book and save money on the Xichen Clasico tour
So does this tour look like something you want to do on your vacation? If so you can save money by booking in advance by clicking the "reserve now" button below. This will take you to the official site and guarantee you the best price possible.
The regular adult price for this tour is $79.00 USD. If you buy in advance of 7-20 days you get 10% off. If you buy 21 days or more in advance you get 15% off. This would make it $71.10 USD for an adult.
Children ages 5-11 years old automatically get 50% off. Children 0-4 years old are free. This can be a very affordable family tour to go on.

You don't have to worry about booking in advance because there is a weather guarantee with this tour. You can change your date up to 24 hours before your scheduled tour date. Although we have to say, the distance you cover on this tour is large, so you never know what the weather will be like at Chichen Itza when you are in the Riviera Maya. We have been also when it is cloudy and it was actually nice because it was not as hot walking around the ruins.
Tips for going on the Xichen Clasico tour
Eat breakfast or bring snacks with you. There is no breakfast and the only place to grab a snack is in Ebtun or the shops at Chichen Itza. Lunch is later in the day. Most of the food at Ebtun is snack style food.
Bring some cash in dollars or pesos. The drinks at the buffet are not included, this means soda and water as well. Lockers and life vest at the cenote are extra as well. No credit cards are accepted at Cenote Ik Kil.
Also some money for souvenirs and tip for your guide.
Chichen Itza is a big site. Wear comfortable shoes and a sun hat.
How does the Xichen Clasico tour compare to Xichen Deluxe tour
We have to say we much rather prefer the Xichen Deluxe tour compared to the Xichen Clasico tour. Both tours pick you up from your hotel, include lunch and take you to Chichen Itza with a guided tour. So what are the differences?
The most obvious is the price difference. If you purchase these tours online and in advance you get the lowest price possible. The price difference is $98.10 USD for the Deluxe tour and $71.10 USD for the Clasico tour. This is a $27 USD difference for adults. So what is different about the two tours?
The length of the tour is the same but the on the Deluxe tour you get more services. For example you get a light breakfast on the bus, drinks during the day while on tour, drinks with lunch, and better food.
Both tours visit a cenote but you get to swim in a cenote on the Xichen Clasico tour. Cenote Ik kil is well recognized and popular for people to go to.
The bottom line is, the deluxe will make for a more enjoyable day and if quality of food and overall experience is important to you, then take the deluxe tour. If you mainly want to get to Chichen Itza and swim in a cenote and want to do it on a budget, then the Xichen Clasico is for you.
Have you been on the Xichen Clasico tour to Chichen Itza? What did you think? We would love to hear from you in the comments below.
If this tour to Chichen Itza is not exactly what you are looking for, see our article on the best Chichen Itza tours for you from the Riviera Maya.