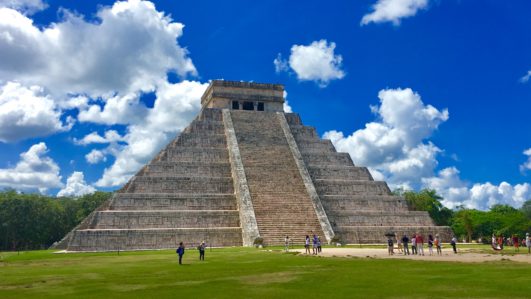 The Best Chichen Itza Tours to take
What is the best Chichen Itza tour for you? Well everyone is going to be different in what they want so we are presenting you with our best recommendations for tours. Here you can find tours that are smaller, ones that visit a cenote, private tours, large bus group or budget tours. Whatever tour you choose, it is good to book in advance. Some of the tours will give you a discount of 15% off if booking ahead of time. Since all Chichen Itza tours require the tour companies to coordinate hotel pickups and transportation, booking in advance will guarantee the day you want to go and your spot.
Tours to Chichen Itza are popular since about 5,000 people a day visit these ruins. Since this spot is so popular there are many people offering tours here. We try to help narrow it down for you so you can enjoy your time here. We even have videos of some of the tours below so you can see what it is like.
Here are a few tips for tours to Chichen Itza for you
From all points in the Riviera Maya the travel time is about 3 hours each way to Chichen Itza. It is a full day of touring, so be prepared.
Take comfortable walking shoes because the ruins are large. It is also out under the sun, so take a hat and sunscreen.
If visiting a cenote, take biodegradable sunscreen since this is the only type allowed if any at all. This is to keep the water clean.
Don't worry too much about the weather. Remember that tours to Chichen Itza take you to another state. The weather can be different and during your day you might experience sun and some rain. Most tours work with the weather. Some will coordinate the ruins for the morning or afternoon depending on the weather. The best tours to Chichen Itza have large umbrellas for guest if needed. Also you are at the ruins for 2 hours or more. It usually does not rain for hours at a time so even if it is a little rainy, you should have some break.
Whatever tour you book, look at the details. All of the tours below except one will pick people up from all points from Cancun to Tulum in the Riviera Maya.
Take some money for souvenirs, tips, and snacks.
Note: As of February 2019 most tour prices are going to increase because the entrance cost to Chichen Itza has gone up.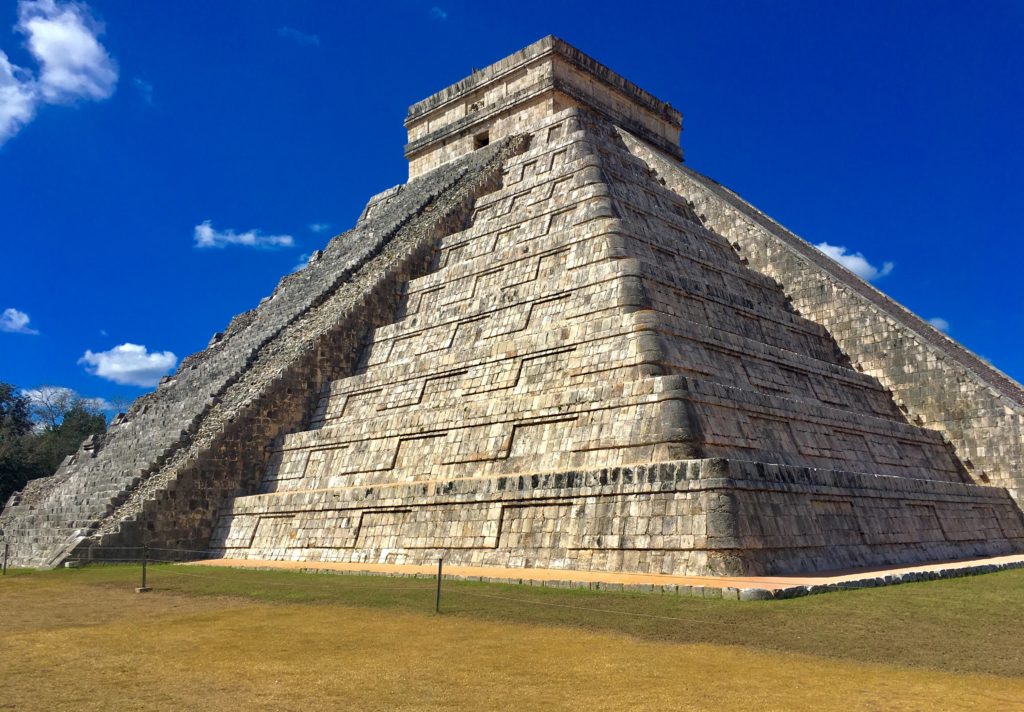 The best small tours to Chichen Itza
Chichen Itza and Cenote Maya tour
This small group tour will take you in a van to either stop at Cenote Maya first or Chichen Itza. A certified guide will take you around the ruins and you will have some time to self explore a little. The Cenote Maya part is fun because it is only available to visit with this tour and is the largest cenote in the Yucatan! At Cenote Maya you will enjoy a buffet of reginal cuisine. The tour of the cenote involves rappel. swimming, and zip lines all in the cenote.
This tour is special because the tour company operates Cenote Maya and it is only visited by their tours. They also focus on the Mayan heritage of the area and the tour feels a little less touristy.

For more about this Chichen Itza tour see our article here.
See also below in the private tour section about information on private group tours. These can be very affordable Chichen Itza tours to take.
The best bus tours to Chichen Itza
Most Chichen Itza tours are by large buses. This can mean groups of about 40 or 50 in a tour. We were skeptical about going in a large group but the best Chichen Itza tours are well organized and even though there is a large group, you still move around pretty easily. Large buses also offer you a more comfortable ride since the transportation time is about 3 hours each way. Here are two bus tours to choose from.
Chichen Itza Xichen Deluxe tour
This has been one of best tours to Chichen Itza in recent memory. The guides are very well informed, bilingual, and organized. Often there are two guides that help everyone get around during the day.
What makes this tour deluxe is the nice bus, very good reginal buffet at their own restaurant, drinks included during the day including beer, large sun umbrellas to use and some more extras. This tour is worth the price since going to Chichen Itza is a highlight of many peoples vacations. You do visit a cenote but do not have an opportunity to swim in it. If you want a cenote swim the next bus tour has that.

For more about the Xichen Deluxe tour see our article here.
Chichen Itza Xichen Clasico tour
This tour is by the same company above and is a little less expensive. People like this Chichen Itza tour because you get to stop at a cenote and swim. Lunch is at the cenote as well but not the companies restaurant, so it is more basic.
The guides are very good for this tour and you will be in good hands for your day of exploration.

For more about the Xichen Clasico tour see our article here.
Chichen Itza and cenote tours
Cenotes are one of the stops that really excite people when coming to the area. Visiting the ruins is good but a good compliment is a cenote. Cenotes are a natural area of water in the ground. They are fresh water and are either enclosed or open. Some tours stop just to see a cenote but most people want to have the option to swim in one. These two tours take you to the best cenotes in the area around Chichen Itza.
Cenote Ik Kil and Chichen Itza tour
Cenote Ik Kil  is one of the most visited cenotes near Chichen Itza. It gets the most photos taken of it because it is unique and beautiful. Many Chichen Itza tours stop here because it is close by and has the facilities to host many guests. This tour stops here where you can eat at the buffet and swim. We recommend this tour because it is well organized, there are good guides and offer good service. This is the same tour as above in the video of the Xichen Clasico tour.

For more about this Chichen Itza tour see our article here.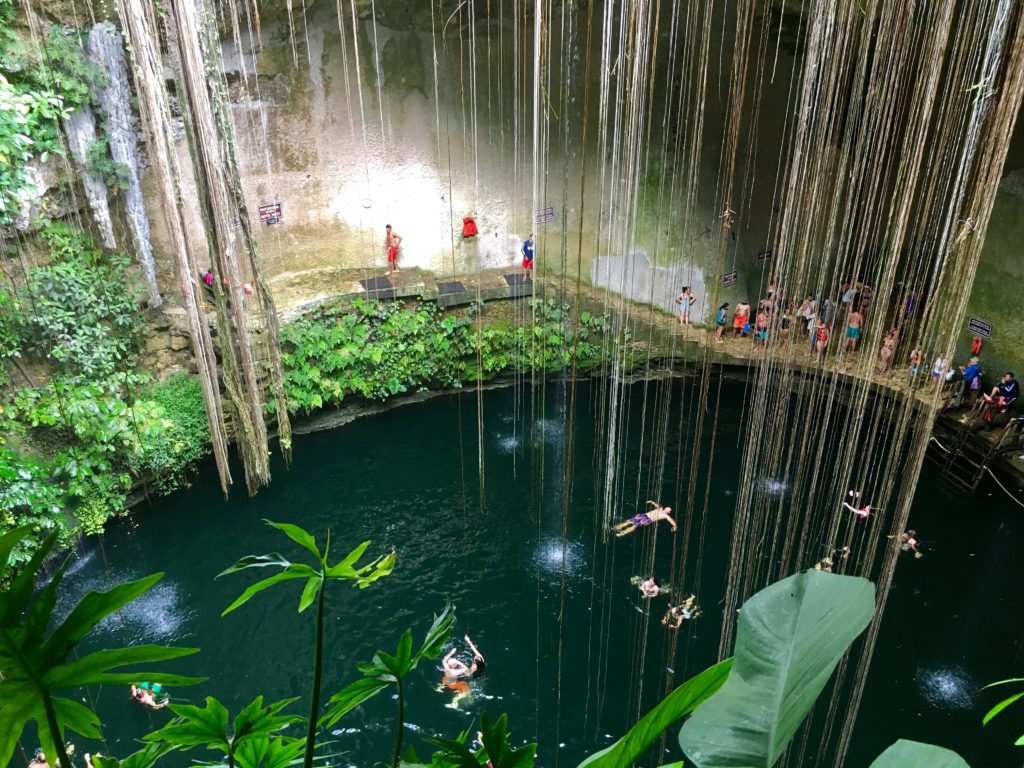 Chichen Itza and Cenote Maya tour
Cenote Maya is a great stop on the way or coming back from Chichen Itza. This is the largest cenote in the Yucatan and is enclosed. You can rappel down into this cenote, take zip lines and swim in the fresh water (see photo below). Besides a visit to this cenote, the tour offers a small group size and a focus on quality and a more authentic look at local culture.

For more about this Chichen Itza tour see our article here.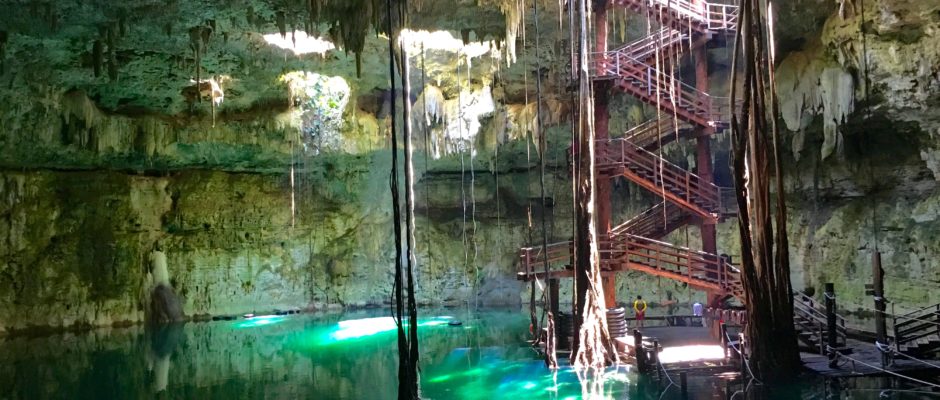 Budget tours to Chichen Itza ruins
If you are traveling on a budget and want to visit Chichen Itza, here are some of the best tours to take. Just remember that with the price, the quality of the buffets and stops might not be the best, but you do get to visit the marvelous ruins of Chichen Itza. We tried to suggest budget tours that have an established reputation. There are always new cheap tours starting, but they come and go. We want our readers to have the best options to choose from.
Note: Most of these budget tours to Chichen Itza are around $65 USD per adult. As of February 1, 2019 there is a tax added to this price to reflect the increased admission cost to the ruins.
Budget tour from Cancun to Chichen Itza
This tour includes pick up from most Cancun hotels buffet lunch, entrance to Chichen Itza with guide and a stop at a cenote.

Budget tour from Playa Del Carmen and Riviera Maya to Chichen Itza
This tour includes a pick up from most hotels, buffet lunch, visit to a cenote, and tour of Chichen Itza with guide.

Private tours to Chichen Itza
If you want to go by yourself and just have a guide for your group, a private tour is what you want. We will say that many "private tours" offered online or in person are just small groups of different people in a small van. This is not what we call private. A truly private tour is just for you and individualized.
One really good option is a private van with driver that will take you and your group to Chichen Itza and then to a cenote. If you have a group this can be very affordable. Prices can range from $55 USD to $115 USD per person.
What is included in this tour to Chichen Itza and not included
Roundtrip air conditioned van just for your group with English speaking driver.
Toll road and parking fees included.
Free time at Chichen Itza ruins site.
Cooler with drinks including beers.
Not included are:
Food and beverage at restaurant.
Cenote and Chichen Itza entrance fees.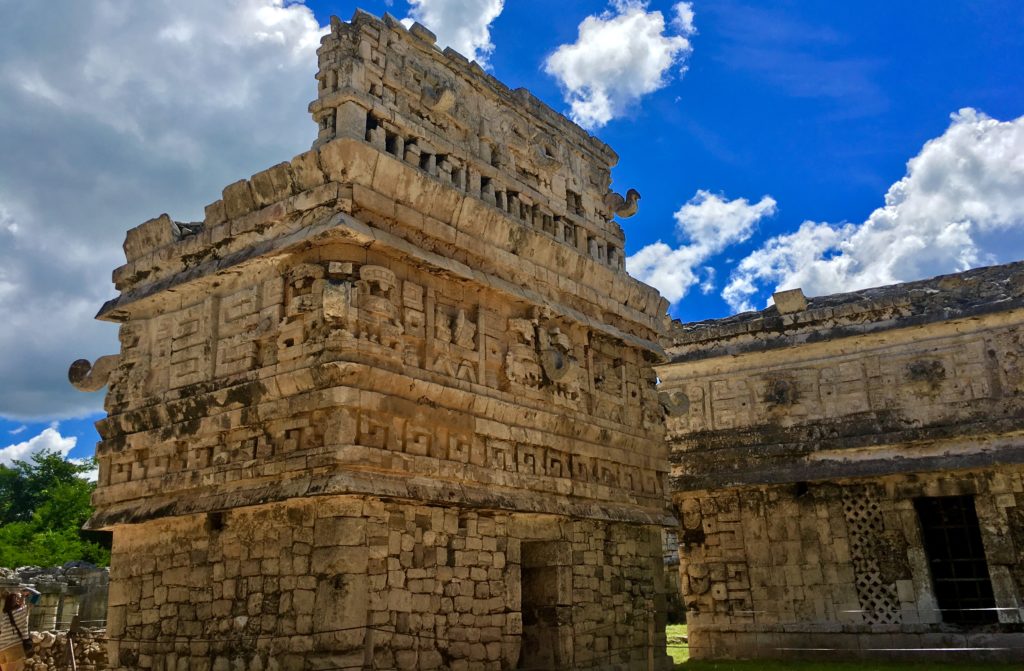 More information on visiting Chichen Itza
If you want to read more about visiting Chichen Itza, see our article here.  We have enjoyed going here many times and each time you can learn something new. Each tour we have taken, the guides share different aspects of the amazing Maya civilization.  We hope you get to go while visiting the area and have one of the best tours!
Most people take a tour to visit Chichen Itza because it can be complicated to rent a car, worry about filling up on gas and driving in a foreign country. There are also the tolls for the road, paying for a guide at the ruins and entrance fees to the ruins that add up. If you do decide to drive yourself there, see our article on getting from Playa Del Carmen to Chichen Itza here.
Thank you for reading our article about the best Chichen Itza tour to take. Let us know if you have any questions or comments below. 
For more tours and places to visit in the area, see our interactive map below. Click each location to see what is there and an article about visiting there. We also have this article here, it includes the most popular tours from Playa Del Carmen.