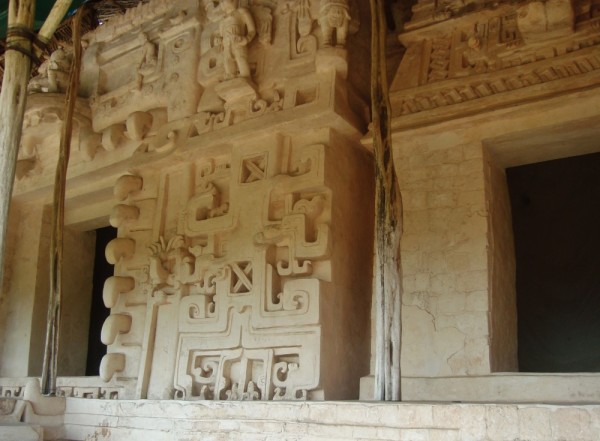 Which ruins are best for you to visit?
Are you coming on vacation to Playa Del Carmen and want to visit a Mayan ruin? But not sure what are the best ones to visit? We will compare everything about them and give you a guide so you can choose what is best for you. We will talk about prices, distance, accessibility, and what makes each one unique.
There are four main Mayan ruins that people go to and three are other ones that are an alternative place to visit.
Tours to Mayan Ruins from Playa Del Carmen
Do you want to take a tour to one of the ruins? Visiting by tour can take the stress out of renting a car, figuring out how to get to them and usualy will include another activity. In each section we talk about what tours we recommend, if you can take the bus there and what they are like to visit.
Should you go to Tulum ruins, Ek Balam, Coba or Chichen Itza?
This is by far the most popular Mayan ruin in the Yucatan Peninsula and is known around the world. It is so popular because the main temple is so well preserved and restored and the site is so large. The price of entry is also the highest of all the Mayan ruins. There is even pay parking here.

Make sure you read our article on how to get to Chichen Itza from Playa Del Carmen.

This is the only Mayan ruin site on this half of the Yucatan that does a light show at night. Most people arrive by tours but it is possible to drive here yourself or take buses. When pricing tours make sure to ask if the entrance fee is included. Some tours can seem cheap but then you have to pay for more. We don't really recommend any tours under $70 because it will probably mean they are cheap in quality and take you tourist trap places. See our article about the best tours to Chichen Itza from the Riviera Maya.

If you drive you also have to take into account the tolls for the pay roads. It is about 616 pesos round trip for a car. Of the major ruin sites this is the furthest and will make for the fullest day. Most tours include a stop in the colonial town of Valladolid or at a cenote (usually Cenote Ik Kil). These are nice to see but are just a quick stop. The ruins are extensive and spread out. You will mostly be in the sun so come prepared. You cannot climb on any of the structures here. Of all the ruins this will be the most handicap accessible.

Chichen Itza is one of the most popular ruins to visit from Playa Del Carmen.
Tulum ruins is 40 minutes south of Playa Del Carmen and one hour and 20 minutes from Cancun. The site is not large but the most spectacular thing is the view from the cliffs. The entrance fee is 59 pesos and parking is 75 pesos. Tulum ruins can be reached by tour or by doing it yourself. Since these ruins are closer to Playa Del Carmen and Cancun, you can easily do this in a half day and you still can say you went to some ruins. The ruins are mostly in full sun but the good thing is you can actually jump in the turquoise waters right behind the ruins. There is no climbing here and actually not too many high structures. Tulum ruins is the easiest to get to our of the four major sites and on sunny days will provide great photo ops.
Ek Balam is the newer ruin to visit out of the big ones and has gotten more popular to visit. It is 3rd out of the 4 by distance and is usually done with a tour. Attached to this site is a cenote that you can pay extra to swim in. This can make a nice drip after hiking around the ruins. There is even one pyramid you can climb here and you get to see the flat Yucatan Peninsula. Entrance is 130 pesos and parking is free. These ruins are third in size of the top four. The Mayan ruin site is semi shaded. If you drive here it can make for a good 3/4 or full day with a stop in Valladolid.

Some of the big bus tours will stop in Cenote Hubuku. One tour that we like to Ek Balam ruins is leaving from Playa Del Carmen and points in the Riviera Maya. The tour takes you to Cenote Maya and to Ek Balam ruins.

these are a favorite site to visit because it is shaded in the jungle and the opportunity to bike between the pyramids is cool. You also can climb the steep steps of the tallest pyramid there. Entrance is 64 pesos and parking is 50 pesos. Renting the bikes is extra. It is possible to do it yourself by bus but there is very limited options so make sure you know the times. From Cancun this makes for a full day with a tour and there is usually a stop somewhere else, either a cenote or Tulum. From Playa Del Carmen you can driver here and do a half day adventure or make a day of it with a stop at a cenote or in Tulum.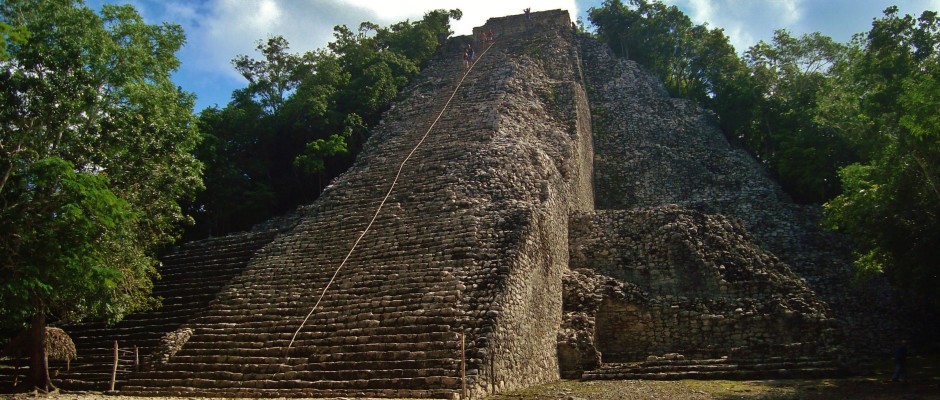 Lesser known Mayan ruins in the area
Muyil Mayan ruins
Muyil ruins is a small site just south of Tulum. Very few tourist come here because Tulum ruins suck in most tourist because the amazing views off the cliffs and the name it has for itself. What this site is good for is a quiet walk among a semi shaded area and a nice trail out to the lagoon in the back. Entrance to the trail is 50 pesos extra. Make sure you climb the lookout tower and make it all the way out to the lagoon. Entrance is about 54 pesos now and parking is free. If you have been to Tulum and Coba and have a car this makes for a nice half day trip with a stop in Tulum for something to eat.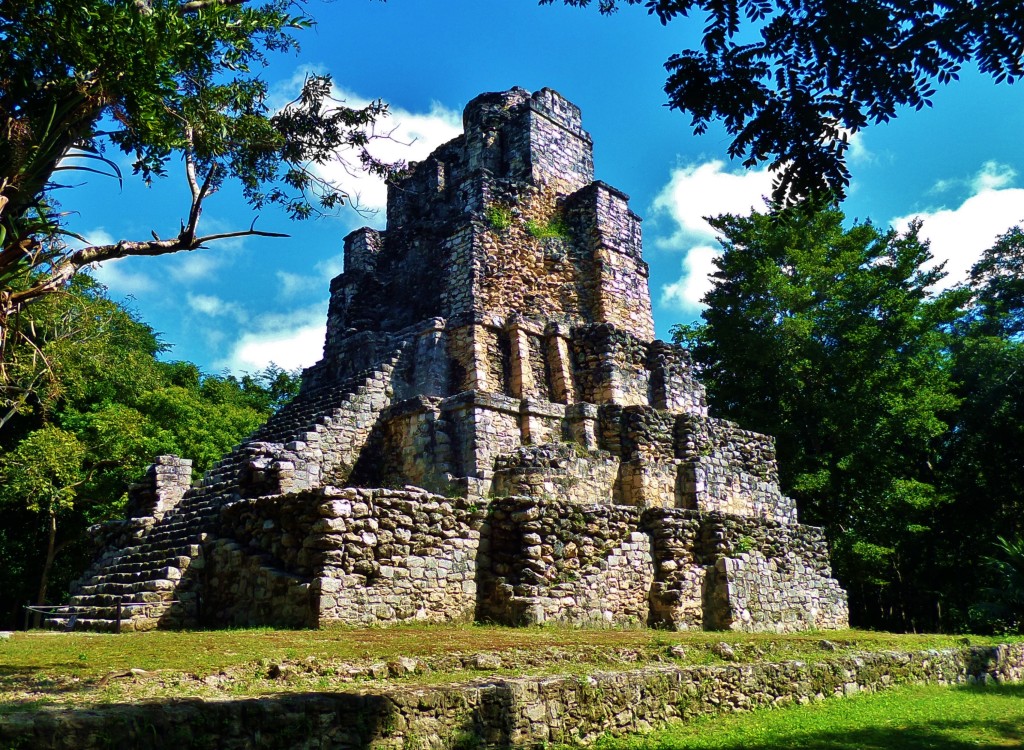 Xelha Mayan Ruins
Xelha ruins are often confused with the Xelha Snorkel Park. In fact these ruins are close to the park. These Mayan ruins are not visited often because there is not a large pyramid. But that does not mean you should just skip them. There are murals here to see a cenote. The area is peaceful and will take about 45 minutes to see.

Murals on the walls of Xelha ruins.

Chacchoben Mayan ruins

Chacchoben ruins are in the far south of the state of Quintana Roo. These ruins make for a long day trip or an overnight trip with a side trip to Bacalar or other destination in the area. The ruins here were officially open to the public in 2002, so they are lesser known and the distance from most tourist destinations keeps them from being crowded. You really start to see the vegetation change as you go further south in the state and you have a chance to see monkeys in the trees here. You can find yourself here alone as long as there are no cruise ships in Mahahual. Chacchoben ruins is semi shaded and with some slight hills. Entrance is 48 pesos and parking is free. Most people only come here with a tour from a cruise ship so if you want to visit these by yourself you should have your own car.
El Naranjal Mayan ruins
El Naranjal ruins are so unknown you can barely find pictures of them online. These ruins are just over one hour from Playa Del Carmen and good to explore with your own car. The ruins are semi restored. You can see about four pyramids here. The small community around the ruins has some eco tourism activities and things for you to see as well. See our article and video in the link for more information.
Kuluba Ruins
Kuluba ruins consist of three large buildings, some with good detail. The ruins sit on a cattle ranch and have only recently been funded for further preservation and access to the public. These are really off the beaten path, close to Tizimin. The site is only just over two hours from the Riviera Maya, but often you will find yourself the only people visiting here.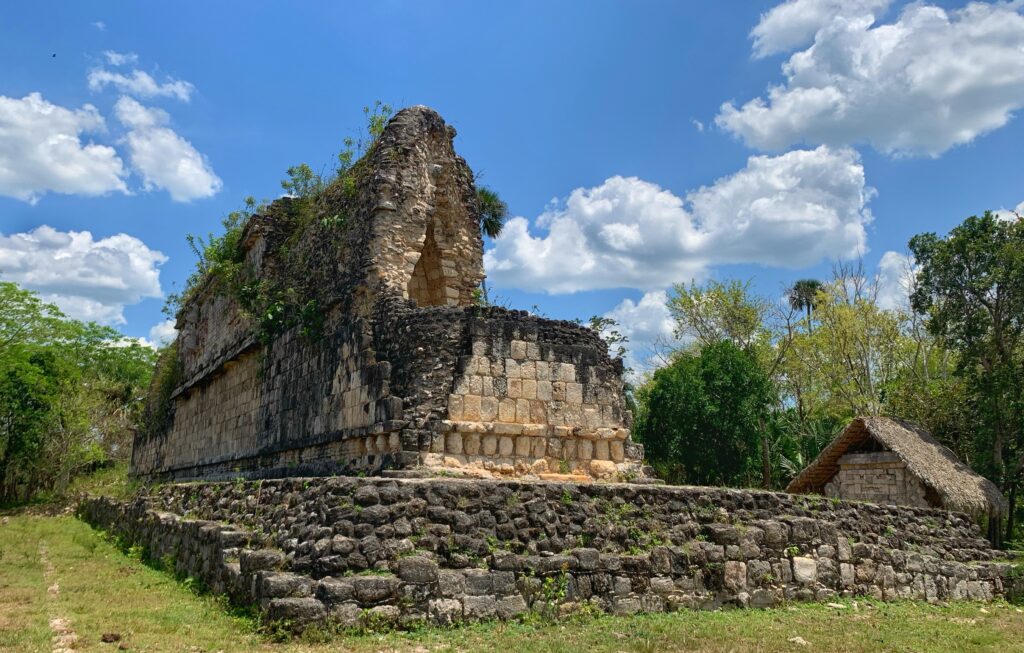 Yaxunah Mayan ruins
Yaxunah is a site that is only 13 miles from Chichen Itza but no one has heard of it. It has over 650 structures that have been identified. It also has the longest road (sac-be) found to be built by the Maya. Yaxunah Mayan ruins are near a small town where you can find guide to take you around. There is not official entrance or even information on them. These ruins are not restored and some parts are hard to see amid growth.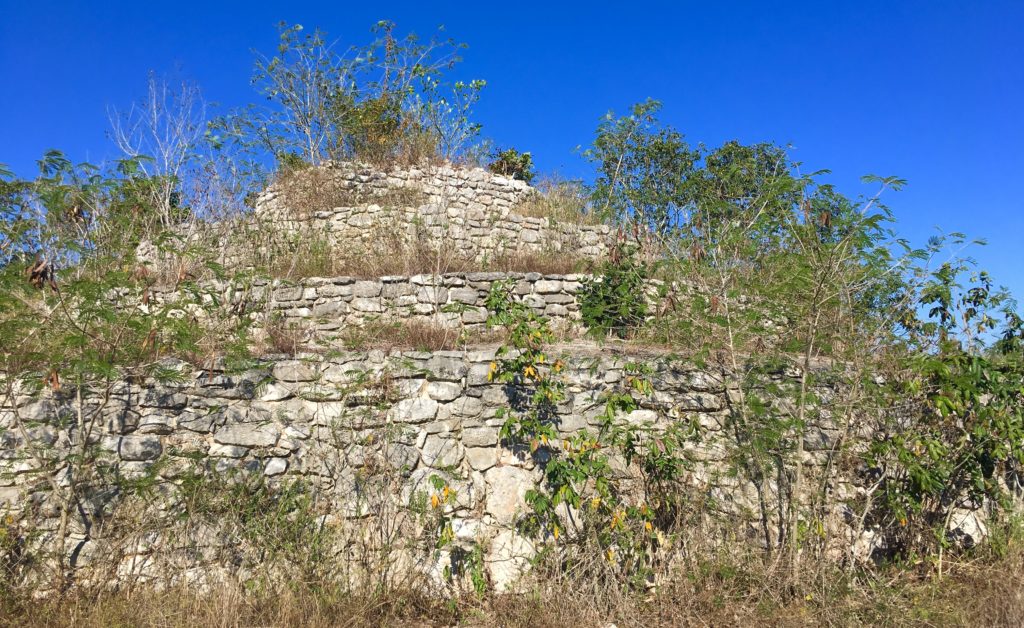 El Meco Mayan ruins
El Meco is the ruins you have never heard of but are actually in Cancun! Most tourist don't go here because no one offers tours here because it is so close and it is a smaller site. It can be a nice hour or two of your day visiting here if you are staying in Cancun. If you are staying in Playa it is not really worth coming to because Tulum is a better option. There is no vista here but rather nice grassy area with some trees. No climbing is allowed here. If you are not with a car you will need to take a taxi from the center of Cancun to these ruins. Entrance is about 45 pesos and parking is free.
Calakmul Mayan ruins
Calakmul ruins are deep in the jungle. These Mayan ruins take some planning to go see but can be rewarding. Not only is the tallest pyramid here accessible to climb, it is 50 feet taller than Chichen Itza's famous pyramid! This Mayan ruins site is large and you can see many pyramids peaking up from the jungle when you climb to the top. Noteworthy as well are the animals you can see here and very few other tourist. For more about visiting these Mayan ruins, see our link including a video.
Dzibilchaltun Mayan ruins
Going around the Riviera Maya
If you don't go on a tour or independent trip to the above ruins you still might just see some while driving or walking around because there are many small reminders of the Mayan civilization around the Riviera Maya.
For example if you go to Isla Mujeres you can see some at the south end of the island. They have been damaged over time by hurricanes so there is not much left to see.
If you are in Playa Del Carmen there are small ruins around town even. You can see where some of them are in the article "Hidden things in Playa you never knew were here."
We hope you get to experience some of these ruins because they really are some of the things that make visiting this part of Mexico interesting.

[print_link]
What are your favorite Playa Del Carmen ruins to visit and why? Let us know in the comment section below. We would love to hear from you!