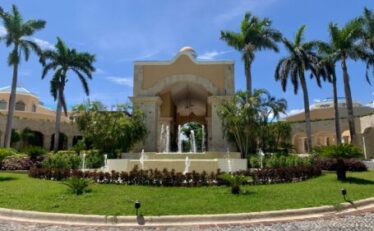 The Royal Hideaway Playacar
The Royal Hideaway Resort in Playacar is an adults only hotel that has been a popular place with many of our readers. People like going back to the resort because it is a little different from other hotels and resorts in the Riviera Maya. Even after new owners, this hotel retains its charm and hospitality so visitors have a great experience year after year. We recently went to the Royal Hideaway Resort to stay, so we could tell you all about it in a review. Here is more about what you can expect from a stay here.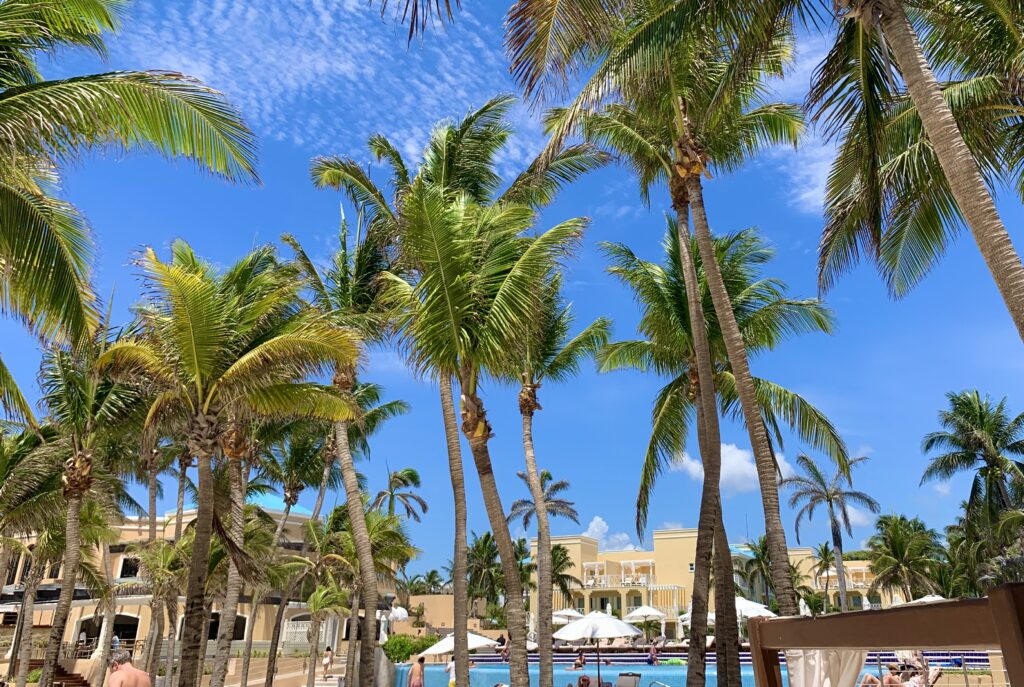 Our video review of the Royal Hideaway Resort
In order to better answer questions and know what an experience is like at a hotel, we stay there. Here is our video of this property.
What the rooms are like at the Royal Hideaway
The Royal Hideaway Resort is smaller than many other resorts giving it a more tranquil feel. With just over 200 rooms, there is a lot of space on this property. The rooms are divided into villas that dot the property. The villas are a charming Caribbean yellow with white lattice work. Inside the entrance of the villas you will find a concierge ready to help you with anything you need during your stay.
The rooms carry on the theme with a colonial inspired décor. The rooms are comfortable with very good beds, pillows and linens. In the rooms you will find a large flat screen TV, mini fridge, desk and tropical design fan to set the scene for your tropical getaway. The bathrooms are large and offer some things not found in other resorts. Each room has both a tub(hot tub) and shower, a separate toilet closet, and a closet for clothes. The entire bathroom area is closed off by louvered doors, giving you a nice space to enjoy the bathroom.
The rooms are a decent size and are very comfortable. Each room has a terrace or balcony for some quiet time to enjoy the ocean breezes. There are some rooms with ocean views, but in general, most have a garden view. Since the gardens are so beautiful here, you can really enjoy this outdoor space.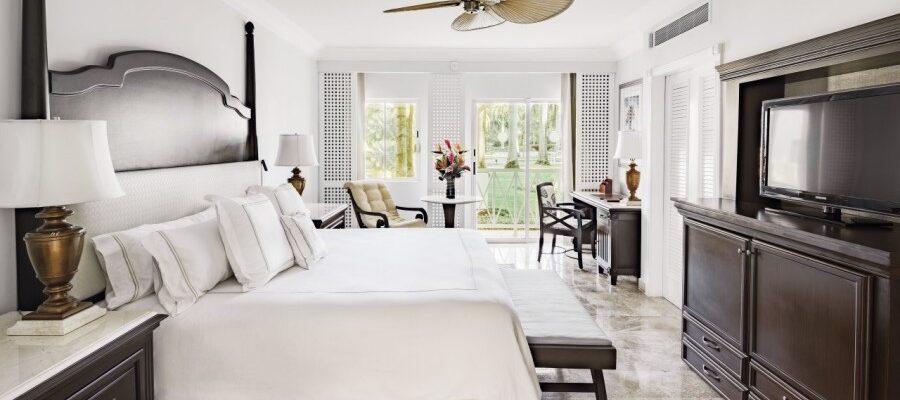 The location and grounds of the resort
The Royal Hideaway Resort is in the Playacar section of Playa Del Carmen. Playacar is a private neighborhood in Playa Del Carmen that surrounds a golf course. Many like this area because it is close enough to town to walk or take a taxi, but still removed from the busy center of Playa Del Carmen. The location kind of gives you the best of both worlds, paradisiac hotel setting, with access to 5th Avenue in Playa Del Carmen.
The beach and pools
The beach in front of the resort is wide and offers a lot of space to relax. There are palm trees that offer shade also which make it nice. The beaches in this area of Playacar are known for being some of the better beaches in the area, so you can really enjoy swimming, relaxing and the views here.
There are 6 pools at the resort. Two large pools that face the ocean and other smaller pools that are quieter and often you can have them to yourself. Most people gravitate toward the large pools because there are sunbeds and loungers to sit and enjoy the day. It is also close to the Deck Restaurant and bar, making it easy to order drinks or have a bite to eat.
Overall, we give high marks for the beach and pools for this resort.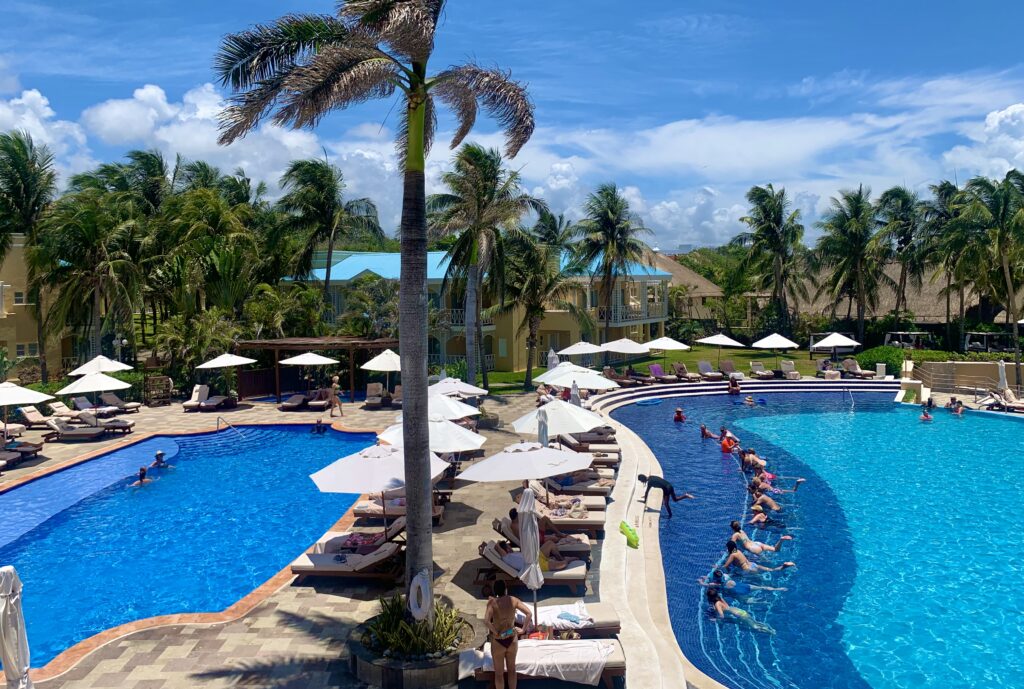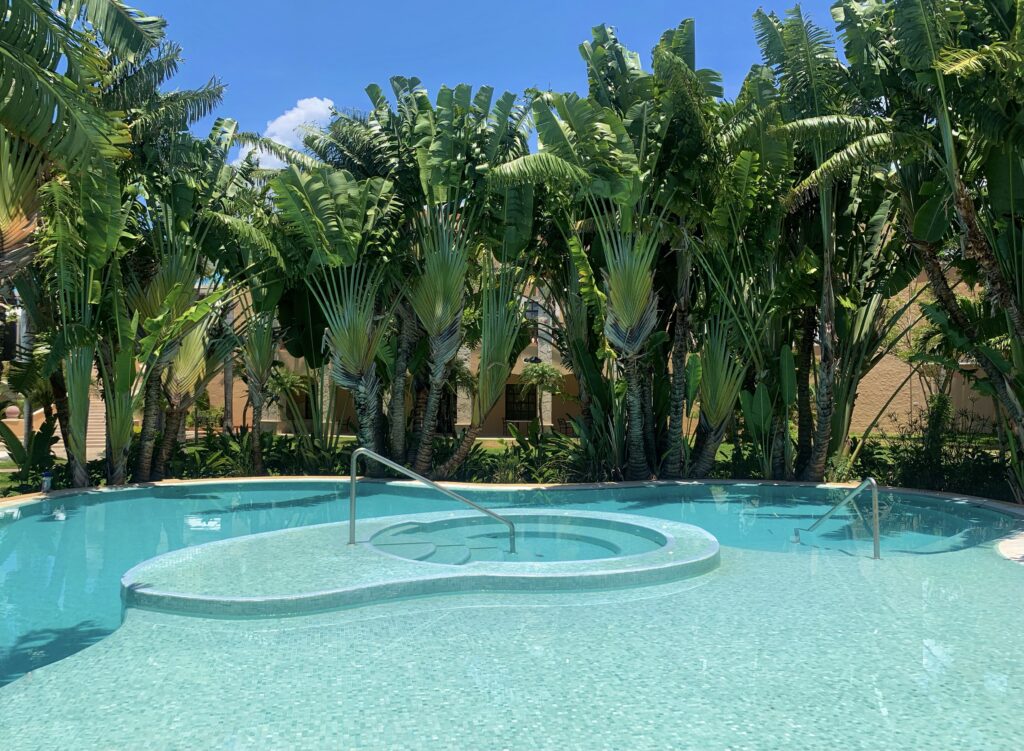 Activities and services at the resort
Your perfect vacation might be just relaxing by the pool or on the beach, but you can do even more here at the Royal Hideaway. While this resort is a little calmer and smaller than some other resorts, there still are things you can do here.
For the active guest there are two tennis courts and a gym on the property. If you would like to participate in some water sports, there are add on services that allow you to experience some of the exciting things you can on or under the ocean like scuba diving, snorkeling, fishing or kayaking. Also by the large pool you can find activities to either join or enjoy watching.
For the guests that like a little pampering, there is a spa here that offers a full range of messages and beauty treatments.
Just off the lobby you can find information on tours, rentals and a few small shops. Also, just across the street from the resort is a small shopping plaza where you can souvenir shop if you don't feel like going into the downtown of Playa Del Carmen.
Restaurants and dining at The Royal Hideaway Resort
There are six restaurants here at the resort and three bars. Each of the six restaurants offer a different type of cuisine. We like the fact the restaurants are smaller here and you feel like you are in a restaurant setting and not a big resort buffet type setting. Overall the quality of the food is better than similar priced resorts.
At two of the bars you can enjoy live music. This can be a great way to finish your day and really enjoy the elegance of this property.
Who we recommend this resort for
This is an adults only resort, so we will start there. Since this resort is more calm, meaning it is smaller and does not have a night club or something to that effect, it is nicer for couples that want a quieter vacation. This resort is more stylish and elegant, so older couples might like this resort more. With that said, we did notice a lot of younger couples here when we stayed.
The location is great for those that want to go into Playa Del Carmen, perhaps for some shopping or just to walk 5th Avenue. This hotel is also a good base for a tour or two in the Riviera Maya because it is centrally located and that means less time traveling to the tour destination.
For people that like a better quality of food, this resort also rates better than many comparable resorts in the same price category.
If you are interested in more about this resort or booking a stay, here is the official website for Royal Hideaways Playacar.
Already booked at the Royal Hideaway? Need Transportation from the airport?
If you are going to be staying at the Royal Hideaway Playacar Resort and need transportation from the Cancun Airport, we recommend this option here. Our readers really like this transportation company because they provide good reliable service and good prices plus a discount for round trip service.
Have you been to the Royal Hideaway Resort? What did you think? Let us know in the comments below.
You might also want to see our article on the adults only hotel owned by the Barcelo Group called Barcelo Maya Riviera. This hotel is further south in the Riviera Maya and offers a larger adult only resort with a more modern feel.