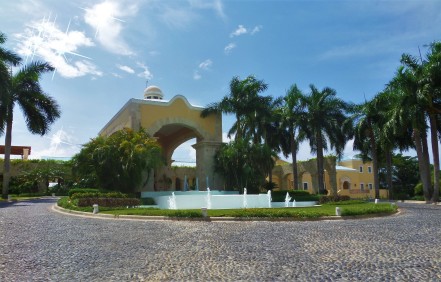 Many of our readers have told us numerous times how they love this hotel and we have had it on our Recommended Hotel List for some time now. We wanted to show you why this hotel is on our list. We visited the Royal Hideaway Playacar Resort in the Playacar section of Playa Del Carmen for you and are bringing you this report.
Royal Hideaway Playacar Review
Elegant, elegant, elegant is what comes to mind when you are on this property! It has the feel of an old glamourous Florida resort and it does not feel like something that was recently built, yet at the same time it is fresh feeling and well maintained.
The Royal Hideaway Playacar is an all inclusive adult only resort which is beachfront in the Playacar section of Playa Del Carmen. You can easily be caught up in this luxurious resort that you will not want to leave.
Your arrival at the Royal Hideaway
Right from the entrance you see the handsome drive to the resort and are greeted by this large open air entrance hall. In reception you will see colonial Mexican paintings and long flowing white curtains, this all gives it a feel of an elegant resort that is for the grown ups.
Note: If you are staying at this hotel, see our recommended airport transportation for you.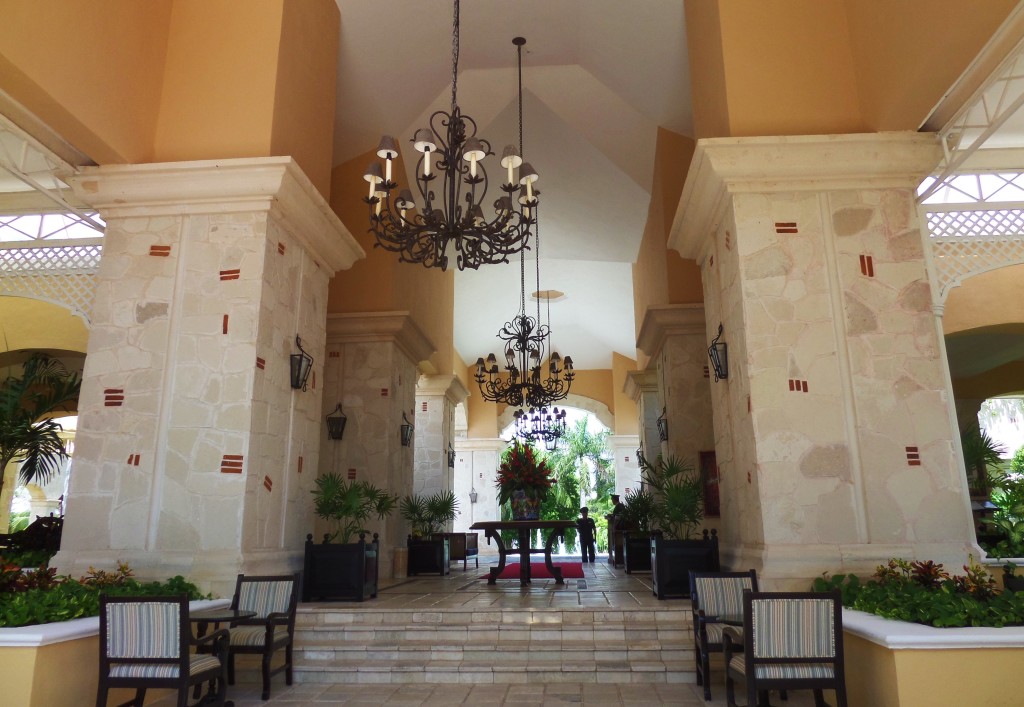 Grounds and landscaping
The grounds are well landscaped and the manmade streams flowing through the paths are a nice touch. We give this hotel an A+ for maintenance of the property and landscaping. Everything we saw was well maintained.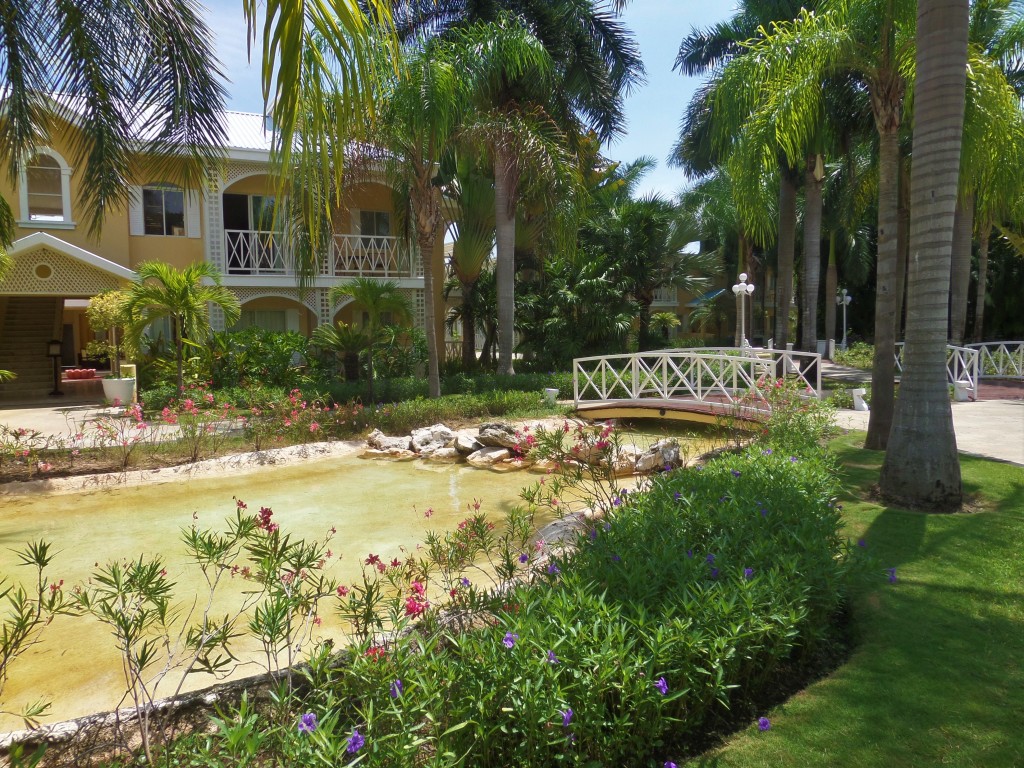 Rooms at Royal Hideaway Playacar Resort
There are just 200 rooms at this hotel which is much smaller then other resorts this size. One thing you notice here is how you don't see many people. Of the 200 rooms there are 180 standard rooms like the one pictured below.
The rooms are colonial/Caribbean feeling. They are not the most modern feeling or the largest of rooms but still that is a matter of personal style. We give them an A- for rooms only because they could be larger and the bathrooms could be a little more elegant, since the trend nowadays is for large bathrooms and they have a more traditional look.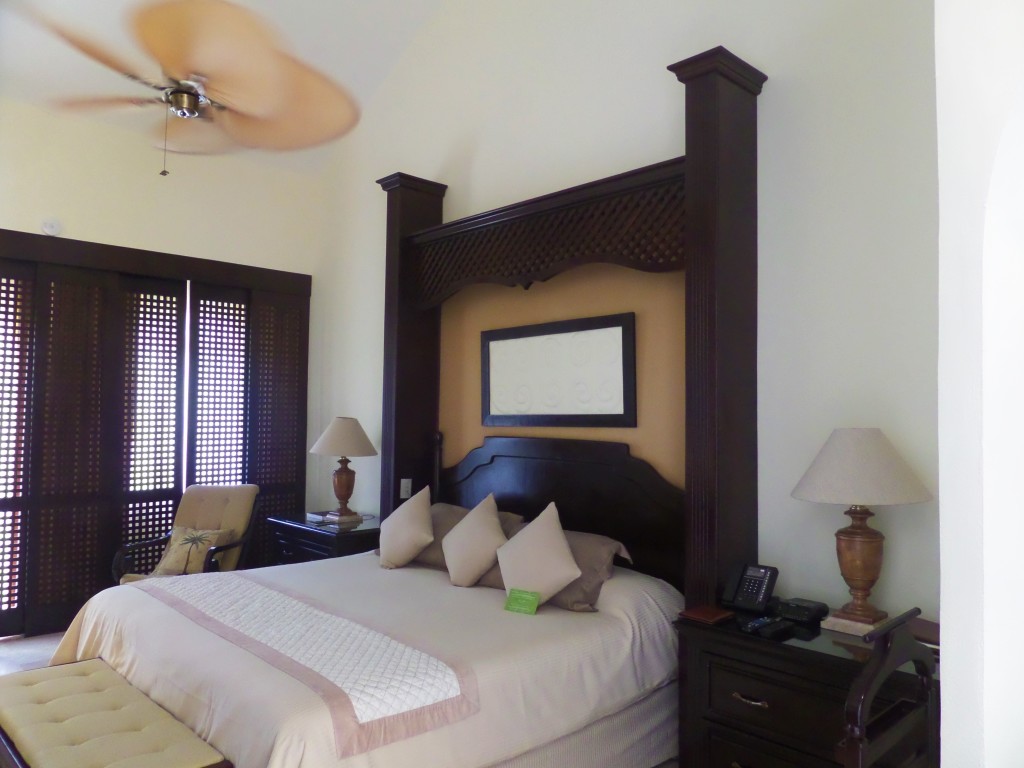 Restaurants at Royal Hideaway Resort
There are six restaurants to choose from. Each restaurant is more intimate feeling than most other resorts and some of the restaurants have private areas which will give you an even more intimate dinning experience. Each restaurant is perfect for that romantic evening.
Note: Dinner reservations are required each night at this hotel. There are no buffets or open restaurants for dinner. Also check dress codes.
The restaurants are:
Las Ventanas– This is the staff pick for best restaurant and one you will have to try this one. It is also the only restaurant of the hotel that is open to the public. This restaurant is clean and modern feeling with crisp white linen. Also in this restaurant they have a chef's table. It is in a glass room in the kitchen where you can interact with the chefs and see the cooking process. To attend a chef's table dinner there is an additional charge. You can get a six course meal with wine at each course for $150USD or a twelve course dinner for $195 USD. The chef's table is limited to eight people nightly. Below is a photo of Las Ventanas Restaurant.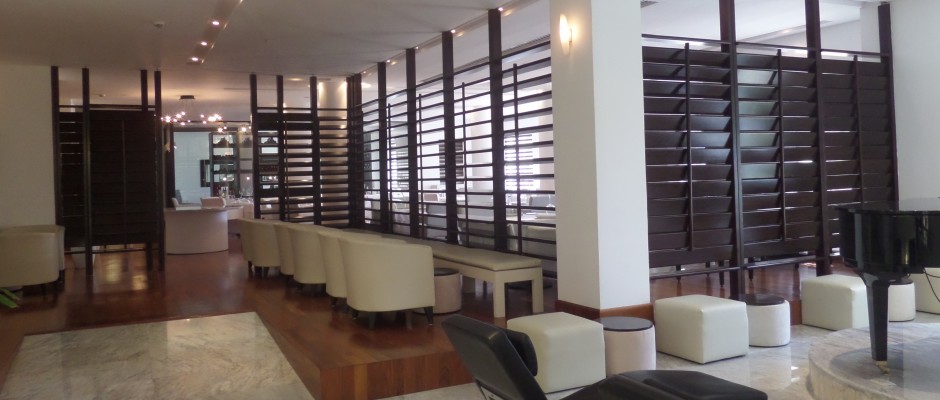 Next is the AAA Four Diamond Azia Asian restaurant. This restaurant also has a modern feel with Asian inspiration. We love the private rooms for dinner here. It is super private and perfect for a romantic dinner.
Below is Spices Restaurant. It offers seafood and Mexican dishes and serves up some amazing views of the Caribbean.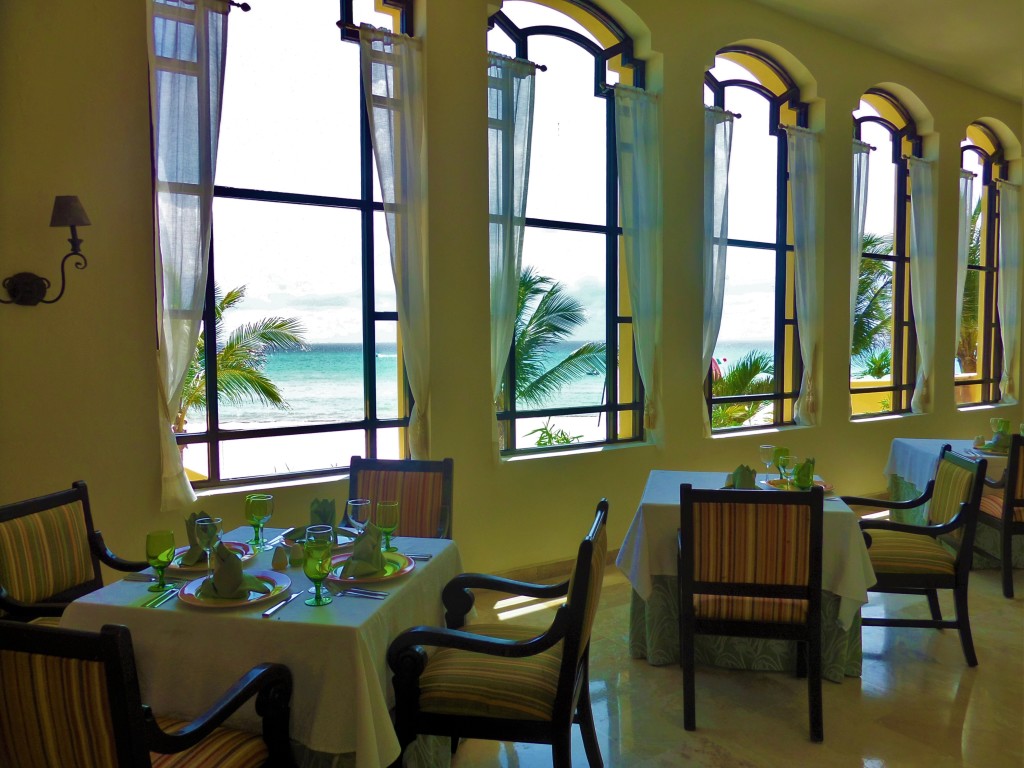 Just look at this view you can have while dinning here!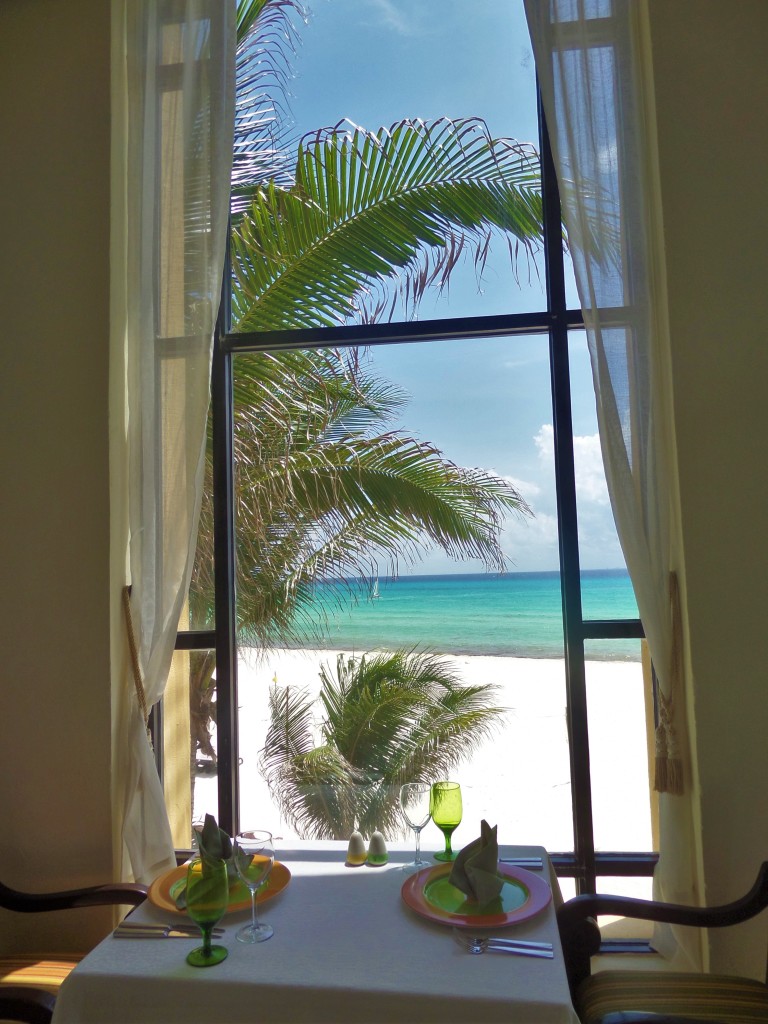 Other restaurants are The Grill, The Deck and Palazzo Italian and European restaurant.
For the food and restaurants of this hotel we give them an A+. Each restaurant is quality and intimate feeling. There are not big buffets confronting you and at the same time it is comfortable.
Insider tip: Make your dinner reservations when you arrive. Saturday is when the schedule comes out for the week for availability at the restaurants. If you arrive on Saturday you get the first opportunity to book open slots.
Pools and Beach at Royal Hideaway
We give the pools and beach an A+ because they are very well maintained, large enough for all the guest and even quieter pools for those seeking a more peaceful dip or sunbathing. There are activities by the pool for those that want to interact but it is not obnoxious and if you just want to relax it is noise appropriate.
The beach is wide and Royal Hideaway offers nice beach chairs for guest. The ocean here is beautiful with a wide sandy beach. One look at the photo below and you see why we give this place an A+!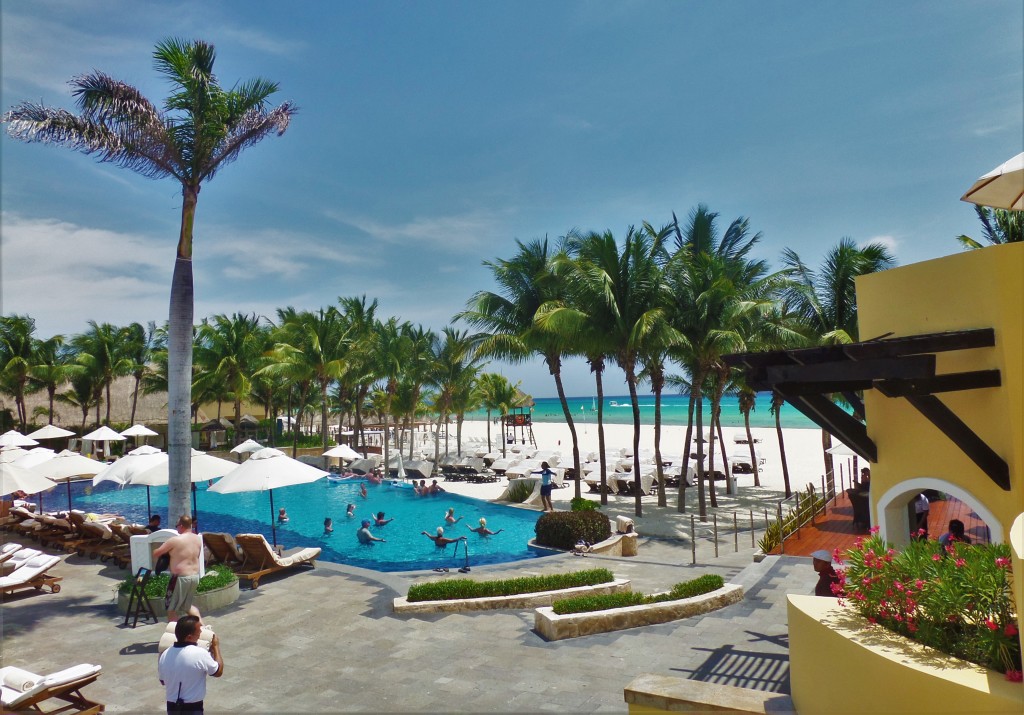 Shows and Entertainment at Royal Hideaway
The theater is used twice a week for shows and you can have dinner while you watch, which is a nice service they offer. Shows are Tuesday and Thursdays. Tuesday is the Mexican show and Thursdays are open for international shows and host a variety of different numbers.
For entertainment at Royal Hideaway we give them an A-. We only say minus because it is not every night.
It should be noted that for couples or people looking for nightlife you should plan on going into Playa Del Carmen for that. This property is more tranquil at night.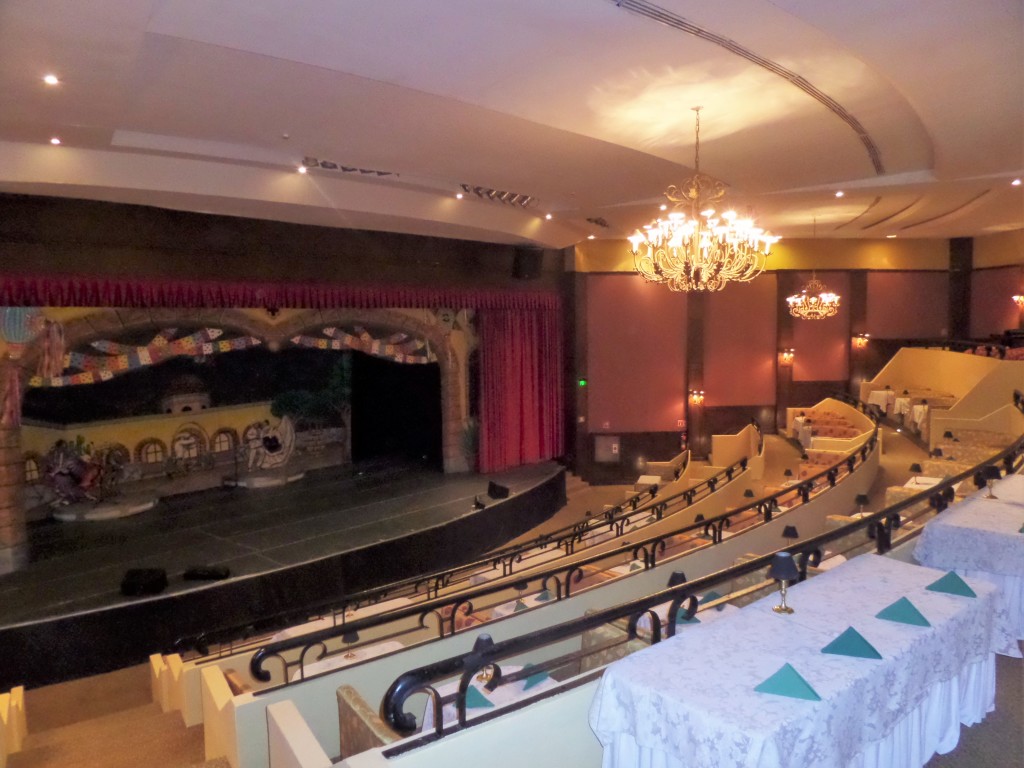 Gym and Spa at Royal Hideaway Resort
The gym is limited here and not going to be a favorite for those that like to workout on vacation. It has limited equipment and is small. We rate this a C-.
Where the gym lacks in equipment the do make up a little with outdoor fitness like water sports or taking bikes around Playacar or into Playa.
The spa at the hotel is formal but not as extravagant or special feeling as other hotels. It will do the trick for a massage or getting your nails done but it could have a better feel to it. So for this we give the hotel a C.
Room prices
If you want to check what prices are for your vacation time, click the link below to see.

Weddings at Royal Hideaway Playacar
The grounds here are a nice place to have a wedding. The Royal Hideaway has three meeting rooms here that are used for weddings. The ceilings are low and these are not the largest rooms. If you do want to have a wedding here and all your guest do not want to stay on the property, you can arrange passes for guest. These are just a few notes we have on weddings at this hotel.
Day Passes at Royal Hideaway Resort
If you live in Playa or are perhaps staying at another hotel and want to visit here, they do offer day passes. There are three option.
Day pass until 6:00pm $80 USD
Night pass which is from 6:00pm-12:00midnight $100 USD
A whole day pass which is $120 USD
*Note: Prices subject to season and availability.
Recommendations for this hotel
This is a great option for a couple to stay at that will appreciate the beautiful resort and higher level of food service than most other resorts. This can be perfect for a romantic getaway and some of the quieter pool areas will be great for lounging around. We really like Playacar as a location for all inclusive hotels because you can stay on the resort property with everything you want and still can go into Playa Del Carmen by walking or taxi to take in the sights.
This resort is not for a younger couple that wants shows and dancing by the pool each day. The energy level of this hotel is more elegant and stylish rather than garish. For people that like to workout in hotel gyms on vacation or visit the spa a lot this is not going to be a highlight of this hotel.
We do refer a lot of people to this resort because it gets good marks from us and we get many readers telling up about how they enjoyed this hotel.
Have you stayed at the Royal Hideaway Playacar Resort? What did you think? We would love to hear from you in the blue comment box below.