Playa Del Carmen is a pretty exciting destination in itself but you might want to visit some of the attractions nearby. Here is a guide that will tell you what are the more popular places to go to and what is possible in one day trip from Playa Del Carmen.
Do it yourself or Tour? How to plan your day trip from Playa Del Carmen
Some activities are easy to organize yourself and you do not need a tour while other destinations are going to be much more easy to hire a guide or tour company. Budget sometimes come into play here since usually doing it yourself can cost much less and is what locals do, but sometimes there is not great public transportation to spots you might have on your list. (Coba Mayan ruins just to mention one). Tours can arrange door to door transportation for you, stops for eating, and not waste anytime showing you directly to the interesting stuff. In each day trip below we will comment on the level of difficulty for doing it yourself or it a tour is a good idea.
How far can you go for day trips out of Playa Del Carmen?
The farthest we recommend you doing in one day is a three hour drive one way from Playa Del Carmen. This is with bus or driving a car by yourself. The farthest most people do in one day is Chichen Itza which is about half way into the Yucatan Peninsula. There are many other awesome destinations to visit in the Yucatan but we recommend you take a little more time then a day to visit them. For ideas for an adventurous vacation the next time you are coming, check out our Everything Beyond Playa menu of places.
Three parks, three different experiences, great day trips!
Xcaret, Xplor and Xel-Ha are three parks that are very different and will entertain you for a full day. Each offers something different and you can click on them to read our in-depth articles describing how to make the most of you day there.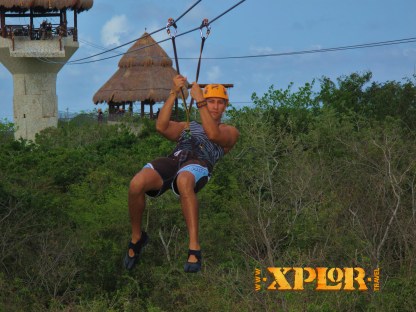 Xcaret is just outside of Playa Del Carmen. This park offers swimming, animals, shows and much more. You can buy your tickets with pick up from your hotel. If you want to get there by yourself, you can take the colectivo toward Tulum and they will let you off. From the stop there is a free shuttle bus to the entrance. This is only 10 minutes from Playa Del Carmen.
Xplore is the zip line adventure park. Great for teens and young at heart. This is just next to Xcaret and you can get transportation included in your ticket of take the colectivo. This is only 10 minutes from Playa Del Carmen.
Xel-ha is 35 minutes south of Playa Del Carmen and a park where you can snorkel all day in a large river that flows into the ocean. Of the three parks it is best to get transportation included in your admission ticket. You can however take the colectivo and walk down the sidewalk into the park. This is 40 minutes from Playa Del Carmen.
Note: If you are a family or larger group it is best to arrange driving yourself in a car or buying transportation in your admission ticket rather then trying to fit in a colectivo both ways.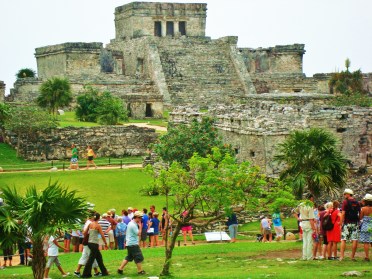 Tulum Ruins day trip
This is one of the more popular day trips from Playa Del Carmen. It really only takes half a day to see them. Most tours will offer something else for the day in addition to seeing the ruins. This day trip is easy to do on your own because you can take the colectivo or ADO bus to the site. The colectivos will be faster but the bus will be more comfortable and with better air conditioning. This is 45 minutes from Playa Del Carmen. If you do go to Tulum Ruins on your own you might want to read our guide to visiting.
Cozumel for a day trip
Cozumel is a ferry boat ride away from Playa Del Carmen. Most people that go want to rent a scooter or car and drive the loop around the island. A tour would only be needed if you wanted to snorkel some of the bigger reefs or dive. Even then you can arrange your own ferry ticket over. It takes bout 45 min to get across and get onto the land.
If you wanted to go biking and see the far side of Cozumel you should check out our article and video on a fun electric bike tour that goes up the coast. This is a great eco tour to do on Cozumel.
If you want a little more beach or just a small tropical island to walk around then Isla Mujeres is your place. The only tours that really take you here are catamaran boat tours or tours to Isla Contoy, but even then you will not get to see much of the island. This destination will take about 1 1/2 hours to reach. you can take a bus or colectivo  to Cancun and then a taxi to the ferry. Enjoy walking this small island or rent a golf cart for a couple hours to explore the southern tip.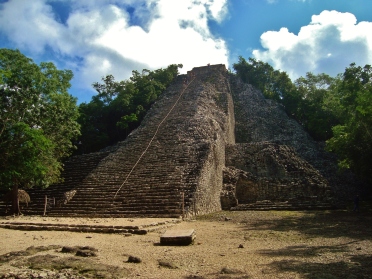 Coba Ruins day trip from Playa Del Carmen
This archeological site is very popular because it is in the trees and unique because you can bike between the ruins. This day trip is 1 1/2 hours to reach. Tours will often add something into the same day to fill it up.  Unless you have your own car, it is very hard to get public transportation here because the bus service is not very frequent. You can however look at the ADO bus schedule to see if it can work for you of you do not want a tour or do not want to rent a car.
You won't see this offered on a lot of tours. It is a smaller Mayan ruin just south of Tulum. This is about one hour from Playa Del Carmen. If it is often on a tour with Sian Ka an park tour included. A tour is your best option to see this because there are no great public transportation options so unless you have a car, stick with a tour. In the link there are instructions on how to driver here.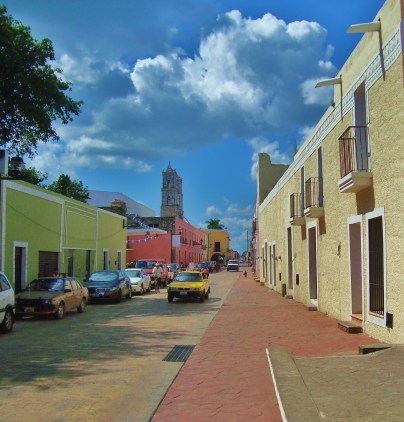 This colonial town has enough charm to keep you busy for at least a day and will give you a totally different feel then the beach town of Playa Del Carmen. This destination is about 1 1/2 hours away from Playa Del Carmen by taking the new highway. There are no tours that just offer this small town as a day trip. It is usually breezed through on tours going to Chichen Itza or Ek Balam. So if you want a whole day here, plan on driving or taking the ADO bus here. The bus station is right in the center of town and is easy to take because there are many busses daily. Just make sure you reserve your return to ensure your preferred time and you get a seat because there is often a lot of people traveling on the busses to and from Valladolid.
These ruins have been popular because they are newer to the tour market and exciting to get to. They often will include a deep cenote swim on tours to this destination. This trip will take you about 2  hours to arrive there. Tours are good because you will see everything in an organized manor. You can drive here but if you have only two  people the cost of the car and gas is going to eat into your expenses. Public transportation means taking a bus to Valladolid and then a taxi, so it is possible but it also slow. It would mean you only would do this in your day trip because you are spending your time getting there and coming back and not really have much other time to do something.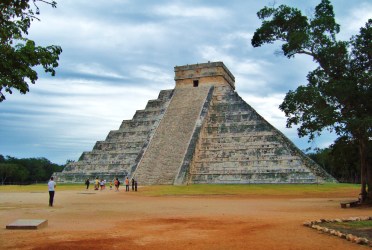 This is a top day trip destination because of it being one of the new seven wonders of the world. This day trip will take 2 hr 45 min to get to. Tours will often include a cenote or stop for a meal in Valladolid. This is the furthest we recommend going on a day trip. A tour here can combine transportation, information and another stop somewhere, so the combination can be good for a day trip.  It is possible to take a bus from Playa Del Carmen to Chichen Itza by yourself, but there is only one direct bus a day and if you have several people it may start looking cheaper for a tour or driving yourself. If you try this day trip by yourself make sure you take a good map and do your research so you can choose where else you want to stop on this trip. Tip: If you take the toll highways, which are faster, you are going to have about $30 USD in tolls round trip. Tip: If you buy a tour here, ask if it includes admission to the ruins. Some tours advertise a cheap price but you wind up paying the same as other tours with everything included.
Happy adventures and day trips everyone!
If you want more adventure ideas for when you visit make sure you check out our guide to activities and tours around Playa Del Carmen.
Remember if you love the destination and want to make it an overnight trip, make sure you check out our recommended hotel guide for the Riviera Maya so your vacation ends up even better.
Let us know what your favorite day trips from Playa Del Carmen are in the comments below!