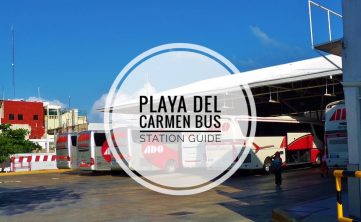 Coming to Playa Del Carmen often entails a bus ride from the airport to Playa Del Carmen (see our article on how to get from the Cancun Airport to Playa Del Carmen by bus). The main bus company is ADO and provides service to many tourist destinations in the Yucatan Peninsula and beyond. Here is a guide to using the bus and information about the stations in Playa Del Carmen. (See video at end of this article for more information)
Important note: When buying bus tickets you might be asked for identity or even your tourist visa or residential visa. It is required to travel with these documents. Mexico is checking immigration statuses and can stop buses. You will need to have the originals with you.
Playa Del Carmen Bus Stations
Playa Del Carmen has two bus stations. One station on 5th Avenue with Juarez Avenue and the other one is on 20th Avenue with 12th Street. Buses coming from Cancun, Cancun Airport and places along the coast, such as Tulum, arrive at the 5th Avenue Station, at the corner of Juárez Avenue. The other Station on 20th Avenue services buses coming from destinations in the interior of the peninsula or out of state in general. Both stations have service GOING TO the Cancun Airport. ADO bus line is what most everyone uses.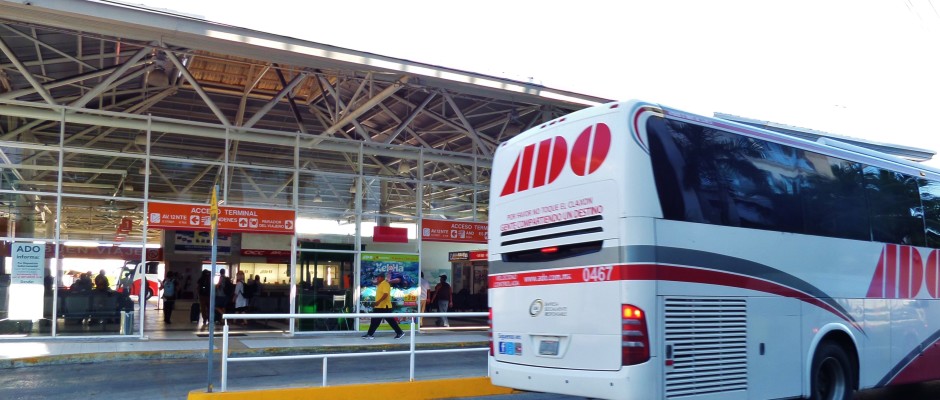 Second class busses in Playa Del Carmen
There is a type of second class bus service called Mayab. These bus tickets are cheaper but these busses stop often and is generally used for people commuting rather then going as a tourist to a destination. You will probably only use them if you are going to a smaller destination where ADO does not service.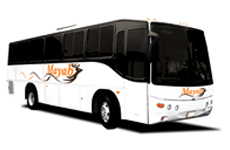 ADO Bus Company-The main bus that everyone takes
To look at ADO bus schedules you can look at their website in Spanish only: http://www.ado.com.mx/ado Bus travel with ADO is comfortable and air conditioned. ADO does offer several different levels of service, some with a little more comfort. Longer route busses will have a bathroom on board. Buying tickets is pretty straight forward. They may ask for your name or a name to be printed on multiple tickets. They may also show you the screen so you can select your seats. Luggage gets tagged and put under the bus. For unusually large items there is supposed to be a small charge. There is not a major problem with theft on the buses regarding luggage. For some routes they do not tag luggage.
Tip: ADO stations in Playa will take USD as payment usually at a good exchange rate.
Tip: If you are a resident, check for discounts on your ticket. For example Playa Del Carmen to Cancun for residents of Qroo will be discounted. Just show ID
5th Avenue ADO Bus Station in Playa Del Carmen
The first bus station is located on 5th Avenue and Juarez Avenue, near the Cozumel Ferry Pier. All busses from the airport ARRIVE at the 5th Avenue bus station. They do not make a second stop at the other bus station, so you will be disembarking there. If you are going to the airport, your ticket will allow you to get on at this station or the other bus station since the bus starts at the 5th Avenue station and makes a second stop at the other terminal before going to the airport. Just make sure you know the correct time for the station where you bought your ticket or where you are getting on.
The 5th Avenue terminal offers much of the same services as the other terminal. This station offers luggage storage, currency exchange, pay toilets, ATM's (although we recommend using a bank's ATM machine because they are more secure and less likely to be tampered with) see our article on exchanging money which has a map of banks near the bus stations. There are two ticket counters, one regular and one that sells just tickets to Cancun.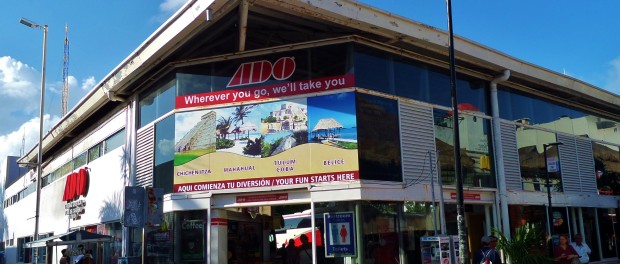 20th Street ADO Bus Station in Playa Del Carmen
The 20th Avenue Station is between 12th St. and 12 Bis St. This station has some of the basic tourist services as the other station. If you are going to the airport, the buses will stop here second before continuing on to the airport. It is open seating and you will have less seat selection if you get on here but it may be more convenient to where you are staying.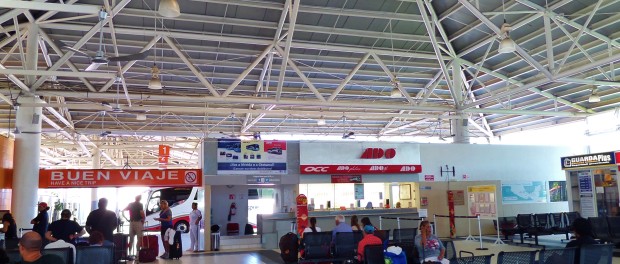 If you accidently go to the 5th Avenue bus station and realize your bus leave from the other one, you can hop in a taxi and be at the other station in just 3 min. Although you should note that taxis outside of the bus station notoriously overcharge for taxi rides.
Bus ticket prices
Bus transportation around the area is relatively affordable. If you are going longer distances and there you are traveling by yourself or up to three people, it is often cheaper to take the bus. Some roads have tolls and gas cost can add up quickly.
Prices do seem to change yearly on ADO buses do to inflation. So we will give you some rough samples. From Playa Del Carmen to Cancun or Tulum the bus cost about $4USD each way. To Valladolid, which is in the center of the Yucatan Peninsula it is about $14 USD one way.
Children tickets prices on ADO Busses
There is a discounted price for children on ADO buses. Children under 5 years old can travel for free with an adult (usually required to sit on the lap of an adult if bus is full). Children 5-12 years old get 50% off.
Bag storage at ADO Bus Stations in Playa Del Carmen
Many people ask about bag storage at the bus stations. Here is a photo we took of the storage area. Prices are per hour. Long term storage is not really cost effective. Bag storage is based on size of bags.
Note: Please do not leave anything of value in the bags! We have heard from numerous readers about things missing from bags.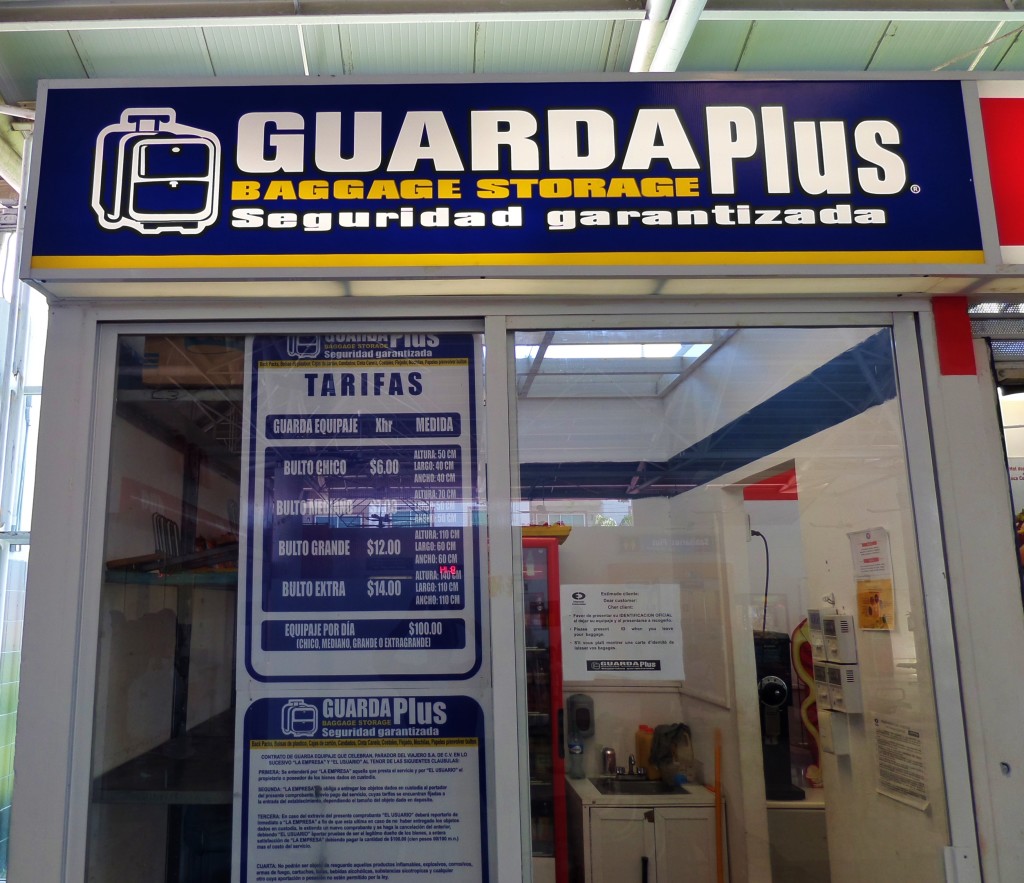 Bus schedule for Cancun Airport and Playa Del Carmen
For both direction see our article here on ADO bus schedules in English. This will tell you the first bus to the airport and how to get there for an early flight.
Other transportation in Playa Del Carmen
You also might like to read about how to take the colectivos up and down the coast. This is another form of public transportation. These vans are shared rides and go between Playa Del Carmen and Tulum and between Playa Del Carmen and Cancun.
Here is a video we made that shows the bus stations in Playa Del Carmen and more about the colectivos. It should be noted that the location of the colectivos has changed. It is now under the highway just south of Juarez Avenue by the Chedraui.
Do you have a question about taking busses or transportation in Playa Del Carmen or the Riviera Maya? Ask us below in the comment section below. We are hear to help.