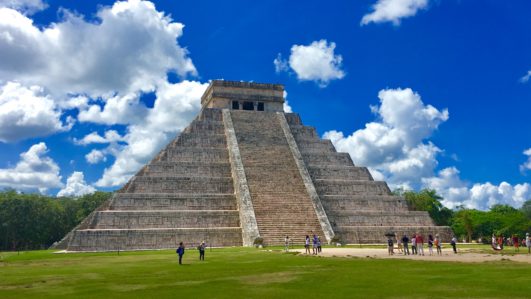 How to get from Playa Del Carmen to Chichen Itza
For visitors to the area one of the first places people have on their agenda is a tour to Chichen Itza. So if you are staying in our area of the Riviera Maya, how do you best get from Playa Del Carmen to Chichen Itza? There are three ways to get there. Each way has advantages and there are some cost you might not have expected. See what it is like in each of the three methods to get from Playa Del Carmen to Chichen Itza.
How to drive from Playa Del Carmen to Chichen Itza
For people that like a little adventure and time to explore on their own, this can be a great way to visit the ruins. It also can be a good way for a group or family to save money and still get to see one of the most visited sights in Mexico. However there are cost involved and drawbacks. What are some of these?
Be sure to read our guide about driving in Mexico and some things you should know about.
Cost of driving from Playa Del Carmen to Chichen Itza
The first thing you need is a rental car (see our recommended local car rental in Playa Del Carmen article). After insurance and taxes, for a basic car this will cost you about $40-50 USD.
Toll road or slow route? There are two basic ways from Playa Del Carmen to Chichen Itza. The fastest way is the new toll highway that leaves from Playa Del Carmen (305) and cuts directly across to the 180 Highway. The 305 is a toll road and so is the 180 Highway. The total cost from Playa Del Carmen to Chichen Itza is 344 pesos each way or 688 pesos round trip (to see Mexico's toll highways and current tolls, click here). Taking the toll roads will take about 2 hour and 11 minutes and is 180 kilometers. The non toll route will take you on the 307 to Tulum, then towards Coba and onward to Valladolid. From Valladolid you would take the old 180 highway to Chichen Itza. This way takes about 2 hours and 50 minutes and is 215 kilometers.
Gas expenses. Based on the above distances of the routes from Playa Del Carmen to Chichen Itza, the base price for gas will be about 205 pesos each way or a total of 410 pesos round trip on the toll route. The non toll road route will cost about 240 peso one way or 480 round trip in gas. Of course you probably will do a little more driving while out on an adventure.
Parking at Chichen Itza. Car parking cost 80 pesos.
So for a car rental, tolls, and gas the price will be about 1,800 pesos. Now if you drive there you have to figure in the admission since you will pay this if you are not on a tour that includes this. The price is 571 pesos per person.
Driving to Chichen Itza and finding a place to eat
You will also need to factor in eating lunch somewhere. We don't recommend any of the restaurants at the archeological site of Chichen Itza. We recommend driving to the local 180 road and going toward the town of Piste or toward Valladolid. Along the road you will find some small and large restaurants that cater to tourist. The super big ones tend to get tourist busses and have buffets (usually with lower quality food). You should calculate about 150 pesos per person for a meal.
Our best tips video for visiting Chichen Itza ruins
If you drive here yourself or even take a tour, you can get some good tips from our video here.
How to take the bus from Playa Del Caren to Chichen Itza
There is a daily ADO bus that leaves from the bus station in Playa Del Carmen to Chichen Itza at 8:00am. The bus takes 3 hours and 45 minutes to get there. This is a little bit of a slow way of getting there but it is easy. Returning from Chichen Itza to Playa Del Carmen there is one ADO bus a day at 4:30pm. It takes 3 hours and 24 minutes to make the trip. The cost of the bus to Chichen Itza ranges from about 150-250 pesos each way. This depends if there is a sale or not. We do recommend buying the complete ticket the day before if you choose this option. Not only can you make sure what bus station it is leaving from, you can also make sure you secure a ticket both ways.
Alternative bus routes from Playa Del Carmen to Chichen Itza ruins
Alternative routes would involve a bus to Valladolid Yucatan. This is a small city in the middle of the peninsula. Here you can spend the night and go the following day to Chichen Itza or just stop in Valladolid to and from the ruins. There are four buses a day from Valladolid to Chichen Itza and five buses a day from Chichen Itza to Valladolid. Since there are multiple schedules it is best to check the ADO bus website here for the complete list.
There is also another option from Valladolid to Chichen Itza. There are colectivo vans that run daily from Valladolid. These leave just a few doors east of the main bus station in Valladolid. These vans go when they fill up. The best time to go is in the morning when there are more people going and the colectivos fill up faster. The cost is about 20 pesos less and a little faster but is subject to waiting for riders.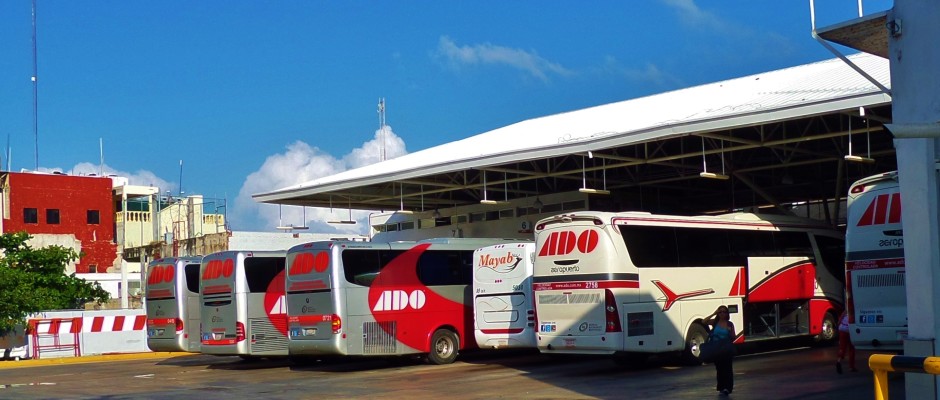 Tours from Playa Del Carmen to Chichen Itza
For most people on vacation, a tour from Playa Del Carmen to Chichen Itza is the easiet way to see the ruins. This way you can leave the driving up to the tour and enjoy a planned day. The price of a tour is worth it to most people because a trip to Chichen Itza it is a "must see" when coming to this part of Mexico. You will see tours offered everywhere, but how do you know what is a good tour? What should you expect in a tour to Chichen Itza?
Most people book a tour just because they know they want to go there and don't realize the details. For one, the travel time is going to be at least 4 hours of the day and most tours to Chichen Itza take a very full day. Tours that are priced under $65 USD for adults are going to be budget options. For an example of budget tours to Chichen Itza see what tours Wonderous World has here.
Most upper quality tours are priced between $80 and $140 USD for adults. You can see examples of these below.
Here are three categories of tours that you can take from Playa Del Carmen to Chichen Itza
We will keep adding to this list when we go on a tour that we think you will enjoy.
Bus tours to Chichen Itza
Xichen Clasico Tour. This bus tour by Xcaret picks you up from your hotel. The main part of this excursion is a guided tour of Chichen Itza and then a visit to Cenote Ik Kil. At Cenote Ik Kil you will eat at a buffer and have the chance to swim in the famous cenote. This is a more budget level tour from Playa Del Carmen to Chichen Itza. See the link for our video and all the details of this tour.
Xichen Deluxe Tour. This is another tour by Xcaret. It picks you up at your hotel and takes you Chichen Itza. A guide will take you around the ruins and then you will go to the colonial city of Valladolid. Here you will enjoy their special restaurant La Casona and have a great meal with a lot of variety. You will also have time to walk around the town square. Depending on the schedule, before or after lunch you will visit Cenote Zaci. This is a deep cenote in the city of Valladolid. See the link for a video and all the details of this tour.
Small tours to Chichen Itza
This small group tour will take you in a van to either stop at Cenote Maya first or Chichen Itza. A certified guide will take you around the ruins and you will have some time to self explore a little. The Cenote Maya part is fun because it is only available to visit with this tour and is the largest cenote in the Yucatan! At Cenote Maya you will enjoy a buffet of reginal cuisine. The tour of the cenote involves rappel. swimming, and zip lines all in the cenote.
This tour is special because the tour company operates Cenote Maya and it is only visited by their tours. They also focus on the Mayan heritage of the area and the tour feels a little less touristy.

Private tours to Chichen Itza
If you want something special or a private tour just for your family or group, this can be a nice option. Some places offer "private tours" but this is just code for a small group, and this does not give you ultimate freedom to choose details for your trip. We only recommend private tours with a company that makes a tour for you. Absolute Adventure Mexico is a local tour company that we have been on tour with. They plan and do a great job making your day special. If you want to visit Chichen Itza and want a private tour, we recommend you contact them in the link above.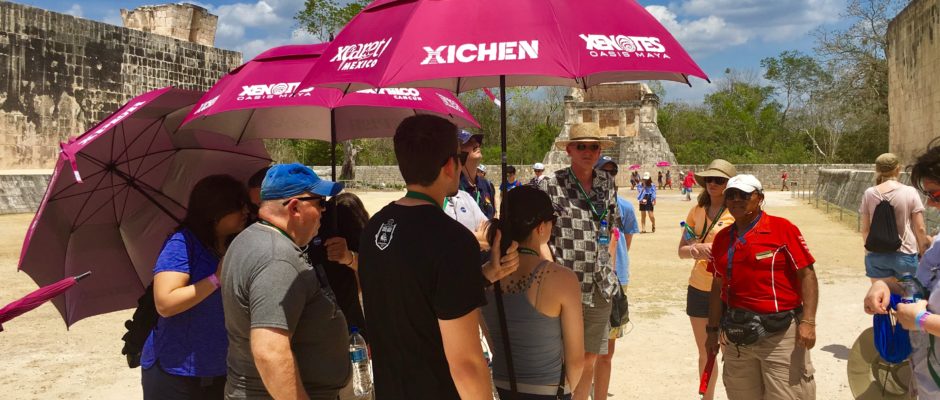 Have you gone to visit these Mayan ruins? How did you get from Playa Del Carmen to Chichen Itza? We would love to hear your tips and suggestions in the comments below.
Once you get to Chichen Itza you will want to know what to see and some more details about visiting. Our guide here and video help you see how to best get around Chichen Itza. We also have an article and video about what the light show at night is like.