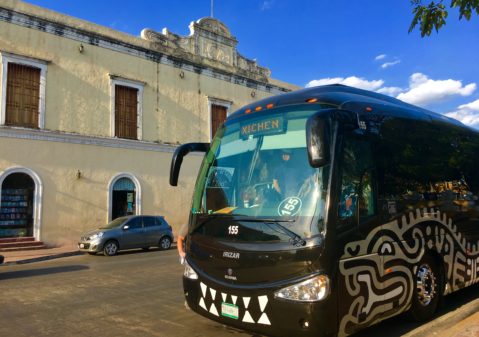 What is the Xichen Deluxe Tour like to Chichen Itza?
Many people want to go to Chichen Itza Mayan ruins. This seems to be on the top of many tourist lists when coming to this part of Mexico. There are a lot of tours to Chichen Itza you will see advertised. So how do you pick one? Well, you need to know what you want, often your choices are between a private tour, small group tour or bus tour. Here is what the very popular Xichen Deluxe Tour is like to Chichen Itza. Here is our review.
Our video introduction to the Xichen Deluxe Tour
We made this video of our day to Chichen Itza and Valladolid with the Xichen Deluxe Tour to show you more of what to expect.
What to expect on this tour to Chichen Itza by Xcaret
Your tour will start with a scheduled pickup from your hotel or meeting point. If you are staying in the Playa Del Carmen area or south at a resort, you will be transferred to Xel Ha Park where there is a bus depot. This is on the way to Chichen Itza and will save time from having to stop at many hotels. Once you get to Xel Ha you can go to the bathroom, grab a coffee and then look for your bus.
Once you transfer to your Xichen bus, you will meet your guides and be served a breakfast snack. The snack contains coffee, juice, a corn muffin and a ham sandwich.
On your want to Chichen Itza your guide will tell you about Mayan history and culture and tell you about some projects that Xcaret works with in conjunction with local communities. Having the guide talk to you makes the trip pass by faster.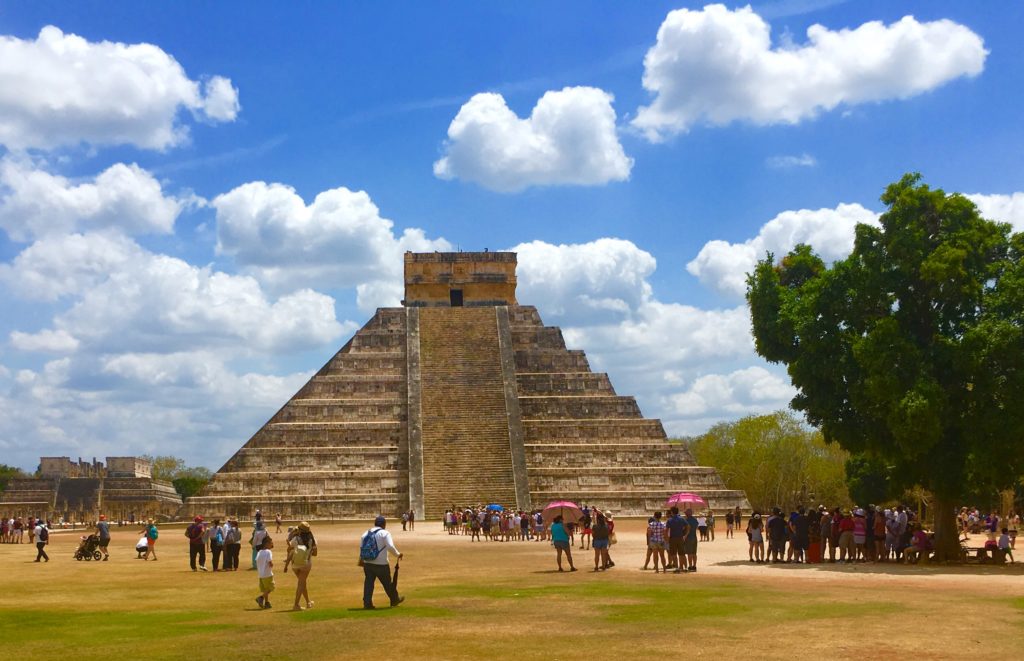 Time at Chichen Itza Mayan ruins
When you arrive at Chichen Itza you guide will give you a bottle of water with a shoulder strap for carrying it, an optional umbrella for the sun, and an earphone so you can hear the guide.
When you go into the visitors center you will have another chance at a bathroom break before going into the Chichen Itza site. Your tickets will be handed to you and there is no need to get in the long lines for tickets.
Once inside the site, your guide will walk you around to some of the most important sites and give you historical information. This part of the tour is about 1 hour and 15 minutes. Afterward you will have about one hour to walk the ruin site.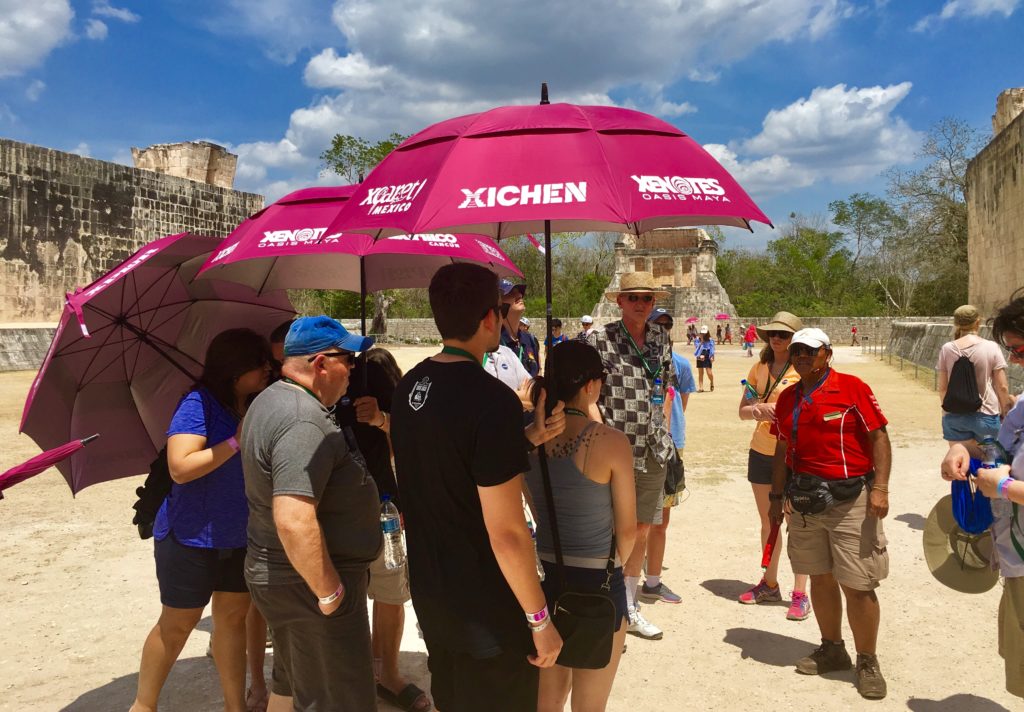 A stop at Cenote Zaci in Valladolid
After you finish at Chichen Itza you will be greeted at your bus with drinks and then it is off to the colonial city of Valladolid. Depending on the schedule, your first stop might be Cenote Zaci. This is a beautiful cenote right in the middle of the city.
This cenote is available for taking photos but not for swimming with this tour. There is not time or good changing facilities at this cenote. It is nonetheless good to see. It is one of the thousands of cenotes in the Yucatan Peninsula.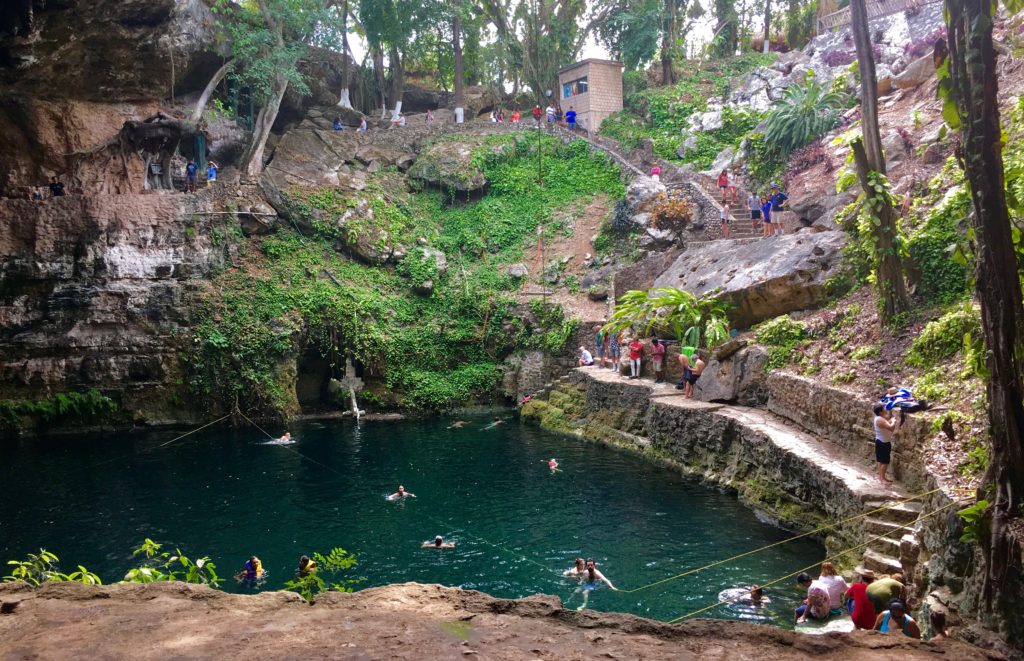 Lunch at La Casona Restaurant in Valladolid
We were really looking forward to visiting La Casona Restaurant on our tour. Not because we were so hungry but because this is a beautiful restaurant designed by Xcaret. La Casona was a historical building in Valladolid that has been transformed into a spectacular place to dine. This restaurant will give you an authentic taste of the colonial charm of Mexico.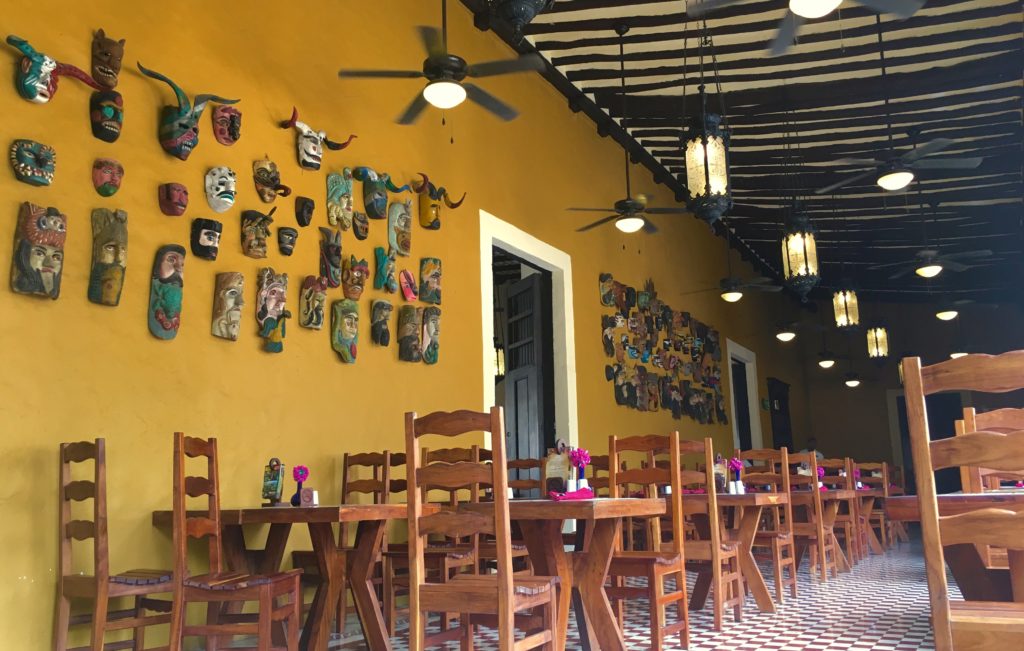 Here at La Casona Restaurant you will have whatever time you want to eat and relax. Your overall time is about 1 hour and 40 minutes between eating and exploring Valladolid.
What is on the lunch buffet at La Casona?
While all the parks of Xcaret have good food especialy for parks, La Casona has done even more to preserve local cuisine. The buffet features many traditional dishes from the Yucatan and for those not looking to explore their taste buds, they also have international favorites as well.
You can find Mexican mole, fish dishes, tacos, panuchos salads, Mayan dishes like Poc Chuc and much more.
All drinks are included with this buffet. Only wine and alcohol are extra.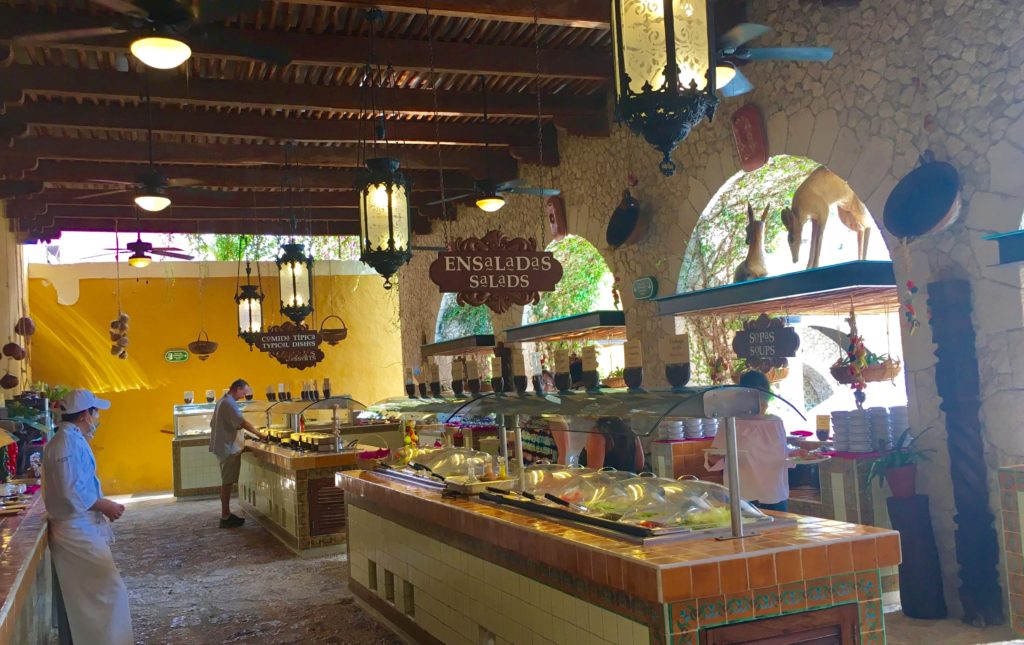 You can sit inside or in the courtyard of La Casona Restaurant. Before you go make sure you go see the beautifully tiled fountain in the back (not pictured here but is in the video).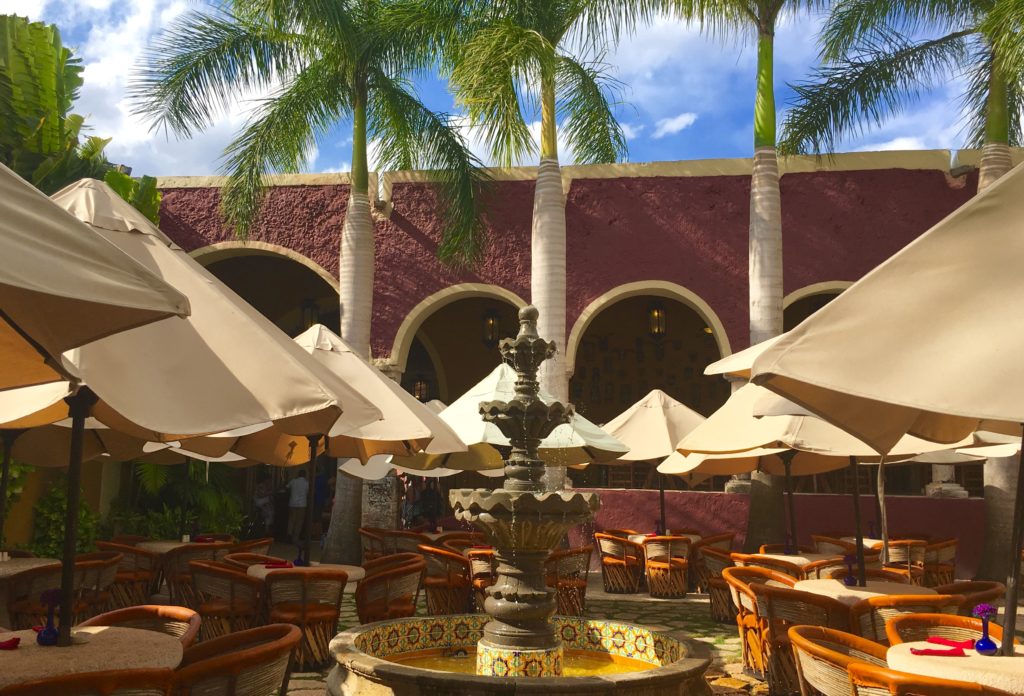 Free time in Valladolid Yucatan
The colonial city of Valladolid is charming and you will have about 40 minutes to one hour to explore depending on how long you take for lunch. The main square has a church, City Hall with Murals, shops and restaurants. In the center is a plaza where you can sit and watch small town life go by.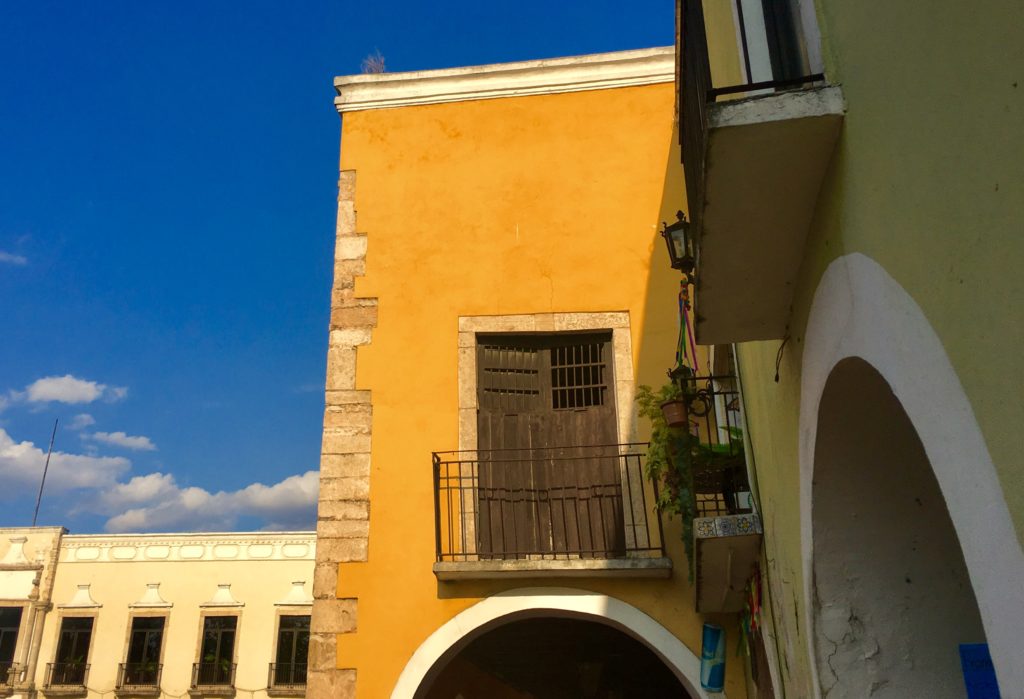 What to bring on this tour and what is included
Here are some things that are included on this tour to Chichen Itza:
Pick up from your hotel or meeting point.
Certified archeological guides that are bilingual.
Breakfast snack on the bus. This is coffee, juice, corn bread and ham sandwich.
Entrance to Chichen Itza.
Waters and beverages during the day, water for the ruins, and drinks on the bus.
Audio headphones for the tour in Chichen Itza.
Available umbrellas for the sun while touring Chichen Itza.
Entrance to Cenote Zaci.
Buffet lunch at La Casona Restaurant in Valladolid.
Here are some possible things you can bring with you to make this tour comfortable:
Money for souvenirs, optional wine or alcoholic drinks with lunch, and for tips.
Depending on the schedule for the day, you might have a later lunch. You might bring a snack bar to hold you over.
Comfortable shoes for walking. Chichen Itza ruins are big and the tour will cover a lot of ground.
A sun hat and glasses are good for walking around Chichen Itza.
How to book this Xichen Deluxe Tour to Chichen Itza
If this Xichen Deluxe Tour looks like something you want to do while on vacation in Mexico, you can reserve by clicking the button below. This will take you to the official site for booking and support our website. The regular price is $109 but you can book here for $98.10. Children are 50% off for this tour. Children under 4 years old are free.

If you want to go on a Xichen tour but want to swim in a cenote, Xichen has a second tour (Xichen Clasico) that goes to Cenote Ik' Kil. You will also eat at the buffet at this cenote. This tour is $71.10 USD per person if you book online here. Children are also 50% off on this tour and you can save up to 15% by booking at least 21 days in advance.
Our recommendations for this Chichen Itza tour
Since Chichen Itza is so popular for a tour, you have many options. We wondered how it would be on a big bus since we have been only on private tours and small group tours to Chichen Itza. There were three things we noticed.
One, the guides were exceptional on this tour. Of course there are going to be different guides each day, but if you go, we hope you get the same ones as us. Since this is a large tour, Xcaret makes sure that there are great knowledgeable guides that can care for you for the full day.
Secondly, any tour to Chichen Itza from the Riviera Maya or Cancun is going to involve transportation time. Most people don't realize that this is about 3 hours each way. So you might as well be comfortable. We found the big bus with air conditioning very comfortable and actually got some power naps in.
How is it with a large group? Do you feel like a mass tourist? We were surprised that even though there were about 30 people in our group, it did not feel that big. We had two guides on the bus and when we got to Chichen Itza the group was split in two. Everyone was on time for departures and we did not waste much time.
Don't shop by price for a Chichen Itza tour
This is a good tour to go on and there are always options for what you can do on a tour to Chichen Itza. Some tours stop at a cenote you can swim in, others go to more ruin sites. You just have to decide what you want to see on your important vacation trip. The one thing we will mention is that we don't recommend those cheap bus tours. Once you start seeing prices in the $60 dollar range or below, you need to read the fine print. Not only might you be in for a cheap in quality, it might cost you more in both your time and money.
Have you been on the Xichen Deluxe Tour? What did you think? Let us know in the comments below, we would love to hear from you.
If this tour to Chichen Itza is not exactly what you are looking for, see our article on the best tours to Chichen Itza from the Riviera Maya with other options.