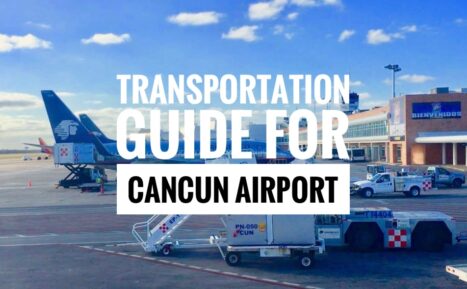 Transportation from Cancun Airport
Since you are coming to Cancun International Airport you will need to figure out how to get to where you want to go. In this guide we will tell you all about transportation from Cancun Airport to all points in the Riviera Maya. You basically have five options from the Cancun Airport. Your options are:
Private transfer (what most people reserve for transportation to and from the airport)
Renting a car
Taxis
Public bus (ADO)
Hotel bus
Uber (Update: Uber no longer operates in Cancun or the Riviera Maya)
Below we will tell you about each of these transportation options and what are some of the benefits of each one. In some cases the suggestion is different depending on how many people you are traveling with, the time you arrive, and how quickly you want to start your vacation.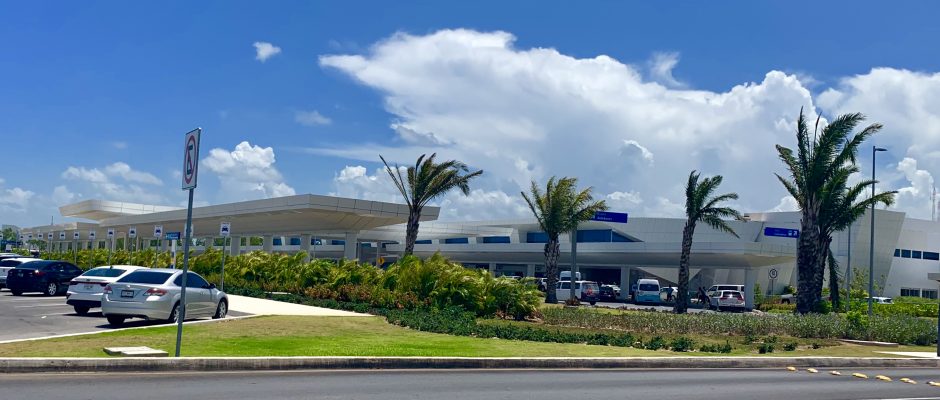 Arriving at Cancun Airport
Most everyone will be arriving on an international flight to Cancun Airport. Most international flights arrive at Terminal 3 and Terminal 4, but a few do arrive in Terminal 2. In either case once you disembark your flight you will go through immigration and customs. At immigration you will get your visitors visa and your passport will be stamped. Next you will collect your luggage and go though customs where you will give them your customs form.
Once exiting the airport you have your transportation options available to you at each terminal. Important note: We highly recommend having your transportation from Cancun Airport booked in advance so you pay the correct price and speed your trip along! The only time we don't recommend this is if you are taking the public bus. You can buy your ticket when you arrive.
Don't be fooled by people offering transportation at the Cancun Airport
Below is a photo of the Cancun Airport when exiting one of the terminals. These look like tourist information booths but are also set up to sell you vacation clubs and time shares. They might even offer you transportation but it comes with a cost of sitting through presentations, taking up your vacation time. It is NOT worth it! Have your transportation from the Cancun Airport already and get on your way.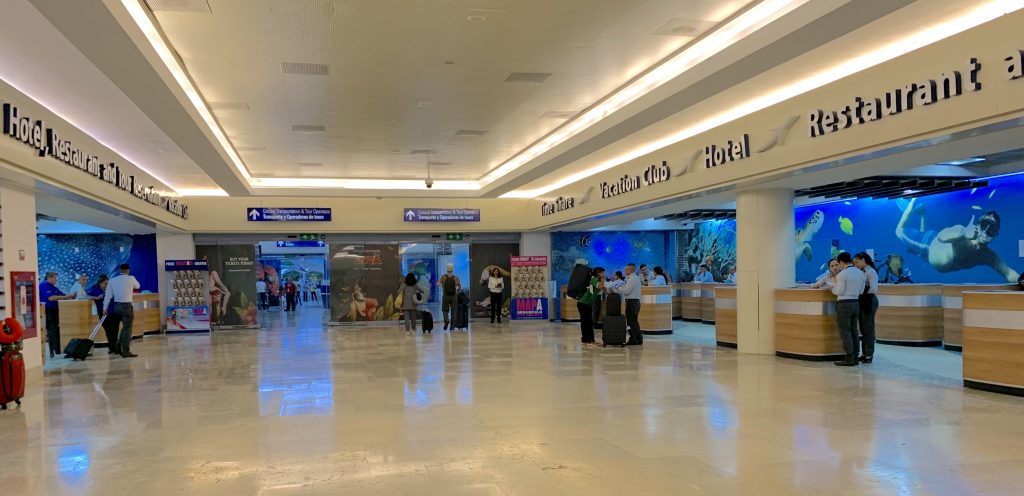 Private transfer for transportation from the Cancun Airport
This is one of the most popular means of transportation from the Cancun Airport because it is fast, easy and affordable. These are private vans that take only you and whoever is traveling with you. There are many companies that offer private transfers but we have found one that all of our readers like, plus they offer some of the best rates and great service. You can book your transportation below with the reserve button.

Meeting your private transfer driver
When you exit the terminal you will see a group of people with signs. Your private transfer driver will have your name on a sign and greet you. The driver will help you to the van and then take your directly to your hotel or rental. This is a fairly fast and easy process. There is no waiting for a shuttle to fill up or negotiating a price with a taxi driver. Below are the details for taking a private transfer from Cancun Airport to your destination.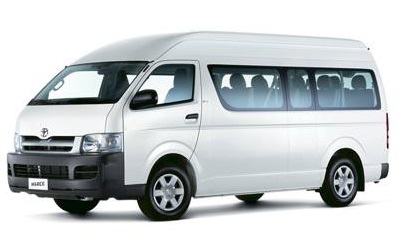 What is included in your private transfer?
Bilingual driver.
All taxes and fees including airport fees.
Travel insurance while in transit.
Door to door service.
You can also book an option stop on the way to your hotel. For example a stop at a store or restaruant.
Tip: Booking round a round trip transfer from the Cancun Airport will save you about $15-50 USD. You know you are going to go both ways, so it is good to book that together and save.

Renting a Car from the Cancun Airport
Using a rental car on your vacation is a great way to be free to explore. However most people coming to the Riviera Maya are going to either be staying in an all inclusive resort or in a city. This will limit the usefulness of a rental car. Even if you are a family of four and are mainly using the rental car to get you to and from the airport for your week long stay, it is better to take the private transfers.
The main time renting a car is recommended is if you are not staying at a resort and you are planning some excursions. In that case, make sure you read our guide on driving around the Yucatan. There are a lot of helpful tips on dealing with local driving rules and things to look out for.
As for the best rental company, well we are always on the lookout for the better ones. We will say that renting in Mexico is a little different than some countries. Here are a few tips for you:
Low prices for car rentals do not include insurance.
Mexico requires liability insurance for car rentals.
Even if your credit card covers this, make sure it covers Mexico. You should print out a copy of your coverage. Most car rental agencies will be very firm on having you purchase insurance.
Buying coverage for your rental is best in Mexico. The reason for this is if you have a serous accident, you need to show proof of insurance and have a representative come from the insurance. You will be held by the police until this happens if there is a serous injury. Having local coverage can make this faster and easier.
Check the details. Many cars in Mexico are manual. Some car rental companies also charge for second drivers.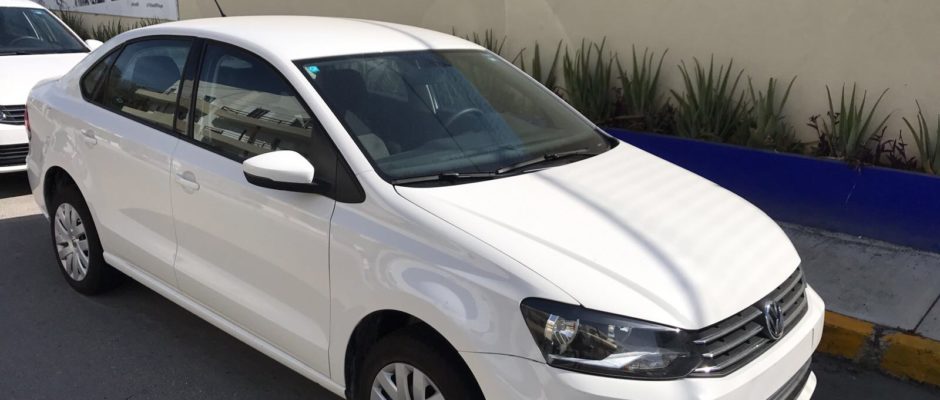 Taking a taxi from the Cancun Airport
In short, our suggestion for using taxis from the Cancun Airport is that this is not the best option. True, they are ready to go but often prices are similar or more than a private transfer. Since distances are longer (ex. 30 minutes to 1 1/2 hours to transportation time) you might a well be more comfortable in private transportation vans also.
We also don't like the fact that many of them try to negotiate a price right outside the airport. There are supposed to be somewhat set fares but we see them pull out calculators and try to see what they can charge. It is better in our opinion to pre-book the private transfers, have your bilingual driver waiting and have everything set before you arrive. This way there is not hassle or negotiating. You also get a discount when booking a transfer round trip, something taxis do not offer.
Note: There are no posted fares for taxis nor booths to buy tickets. Prices are discussed with the driver.
Public Bus (ADO) as transportation from the Cancun Airport
Update for travel season 2020: ADO buses have a limited schedule servicing the Cancun Airport due to Covid-19. Be sure to check the ADO website for current times. If your flight does not line up with a bus departure, we recommend this private transportation company for getting to Playa Del Carmen or wherever you need to go.
For those that are traveling single or staying near to the bus station in Playa Del Carmen or Cancun, this might be a good option for you. The ADO bus is modern and air conditioned. The bus picks people up from all four terminals at the Cancun Airport and then drives to Cancun or to Playa Del Carmen.
Taking the bus from the Cancun Airport to Cancun
For people staying in the Hotel Zone in Cancun this is not a good option because you will still need to get from the downtown. This can be an expensive taxi ride or slow crowded bus. (see our article on getting from the Cancun Airport to the Cancun Hotel Zone here) If you are staying in the downtown and near the ADO bus station, this is a good option.
The price of the ADO bus from the Cancun Airport to the ADO Bus Station in Cancun is 88 pesos.
ADO is the only bus company that provides service between the airport and Cancun. You can see the local bus map here for Cancun and see that there is mainly only service in the center of Cancun and the Hotel Zone.
Taking the bus from the Cancun Airport to Playa Del Carmen
The price of the ADO bus from the Cancun Airport to Playa Del Carmen is currently 208 pesos. For more information on taking the ADO bus from the Cancun Airport to Playa Del Carmen see our article here.
Note: We do not recommend trying to buy the tickets ahead of time for the bus. The tickets are timed and you do not know how long it will take for you to go through customs and immigration at the Cancun Airport. You can purchase tickets either inside the airport at the ADO booth or outside at a stand near the platform. Credit cards, pesos and USD are accepted. The only note is that if you want to pay with USD, have small bills. They may not have change.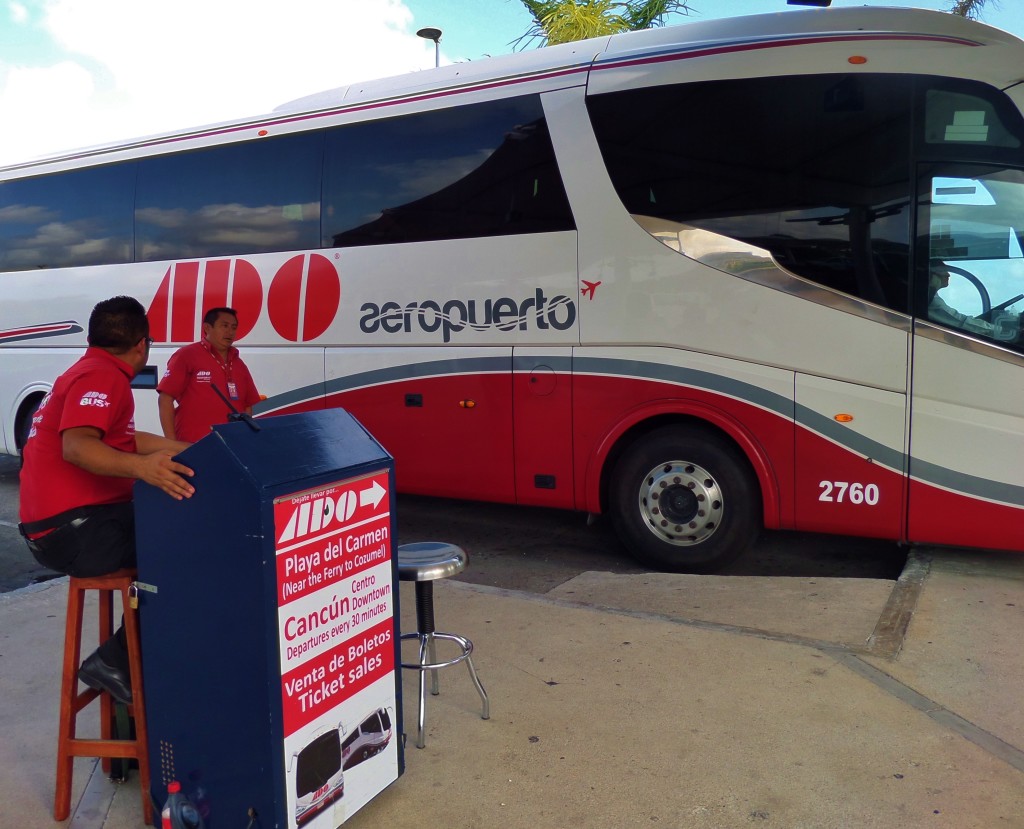 Using Uber from the Cancun Airport
Uber was introduced in September 2016 but has stopped servicing the area. This is no longer an option. We will update this if they open for service again.
More information for your trip to Mexico
Now that you are coming to the Cancun area, why not check out some of our guides here. We have dozens of guides about where to eat, places to go, tours, and so much more. If you don't see it right away, try the search tab on our site. We have hundreds of articles that will help you get the insiders view of the best things to see while here.
We hope you have a great vacation in the Riviera Maya. If you have any questions about transportation from Cancun Airport or comments, please let us know below, we would love to hear from you.