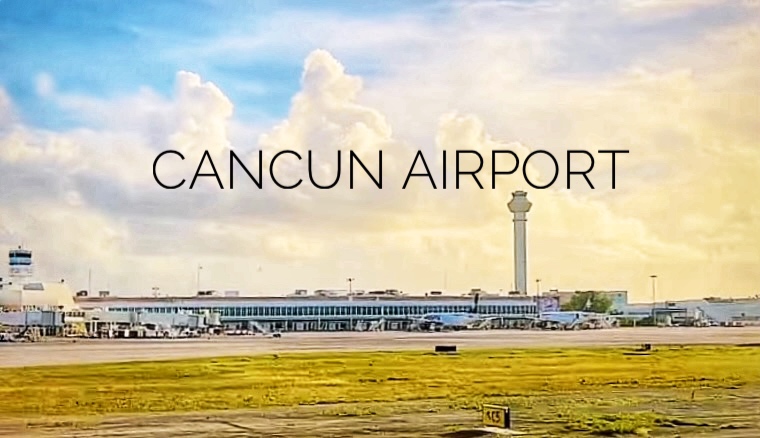 Cancun Airport Information Guide
Cancun Airport is the gateway to Cancun and the Riviera Maya. This is also the closest airport to Playa Del Carmen. Cancun International Airport is the second busiest airport in Mexico. It receives over 30 million passengers a year. That is a lot of people! With so many people passing through this airport we decided to make this guide for you to answer some of the things that our readers ask. The first is Cancun Airport transportation and how to get to and from the airport.
Cancun Airport transportation to and from the airport
The Cancun Airport is actually just south of Cancun. It is about 20-30 minutes from most hotels in Cancun, 45-1 hour from Playa Del Carmen hotels and 1 hour 30 minutes to Tulum. Because travel times and distances are far you will need to plan how to plan house to get from the Cancun Airport to your destination. Here is a list of ways. Below we have complete details on taking each of these options.
Private transfers
Shared shuttles
ADO Bus (public bus)
Hotel Bus
Renting a car
Taxis
Our video of transportation from the Cancun Airport
Private transfers from the airport (Most recommended)
This is how most people get to and from the airport. With a pre booked reservation you have everything set and a driver waiting for you at the airport. These are private vans that are just for you and whoever is traveling with you. A bilingual driver will pick you up at the airport and take you directly to your hotel. There is no negotiating or waiting. Plus booking a round trip can save you about $10-$20USD.
All you need to do is click the link below and you will be taken to the transportations website where you will fill your details. Your van will be like the one below. You have a lot of space and a comfortable way to get directly to your hotel or condo.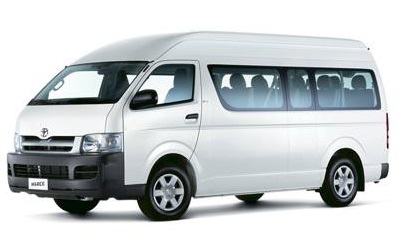 In this map below you can see the distances from the airport to different spots in Cancun and Riviera Maya. This can help you appreciate the distances and why the transfers cost the way they do. You can also click on the different areas of the map for transfer information.
Shuttles from the Cancun Airport to hotels or towns
If you want a budget option that will get you door to door and not have to take a taxi from the bus stop, a combined shuttle is a good option. These shared shuttles are small air-conditioned vans that pick people up from the airport and take you to your hotel. It is good to book these in advance, so you have a spot. These are a better option than the ADO bus often because they take you to your hotel and not the bus station. To book, follow the reserve now link that will take you to the official website.

Taking the ADO bus from Cancun Airport
ADO is the bus company that services the airport. This is the only public transportation available. The ADO bus services all four terminals and has the main destinations of downtown Cancun and Playa Del Carmen. These busses do not stop at hotels and only take you to the bus stations in the towns where they go.
Tips for taking the bus from the Cancun Airport
Purchasing your tickets at the airport is best. Tickets are timed and you will not know for sure when you will arrive and how long it will take to get through customs and immigration. You can purchase your tickets in the terminals or at the curb. They accept Mexican Pesos and small notes of USD. Credit cards are also accepted.
Busses leave about every 30 minutes and are often not completely full.
This is an affordable way to get from the airport to downtown Cancun or Playa Del Carmen. Note: If you are not staying in the downtown of either city, if might be best to take on of the private transfers. Taxis can be expensive to hotels or resorts outside of town and can eliminate any savings by taking the bus plus add time to your transfer.
For more about how to take the bus to Playa Del Carmen from the airport see our article here.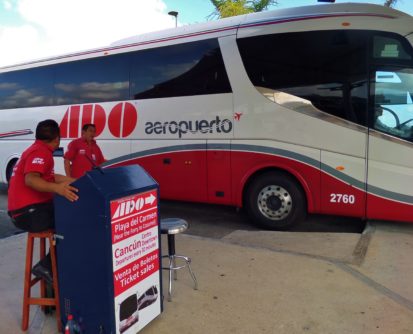 Renting cars at the Cancun Airport
If you are a more independent traveler and have plans to do some sightseeing, a car rental might be a good idea for you. There are many options of car rentals at the airport. Here are some tips that can be helpful to you:
Not all car rental agencies are on the airport property. Some are 5-10 minutes outside the airport. These will have a free shuttle for you. It is not a big deal, but you should know it will take a little longer to check in and out.
Be aware that most car rental website will show a super low price for rental. There is mandatory Mexican liability insurance needed for cars in Mexico. Most rentals end up being about $40-$50 USD a day with taxes and insurance.
One good rental car company we recommend will pick you up from the airport with a longer rental. Many of our readers love this local rental company.
See our driving in the Riviera Maya guide for local things you should know about driving here.
Taxis at Cancun Airport
There are plenty of taxis at the airport that swarm people looking to score a customer. There are no set prices or booth for taxi tickets at the airport. So this means you need to ask the price and even negotiate. Because of this we recommend the private transfers. Number one you are getting a fixed price and a driver waiting for you at the airport. Second, you get a discount if you book a round trip. You often are paying less to have a private transfer. See our article about private transfers and taxis from the Cancun Airport for more information.
Can you use Uber in Cancun?
To the surprise of many people Uber service is not available in Cancun or the Riviera Maya. The service was launched but was soon taken off the transportation market due to regulations.
Flight departure and arrival information
Do you want to know what terminal your flight is departing or when a friend's flight is coming in? Even though the ASUR website is the official website for the Cancun Airport the website does not have a lot of good information on flights. We prefer the FlightAware website because there is a lot of helpful data and info for flights into and out of (CUN) Cancun International Airport (see photo below).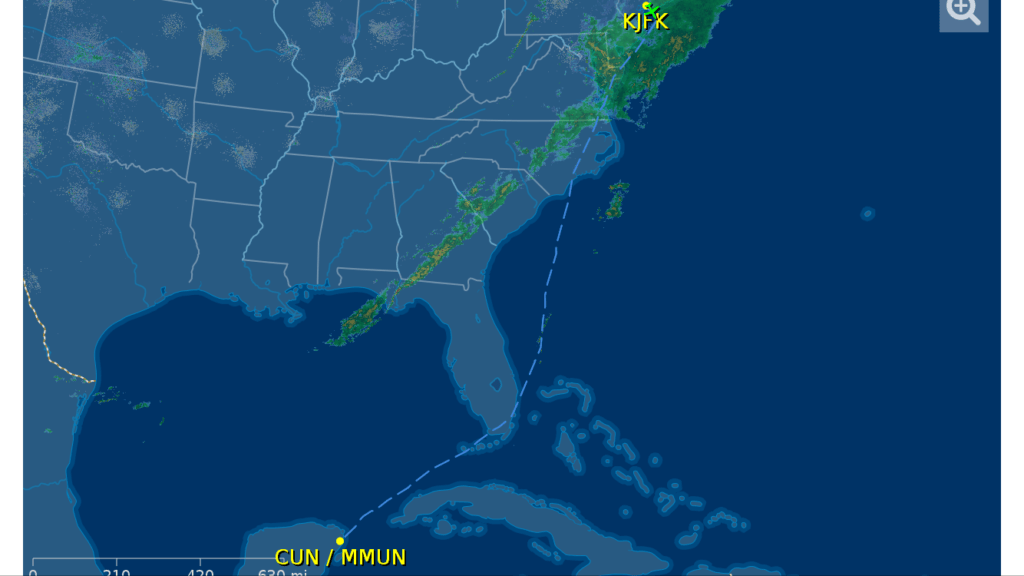 Frequently asked questions about the Cancun Airport
What hotels are close to the Cancun Airport?
There is a new hotel being built in the middle of the actual Cancun Airport property. We will list it when it opens.
The following hotels are outside of the Cancun Airport, but close enough they offer shuttle service to the terminals. The two closest hotels to the Cancun Airport are the Comfort Inn and Courtyard by Marriot. It is good to book these in advance because there are many travelers that book these hotels. There are not really any other good options close to the Cancun Airport unless you want to stay in the center of Cancun and that is about 15 more minutes away and an expensive taxi ride. Book one of these hotels to stay close and get a free shuttle.
Comfort Inn Cancun Airport
This hotel is just 5 minutes out of the airport area. It offers a decent modern hotel with the services you need to get a good nights sleep before or after a flight. This hotel offers a free airport shuttle that many people enjoy.

Courtyard by Marriot Cancun Airport
This is a large hotel with pool that is also about a 5-minute drive to the airport. This hotel also has a free shuttle to and from the airport. Of the two hotels listed here, this one is usually a little cheaper in price.

Cancun Airport Map
Here is a basic layout of the airport. There are four terminals. Mainly Terminal 1 & 2 are used for domestic flights and Terminals 3 & 4 are for international flights. There are exceptions to this of course. The terminals are not connected with interior walkways. You must exit each terminal and take the free shuttle bus that goes to the other terminals. This bus passes about every 20 minutes.
On the right hand side, you see the arrow to the exit. This is where all traffic goes to the 307 Highway that goes north to Cancun and south to Playa Del Carmen and Tulum.
What airlines fly into Cancun International Airport?
Here is a list of all the airlines that fly into Cancun Airport. Here is a good tip for you, if you are looking for the best deal on a flight, see which airlines fly to an airport near you and visit their homepage. Not all airlines are going to be in search engines like Google Flights or Expedia.com.
Vivaaerobus, Magni, Avianca, Blue Panorama, Thompson Airways, Sunwing, XL, Volaris, Copa Airlines, Cubana, Neos, Latam, Tui, Lan, Jetairfly, Canjet, Virgin Australia, Virgin America, United Airlines, Transaero, JetBlue, KLM, Pullmantur Air, Quantas, Spirit, Iberia American Airlines, Delta, Air New Zealand, Alaska Airlines, Aeroflot, British Airways, Etihad, Air Canada, Airberlin, AeroMexico, AirEuropa, AirTran, AirFrance, Condor, Frontier, Interjet, Southwest, Sun Country, Thomas Cook Scandinavia, Thomas Cook Airlines, Virgin Atlantic, WestJet and Lufthansa.
There are many Mexican airlines that fly into and out of the Cancun Airport. Some of these service international destinations and others offer very good deals for flying within Mexico. See our link to our article on Mexican Airlines for lots of tips.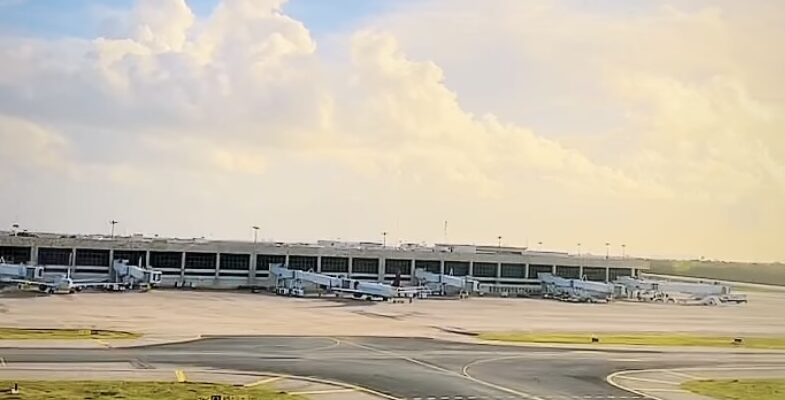 Short and long term parking at Cancun International Airport
For short term parking each of the terminals has affordable parking that can cost just a few dollars while you wait to pick someone up. Enter the parking lots and get your ticket. Take your ticket with you because you need to pay at machines in the terminals. There are no cashiers in the parking lot so if you do not pay inside you cannot exit until you go back.
Long term parking at CUN
If you need to park long term at CUN they offer an option in their parking lots, but it is more expensive and not covered parking. It is much preferred to use IPark. This independent company offers a secured lot just outside the airport on the highway. They have lower rates and a free shuttle between the lot and the terminals. For more about this long term parking option see our article here.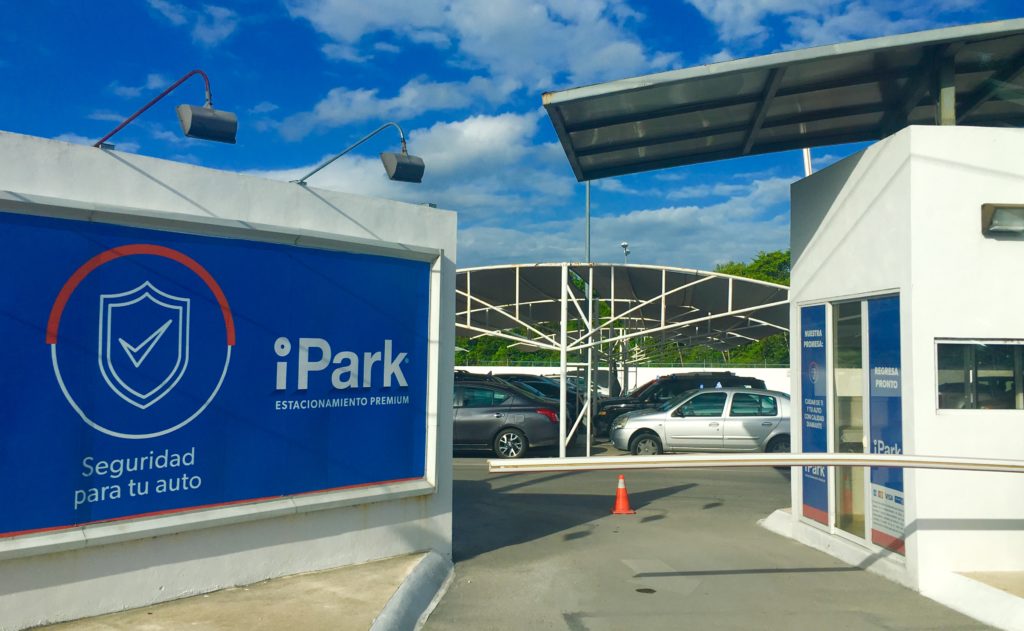 Does Cancun Airport have restaurants?
Yes, all four terminals of the Cancun Airport have restaurants. We will say that the options don't always appeal to everyone, and the prices are higher than restaurants outside the airport.
You can find chain restaurants like TGI Fridays, Bubba Gump Shrimp Co., Jonny Rockets, Margaritaville, and Starbucks. Don't expect to be wowed by the options. It can be good for a quick meal before a flight but that is all.
Does Cancun Airport have duty free?
There are duty free shops at the airport. The larger terminals that have more international flights have a much larger selection of things for sale. Compared to touristic places like Cancun and 5th Avenue in Playa Del Carmen, prices are similar. You can find many Mexican crafts and last-minute gifts for your loved ones back home. You can find enough things in the duty free and other shops to actually put off your shopping on your vacation.
Each duty free has a large selection of alcohol. Many Mexican spirits can be found for sale including tequilas and Mezcals. These are always easy gifts to take with you. We actually like shopping at the airport because alcohol prices can be good.
When shopping in the Cancun Airport duty free shops make sure you take your international boarding pass. Credit cards, pesos and USD are all accepted in the duty-free shops.
How do you get from the Cancun Airport to Playa Del Carmen?
We have a full guide on how to get from the Cancun Airport to Playa Del Carmen here. There is information on the buses and transfers that will take you directly to your hotel or rental.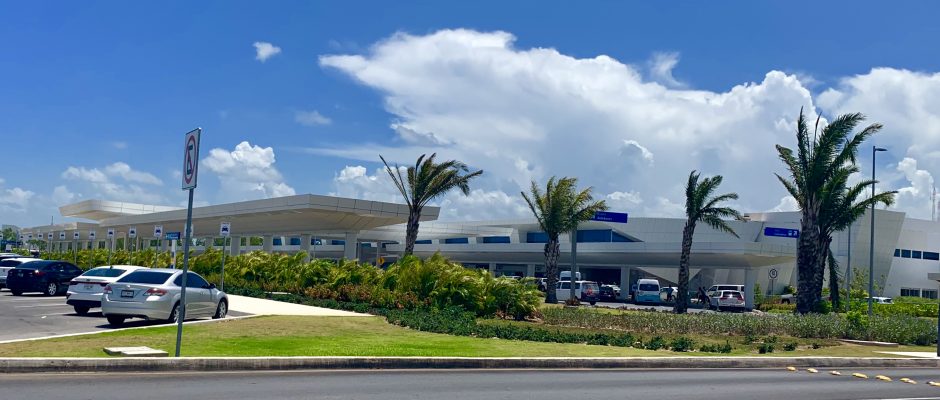 We have a full guide on how to get from the Cancun Airport to Tulum here. We have bus schedules, transfer companies to book with and lots of other tips.
Should I exchange money at the airport?
There are services both ATM's and exchange services at the airport. In general, you will get a better rate outside of the airport, but some visitors are staying at all inclusive resorts, so it does not really matter. In this case it is good to get some pesos for tips and souvenirs. If you are also coming with a currency that is not used that much, it is best to exchange at the airport rather than in a location in the Riviera Maya. Many exchange places in Playa Del Carmen for example, will only exchange the top 4 or 5 currencies.
How long does it take to go through security at the Cancun Airport?
The lines to enter the airport after you check in are usually very short. Most times it takes less than 15 minutes to pass through security. Most airlines are however very strict about checking in at least one hour before your flight. This includes checking in online. Be sure to allow time to arrive before your flight. If you have booked a private transfer they arrange your times, so you are not rushed at the airport.
How long does it take to go through Immigration and Customs?
Most people arriving from an international destination will arrive at either Terminal 3 or 4. These terminals are newer and have good services for the thousands of passengers that arrive daily. If all the flights arrive at their scheduled times and all is running smoothly most of the time it takes about 30 minutes to pass through immigration and customs.
From landing time to exiting the doors of the airport you can usually count on 40 minutes.
Thank you for reading our guide to Cancun Airport. We hope we have given you some helpful advice. Let us know if you have any other questions or comments below.
Since you are coming to the area you might like to read our other Playa Del Carmen Guides and Guides for the Riviera Maya.