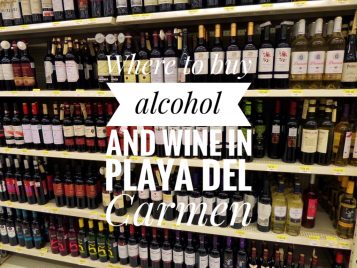 This is a very important topic to many coming to Playa Del Carmen! Here is your guide to where to buy alcohol in Playa Del Carmen. We also have tips on buying beer and wine in town. It should be noted that not all stores sell beer and there are restrictive hours to sales of alcohol.
At the bottom of this article is an interactive map. We included some OXXO convenience stores on the map but there are many more available, we just have the most popular ones.
Where to buy wine, beer and alcohol in Playa Del Carmen
For the most part people buy wine, alcohol and beer in the large supermarkets. Mega and Walmart are the two most popular in the downtown area. Soriana and Chedraui are also decent for buying what you need, they are just more accessible with a car. Sams club also sells alcohol at the south end of town. If you had to choose between Mega or Walmart, Walmart tends to be cheaper for wine and some alcohol. Convenience stores like OXXO also sell beer and limited amounts of alcohol although prices for alcohol are often more.
You will be happy to know that wine has increased in popularity in Mexico. We get a lot of Spanish, Chilean, and Argentinean wines imported and a good representation of Mexican wines. Prices are reasonable. Try to avoid buying wine at corner stores (very local ones with no air conditioning), not only are the prices more, but wine is also often stored incorrectly with the heat and sometimes are in sunlight. This effects the quality greatly and a decent bottle can become undrinkable.
Best liquor and wine stores in Playa Del Carmen
If you are looking for more selection or something more specific, there are several stores you should check out that are all in the downtown area.
La Europea has a store in Quinta Alegria Shopping Plaza on 5th Avenue and Constituyentes Avenue and a new location in the Paseo del Carmen Mall at the begining of Quinta Avenida. This store carries a large selection of wine as well as other alcohols. If you want to try some Mexican wines, they have a good selection here. This store is the best in Playa Del Carmen for looking around and buying alcohol and wine. La Europea has some other smaller locations which you can find on their store finder on their website.
Winery & Plus is a smaller store located on 10th Avenue and 28th St.
Cava del Duero is on the southwest corner Constituyentes Avenue and the Carretera (Highway 307). Cava del Duero is not a huge store and just offers a few wines that other stores might now have.
Off the Vine has two locations in Playa Del Carmen. One is a wine bar and wine sales at 40th Street and 5th Avenue and another location in Playacar at Avenida Balamcanche 30
Fun fact: Legal age for drinking is 18
Un-fun fact: No drinking allowed on the street, that means no walking on 5th Avenue with beer in hand.
Where to buy beer in Playa Del Carmen
If you are looking for beer, there are little "Cervifrio" stores all over Playa Del Carmen that specialize in just beer and snacks. They have ice usually as well. The store in the photo is located on 30th Avenue and 22th Street.
There is a wide selection of Mexican beers for you beer aficionados. Most everyone knows Corona, Tecate, Sol, and Dos Equis but there are many other Mexican beers to try. Indio, Pacifico, Victoria, Montejo, Leon, Bohemia, Modelo, and Superior are all beers that can be found in Playa. Beers can also be found in limited quantities in convenience stores and supermarkets.
If you want to try even more beers make sure you visit Club De Cerveza on 5th Avenue. This bar has the largest selection of beers to try and many Mexican craft beers. They also have a food menu to accompany the beers.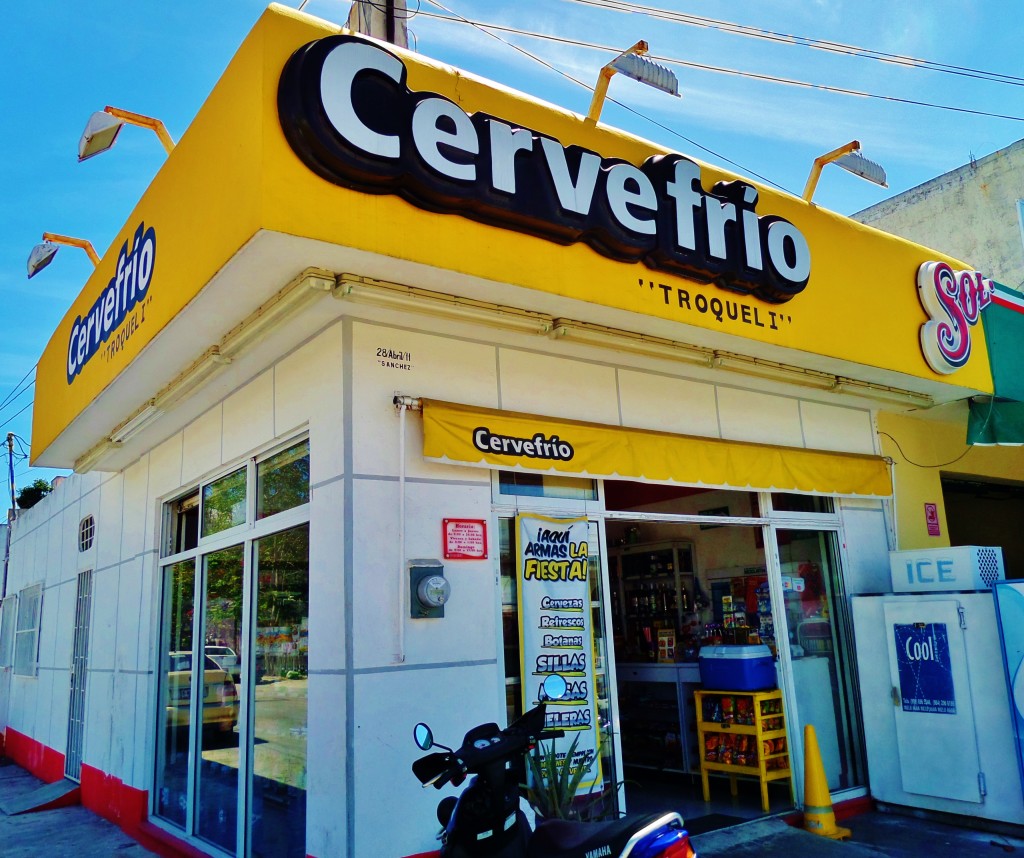 Want someone else to shop for alcohol for you?
Here is a great service here in Playa Del Carmen. If you don't have time or do not want to go shopping, they will do it for you. You can place your order and they deliver it to your door! How easy is that! Just click the link below to see how easy it is. Many of our readers really like this shopping service which also shops for alcohol.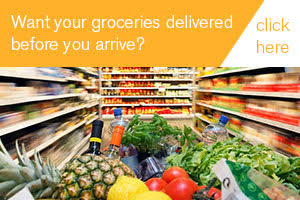 Mezcal in Playa Del Carmen
Don't forget mezcal. Mezcal is the new trendy alcohol made from the maguey plant, a form of agave. Even though this product has been around for hundreds of years, it is gaining in popularity. It is related to tequila in the sense tequila is a form or mezcal. Mezcal for a long time has been considered the cheaper and lower liquor (country cousin of tequila if you will) but now has emerged as a artisan spirit with cool labeling and many restaurants featuring them. In Mexico, mezcal is drunk in shots and also cocktails. The best Mezcal however is just sipped. Mezcal has a smoky flavor unlike tequila. A popular way to drink mezcal is in a shot accompanied with sliced oranges sprinkled with "sal de gusano", literally worm salt, which is a mixture of ground fried larvae, ground chili peppers, and salt.
The best place to buy Mezcal is in La Europea in Quinta Alegria Mall on 5th Avenue. You can also find a nice artisanal store to buy some bottles in the La Memorable market on 1st Avenue and 26th Street. This is the market by the entrance to the Hyatt.
One great Mexican restaurant and bar to try mezcal in is La Perla Pixan Cuisine and Mezcal Store. This Mexican restaurant stays true to regional cuisine and prepares drinks with local liquors like mezcal.
Mayan liquor Xtabentun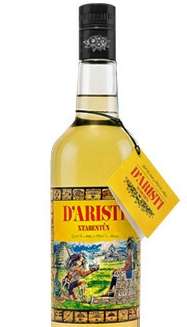 Of course, if you are in the Mayan Riviera, you should try a local liquor called Xtabentún. Most tourist overlook this local liquor. It has an anise flavor to it and is made from honey and herbs. It originates right here in the Yucatan. The liquor is usually served cold or poured over ice. It has a yellowish hue and a fairly strong flavor. Some restaurants in the Yucatan add shots of Xtabentún to coffee. You will see this at tourist gift shops on 5th Avenue and prices are usually pretty good. A small bottle can be around 90 pesos and a large one 140 pesos. Besides 5th Avenue tourist shops, you can also find this in the grocery stores and La Europea.
Hours for alcohol sales in Playa Del Carmen
Remember hours for buying alcohol are different depending on the type of store or outlet. Stores on 5th Avenue will close up earlier then grocery stores. Convenience stores have longer hours than grocery stores. Cerifrios (beer distributors) are open most of the day and late at night. Sundays have shorter hours for liquor sales. And if you happened to want to buy liquor around an election, you are out of luck, sales are closed. So, in general buy between 10am-and 5pm and you will be safe. Stores will be open later but just make sure you get it when you want to, so you are not out at a bar when you want to be on your deck drinking.
The La Europea Store in Quinta Alegria is open Mon.-Sat. 11am-10pm Sun. 10am.-9pm. This store has the longest hours of any place that sells alcohol.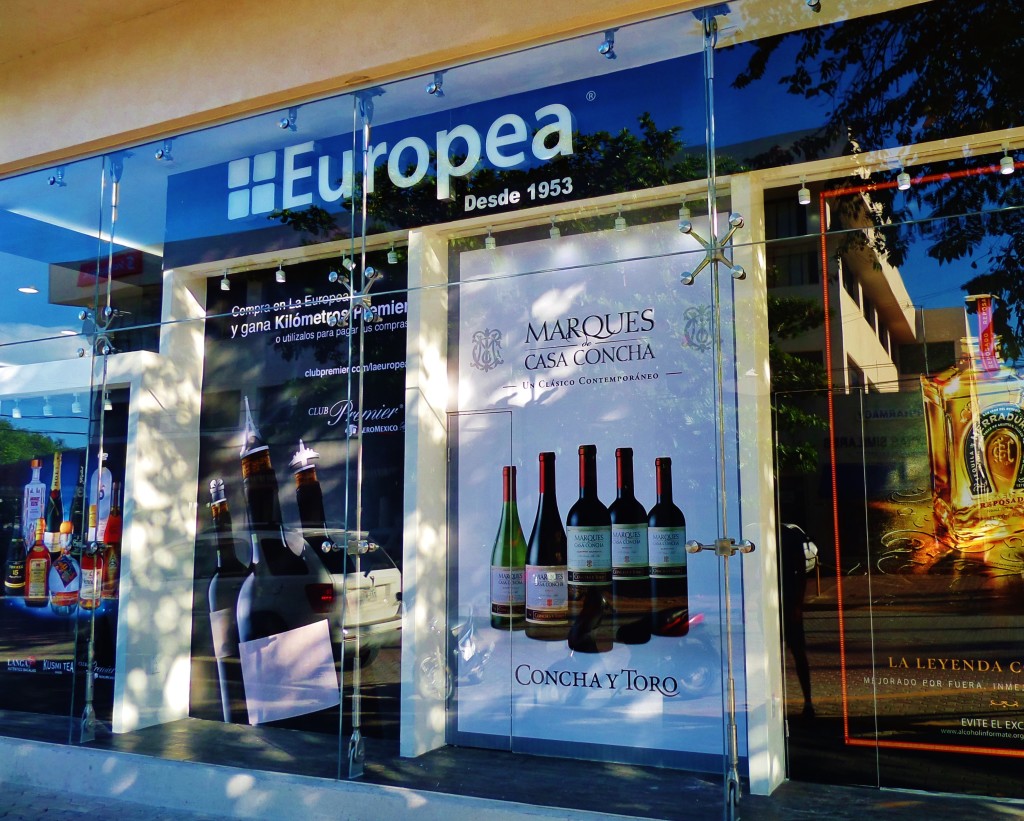 Important note: Dehydration can change your tolerance for alcohol. The climate here is very different to some places you might be familiar with. The heat, sun, walking around, and change in diet and pattern of daily activity can have a big effect on you. Make sure you hydrate well. Also take care walking at night if you have had a little too much to drink. You can read more about this in our safety article.
Other reading for you
If you enjoy alcohol, you might be interested in reading our article about tequila tastings in Playa Del Carmen. These tastings can be public events or a private event at your condo.
Where do you like to buy alcohol in Playa Del Carmen? Do you have some tips or stories you would like to share with us? Let us know in the comments below, we would love to hear from you.