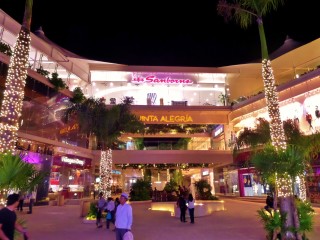 Shopping is one of those things that people like to do on vacation and Playa Del Carmen has you covered! Famous 5th Avenue or (Quinta) as it is called by locals, has blocks and blocks of shopping. Quinta Alegria is a new shopping plaza located right on 5th Avenue. This three story plaza is a nice place to take a break from walking and taking sun to enjoy the green interior garden perhaps having some ice cream and browsing around. The central courtyard is covered and cool air inside for your comfort. This makes stopping by here a refreshing experience from the heat of walking in Playa Del Carmen.
Here is our video of Quinta Alegria shopping mall
Location of Quinta Alegria Shopping Mall
Quinta Alegria shopping plaza is located at the intersection of 5th Avenue pedestrian street and Constituyentes Avenue.
Parking In the Center of Playa Del Carmen
If you drive here there is limited free on street parking on Constituyentes Avenue between the beach where Constituyentes Avenue ends and 10th Avenue. There is also an underground paid parking lot with an entrance on Constituyentes Avenue. The cost is 15 pesos a hour, 180 pesos for a lost ticket and 200 pesos for 24 hour parking. (For more on parking in Playa Del Carmen see our guide here for options).
Quinta Alegria is a shopping plaza that offers a little something for everyone. We thought we would bring you this guide so you know what is there and where to find things in Playa Del Carmen.
If you are living in Playa Del Carmen you might also be happy to know that there are some good options for clothes shopping, especially for women, that you cannot find anywhere else in Playa.
Tip: If a shopping mall is not what you are looking for be sure to check out are article on 6 great stores to shop at just off 5th Avenue right here in Playa Del Carmen!
1st Level consist of these shops:
Ultrafemme– Another favorite of women.
Haagen-Dazs– Ice Cream store
Forever 21– Clothing store for women
The body Shop– Bath soaps, body creams etc.
Nutrissa– Ice Cream stand
L'Occitane– French style soaps, scents and lotions
Aldo-Shoe store for men and women
Cuadra– Leather goods
Abito– women's clothes
La Europea– Wine and spirit store. It is on our list of good places to buy alcohol in Playa Del Carmen.
Ishop– Apple computer an cellular products
Sunglass Island-sunglasses
Harley-Davidson-All the Harley gear and shirts you want
Oakley– Brand store
Touche– women's Clothes
Watch my Watch-watch store
Bebe-women's clothes
Starbucks-coffee
2nd Level
Nike-sportswear store, on our list of where to buy sportswear in Playa Del Carmen
Levi's– Jeans and more
Columbia-sportswear store for men and women, on our list of where to buy sportswear in Playa Del Carmen
Marti-sportswear store, on our list of where to buy sportswear in Playa Del Carmen
Bari– women's swimwear store
Met– women's boutique clothing store
Envy-men's and women's clothes
American Eagle Outfitters-clothing store
Aerie-women's swimwear store, actually owned by American Eagle Outfitters
Julio-women's clothes
Hurley-brand store
Studio F-women's clothes and accessories
Forever 21– second floor of store
Note: If you are a tourist in Playa Del Carmen and doing some purchases at qualified stores, you can be eligible for tax back! You can find out how here.
And that is what you can find for shopping at Quinta Alegria. For other shopping in Playa Del Carmen options be sure to look at our shopping tab under tourist info. We are always looking for unique shops and other finds to share with you. Happy shopping everyone!