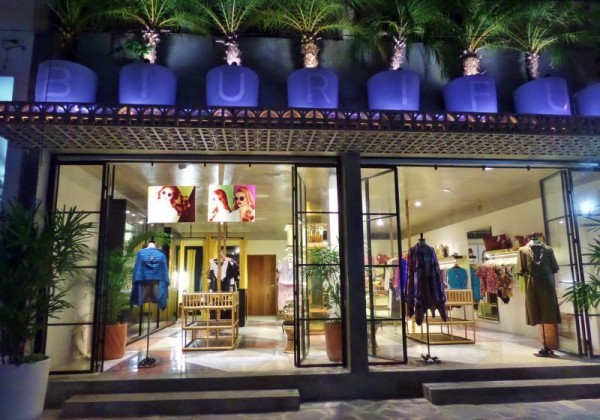 Shopping is usually high on the list of many tourist that come to Playa Del Carmen. In this guide we are going to tell you everything you need to know about shopping in Playa Del Carmen! Everything from 5th Avenue shops and stores to shopping malls and other things you need to know. This is for tourist and for people that live in Playa Del Carmen or stay here for a while.
The Guide to Shopping in Playa Del Carmen
Lets start where most tourist start, 5th Avenue. This is the main pedestrian street that runs parallel to the beach and goes for about 22 blocks. This avenue has nonstop shops, restaurants and places of interest for tourist. There is so much it can be overwhelming. So we will narrow your shopping options down for you so you can go to the best shops.
Shopping Guide to 5th Avenue
5th Avenue starts where the Cozumel Ferry Pier is on the south end of town. The main stretch that tourist walk reaches to about 40th Street. The streets go by even numbers only, so for example, 2nd Street, 4th Street, 6th Street and so on. You will find many souvenir shops to looks at and for this reason we wrote a guide to 5th Avenue. In this guide we show you on a map all the points of interest and places to check out. Below are other specialized Playa Del Carmen shopping guides for 5th Avenue.
Souvenir Shopping in Playa Del Carmen
Souvenirs are the main thing people look for when shopping in Playa Del Carmen. There are a lot to choose from for sure! You can find t-shirts, magnets, tequila, Mexican sombreros and so much more. Happy shopping!
There are even some really tacky souvenirs to buy in Playa Del Carmen. Some people buy them for a joke gift and some are serous about it. For a look at the search for the tackiest souvenir in Playa Del Carmen, see our article here. It is funny what you can find here shopping in Playa Del Carmen.
A great store for souvenirs is Hacienda Tequila. We like this store because it has a large selection, good air conditioning to cool you off, a large tequila and alcohol section and it is easy to find. To read more about Hacienda Tequila see our article here including photos.
If you are shopping in Playa Del Carmen around Christmas and want some things to buy, we recommend Tequila Bazar. Not to be confused with the above mentioned shop (Hacienda Tequila). This store has the best selection of ornaments and small things to buy for Christmas. You can read about Tequila Bazar here.
Great Souvenir Ideas to Shop for in Playa Del Carmen
Here are a few recommended things to look for when shopping for souvenirs. These things are unique items you can find in Mexico and range in price from a few U.S. dollars to a couple hundred.
A bottle of Xtabentun liquor.

Pronounced "esh-tah-ben-toon", this is a Mayan liquor that taste like anise. This is the only part of the world where you can find this liquor. It is made in Yucatan State and something unique to try. You can get bottles for about $4-15 USD. Some of them are small enough to carry on the plane when leaving. You can find this at stores on 5th Avenue or in La Europea liquor store.

Mexican blown glass.

You probably are familiar with blue rim glasses and other Mexican handmade glass that you see around. There is a workshop and store right here in Playa Del Carmen where you can buy it. It is called Vidrio Soplado Mexicano. We have a fun video in the article of how they make the glassware.

Mayan tapestry

These include table runners or pillow covers. These tapestries are beautiful. Most are made in Chiapas, Mexico. The best store is Rosalia which is on 5th Avenue between 12th Street and 14th Street. These can cost $10-150 USD depending on what you buy. Just be sure to wash these separate when you buy them. The dyes are very strong and can bleed onto other fabrics.

Mexican chocolate and coffee.

These are two products from Mexico. Ah Cacao coffee shops sells products and you can even get fun chocolate massage oil for only about $1.50 USD. You can find these coffee shops in our guide to Ah Cacao here.

Local art.

What makes for a better memory of your trip then a work of original art. You can find local artist on 5th Avenue on Thursday evening. If you are not able to go then, you can also find local artist set up on the street besides Quinta Alegria Mall on 16th Bis Street during the week.

There is also a small gallery tucked in a side alley on 5th Avenue between 6th Street and 8th Street. Here you can find many artist showing.
Fashion Shopping on 5th Avenue in Playa Del Carmen
If you are a fashionista you might want to know what the good stores are for clothes shopping. There are some nice unique shops where you can get accessories and clothing. We put together a guide for you! See our article on The Fashionistas Guide to 5th Avenue here. There is even a map to show you where each cool store is.
What are our Top Picks for Places to Shop on 5th Avenue?
Well with so much shopping to choose from, you might ask us what are the top places so I can focus on going there. We listened to our readers and made this guide for you. You can read what our Top 10 Places to Shop are on 5th Avenue in this article. Some of the stores on the list are for souvenirs. Other store are for great Mexican made art and unique stores of artisans. Therefore this list of stores will give you a nice rounded out selections of some of the best stores to visit as a tourist.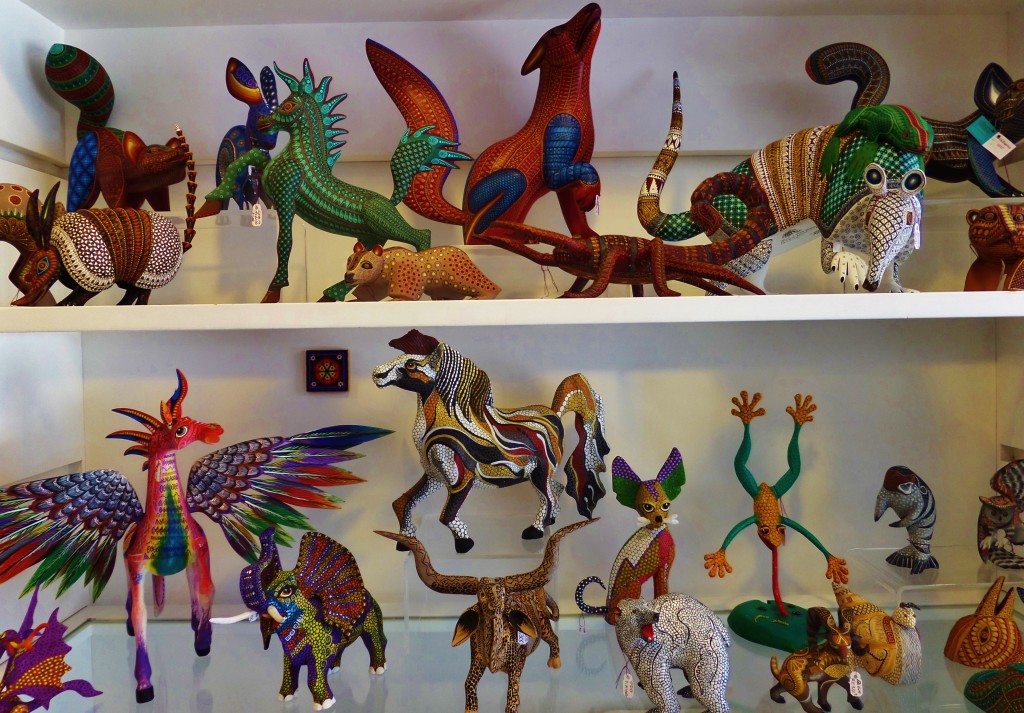 Great Little Shops Just Off 5th Avenue
Many people don't walk off of 5th Avenue and it is a shame. The rent is very expensive on 5th Avenue for shops and some of the good ones are on side streets. Just the savvy shoppers find these. We want you to be a savvy shopper so we are telling you about them. You can find handmade jewelry, local made art, and high quality crafts in these stores. We have a guide about these stores where we give you a map and we also included a video. See what many other tourist miss by not reading this guide.
Shopping Malls and Plazas
Lets start with the shopping plazas and malls on Playa Del Carmen's 5th Avenue. There are three to mention. They are:
Paseo Del Carmen. 5th Avenue and Calle 3 Sur. This is the Street that goes to the Cozumel Ferry Pier.
Calle Corazon. 5th Avenue and 12th Street.
Quinta Alegria. 5th Avenue and Constituyentes Avenue.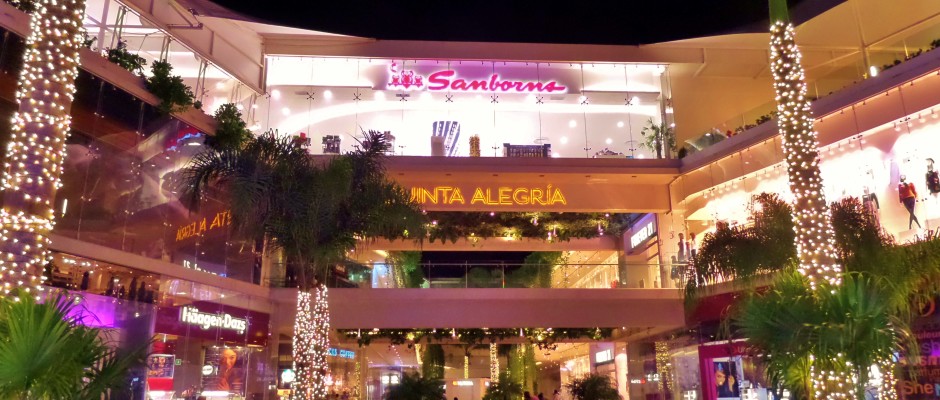 Shopping at Paseo Del Carmen
This Playa Del Carmen shopping mall is an open air shopping center. This mall continues to grow in size what seems like each year. There are some good clothing stores like Zara, Pull & Bear, and Bershka. Another type of store you will find here are souvenir shops. To read more about this shopping plaza and see photos, see our article here.
Calle Corazon Shopping Plaza
Right between 12th Street and 14th Street you have a more high end shopping center. You can find such stores as Lacoste, Michael Kors, and Swarovski. To read more about Calle Corazon Shopping center see our article here including a video! This shopping plaza has stores on 5th Avenue and also a small semi circle that loops off 5th Avenue.
Quinta Alegria Shopping Mall
This is a three story Playa Del Carmen shopping mall. It is semi enclosed and air condition cooled. Both locals and tourist like this shopping mall because it has some affordable options. In front of this mall there is always entertainment at night and this can be a great place to stop and watch some street performers. For more about Quinta Alegria Mall see our article here including photos.
A popular place for tourist to stay in is the Playacar section of Playa Del Carmen. This large neighborhood on the south end of town is home to many all inclusive hotels and one shopping plaza. This plaza is called Plaza Playacar. Here is more about this shopping plaza if you don't want to go into town.
Shopping at Plaza Playacar
If you are staying in Playacar you might not want to go all the way into town to grab some quick souvenirs. This is the place to go shopping then for you. This is a small shopping plaza that gives tourist somewhere to shop while staying in the large neighborhood of Playacar. This small shopping plaza has mostly tourist shops and is not too noteworthy. If you want to do some more serious shopping be sure to walk or take a taxi into town and walk 5th Avenue. To read more about Plaza Playacar and see photos, see our article here.
Outside of the downtown there are two shopping malls. These are not huge malls like many other shopping malls in the world. Malls are just catching on in Mexico. The two mall names are Plaza Las Americas and Centro Maya. These can be a good place to go shopping when it rains in Playa Del Carmen. You can read everything about these two shopping malls in Playa Del Carmen here in our article. Below is a brief description of each mall.
Plaza Las Americas Mall
This is the larger of the two malls in Playa Del Carmen. Plaza Las Americas Mall has a movie theater, food court, grocery store, one large department store and then smaller stores. This mall is particularly busy on the weekend when people that live in Playa Del Carmen go out to see a movie or send time with friends. Tourist don't really go to these malls because there are so many options for shopping on 5th Avenue.
Centro Maya Mall
This shopping mall is the smaller of the two. It has one grocery store, a food court, movie theater, shops and City Club big box store is here.

Our Best Tips for Shopping in Playa Del Carmen
Since we want you to have the best time shopping in Playa Del Carmen, we compiled some of our best shopping tips for you. Feel free to add some below in the comments.
If you can, it is better to pay in pesos. You will get a better rate of exchange. Each store can decide at what rate they offer customers and this is often worse then the official rate.
Shopping on 5th Avenue starts around 10:00am but the best time is after 7:00pm when it is cooler and everything is open. The nighttime is more magical and there is more energy. Save your days for the beach.
Most stores have fixed prices. Only people that have items on the sidewalk will haggle on the price a little. We just recommend shopping at stores with prices marked.
See our article on tourist shopping traps and scams. You will hear some con lines while shopping on 5th Avenue. Be prepared by reading this.
Do not use the ATM's on 5th Avenue to take your money out for shopping. This is just a precaution. Many times people get their card cloned. We recommend using just a bank ATM. See our article about exchanging money and the map we provide to show you two ATM's at banks just off 5th Avenue.
Shop with Confidence in Playa Del Carmen
Did you know Mexico has a consumer protection agency of sorts? This agency is called Profeco. This agency will check to see if advertised prices are recognized and everything in a store has a marked price on it. They also check quantities and proper advertising of quality is done. Occasionally you will see a sticker on a store window that failed to adhere to the laws. They have to keep these large notices on the store until they comply.
It is good to know that behind the scenes this agency is making sure stores play fair. Profeco is looking out for your interest. To read more about Profeco and how it protect you as a consumer, see our article here.
---
Playa Del Carmen Shopping for Locals
Below is our guide for locals and long time residents. These are all places you will find helpful for shopping in Playa Del Carmen for things.
What is Buen Fin Shopping Holiday?
One shoppers holiday to take note of in Mexico is Buen Fin. This is the equivalent of Black Friday in the United States after the Thanksgiving holiday. Buen Fin also falls before Christmas and when most people get paid. This shopping sale is to promote people to buy and often times you can find some good deals. This shopping event is good to take note of when you are a local. To read more about Buen Fin see our article here.
Grocery Stores and Food Shopping in Playa Del Carmen
For grocery stores we have the following chains:
Mega. This is one of the more popular grocery stores in the downtown.
Walmart. There are two Walmarts in Playa Del Carmen. One is in the downtown and the other further back on 115th Avenue.
Sorianana. This large grocery store is in the Centro Maya Mall.
Chedraui. There are two of these supermarkets in Playa Del Carmen. One is on the south end of town and one in Plaza Las Americas Mall.
Aki. This is one of the cheapest super markets and offers lower end products.
Bodega Aurrea. This is a lower end supermarket.
Note: Grocery stores no longer offer free plastic bags. Be sure to bring bags or buy a reusable bag at the store.
To read more about these grocery stores and see maps, see our article here.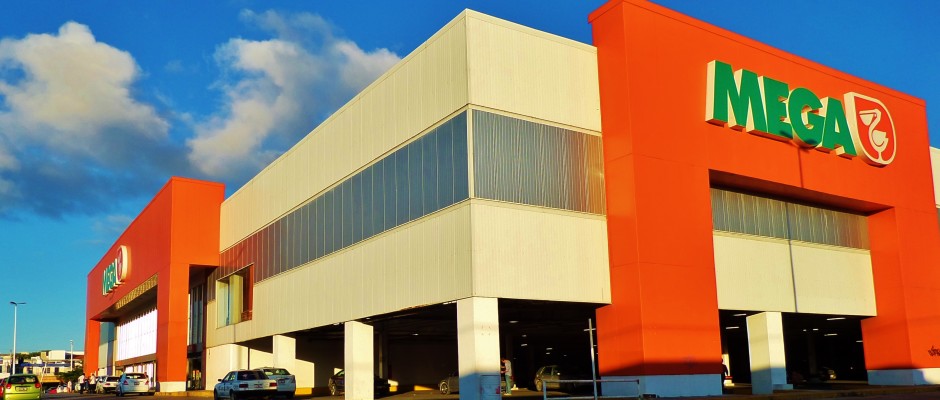 Alcohol, Wine and Beer Stores
No doubt if you like to partake of some drinks you will want to read our guide on where to buy beer, wine or alcohol. Hours are different at each location and beer is sold separately than wine and alcohol. In the afore mentioned article we mention some of the things that make Playa Del Carmen unique for buying alcohol. We even included a map to help you find the stores.
Shopping in Playa Del Carmen for Specialty Food
Other places to buy food include smaller markets and specialty shops. In some of these shops you can find unique things or better quality. Sometimes it is just easier to go in and get out more quickly.
Fish and Meat
Fruits and Vegetables
Dac Market is a fruit and vegetable market with some grocery staples as well. This is the most popular market to go to outside of the grocery stores because it has a good selection. To read more about Dac Market see our article here.
Italian Specialty Store
Restaurant Food Supplies and Rare Foods
Pacsadeli is a specialty store that is for restaurants and people looking for unique things usually not found in super markets. Locals like it because you can sometimes find bagels, gluten free products, Asian cooking ingredients, baking supplies and more. For more on Pacsadeli see our article here.
Local Weekly Food Markets
El Pueblito Market. This market is just outside of Playa Del Carmen in the Mayakoba hotel property. El Pueblito is a small village center that is set up with shops and on most Sundays they have a local market. For more on El Pueblito market see our article here.
Where to Buy Used Cars, Furniture and Clothes in Playa Del Carmen
If you have moved to Playa Del Carmen you might need to buy some furniture. It can be hard to know where all the stores are. That is why we made this guide to tell you where the furniture stores are and what they offer. Here is our furniture shopping guide to Playa Del Carmen.
There is one thrift store in Playa Del Carmen and one store that sells used furniture and miscellaneous items. In the highlighted guide we also list all the places online where you can look for a used car and the places in Playa Del Camren where you can look at them in person. To read more about where to buy used cars and find thrift stores see our article here.
Besides the malls another good place to go shopping is Liverpool Department Store. This is a higher end department store. They sell name brand clothes, electronics, furniture and housewares. This is a good store if you want upper end quality. They can have some decent sales where prices come down a bit. This store is on the 307 Highway just south of the Centro Maya Mall on the south end of town.
Bicycle Shopping in Playa Del Carmen
Bikes are a popular item to buy if you are a new resident of Playa Del Carmen. Most of the basic bike stores are on 30th Avenue between Constituyentes Avenue and 30th Street. There are also some high-end bike stores in Playa Del Carmen. If you are looking to buy a bike and want to know more, see our guide here.
One tip for shopping for a bike is buy a good bike lock for your bicycle. Many bikes get stolen in Playa Del Carmen even if they have a lock, albeit cheap one.
Playa Del Carmen Shopping at Big Box Stores
Here are four big box stores to mention in Playa Del Carmen.
City Club. This is a more local version of Sam's Club. It is nearly just as large and is a membership store. So if you are going to join, compare it with Sam's Club to see which you like more. City Club is located in Centro Maya Mall on the south end of Playa Del Carmen.
Sam's Club. A popular Playa Del Carmen shopping option for expats. This is good for some food items, furniture, and TV's. Compare this with City Club. Sam's Club is on the 307 Highway just before you get to Centro Maya on the east side of the highway.
Home Depot. After years of having to go to Cancun to visit the Home Depot there, Playa Del Carmen has one now. To read more about the Playa Del Carmen Home Depot see our article here.
Boxito. this is the Mexican version of Home Depot. It can be harder to shop here though since many products are behind the counter. If you are renovating or building it is good to stop here and compare prices. There are two Boxito stores in Playa Del Carmen. The main one is on the 307 Highway and corner of 34th Street.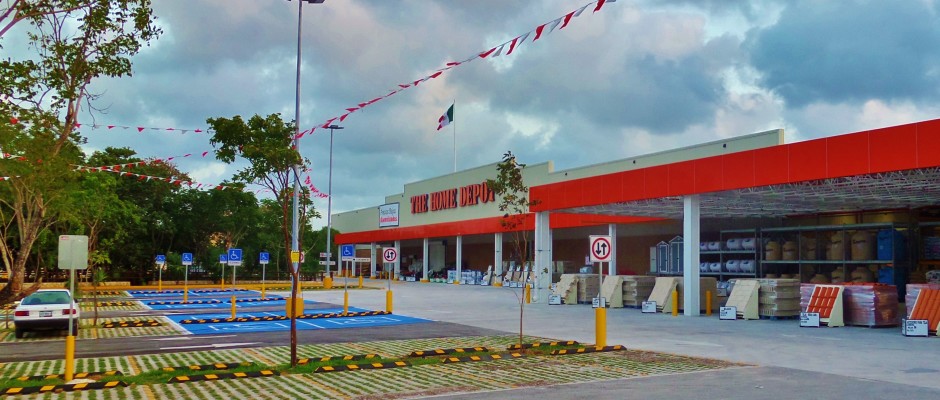 The Home Depot in Playa Del Carmen.
Other Random Things You Need to Shop for in Playa Del Carmen
Thank you for reading our Shopping in Playa Del Carmen Guide. Do you have comments or questions about shopping? Let us know below. We would love to hear from you.