There are two shopping malls in Playa Del Carmen. These are Plaza Las Americas and Centro Maya. Not too many foreign tourists go to these malls since there is so much shopping on 5th Avenue but they can provide another option for clothes and just some entertainment perhaps on a rainy day.
Shopping Malls in Playa Del Carmen
Malls in Mexico are not as big in size and popularity as the rest of North American but they are gaining. As Playa Del Carmen grows, so has the mall culture. Here is what you will find here for shopping and what is good to check out.
Plaza Las Americas Mall
This is the most popular and largest of the two malls (not to be confused with the same name mall in Cancun "Plaza Las Americas"). It is very popular for the local 20-30 year olds to go to on the weekend, especially Sundays when most people have off. The young crowd likes to shop, walk around to see friends and especially go to the movies.
Movie Theater in Plaza Las Americas Mall
The Cinepolis Movie Theater is one of the biggest draws here. People like to see movies in Mexico. The movies theaters are clean, inexpensive, air conditioned and many movies are in English (which can be nice because there are less people and not as many kids). For more about going to the movie theater in Playa Del Carmen check out our article.
Stores at Plaza Las Americas Mall
In the mall you can find Sears, Coppel, and a Chedraui grocery store as the anchors of the mall. There are more small stores then department stores. For smaller stores there are several athletic wear stores, shoe stores, GNC, small appliance and furniture stores, clothing stores, sunglasses, one pet store, Stern electronics store, and a hair salon. For clothes we like Lob. It is a mid-range priced clothing store for both men and women.
Other Attractions in this mall
There is one of the three casinos in Playa Del Carmen here. It is considered the best casino in Playa but that is not saying too much. It is called Winpot Casino.
There is one game court for kids or kids a heart. It has tons of video games, pool tables and other games.
The Krispy Kream donut store is a huge attraction. It is at a kiosk neat the movie theater.
Food Court
The food court consist of fast food joints, Mexican, Chinese, pizza and Cajun food. You can eat here for about 80-150 pesos per person. Most locals like it for a not so healthy treat meal on the weekend. Check out the juice place in the back right hand corner. You can get large fruit drinks that are pretty tasty there.
For snacks, check out the ice cream cart outside the mall on the south side by the entrance. They have some very Mexican flavors. On the north entrance outside they make churros. They are long fried dough like donuts and can be filled with crème, chocolate or several other mouth watering things.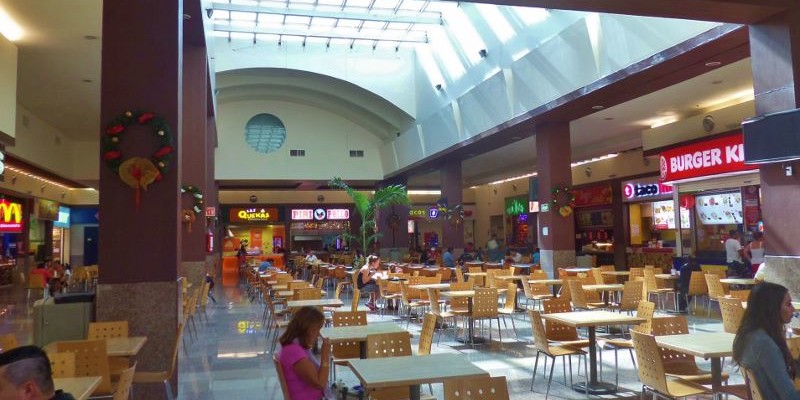 Parking at Plaza Las Americas Mall
Plaza Las Americas has underground parking which is nice when it is very hot and sunny. Your car does not heat up so much. You can enter from both sides of the mall and it is free parking. There is also outdoor parking. It gets more crowded on the north side and often there is a little traffic congestion there on the weekends.
Taxi or Bus to the mall?
A taxi from the center is supposed to be 35 pesos. They drop you at the south side unless you request another entrance. It is cheaper to get to this mall by taxi than Centro Maya. It is best not to ask how much because taxi drivers often charge more for this trip. Try to have exact change. For other zones and more taxi information check here.
The taxi stand in on the north side by the exit close to Chedraui grocery store. At night and when a movie lets out there can be a long line of about 30 people waiting. It does move pretty fast though and there are more taxies that service this mall then Centro Maya. Note: Taxi stands do have the right to charge more per fare then the base fare, but this is often left to interpretation. Normally it is 5 pesos but can be a little more.
It really is not worth taking the bus here from the center. It is slow and not nearly as comfortable as a cheap taxi. If you did want to only spend a few pesos then you just look for the bus that has "Plaza Las Americas" written on the windshield. These busses will be going north on 30th Avenue.
Where is Plaza Las Americas Mall?
Centro Maya Mall in Playa Del Carmen
This is the smaller of the two malls in Playa Del Carmen. It used to be more empty but has been filling up with stores as Playa grows.
There are two things here that children might like here at the Centro Maya Mall. There is a small train that drives up and down the mall. It is best for small children up to about age 10. For kids a little older there is a game zone area with video games and attractions. This can keep them busy for a while. It is near the movie theater.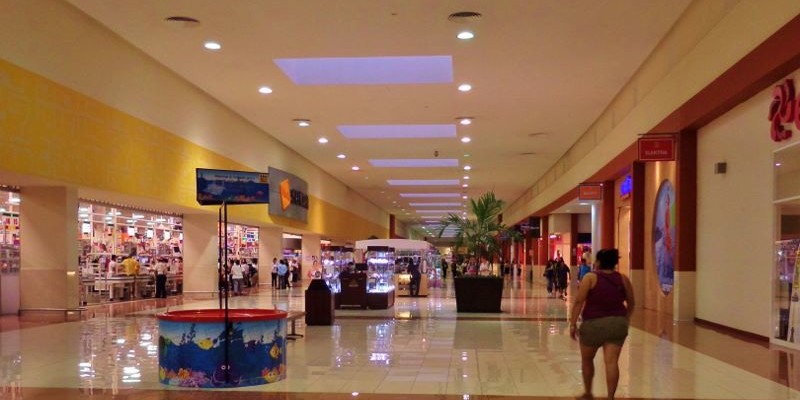 Cinemex Movie Theater at Centro Maya Mall
This theater is much like the other theater in Plaza Las Americas. The one difference is it does not allow you to pick your seats ahead of time. Movies can be in English here as well.
Stores at Centro Maya Mall
The large anchor stores are the Soriana grocery store, City Club (a membership store like Sam's Club) and Telcel (cell phone store) and a Coppel store (a Mexican department store that has cheaper items and encourages people to do payment plans).
The small stores include, shoe stores, two pet stores, fabric store, banks, mini blind store, beauty salon, and some small clothing stores. We do like Quarry Store for youthful style clothes. It is affordable and decent clothes option. It is like a Pull & Bear type store which is in Paseo Del Carmen shopping plaza on the south end of 5th Avenue.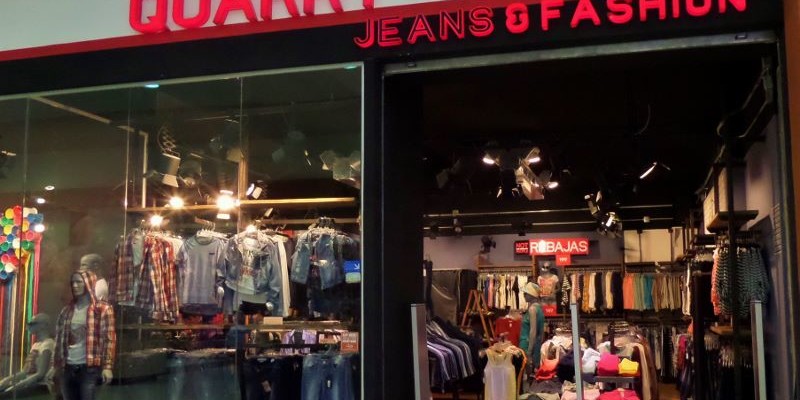 Another new store is Promoda. It is like an outlet store that has many brands and give you many options. The prices are not exactly outlet prices but you can have a nice range of options in one store.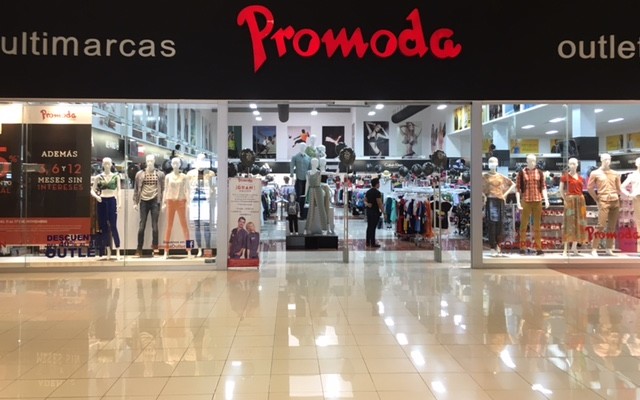 Food Options
This is more limited then the other mall. There is Chinese food, Hot Baking Company, burrito place and a few other options. Across the road in front of the mall are some small taco restaurants that can be good as well.
Taxi or Bus to Centro Maya Mall?
A taxi from the center is 50 pesos. For other zones to this mall check out the taxi rate charts here. Public busses and colectivos are easy to catch on 30th Avenue going south. Just look for "Centro Maya" written on the windshield. It is faster and easier to take a bus to Centro Maya then to Plaza Las Americas because they are more direct.
If it is raining, expect a delay in getting a taxi back to the center of Playa. The taxi stand is in the parking lot of the Mall near the exit by the Telcel store. There are not as many taxis here at the taxi stand at Plaza Las Americas Mall.
Where is Cento Maya Mall?

For other shopping plazas you check out Paseo Del Carmen or Quinta Alegria links here. Both are in the center of Playa off of 5th Avenue. For smaller store be sure to check out our shopping section.
Note: If you are a tourist and making some larger purchases at qualified stores you can be eligible to get a tax break! There are details in this article.
Tip: If you are going to do some shopping in November you might want to wait until Buen Fin, a commercial shopping holiday with many discounts.
Where do you like to shop in Playa Del Carmen? What stores do you like? Let us know in the comments below.