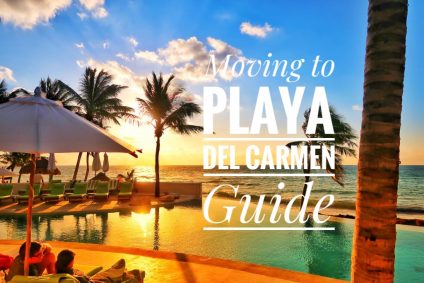 Moving to Playa Del Carmen, Mexico
So you are moving to Playa Del Carmen! You must have so many questions. One of which is what to pack and bring. There are several considerations to take into account here. One being how are you going to move your things to Mexico. We will consider this first since this effects on what you can bring with you.
Ways to Move to Mexico
There are three ways that people move to Playa Del Carmen. You will have to examine each one for your personal benefits.
Have items shipped from your home. This involves finding a shipping company and packing them in a shipping container. The pros of this method is the amount of things you can bring. This eliminates the hassle of trying to replace things and shop for all the things you need. The cons are it can be expensive and it can be a hassle to coordinate with immigration. You also have the chance of things getting broken in transport.
Driving you and your possessions to Mexico. The pros are that you can bring animals with you easily in the vehicle and you pack and transport your things hence reducing breakage. The cons are doing the long drive and how to deal with importing your vehicle into Mexico legally now that immigration laws have changed a little. You may end of paying a large tax for your vehicle or having it driven back out of Mexico.
Selling most everything you own and flying to Mexico with suitcases. The pros are the ease of moving without all the logistics of transportation. You can feel free and start your next adventurous stage of your life. You will also have money in your pocket to go shopping for things here and allow you to buy things that will hold up to the climate. The cons are the fact you will have to get rid of most of your earthy possessions and many people find it hard to replace everything in Mexico.
Moving Company for Shipping things to Mexico
If you have decided to move things on a cargo ship we have this company for you to look into. They leave from Panama City, Florida, Houston, Texas, and Tampa, Florida and arrive into Progresso, Yucatan in Mexico. The name is Linea Peninsular. You can see their website are: http://www.lineaships.com/en/linea-peninsular/
What do expats suggest to people moving to Playa Del Carmen?
Most people that have done the move already recommend that you bring less than more. A lot of things like furniture is made of soft woods that do not hold up in the climate and to termites. Since we live in a digital age, photos, documents, books, and music can all be digital. This saves what you need to bring and will also hold up better in the climate here. Things like flat screen TV's have come down in price and are nearly on par with prices in the US or Canada.
Remember, the more you acclimate to the local culture, the more you will save money and have less worries. What this means is, if you want all the luxuries of home in your new home Mexico, it is going to cost you. For example, if you bring a piano and your book collection, you are going to have to use air conditioning all the time and make sure your house does not have a moisture problem. It will be a constant battle against mother nature.
Learning to have different luxuries will make your life more easy in Mexico.
What should you move to Playa Del Carmen with?
After you decide what method of moving to Mexico you are going to have to choose what you will need or want to bring. Here is a list of things other people have found good to bring. This list is not in any specific order.
All your clothes you will use in Mexico.

Clothes are more expensive here and the quality is either Walmart or Bloomindales, so forget the middle range. Stock up on underwear, socks and other clothes before you come. Most women love to go to the US to buy underwear and bras because they cannot find what they want in Mexico, so keep that in mind.

Some of your art.

Art is personal and once you have it on the walls of your new place it will start to feel like home.

Your computers, cameras and chargers.

Not only are they good for digitalizing a lot of things, they are more expensive here. Having a webcam will make it easy to Skype with friends and family back home. If you are a graphic designer or need a good desktop computer with a lot of programs then bring it. Remember that any computers and software bought here will be in Spanish. You can switch some things over to English but you might have to get used to some things like a Spanish keyboard.

Good sandals!

You will use them a lot here. Since most floors are concrete you will wear them inside as well. Getting some with good arch support is key. Sketchers makes some good sandals that are comfortable and have arch support, you might want to check these out.

Several pairs of good sunglasses.

It is sunny all the time and having casual glasses and dresser glasses are good to have. Finding good quality glasses in Mexico is hard, so buy them when you have a chance.

Stock up on sheets and towels before moving.

More sheets because they are hard to find for good quality thread count sheets. If you like large fluffy towels the you might want to bring some. You can use these items to pack breakable things in your suit case. Most towels in Mexico are small and are made just to do the job, but not luxurious. It should be noted though when moving to Playa Del Carmen you have to deal with humidity and large towel take a long time to dry. Also think about mattress sizes. Most Mexican mattresses are not the same standard as the US.

Small kitchen appliances.

Most are much more expensive and good quality is hard to find. This included blenders, food processors, coffee makers etc. Amazon Mexico is a good start to shop, but you might find it easier to bring your favorites.

Small dust buster for cleaning furniture and area rugs.

You can buy this in Mexico but if you have space and have it already then bring it. Don't bring a vacuum cleaner since there is no such thing as wall to wall carpeting.

Your pots and pans.

It is hard to get quality and if you find it, they will be expensive. Good non stick frying pans are hard to come by. Many of the non-stick pans last about 6 months here. If you like baking, bring all your accessories also.

Kitchen utensils.

Your favorite spoons, spatulas and knives. These simple things can be hard to replace. There is this good store in Playa Del Carmen but they don't have everything.

This is one of the best stores in Playa to find things for your kitchen, but you still might not find everything here.

Fans to cool your place in Playa Del Carmen.

Being in a tropical climate means that you will most likely need air running all the time. To save on AC cost, fans are used like big box fans and ceiling fans. Box fans and fans on a stand can be bought here but are usually about 20%-35% more. Ceiling fans can be bought cheap here but since you will see them all the time and it is a constant feature, if you see one that is designed nicely, then bring it. Just make sure they move a lot of air. There is a big difference between fans and it can be frustrating having a fan on high and barely feeling it.

Lamp shades.

Lamps are not used much here and finding lamp shades is hard. REALLY hard. Maybe forget the lamps all together.

Designer fabrics, pillows or curtains.

There is a selection of materials here to make all the things you need and it is very affordable to have pillows and curtains custom made for you. The problem is finding a designer print or interesting material with the limited selection here. You can always take the filling out of pillows and bring them and refill them here. Bringing fabric here and having someone make curtains can be very affordable.

If you bring a DVD player, make sure it is multi regional.

DVDs are made to play in only one part of the world. This helps prevent piracy.

If you like old things like antiques, bring what you can.

If it will hold up in the climate then bring it because finding anything old is a challenge. Old things can be found in older cities but most items are expensive. Most good items have been purchased already to furnish colonial homes or haciendas in the Yucatan.

Cameras.

Video equipment, underwater and regular all for documenting your adventure. There are so many interesting things to see that you will want to take lots of photos. Cameras are in general cheaper outside of Mexico.

Spanish language lessons on DVD or downloaded.
We hope this list helps you prepare for moving to Playa Del Carmen. Since you are going to be living in Playa Del Carmen you are sure to have many other questions. See our Expats section on our website for tons of articles about living in Playa De Carmen.
One article you might like reading is our guide to Playa Del Carmen real estate. This article give you a nice overview of the market and places to look. Another article that is good to look at or have as a resource is our furniture buying guide. It helps you find where to buy home furnishings. We also have a great immigration lawyer recommendation for you if you are looking for help.
Below is our video for our readers to help get an overview of the market and get some tips on what to look for especially if you are moving to the area.
Is there anything you would add to this list for moving to Playa Del Carmen? Feel free to comment below so we can add to the list.