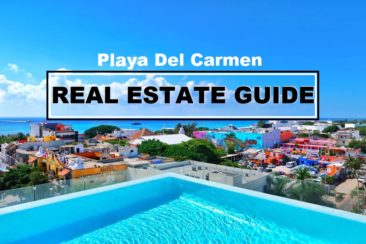 Playa Del Carmen Real Estate Guide 2023
Playa Del Carmen real estate is of interest to many that love the Riviera Maya and want to live or invest in the area. Right in the middle of the Riviera Maya, Playa Del Carmen offers residents beach access and a European/cosmopolitan feeling city. Playa (as the locals call it) has been growing a lot in the past few years, giving buyers many different options for investments and living. The market continues to evolve, so we like to keep our readers informed of what is going on so you can make wise decisions. Here is our guide to give you a pulse of the real estate market, tips for buying and hopefully lots of other helpful information.
Getting started with the process of buying
If this is your first time looking to buy in Playa Del Carmen, here is a little bit of information on getting started. You no doubt know a little about Playa Del Carmen and perhaps have come to visit several times before. If you are just starting the process to look at property and want to know a little more about the process in Mexico you can read more here.
Buying property in Mexico is different than most countries. That should not make it scary, it is just different. Understanding the process and the market is key to feeling comfortable about your purchase. So, let's get started with a lot of information that hopefully will be helpful to you and make you more comfortable.
We are going to start with some thought-provoking questions that we will discuss further below
What trends are there now with Playa Del Carmen real estate?
How do you know if you have a good deal with no MLS?
What are the biggest misconceptions about real estate in Playa Del Carmen?
Where should you buy in Playa Del Carmen?
What is going on in the Playa Del Carmen real estate market now?
Should you rent over buying?
What does the future look like for Playa Del Carmen?
Let's start by sharing this video we made that has a lot of information about the area.
If you want to contact one of these realtors in this video, here is an email: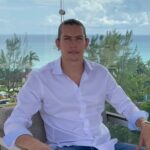 If you would like to contact Sebastian who was in this video, here is his email. He has been very helpful with assisting readers to find property that fits their needs. He specializes in the Playa Del Carmen and Tulum areas and is also very good with helping people find investment properties. It is helpful if you also add a phone number where you can be contacted.


Current trends in real estate in Playa Del Carmen
In the past few years, we have seen the real estate market continue to change. Some of these things are in the location, sizes, and how people rent their units. Here is a breakdown of these topics.
Areas with more development recently (Location location location)
The Playa Del Carmen real estate market for the most part continue to move northward. We have seen more condo units going up on 34th, 38th and up until CTM Avenue (aka 46th Street). Since this area is newer to be developed the scope of prices is higher and each building is trying to lure new buyers with more upscale features.
Other areas being developed are Playacar Phase 2. The backside still has space for more places, albeit at a slower pace than the downtown area.
Colosio (the area from the beach to 10th Avenue and from CTM Avenue to Paradisus Hotel area) is developing slowly. Along upper 5th Avenue that runs through Colosio you can see more condos being built.
Jumping over 30th Avenue we are starting to see condos being built. This is especially prevalent from 4th street to 40th Street. This is where people are finding the deals for studios at the most entry level prices for condos in the downtown of Playa. For a long time 30th Avenue was a dividing line between rentable and not, but this is changing.
Sizes of the condos in Playa Del Carmen
Prices are not getting cheaper, but the sizes are getting smaller. So, the actual per square meter is getting costlier. If you look at older condos built in the 90's or early 2000's the size is about 25-35% larger. Some of the newer condos are more or less hotel rooms. These units can rent fairly well but are not suited for long term rentals or living there. See our article about condos in Playa Del Carmen to see more trends.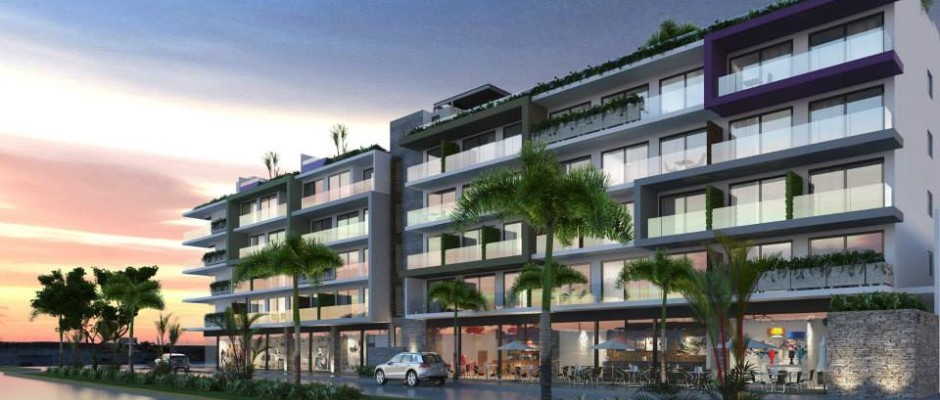 How investors are renting their condos
We have seen a changing trend in this area as well of Playa Del Carmen real estate. In the past, most people bought and either had a management company or just posted on Airbnb. Two new trends have emerged lately. One is the all-in-one purchase of a condo and in house management. Usually, the fees are higher but sometimes the return is good, and the frustration is lower. The second thing we have noticed is the cross-platform marketing of condos. With a tighter vacation rental market, people have been looking to promote their properties more. This mean advertising in multiple languages (especially since the national market is up) and on multiple websites. See our article on 15 tips to best prepare your property for rental.
Some people that rely on just one platform have seen more competition and lower returns lately. With more competition, it is always the more creative and more savvy that get ahead. It also means having a good realtor is more important than ever.
How do you buy real estate in Playa Del Carmen with no MLS?
MLS stands for multiple listing service. In many countries the standard is to have central websites where you can look at most of the properties. With MLS you can even narrow it down to the number of bedrooms and baths. In Mexico there is no such service. This means that it is by chance what new condo building's website you come across or what billboard you see advertising property. This makes it hard to know all the possibilities to look at. This is where a good real estate agent come into play. This is why we started a list of real estate agents for you. The ones that make our list have good reputations and provide good services including informing clients about all the good options plus more.
What about comparison prices, though? Without a detailed list of properties and prices it can be hard to compare. It can also be hard to know what prices good deals are and what is not. More and more condos in Playa Del Carmen are priced fairly similarly, so that helps. It does take a lot of research looking at condos and coming up with comparisons on your own to know what a good deal for you is.
Here are some tips to compare new condos in Playa Del Carmen
Do the math or ask for the cost per square meter. This will give you an idea what your money is buying space wise.
Know what is included. Are all appliances included? What is the quality of the appliances.
Check energy cost! Are the appliances well rated? Are led lights used? Is there gas for hot water and cooking? Energy cost eat up return on investment costing you hundreds of dollars a month.
What is the quality of the finishes? Faucets, sinks, door hardware etc.
Building amenities. Is there a rooftop pool? Public space or other features that add to the buildings appeal.
View? This can be tricky because not all views remain the same. Think about future construction that might block your view. Even existing buildings now are allowed to build up a story or two.
Use this research tool or hire a realtor that uses this tool so you can compare rents and a lot of other data.
Proximity to the beach, stores, 5th Avenue etc.
Parking. Many new condo buildings offer some parking underground. But not all units have it included.
Storage. If you are going to be using your condo part of the year and renting it out, is there a storage area you can use? This can come in very handy.
Building design. Many rental photos feature the pool and outside of the building. A good design can help you rent it a lot easier. Boring buildings blend in and extreme design can get old fast and become dated in a few years. So, look for something in between that is classic yet different.
Misconceptions about Playa Del Carmen Real Estate
A lot of people have dreams of living near the beach in Mexico. However, there are some realities you should know about. We don't want to put a damper on your dreams just guide you to the reality of living in Playa Del Carmen. Here is a list of some of the misconceptions:
Mexico is a cheap place to buy.
The US dollar is strong, my buying power will go further.
I am going to buy a house on the beach.
The property is only 10 minutes to the beach!
I thought that closets and the kitchen came with the place.
You can buy a fixer upper in Playa Del Carmen.
I cannot buy because I am a foreigner.
I should trust a realtor that is from my country.
Getting a loan is just like your home country.
All of these topics come up with people looking to buy in Playa Del Carmen. To read a further explanation of these misconceptions in real estate of Playa Del Carmen see our article here.
Where is a good place to buy in Playa Del Carmen?
Most people have one of these three ideas of where they want to purchase. These are:
A place overlooking the ocean or oceanfront.
An investment property you can use for a rental, so you are looking at the center of Playa Del Carmen or a few fringe neighborhoods.
A quiet neighborhood that perhaps you can buy something for yourself and family. You want to live in Playa but do not want to live in the center of the action.
Lets now examine each one of these areas to see what options you have.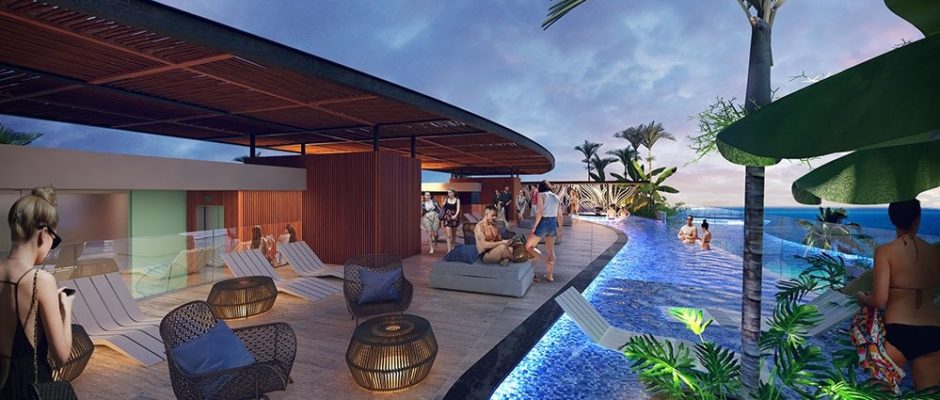 Playa Del Carmen Real Estate Beachfront
Many dream of waking up on the beach, but the reality is there is only a limited amount of beachfront in the world. What is beachfront in Playa Del Carmen is limited because of hotels and businesses. There are only a few homes available with oceanfront and some condos. What is available is a premium, so be prepared to spend. To read more about beachfront properties in Playa Del Carmen and the Riviera Maya, see our article here.
Some people after shopping the real estate market decide to take a view over a beachfront place. This can offer you a nice view with less tourists and less cost.
Where are the beachfront houses in Playa?
If you do want to purchase a home, you will need to focus on Playacar Phase 1. This neighborhood is a gated community that has upscale beachfront homes. You can read more about Playacar Phase 1 complete with price ranges and more details here in our article.
Where are the beachfront and ocean view condos in Playa?
If you are looking for a condo, you will need to focus more on the north end of Playa from about 28th Street to 46th Street (AKA CTM Avenue). Most of the beach from Juarez Avenue to 26th Street is lined with small hotels or larger hotels and a few condo hotels. Of course, you might settle for an ocean view. Usually, the first few streets have ocean views from the upper levels. However, most of the downtown has some view from the roof as long as your building is 4 or more stories. Some buildings have shared rooftop pools and decks that will give you that view you want without the price tag.
A good example of a condo in Playa Del Carmen with a good view that is not oceanfront is Marea 34. Even though this building is located several blocks from the ocean, the view is nice. You can see a whole video we made about this condo building in our article link above.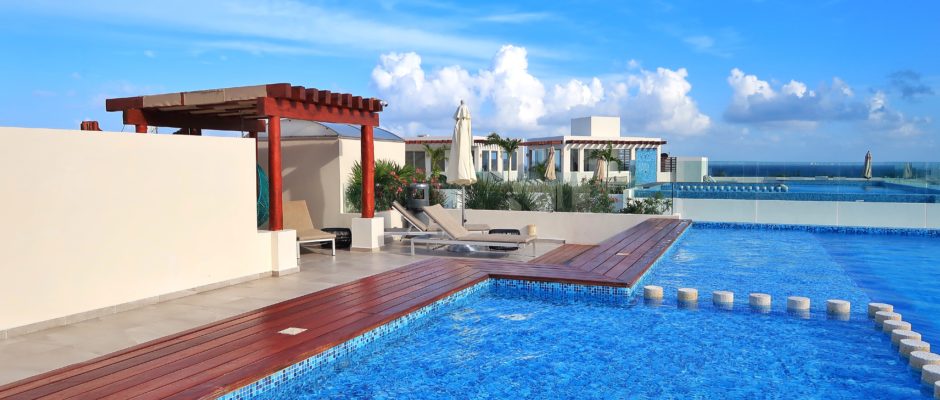 Where are the good Playa Del Carmen real estate rentals?
Many people look for a property they can rent out and perhaps visit once or twice a year and possibly move into in the future. Ideally some of the most rentable properties are between 8th Street and 46th Street and the beach to 25th Avenue. Then there are a few fringe areas like Grand Coral and Playacar to mention some. The previous two are upscale neighborhoods on the south and north end of Playa Del Carmen.
Usually, one of the first questions when looking for a rental property is "What will be my ROI or return on investment". This is important to ask so you make a wise investment. It will make a difference where your property is. There are certainly more popular areas for people to live and rent for vacations. We created an interactive map below that should help you.
Should your rental be short or long term?
Most everyone wants to do vacation rentals. This means a few days to a week or maybe even a month rental. You certainly can get a higher rate for short term compared to a long-term rental. As more properties have come online, we have seen a new trend in rentals. Some are now looking at renting out their rental for long term contracts. The reason for this is because outside of the super high seasons of Christmas/New Years and Easter there are lower rates and more availability of many places.
Longer term rentals are actually hard to find for renters in Playa because so many people want that short rental money. Most realtors focus on renting out vacation units because the commissions are higher. What we are seeing is people returning to long term rentals to guarantee a flow of income, rather than the ups and downs of the current market.
Important tips for buying a Playa Del Carmen investment property
Below are some things to take into consideration when looking for an investment property.
It is nice realtors give you an estimated ROI (return on investment). Many in Playa will say 8-13% return. This certainly is more than most stocks and other investments. However, this will be determined by how good of a management you have. We have a good article on ROI in Playa Del Carmen here. For more on investing in Playa Del Carmen see our full article here.
Another great tip to see how the rental market is doing is by taking a look at the Airbnb website. Did you know they give suggested prices to owners as to how much daily they should charge? They can give you an estimate on how much a similar condo rents for at any time of the year and they give you predictions based on demand. This is not totally accurate, but it can give you one of the best estimates around.
Will your property appreciate much in value? We have an article here about that.
There are many buildings in the process of being built. Some of these offer pre-sale prices. Can this be a good investment to buy before it is done and save money? You can read more about buying pre-sale in Playa here.
See our article with financing options for real estate in Mexico.
Residential areas of Playa Del Carmen for living
If you are moving to Playa Del Carmen you have several questions to ask yourself.
Do I want to live where I don't need a car?
How close do I want to be to services like the grocery store.
What is my budget?
After you answer these questions yourself, see what areas we suggest you look at below. Be sure to see the interactive map below this discussion.
Areas of Playa Del Carmen you do not need a car
One of the reasons why people like Playa Del Carmen is because so much is walkable in the downtown, and you can get by without a car or maybe just a scooter. If you are going to be in Playa for a few months a year, want a car free life, or want a rental property for tourist, we suggest looking in the downtown of Playa Del Carmen but more specifically from Juarez Avenue to 46th Street (AKA CTM Avenue) and from the beach to 40th Avenue. These boarders will give you a good area to look at with a lot of options, mainly condos.
In Playacar Phase 1 and 2 it is possible to live without a car, but life will be full of taxi rides to the supermarket and getting into the center of Playa Del Carmen. Playacar is a nice residential neighborhood on the south end of Playa but for almost all services you will need to leave the gated community.
What areas are good to live in that are close to services?
If you are going to be living in Playa you don't want to spend a lot of time driving everywhere. The rather off reddish violet color on the map below shows areas near most of the supermarkets and areas that have good road access and transportation. There are other supermarkets in the largest blue box on the map. This large blue area is more of a budget area for purchasing a home and mostly Mexican locals with a few expats. If you are looking for the lower end of the budget, then this area might interest you. For more on areas on of certain budgets, see our next section.
If you are looking more long term for an investment, Playa Del Carmen is moving north and the area from 38th to 46th from the beach to 30th Avenue will see an increase in services (restaurants, laundry, food shops) in the next few years, in our opinion.
Playa Del Carmen real estate based on budget
Let's face it, everyone has a budget, and you can only spend so much. Budget is even more important in Mexico because almost everyone is buying with cash. Yes, Mexico is mostly a cash market. This is a good and a bad thing. The good thing is that most everything is paid for, and no looming bubble is here. The bad news is that you are limited to what you have. Loans in Mexico are harder to get and often with a high interest rate. There are however other ways to buy with 401k and investment accounts. Sebastian of our recommended real estate agents is a good one to ask about this.
Prices in Playa are always going to be more by the ocean and will descend in price going back from the beach. Playa Del Carmen real estate prices are also affected by other factors. For example, there are many buildings with cuartos for rent. This are obscure things that is unique to Playa. See our article here on why cuartos affect the price of real estate in Playa Del Carmen. the population of Playa Del Carmen has more than doubled from 2010 to 2020. This means a lot more people looking and still the same amount of space available for construction.
Here are three price ranges and what areas you might want to look at.
Budget Housing in Playa Del Carmen
If you want to keep your price tag under $120,000 USD, you will most likely have to look on the other side of the highway (west side). The 307 Highway is a big divider in price ranges in Playa. It is near impossible to find any condos under $100,000 USD below the highway. If you do find any, they usually are very small, or older and not in the best shape. Usually any of the cheaper condos in the center are mainly meant for short term rental investment condos.
Beyond the highway there are places from about $50,000USD and up. Many of these are in fraccionamientos (planned communities). Here you will find most prices in pesos which means the prices stay more level without the rise and fall in exchange prices. These are a whole other type of real estate and if you are interested in these, you should take some time to understand the details of them. Here is an article where we discuss what it is like to buy one of these units and the special things you need to consider.
If you are interested in one of these areas, you might need to go directly to their sales offices at the entrances. Most fraccionamientos have their own sales team and most are Spanish speaking, since these types of houses and townhouses are sold to Mexicans.
Midrange Housing Options
If you have between $160,000-let's say $300,000, the downtown can afford you a nice condo. The more expensive condos will be on the north end of the center. The Coco Beach section now ranges from about $190,000 and up. In Playacar, you can find condos in this range and a few houses in Phase 2 on the back side.
There are also houses in this range. These tend to be in developments not in the downtown or near the beach but rather gated communities. Some of them are El Cielo, Bamboo and Bali to name a few.
If you are looking at the $200,000-$300,000 range, you will have a lot of options to look at.
High-end Real Estate in Playa Del Carmen
If you are looking to invest $300,000-$2,000,000 in a nice property you should focus on Playacar Phase 1 or 2, and in Grand Coral where you can find condos lined with golf courses. Of course, for $300,000 and up you can afford on the north end of Playa Del Carmen center and many penthouses in the downtown.
Land and lots for sale in Playa Del Carmen
There are three types of land basically in Playa Del Carmen real estate.
Land in the downtown. This will most likely become a multi story building at some point because the cost of the land is priced with the potential for what you can build on it. See our article on how Playa Del Carmen is growing up with the size and scale of buildings in the downtown.
Land in outlying neighborhoods where you can build a stand alone house. See our article about building a house in Playa Del Carmen.
Lots in a planned development.
Where to look for land for sale in Playa Del Carmen
If you plan on buying in the center of Playa land, we recommend you research fully and know the process for building approvals. It can be a lot of work, but it can pay off if you build a multi-unit condo building.
If you are looking for land just to build a house, you might want to look at the area that is in front of Centro Maya just west of the highway. This area is a residential area with lots available and you will not be in a planned community where you need to build a cookie cutter home. This area also is pretty central and in a good area. The streets are just getting paved in this area and more services are being added.
If you want a building lot in a community there are several, we will recommend to you. Ciudad Mayakoba is one and El Cielo, both of these are on the north end of Playa Del Carmen and popular with people looking to invest in building lots.
What about renting before buying or just renting?
Some people wonder if you should just rent or rent for a few years and then buy. This certainly gives you a good feel of what an area is like and will help you make a good decision, but will this make financial sense? We break it down into numbers if long term renting is better than buying in Playa in this article. Most expats will tell you that if you want to move to Playa Del Carmen it is good to get to know an area first by renting. However, others that are looking to invest usually find it better to buy a place based on location and start owning something.
If you are interested in renting in Playa Del Carmen or are an investor and wonder what it is like to deal with renters, we recommend you read our article on renting in Playa Del Carmen.
What is the Playa Del Carmen real estate market like now?
You might say that all this information is great, but what is the real estate market doing now in Playa Del Carmen? Will my investment now be a good move or will prices fluctuate in the near future?
There is no doubt that Playa is changing and growing. Playa Del Carmen has continued to grow over the last decade and continues to grow. More foreigners have been discovering Playa and younger people have been moving in that are not of retirement age. There is also a lot of Mexicans looking to invest in the Riviera Maya. We call this the funnel effect. Investment coming from within Mexico and abroad is funneling money into the real estate market.
In the past few years, we have seen condos in Playa Del Carmen offer more services and building have gotten a story taller. Height restrictions were change allowing another level to be added. This has made small lots and houses more valuable and feasible for small condo buildings to be built. We expect this trend to continue and more infill in the downtown of Playa Del Carmen.
Construction is booming in Playa Del Carmen. Everywhere you go you see a new building going up. The market has attracted local builders and developers from other parts of Mexico as well as international ones. Because there are so many new developers, it is important to have a good realtor that knows the reputations of the developers and can help guide you through the process.
The market is also a little tighter now than in past years. There are more options and investment properties need to be chosen a little more carefully to ensure your property is going to be what the majority of the rental market is looking for.
Investing in Tulum
If you are looking to invest in Playa Del Carmen, you should also see our article and lengthy video about the Tulum real estate market. These two real estate markets affect each other, and more and more people are looking to diversify their investment portfolios.
Do you have questions or comments about Playa Del Carmen real estate? Feel free to comment below or send us an email to us. You can find the contact us tab above under "About".