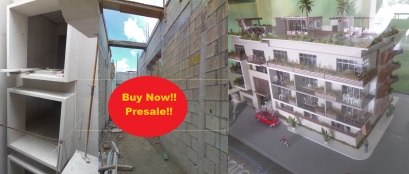 Buying Presale Real Estate in Playa Del Carmen
Real estate in Playa Del Carmen can be a new experience for many people. Most property on the market is a condo and things can be sold presale. What is presale and should you buy it?
Presale– the practice of arranging a sale of property before it is finished or available.
Buying real estate in another country can be daunting at first to many people. Even though it is hard, the lure of living near the ocean and in a Caribbean climate often keeps pulling people in the direction of coming to Playa Del Carmen. It may be for a retirement investment or full time living arrangement. In any case you want to make sure that such a large investment is a solid decision with no regrets.
The good news is that Mexico has been on a path to modernizing legal procedures for real estate. Procedures are more uniform than they have ever been, especially in Playa Del Carmen where property changes hands often and most buildings are new, transactions are pretty straight forward.
We wanted to write this article to examine if buying presale was a good idea and if there are things that you should examine first before making the investment.
Note: As with all of our real estate articles, we put a disclaimer that we are not a real estate company and only provide this independent information to our valuable readers. We do however refer people to recommended realtors, ones we know will give good services to our readers.
Why do developers offer presale?
There are basically two reasons why developers offer presale.
The first being that the developer needs the money to finish the project. This may seem illogical to most people's normal ideas of how to budget for things. Who would start a building and know they do not have the money to finish it? Actually a lot of developers. From one standpoint, this is smart because when you have a good plan and building project you are betting on it to sell. Lets say you have a plan to build a 20 unit building and it cost 20 million dollars to build. You have 10 million dollars to start the project. You are going to sell the condos for 2 million dollars each. If you presell 5 condos you will make 10 million dollars and now have 20 million in total to finish the building. When you sell the other 15 units and take out the 10 million you invested, you will have a profit of 20 million dollars. The math is a little oversimplified, but it shows you why some developers need presales. The problem is when they have bet too much on the building and it starts to run over budget and units do not sell. It is possible to get to the point where they have no cash to continue but they also know they cannot make money if they do not finish the building. Then it becomes a rather problematic issue.
The second reason developers offer presale (and most common) is to offer people a change to select options on finishes and purchase the best units first. It can work in everyone's favor if people buy and are able to be involved in the decision making process of finishing touches. The owners are even more happy with a slightly customized unit and the developer does not have to wait as long after completion to sell the units and then be able to move on to the next project.
Who to trust when buying real estate?
It is common to have more trust with people with commonalities like from the same area, country , age, or same first language. We mention this because people will often gravitate toward dealing with a developer or real estate professional from the same country. There have been development companies in Playa Del Carmen from Canada, United States and Mexico all doing business here. There are bad experiences with all backgrounds as well as good ones. The fact is, it should not matter where they are from, but rather their understanding of local laws, climate, construction and their reputation. Developers from all three of the aforementioned countries should be treat equally in your decision making process.
Where to take caution buying presale
Here is a list of circumstances where you should take into consideration when looking at presale real estate. (Just looking at the photo on the right reminds us that not everything gets built as advertised.)
If it is a new developer to the area or they do not have a long standing reputation. It is important to know if they have a good reputation for good quality construction, on time delivery, proper accounts for purchaser's deposits, and proper legal paperwork.
It is the first big building in an area or is built in an area with mangrove, it is important to make sure it has been properly built. In the near future or future there can be serious structural problems. This however might be hard to independently check.
If you are on a tight time frame for when you need to move it should be noted that even good developers can run behind in the delivery date because of circumstances out of their control. If you need to move by July because you sold your home and the new condo is supposed to be ready in July, buying presale can present problems in this area.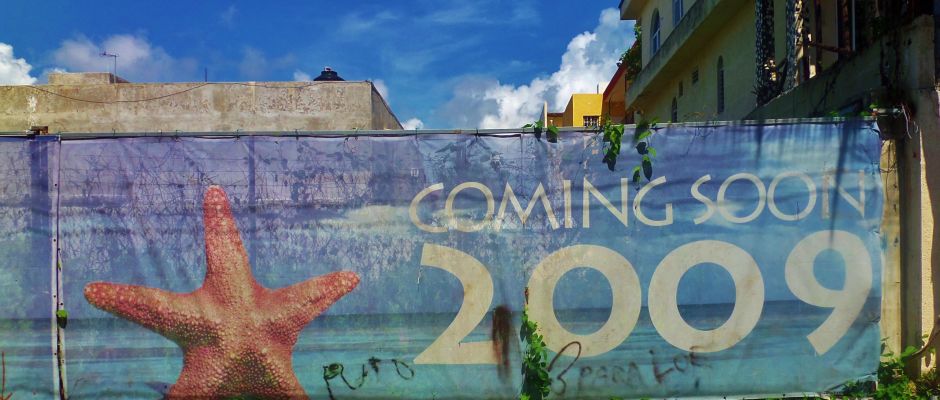 Benefits of buying presale real estate in Playa Del Carmen
Here is a list of things where you can benefit from buying presale in Playa Del Carmen.
You get first choice of condos when the presale starts. There is only going to be one location of the building and that condo you like because of the morning light just might not be for sale by the time the building it done and ready for regular sale.
You possibly can get incentives for buying upfront and may just save some money off the sales price.
You can work with the developer to see if you can change some of the small details. There may be a kitchen island that you want wider or moved a little. This can all be possibly done before it is built. Even small changes after it is finished can mean double the price and no one wants remodeling noise in a new building they just moved into.
You can choose finishing touches and colors all without additional charges. If you want granite countertops instead of what is offered a developer can change it. If it is less expensive cost, you may be able to choose a more expensive faucet or something else.
Sometimes there is limited storage or other special features of the building that are first come first serve basis. You might even get to choose which parking spot you want.
If you can visualize what the finished product is going to be like, then you are going to be able to make a decision faster then those who need to see it finished to make their minds up. Of course a good developer will have photos, videos and models for you to look at.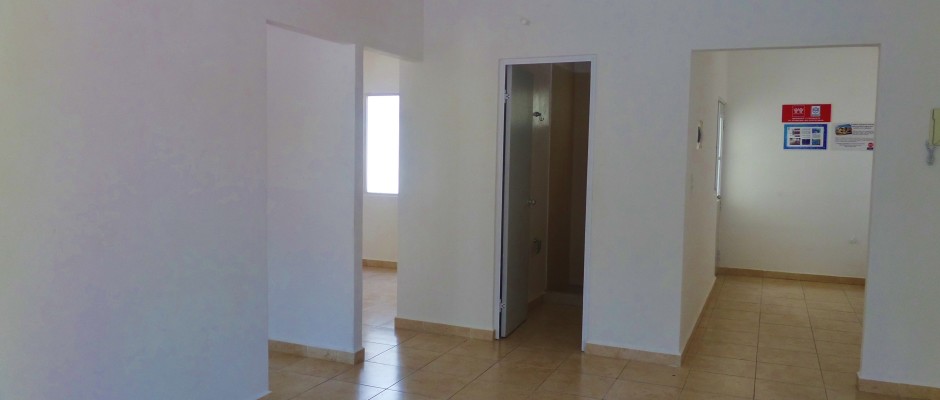 Special circumstances of buying presale
Most real estate transactions in Playa Del Carmen are straightforward. Unlike some areas of Mexico, there are more clear titles and much less paper and history to deal with in transferring a property to a new owner. Most of Playa Del Carmen is 15 years old or younger so it is easy to get a clear look at who owns what and have the taxes been paid.
In general we do not recommend the need for a lawyer in transactions of real estate. Why? In Mexico there is the government approved position of "notarios". This is not a "notary" like the name might suggest. They oversee all real estate transactions and are held accountable for their actions. There are only so many notaries and each one has much experience in researching the property and legal procedures.
Usually a lawyer does the exact same thing as the notario and your real estate agent. It just makes people feel better about the purchase normally and adds to the cost of purchasing a property. Your real estate agent will also be there to help you with the process. Having an experienced professional is very helpful in this aspect. However with presale we DO recommend a lawyer for these scenarios if you are not comfortable with the answers you get from the developer or real estate person.
Lets say you are supposed to take possession in July but it is not ready, do you have an agreement with the developer for housing until you are able to move in? or if you were going to be renting it, do you have an agreement to compensate you for not being able to rent your unit yet?
You were going to rent your building but after paying your last payment the buildings public areas are not finished and it is not rentable. What type of agreement can you have in your legal paperwork?
How do you guarantee that follow up work will be done on the building and what is the responsibility of the developer after the property is officially done?
What if there are significant changes to the building during construction? What are the conditions for a return of deposit?
As you can see there are many issues that arise when a building is not completed. Many of these will be addressed by a quality developer. Having a lawyer in some circumstances that will legally document everything for you can come in handy.
In conclusion
Buying presale can reward you a discount off the price and gives you options that you cannot get after the building is done. There are considerations however for each situation and transaction. We hope this article highlights that for you if you have been looking into the possibility of a presale property.
Do you have questions about real estate in Playa Del Carmen?
As always, if you have a question about real estate or related question, feel free to contact us via the contact tab. We love helping people get to know Playa Del Carmen more and become neighbors. We also take the time to investigate new areas projects and report back to you on them.
For further reading about Playa Del Carmen real estate see our complete guide here! We also have a comprehensive guide and video to the Tulum real estate market. If you are new to the real estate market in Mexico, we have a good article with videos that explain the buying process in Mexico.
Our video about real estate in Playa Del Carmen
For a good overview of the real estate market, we put together this video. It contains a lot of information and covers topics like what areas are like, what investors look for, and what future projects will impact the real estate market here. We hope you find it helpful.