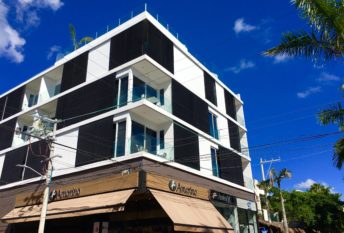 12 Tips for Investing in Playa Del Carmen
Investing in Playa Del Carmen is hot otherwise there would not be so much development going on. That however does not mean that all investments are going to be great for you. A lot of readers have asked questions about investing and buying real estate in the area and we want to continue to offer helpful advice. We want people to make good decisions and avoid some of the pitfalls that others make. With the market tightening and becoming more competitive, it is important to invest in a smart way.
We don't sell real estate so we are free to give you our honest opinions and recommendations. We hope you find this information helpful. If you have any questions of comments you can post them below or send us an email. We are always trying to help our readers and those that might be moving to the area to be our neighbors and future friends.
First our video about real estate in Playa Del Carmen
We put together this video for our readers to show you areas, what condos are like and get information from experts. We hope this information is helpful for you.
1. Location location location, picking the best place to invest in
Location is what most people in real estate say is the most important factor and that is true here as well. Knowing what areas of Playa Del Carmen are good to invest in or the Riviera Maya, is one of the first steps to making a good investment.
There is a lot of new development happening in Playa. Some of it is in prime rental areas and some is in developing neighborhoods. If you are looking at something in a fringe neighborhood of the downtown, ask yourself, is this mainly for me to live in or am I prepared to wait until the neighborhood develops around me to boost my investment?
If you are looking to invest and use it as a rental, location matters a lot in Playa Del Carmen and the Riviera Maya. We try to help you out with these helpful articles on real estate trends.
2. New or older condo building?
Playa Del Carmen is a relatively new city with most buildings being less than 10 years old. So when we talk about older condos and newer condos we mainly refer to "newer" as things built in the past 5 years. Everything else is older. Here are some factors to think about when investing in Playa Del Carmen condos or homes.
What are some of the main differences between older condos and newer condos?
Style, size, rentability, amenities, and long term maintenance are all key things to consider between older and newer condo buildings.
When you look at buildings in Playa you can see the design aspect of condos from the 90's compared to today is different. Older condos tend to look a little more "Mexican". There are red tile floors and roofs and more usage of palapa roofs for balconies and rooftop spaces. This can be just a matter of opinion what you like but it does effect you if you are going to be renting it out.
As Playa Del Carmen gets more infill, condos have not lowered in price but rather space. Newer condos in general have gotten smaller. This trend has even become evident in hotel rooms in Playa. If price per square meter is important to you, you will almost always get more for your purchase in an older unit. However you should take several factors into account:
If you are going to be renting your unit, newer condos almost always rent better. People prefer a stylish place to stay, they like the amenities of a newer building, and newer building show better in photos.
If you are going to be selling your unit at a later time, most people looking in Playa are looking for a newer style unit. Even doing a major renovation in your condo cannot change the outside and common areas. Most people that have done major renovations get people to come look at it but does not result in a sale.
For people looking to live in the unit and not rent it out, you can get some lower priced older condos. Just remember though that if the overall value of the condos has gone down, the quality of renters next door also will. Like many buildings in Playa, there is a mix of locals, tourists and expats. Some older buildings that don't rent well on the tourist market go to locals. This can be fine but can also be an issue for living there if people are loud or not clean.
Amenities at condo buildings in Playa Del Carmen
In general older condo buildings in Playa Del Carmen have fewer amenities then newer buildings. Here are a few differences in general you might notice when looking to invest in Playa Del Carmen.
Older buildings often do not have parking. Most new condo buildings will have some underground parking.
Newer units tend to have a storage area available.
Newer condo buildings have a better water system. This can be a combined water tank for use, filtration and better pumping systems.
Older condos that have pools are often ground level and might be larger than newer buildings. Most newer condo buildings have rooftop pools.
Larger condo buildings often offer more amenities. Things like front desk, gyms, rooftop bars, and even kids playroom are being added. Most of the time this makes it more attractive for renters.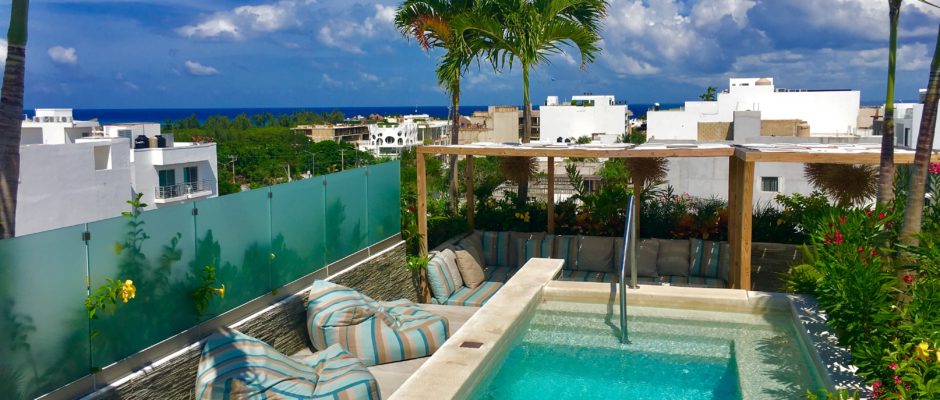 Maintenance of older and newer condos
Older units almost always have lower maintenance fees. These can be an attractive purchase point. Often though the return on rent for older units is lower as well and the proportion is better with newer units.
Buildings in Playa face a lot of harsh environmental factors. The strong sun and salt air take a toll on rebar, electrical, and exterior aspects of a building. This means that larger renovations and building maintenance will be needed with older buildings. It is important to know what is covered by the condo association and what is left up to the owners. Sometimes only common space things are covered by the association and things like AC units, water systems, electrical and inside the unit maintenance is all up to you.
Most new condos will have a one year warranty for things like leaks, cracks, and minor issues as the building starts it's life. Of course buying from a reputable developer will deliver a better product for you and hopefully issue free.
No matter if you invest in an older unit or newer one, you most likely will hire a management company if one is not included. It is important to discuss what is included and what happens when there is a major repair to be made. That is a little of what we will discuss next.
3. Do it alone or buying with management services?
Websites like Airbnb and VRBO have made it simple for the average person to turn a condo into a rental business. Many people have done well with this but as the market tightens and things change over time, we have heard more stories of people not doing as well. Not all condos are created equal and certainly not all management is the same quality. See our article about 15 tips to get better returns for your rental property.
One of the most common questions is "Where can I find a good property manager?" A good property management company or person is hard to come by in Playa and the better ones are often too busy to take on new properties. A good realtor is going to have those contacts for you. You will want a realtor that is not just going to make the sale, they are going to work for you. That is why we have recommended relators on our website.
If you buy an individual property and are working on renting it out and working with a property manger, you are going to have to work more for your investment and be more reliant on the market prices of Airbnb and other sites like that.
Some condos and developments offer inhouse services that package everything together. This can cost more overall but if it is set up to market the building on different platforms, your overall return might be better. But of course, not all properties that come with management are created equal and it is important to work with a realtor that knows the differences. A good article that we have on our site is from Sebastian who wrote about ROI in Playa Del Carmen.
4. Investing to retire later?
Almost everyone has the same idea, buy now, rent it out and retire in the condo in a few years. The major mistake here is that where the best rental market is, it is not necessarily where you will want to live. Most people that move to Playa do not choose the beach, 5th Avenue or right in the middle of the action. These however are the better places to have a vacation rental. So it is better to decide if:
To pick a place you like and accept less rentals.
Buy a condo for rentals now and plan on selling and buying a place for you when you are ready.
Or buy a good rental and live more in the center of Playa.
Tip: Be sure to watch our video embedded in this article about an online tool that is very helpful for evaluating properties.
5. Studio, one bedroom, two or more? What condos are best for you?
What places rent the best? In general one bedrooms rent the most in the area since couples are the most frequent visitors to the area. There are not too many studios available on the market but the ones that are available are the cheapest entry level condos. and rent for the lower amounts.
Some condos are set up as "lock off units" meaning you can have a two bedroom and lock off one and rent it as a one bedroom or two bedroom. This option allows you more opportunity to rent it especially if one bedroom can be rented as a studio as well with it's own bathroom.
You have to spend money to make money
Besides the size of the condo there are important factors to consider. Often the ratio of amount spent is directly related to return. Since visitors are mainly on holiday in the Riviera Maya people will spend to get a good place.
We will say that in our observations the higher end condos have a higher yield return on them. In most buildings the penthouses are usually rented with first floor units that are small the last ones to be rented. Also the nicer the unit and higher rental price, you often get better quality renters with less issues. Here is a little basic illustration to show the point.
Person A buys a condo for $100,000 USD. They rent it for $70 USD a night each.
Person B buys one condo for $200,000 USD and it rents for $250 USD a night.
On paper Person A will have lower maintenance cost compared to Person B. However when you factor in the $200,000 unit probably has a good view and more amenities, it will be more attractive and rent more often. Person B will be making a higher return on investment because he spent more in the beginning.
This is just a basic illustration to show that spending more can make you more and it is usualy better to buy a nicer unit that has something unique about it.
6. Decorating your investment in Playa Del Carmen
Since most people moving to Playa Del Carmen or just setting up an investment in Playa Del Carmen will need to furnish their units, here are some tips.
Don't over Mexicanize your units. It is true people want to come to Mexico because it is special but hanging mariachi hats on the wall and making your place look like a cantina is not going to rent your place much.
If you don't have style, hire someone to do it for you. Good design will help you rent your unit a lot more. Also someone familiar with local products and things that are durable will help keep cost lower over the long run.
It is easy to accept a design package from the developer. It makes it easy if you do not have time or the ability to design your interior well. However this will men that most units will look the same and your place will not stand out if you are renting it independently.
Take your time. Look around and see what are good prices. There is no one stop shopping location in Playa for everything. There are some great craftspeople that make furniture and local made things that can make great décor. Doing it yourself will almost always save you over a design package.
Have practical things in your unit that guest will like. Watercoolers for drinking water, beach towels, cable tv with English channels, and good Wifi are just some things to mention here.
See our guide on where to buy furniture in Playa Del Carmen.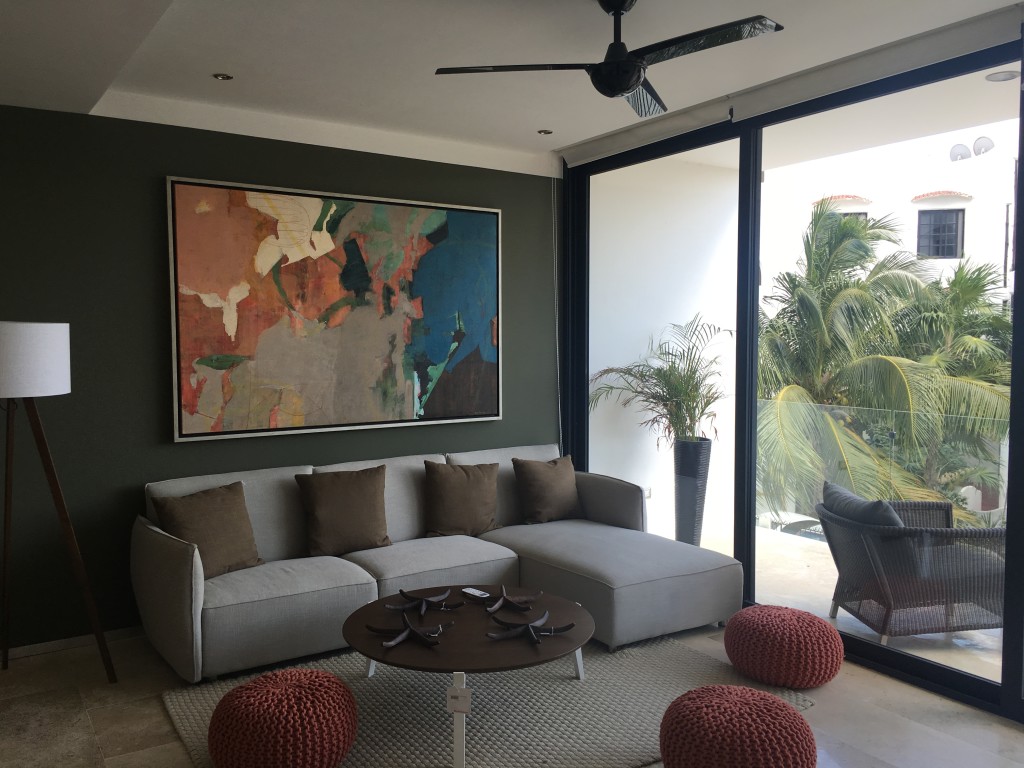 7. Who makes the best investments?
People that know the area and know what trends are currently taking place tend to make the best investments. Knowing what is coming online and knowing the market will be in a better place to make good decisions. Just coming to visit for a month will help but may not give you enough time to really get a feel for things beyond just looking at condos.
People that have been here for a while and either work in the real estate market (and invest) or just people that are investors, tend to make the best moves. Being able to jump on a new project and buying presale or knowing what a good deal can be key to making a good investment. Most people do not have the time to research everything, that is why a good agent is key, someone that will work for you and not just the sale.
Some pre sales offer good introductory rates but not all pre sales are good opportunities. Knowing the reputation of the developer and comparing details in relation to the price is going to be key. Often when buildings are new and offered to the public, they are already 20-35% sold. Often developers, real estate agents and partners reserve units. People who wait until the building is finished get to select from less popular units and don't get the benefit of the early pricing. Having a good realtor looking out for you and knowing what you are looking for, will work for you and let you know if there are good opportunities for you.
8. Yesterdays advice is not for todays investors
Playa and the Riviera Maya are always changing. What was good advice a few years ago is not necessarily the best advice now. New options, new projects, and areas become more attractive with time. Stay up to date with trends so you can make a good investment. Again working with a good realtor is key.
Tourism trends also effect real estate especialy if you are looking to rent it out. For example now in the Riviera Maya you can get good ROI in other areas outside of Playa Del Carmen that you might not have thought of before.
Another current trend we see is a rise in national tourist. This means there are more people coming to the area that search for rentals on non English language websites. People that focused on only English speaking tourist are missing out on more rentals because the market has changed some from days of yesterday.
9. Understand what drives real estate prices in the region
Any investor needs to understand what drives the Playa Del Carmen real estate prices and the region. Many people come to Mexico thinking it is supposed to be cheap. They find out that prices are more then they expected and have to take more time to think about things.
We describe the Riviera Maya as a funnel. It is true Mexico is not an expensive place but there are places like Playa Del Carmen that have higher baselines of real estate. Why is this? You have to start by looking globally at the market. Europeans that want to invest in Playa Del Carmen or the Riviera Maya drive prices and so do wealthy South Americans that want to divest their money out of some economies. Americans and Canadians that look to move to Mexico or invest look to certain areas like Playa Del Carmen. Mexicans that are wealthy look to up-and-coming locations within the country. There are actually not a lot of beach towns with the economy of Playa Del Carmen and the surrounding towns. So a lot of money is funneled into a small area and this drives prices.
There are also smaller factors that push up market prices like tourism and rental demand. This also true what is happening in the Tulum real estate market.
10. Look in person and not online
A simple google search will come up with a lot of new condos in the area. Some look great in the illustrations or animated videos. What will they look like or what is the reality in person? The reality can be very different. We have visited many new buildings in the area and have two stories to illustrate the point of why it is good to visit in person.
There was a new building going up that had very nice pictures and attractive prices. It was in a good area as well. The tour took us to some of the entry level budget condos. The thing we noticed was the fact that it was an interior unit with no exterior windows. If the power ever went out it would have become a hot box. The roof of the building also looked nice in photos but the building had around 40 units and only a small space for guests. It was actually very unpractical for the amount of people renting in the building let alone living there.
Another condo building we went to see did not have any electricity that day. It was fine because it was the middle of the day, so it was light out. As soon as you entered the building you felt the stagnant hot air. There was no air conditioning on and oh what a difference it can make. This building only had windows on the street side and a small interior air shaft. Their was no natural airflow through the building. It meant that the energy you would need to keep the building cool was going to be a constant need. That leads us to our next point.
11. Consider the energy of your investment
Energy prices in the Riviera Maya are rising. There is one electrical company for all of Mexico called CFE. It sets the rates for the zones of Mexico.
Most new condos are meant to be air conditioned 24 hours a day. That means a chunk of your operating expenses are going for electrical. If you are renting the condo, most likely there will be tourists on vacation and the last thing on their mind is saving energy. It will be the first time in the hot climate and they will have the air conditioning on all the time. This can mean electrical bills in the hundreds if not a thousand dollars a month.
Condo buildings are not that energy efficient in Mexico. It is something that developers should be investing in and using as a sales point. It is up to you to ask about it and see what the building is like for energy usage. Here are some tips:
Energy saving tips for your investment in Playa Del Carmen
Does the unit come with appliances? or do you get to choose? If so are they energy efficient appliances? Many refrigerators for example in Mexico are on the lower end for energy saving. If you are shopping for them, be sure to check the yellow tags for consumption. It can mean big savings in the future.
Does the building have shade? Are their awnings, trees, or other buildings that shade it? Remember, the sun changes angle during the year. Imagine the building year round.
Are there special windows like double paned? tinted? does it come with window treatments? Not a lot of windows are made of specialty glass in condos. Many times you can feel just how hot the interior of the glass gets in the sun. That is all heat you have to combat with air conditioning.
Look at natural air flow. Are their ceiling fans for air circulation?
Is the hot water and stove electric or gas? Gas is much cheaper but some new buildings are all electrical which result in higher energy consumption.
Are their exhaust fans above the stove in the kitchen? This is something standard on many parts of the world but not necessarily the fact here.
12. But I heard from someone…..
I heard from someone that….. there is a bubble growing, now is the best time to buy, or that people are not making as much return. It is true that not all condos and buildings are created equal. Some people that have invested have not done as well as others. The important thing is to be as educated as possible and work with people with a proven track record.
Everyone's circumstances are different and it is good to listen to all angles of what things are like. Remember just because someone has bought here, it does not make them an expert. It is good to take your personal needs and circumstances into account when looking to invest. The best investors are educated investors.
We hope this article has given you some ideas and things to consider when looking to invest in the area. You might also like to read our article about investing in Mexico and property appreciation.