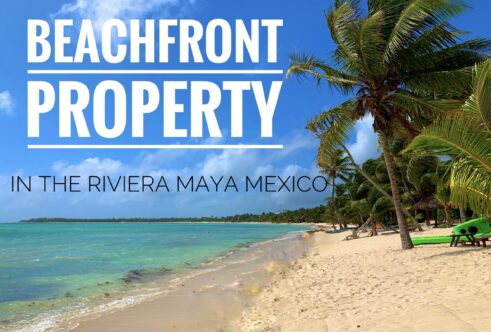 Beachfront Property of the Riviera Maya
It is the dream of many to live or own a beachfront property. It seems to be the ultimate for many to achieve that dream. In fact, it is one of the most commonly asked questions and requests for people looking to buy in the Riviera Maya of Mexico. So just how many properties are available? What are the prices? What kinds of beachfront properties are available? We sat down with one of the realtors working in the Riviera Maya to get details for those interested in purchasing that special property.
Our video about beachfront properties
To give you a little better understanding of beachfront properties in the Rivera Maya, we made this short video with Sebastian, one of the recommended realtors on our website.
If you would like more information about beachfront properties…
If you are interested in knowing more about what beachfront properties are available, you can contact Sebastian who is featured in this video. Here is an email link to him. It is best to include what you are looking for and your contact phone number for better communication.


Why is beachfront property so popular in the Riviera Maya?
Well, besides the obvious, having a home on the beach is ideal for many, there are several main reasons that make people choose the area.
The Riviera Maya is well connected by two international airports, Cozumel Airport and the Cancun Airport. Not only are these two airports international, but they also have a lot of choices for flights. There are many direct flights to North and South America, the Caribbean, as well as Europe.
The well-established tourism sector allows for a steady flow of tourists and new infrastructure projects.
Mexico's stable government, low real estate taxes and ease of visas.
The area is well established with services. This includes highways, water systems, cell phones service, and internet.
The Riviera Maya has access to many natural attractions as well as colonial cities. This gives visitors and those that want to live in the Riviera Maya a great opportunity to explore and stay occupied.
How much beachfront property is available?
If you look at a satellite map of the Riviera Maya area, you will see a lot of coastline. The distance between Cancun and Tulum is about 136 km. Although this area technically is the Riviera Maya and then some, it does exemplify how much coast there is. This means that there is a possibility of a good amount of beachfront real estate. But much of it is occupied, but large all-inclusive hotels, eco parks, untitled land not available for purchase, archeological ruins, ports, and some of it with no access.
Ocean view is further limited because of height restrictions and the fact the peninsula is flat. There are also density limits which restricts the size of buildings.
Overall, the numbers of beachfront properties are in the hundreds. Usually at any given point, there are about 60 properties on the market. Below is an overall description of areas in the Riviera Maya and what they contain as far as properties available.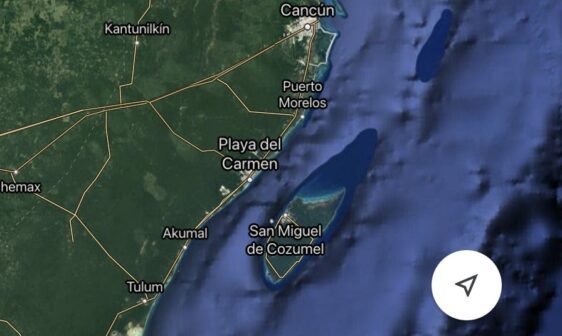 Beachfront properties in Tulum
Tulum is a weird place because the town of Tulum is divided up into parts. The town used to be just along the 307 highway and a road to the beach with some hotels on it. The hotel zone of Tulum is almost exclusively hotels. Most residential properties that are close to the ocean are in Aldea Zama and have a short bike ride to the beach.
There are many penthouses and condos with good views that lookout toward the ocean and have some views. Part of Tulum is national forest and cannot be developed, giving some properties views over the treetops to the ocean. For more about Tulum real estate, see our article here.
Tulum to Playa Del Carmen
This area of the Riviera Maya holds several archeological areas, like Tulum ruins. There are also the large parks Xel Ha and Xcaret which occupy part of the beachfront. Then there are large all-inclusive hotels. There are, however, several private communities that have excellent beaches and great views. This stretch of the Riviera Maya is more exclusive and more sought after by discerning people looking for beachfront properties.
You can also see our Tulum video where we drive around and visit the different parts of Tulum. While actual beachfront property is not really available in Tulum, you can find some areas with views and some newer areas that are very close to the beach.
Playa Del Carmen
In Playa Del Carmen there are a few homes available in Playacar Phase 1. This is one of the best areas to actually buy a home that is beachfront and one of the more affordable options compared to some of the more exclusive areas in the Riviera Maya. There are several condo projects that are truly oceanfront and several more planned that will be exciting to see when finished. The new projects will rival some of the luxury and eco chic properties of Tulum.
Playa Del Carmen is also one of the best places to find an ocean view condo since there are more options available. However, it should be noted that building restrictions and heights do change over time, and no one can really guarantee your view if there is land between you and the ocean. For more about the Playa Del Carmen real estate market, see our article here.
If you are between looking for something close to Playa Del Carmen or to Tulum, we have an article and video here about the differences between the real estate markets.
Playa Del Carmen to Cancun
In this area there is the small town of Puerto Morelos where you can find beachfront properties for sale. Besides Puerto Morelos there are only a few other private roads that go from the highway to the beach area between Cancun and Playa Del Carmen. Most people looking in this area are either looking to open a small hotel or have an easily accessible property that is close to the Cancun Airport.
In general, though, this stretch of beachfront has less property available for the individual buyer.
What are the average costs of beachfront real estate?
In the Riviera Maya these are about the averages for certain properties. There are always a lot of factors that go into the pricing. Some of these are the type of beach it is on. Some properties have rocky beachfront, some have protected bays, and some have white sand beaches. Another factor that goes into the pricing is the returns on the property. Most pre-existing properties can turn over the rental numbers with a non-disclosure agreement. Beachfront properties rent very well in the Riviera Maya. Most of the time, condos on the beach rent first and private homes are sought after by people looking for some privacy.
Land, depending on location and size goes from about 1,000,000 USD for a lot the size of 20 meters beachfront and 50 meters deep.
Villas or private homes start at about 1.5 million USD and go up from there.
Condos on the beach start at about 250,000-300,000 for studio condos. Condos that are 1-3 bedrooms start at about 500,000 USD to 900,000 USD. Penthouses start at about 1 million USD.
What types of beachfront property are available?
There are several categories of properties available. There are:
Lots for sale to build on.
Villas or private homes for sale.
Small boutique hotels for sale.
Condos that are beachfront properties.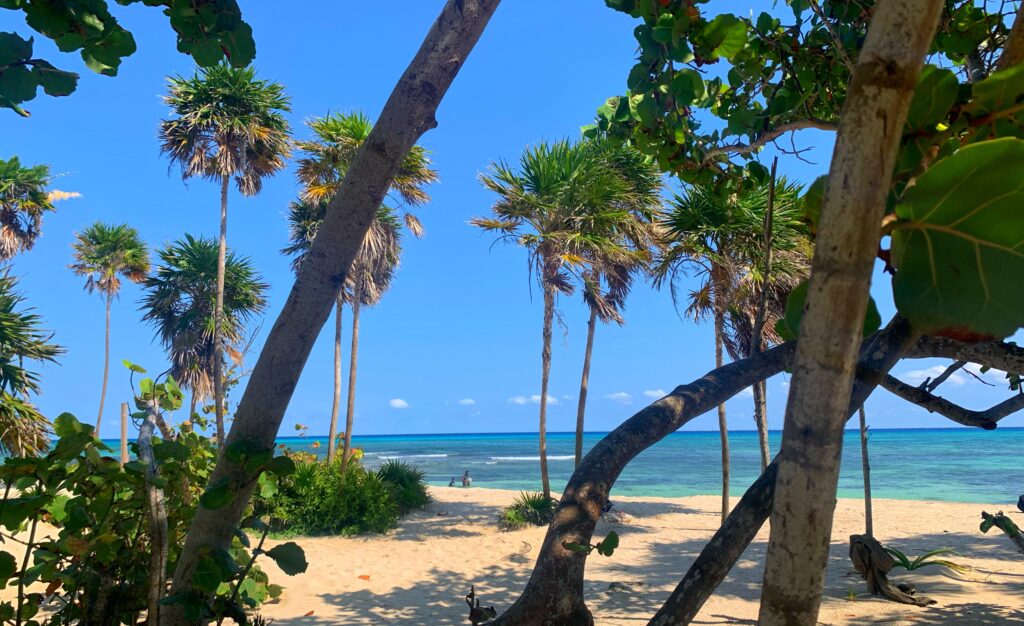 Looking to buy something?
If you have thought about buying a beachfront property in the Riviera Maya, you might want to talk to Sebastian from this video. He has worked with many of our readers and helped them navigate the buying process and helped them find what they were looking for. You can contact him via email here. It is best to add what you are looking for and include your phone number and the best times to reach you for better communication.