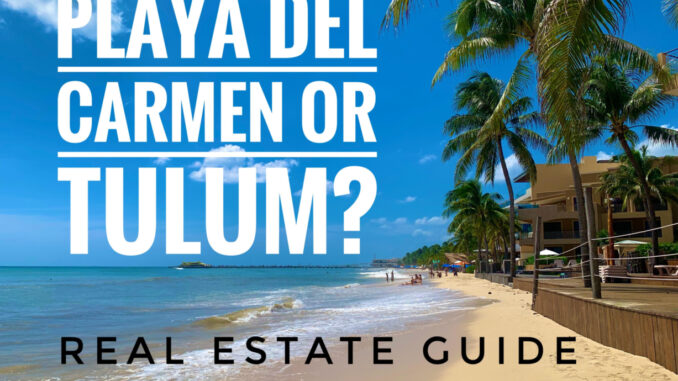 The differences between Playa Del Carmen and Tulum real estate
For most that read our website, they have been to Playa Del Carmen, they love it and visit often. Many want to retire or live part of the year in the area. Playa Del Carmen has been the center of the Rivera Maya and offered many different types of real estate options including investments and homes. In the past 5 years (more or less) Tulum has grown considerably and offers a second location in the Riviera Maya to possibly live or buy an investment. So, what are the differences between Playa Del Carmen and Tulum real estate? What are the advantages and disadvantages between the two locations? Which offers the best ROI? What does the future look like for the real estate market in the two locations? These are all questions we will delve into in this article and also the video below.
Our video with interviews about what is a better investment between Tulum or Playa Del Carmen
We sat down with two relators that work in both Tulum and Playa Del Carmen and asked them a lot of the questions that readers ask. We boiled it down to this video. It is a little long, but we feel there is good information that can be very helpful to our readers. We hope it is informative for you.
Would you like to talk to one of these realtors about real estate options?
We do not sell real estate here on our website, but we do direct people to good local sources that will provide good services for our readers. here are two recommended realtors that are in the above video. Both of these realtors are very knowledgeable about the area and go above and beyond to help people before, during and after a sale so clients can be confident in a purchase and make the process easier.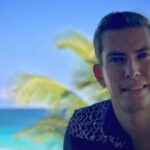 The first is Sebastian. He is not only a realtor, but also an investor, and developer in the Riviera Maya. He and his team are well embedded in the community and on top of new projects and developments that will affect the real estate market. Sebastian is very knowledgeable about the area, and we often go to him for information for our readers. Here is a direct email link if you would like to work with Sebastian, it is best if you include details in an email about what you are looking for, budget and time frame you are looking at for a purchase. If you include a phone number and the best time to reach you, he can also reach out to you in a faster manor.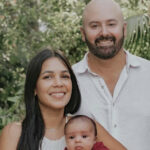 The second realtor is Alberto. Alberto works with his family run real estate company that has been in the Riviera Maya for about 20 years now. Since he and his family have worked in real estate for so long in the Riviera Maya, he is very aware of what developers are good to work with, what projects are coming online soon and much more. Here is a direct email link if you would like to work with Alberto, it is best if you include details in an email about what you are looking for, budget and time frame you are looking at for a purchase. If you include a phone number and the best time to reach you, he can also reach out to you in a faster manor.

Location Location Location as they say in the real estate business
So, if you are new to looking at real estate in the Riviera Maya, you have options that are more urban, area more natural, small towns, or private developments to choose from. Regardless of the type of property and exactly where you are, you still need to consider what is close by and accessibility to things that you want. This will depend greatly on if you plan on living in the property or plan on renting it out.
What Tulum offers as a destination
Tulum ruins, iconic beaches and access to some of the natural reserve areas and a UNESCO World Heritage site. In the past, Tulum was a small Town along a dusty highway with small beach cabins on the beach. It has boomed into a world class destination with top rated restaurants. Near to Tulum are Coba Ruins, Xel Ha park as well as smaller cenotes and tour destinations.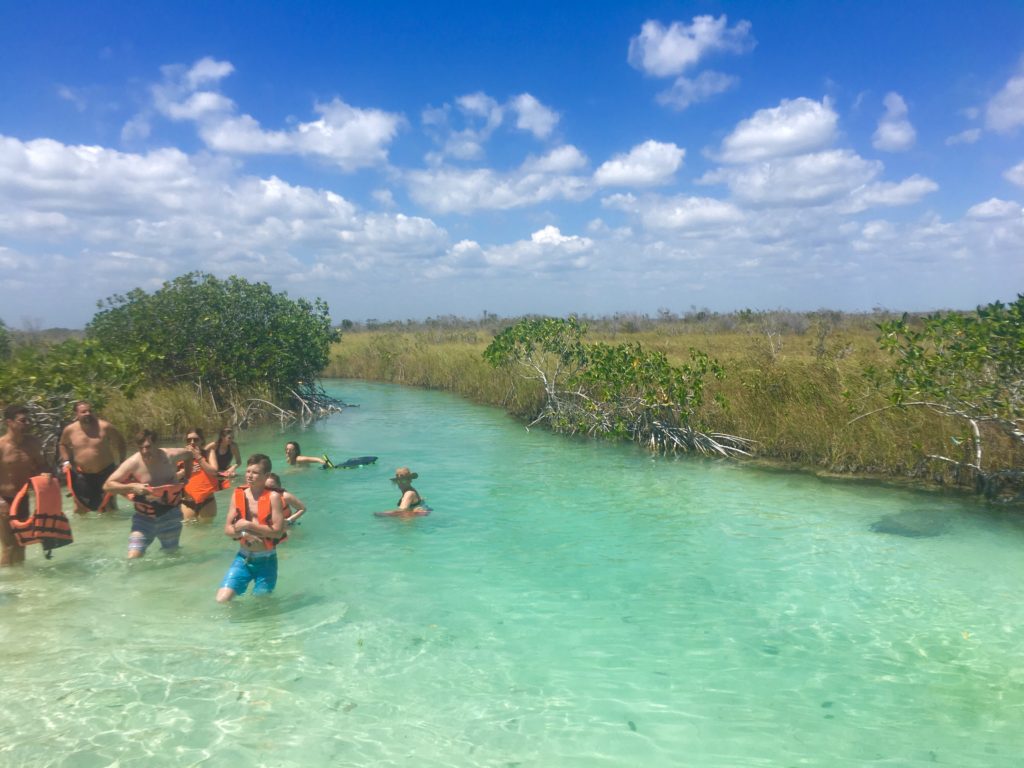 What Playa Del Carmen offers as a destination
In general, Playa has become a fully functional city with most services. As a resident, you can find most of what you are looking to buy within the borders of Playa Del Carmen. For tourists, Playa Del Carmen offers easier access to the Cancun Airport, shopping, beaches, and close proximity to some of Xcaret's parks as well at tours that leave Playa for most popular destinations. Playa Del Carmen is also the jumping off point to go to Cozumel via ferry.
Playa is liked by many because of its compact downtown and the ability to walk most places. Even the beach is accessible because the town parallels the beach. These factors make it attractive to people that want to spend some time or live in Playa without the need for a car.
Services and infrastructure between Playa Del Carmen and Tulum
Living in an area for the ambiance is one thing, living in an area for access to services is another. There usually is some kind of trade off when it comes to secluded jungle living, and access to stores, malls and other services. The differences between Tulum and Playa Del Carmen are pretty big on the services and infrastructure issues. Since there is about 15 years between Tulum and Playa Del Carmen, you will notice right away that Playa Del Carmen has more of an urban feel with a lot of convivences found in cities.
As was true over the past decade, people still visit Playa Del Carmen from Tulum for some shopping needs. Tulum still is working on systems like internet coverage, cell phone signal and sewage systems.
Infrastructure coming that will affect Playa Del Carmen and Tulum
The Tulum Airport, which has been the butt of many jokes, looks like it will finally happen. For years it was said an airport was going to open in Tulum, and in fact an area was cleared for one. But, at last, a more concrete idea and plan has been initiated. This time the airport is planned for the south of Tulum that will open greater access to the lower part of Quintana Roo State. The Tulum Airport is going to be international, meaning more than just a regional airport. It is scheduled to be completed in 2023. It will not be as big as the Cancun Airport but will rather assist in lightening the traffic load as a regional airport.
One of the slight drawbacks in visiting Tulum is the time it takes getting from the Cancun Airport to Tulum. It does take about an hour and a half to make the trip with good traffic conditions. For people arriving from Europe or other destinations a little farther away, adding time to a 9-hour flight is not a joy. A closer airport that can cut time to about a 15-30-minute transfer would be much more appealing. When the airport materializes, this will be another piece of the puzzle for great accessibility.
The Train Maya coming to Tulum and Playa Del Carmen
Another project that promises greater connectivity is the Tren Maya Project or Mayan Train as it is referred to in English. This project is already underway and will be opening by section. It is being built to provide the entire eastern part of Mexico a large loop that will connect many popular tourist attractions. This project has already offered millions in free advertising as many articles have already been posted about it.
While most of the route is secured and the stops are planned out, the stretch from Cancun to Tulum and continuing on further south is still being discussed. This section of the Mayan Train is too important to not complete and we predict this will eventually be completed giving people another option for transportation to and from Tulum and Playa Del Carmen.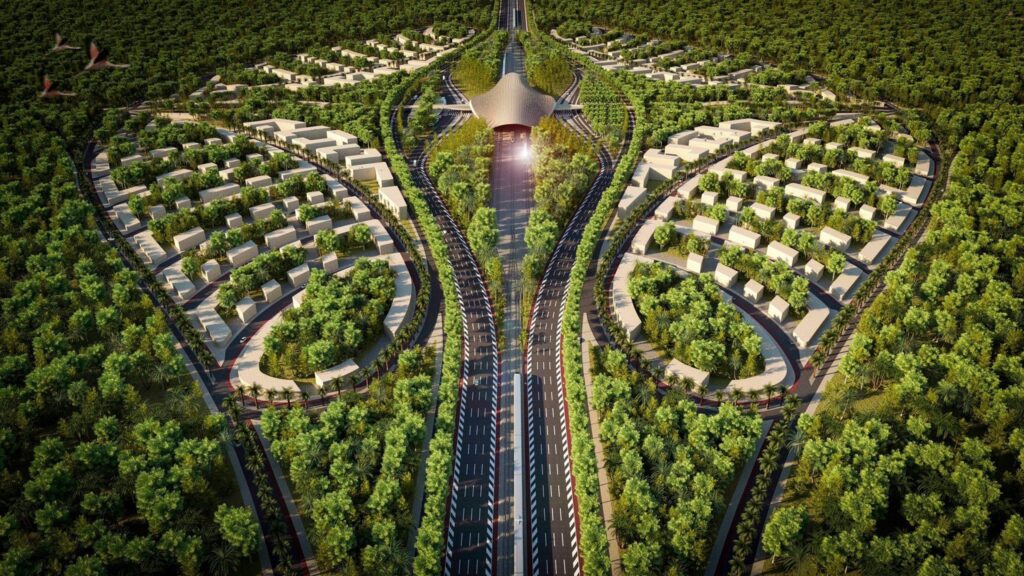 What are the differences between investments and ROI?
Are you mainly looking for an investment property? Perhaps you want to rent out your place most of the year and use it to visit a month or so? Then ROI (return on investment) is important to you. Either online or on billboards in the Riviera Maya you will see many percentages thrown out there, even some saying it is a guarantee. So, if ROI is the main factor in making a decision of where to invest between Tulum and Playa Del Carmen, which is a better investment?
The first step is knowing how much you want to invest and what kind of place you want. Ask yourself these questions. Will it be something you want to live in down the road? Are you ready to buy something immediately or would you consider an area that perhaps is not built yet? How hands on do you want to be in the management? What kind of management would you be comfortable with? These are all important questions that will eventually affect how you do with ROI. You might be able to answer some of these questions, but it is good to work with a good realtor because they can help guide you and figure out what might be the best option for you. Some people come to invest with one view of the market, but good realtors that have been here for a while and have helped hundreds of people in the process, can give important advice.
The best advice for now concerning ROI in Tulum and Playa Del Carmen
Most investors and realtors will tell you that the past few years and also into the near future, Tulum offers a better ROI than Playa Del Carmen. There are a few details that are important, because like many things, an answer is never 100%. There has been a shift of upper end vacation renters leaving Playa Del Carmen and going to Tulum. This in general with the image of Tulum as a chic and Instagram worthy destination has increased occupancy rates.
A big factor in how often your place gets rented is what it offers. Unique properties (ones with good taste, not just unique as different) rent the best. People are most likely to splurge a little on vacation and people will go for private pools, penthouses, and places that are part of the destination. This means that properties that offer something extra often appeal more to vacation renters. This usually means that the more you invest, the better ROI you get. Of course, not everyone can max out their budget, so the same principles can be applied to all levels of accommodation.
Playa Del Carmen has been steady for rentals. Units in Playa are more urban feeling and people looking for a more cosmopolitan atmosphere. Digital nomads have also made Playa Del Carmen a hotspot in the past few years because it offers a lot of services and a price point that many can afford. Playa Del Carmen also has a loyal following that continue to come year after year. For more about ROI, see our article here.
A look at this analytical tool to compare Playa Del Carmen and Tulum
If you watched our video above, you would see a brief intro to AirDNA (which is not owned by airBNB). This is a great analytical tool that anyone can purchase to compare locations or just zoom into one area to see what occupancy and average nights are going for, plus a lot more. In brief, this tool can give dozens of important numbers that affect how likely your rental will be occupied and give you a clearer picture of ROI.
In the video above we really did not have enough time to show all of it with all the other good information we were presenting, so we made a private video just for our readers (yes, the video is on YouTube but only accessible with a link from our article). We have a full article here with the video about investing in the Riviera Maya using this tool.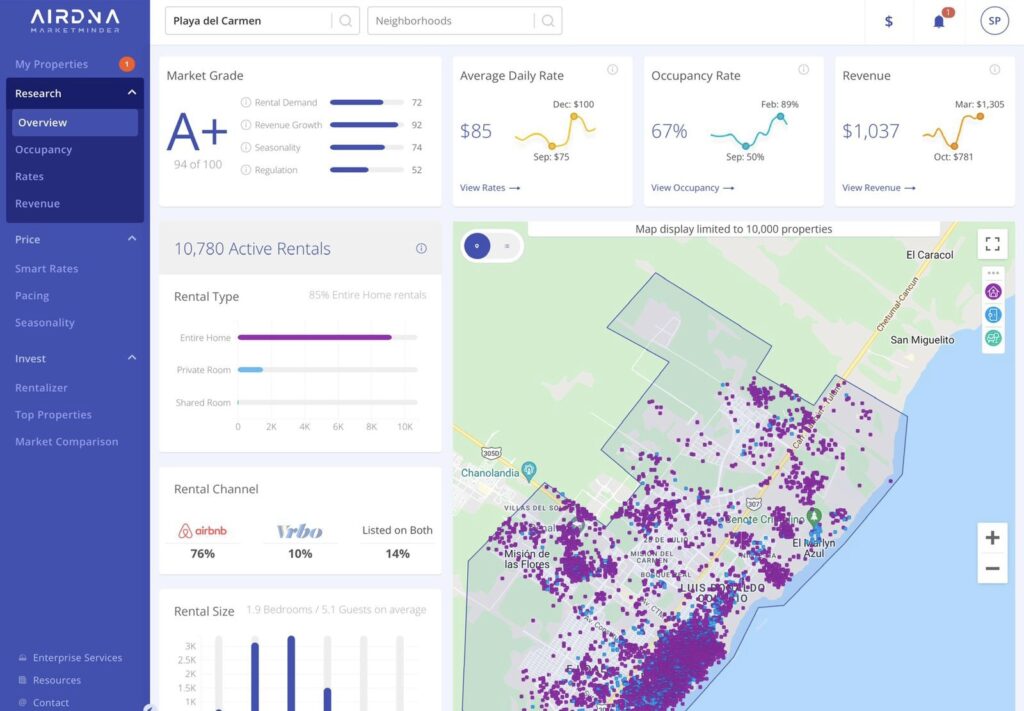 How sustainability comes into play when you invest
If you are looking to purchase a property you want to know what the future will bring. Will business be good in the future? Is the growth of Tulum or Playa Del Carmen sustainable? What about the physically sustainability of local natural resources?
Tulum is known for its eco chic living and jungle views. When an area grows rapidly, there are growing pains and concerns about sustainability. Residents, locals, investors and developers for the most part all care about where development will lead to and share many of the same as investors concerns. It can be assuring to know that people who actually live here are concerned about how things develop.
As an investor, you surely care about what Tulum, or Playa Del Carmen will become in the future. Two important steps to a more sustainable Playa or Tulum are:
Working with reputable realtors that do research on developers and work with ones doing good business practices. This can mean weeding out developers that do not follow guidelines of what percentage to build on or how many units are allowed. It can also mean steering you clear of developers that don't have as much experience building in the Riviera Maya or looking to make a quick profit and move on and may not utilize local building techniques for the environment.
As an investor/buyer, ask about what features the project you like has for sustainability. So far buyers are more interested in properties that are greener and leave nature as part of the properties. This is driving developers to plan on green spaces and work with the natural surroundings.
Tulum was not sustainable before development
Some will see development as a one-sided bad thing for the area. But the truth is, Tulum was not sustainable before there was investment in the area. Most people living in Tulum were local fisherman, carpenters, and trades people. Most people were lower-level income earners and could afford a small plot of land. Combined with the fact that much of the area around Tulum was not titled and not open for building, people built small homes on small lots in town. Like many Mexican towns, there was no sewer system and people use a septic tank system on their lots. With the density of Tulum pueblo, this meant that as Tulum grew, just by locals, the ground water would start to get contaminated from too many people living on small plots of land.
As investment has flooded the area, Tulum has started building sewers and water systems not only in new areas but into existing lower income areas. This is one benefit of investment that has helped raise the standards of environmental care of the area. This does not mean that all worries are off the table. Tulum still has a lot of infrastructure to build and growing pains to deal with, but there is a lot going into what Tulum is becoming now.
What is sustainable about Playa Del Carmen and Tulum now and in the future?
Here are a few things that are making Playa Del Carmen and Tulum a more sustainable place for the future. As the coastline of Quintana Roo has been developed over the past 50 years, it seems like each location has learned from the previous. For example, Cancun was the first place to be developed, then came along Playa Del Carmen. Playa Del Carmen was set up as a small-scale town with no large hotels and height restrictions. This made it more walkable, and people liked the more European feel. The development of Playa Del Carmen has created neighborhood with services as well as a sense of community for both locals and tourists.
Tulum has learned from Playa Del Carmen in the respect of leaving more green spaces and creating a style all its own. Tulum has become a playground for architects to stretch the imagination and use local materials to create more ecofriendly buildings. One bold step that Tulum took was the Aldea Zama project. Aldea Zama is a totally new area of Tulum with all the infrastructure in place first like underground cables, sewage systems and roads all before building there. It is a green community with many more projects coming like cutting edge schools that will make for a more community feel for residents of Tulum. The current development in Tulum has funded much more services for all of Tulum and made it more sustainable.
What is the buying process in Mexico?
For those that are looking to buy real estate in Mexico for the first time, there are some things that you have to get familiar with. The buying process includes a few different steps and in this guide with videos, we explain the buying process in Mexico. This can help you be better prepared and know what your expenses will be like when closing on a property.
Conclusion
Thank you for reading our latest article about real estate in the Riviera Maya. This is just one of the articles we have on our website to help our readers make good decisions when looking to purchase a property. For more articles and videos, check out our real estate section on our website where we have much more information. If after looking over the information and you have further questions or something you would like for us to cover, please comment below and we will work on it for you.