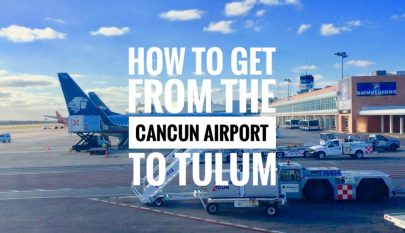 Transportation from the Cancun Airport to Tulum
Cancun Airport to Tulum is about 1 and a half hours in transportation time. It is a pretty straight drive down the 307 Highway to Tulum. Although, what transportation you take will vary your time getting to your vacation. Here are the best options for transportation and the cost of getting between Tulum and the Cancun Airport.
You have 4 main ways to get from the Cancun Airport to Tulum. Here they are:
Shared shuttles.
ADO Bus from the Cancun Airport to Tulum.
Renting a car.
Our video of how to get from the Cancun Airport to Tulum
To give you a few more details about what it is like to arrive at the Cancun Airport and options for transportation, we made this video for you.
Private transfers from the Cancun Airport to Tulum
Since Tulum is a little further away from the airport, then other destinations tourists go to in the Rivera Maya, most people want a direct connection to get to their hotel or rental. Booking a private transfer from Cancun Airport is the best way to get to your hotel in Tulum in our opinion. It is fast, comfortable, and with this reliable company and better rates, you are in good hands.
Based on readers likes and reputation of transportation companies, this is the best one we recommend to our readers. Just click below and you will be taken to their transfer site. Here you can enter your hotel and flight details and pre-book your transfer for your trip. Remember the price is for the whole vehicle and not per person. Tip: Booking round trip can save $25 USD.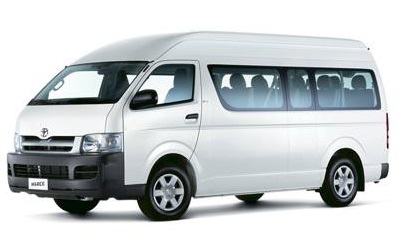 Why a private transfer is a good option from the Cancun Airport
Here are some reasons why we recommend this option for getting to Tulum from the Cancun Airport.
It is the fastest way to get to your hotel or rental. This can save you about 30 minutes to 1 hour and a half each way in transportation time.
Less stress and hassle. Your private bilingual driver is waiting at the Cancun Airport for you.
No changing buses or taking a taxi from the bus station.
You can book a stop for groceries or lunch stop for an extra fee. This is a nice option if you had a long flight and want to have something to eat, and maybe drinks!
No waiting in line to get a car and no need to think about driving in the Riviera Maya. It also gives you the option to just rent a car for the days you need it.
It is a great option for large groups too!
Insider tip for the airport
We do not recommend taxis from the Cancun Airport. You will have a smaller car for this transfer and often cost more. There is no set cost for the taxis from the airport. You often have to negotiate and usually tourist don't win at that guessing game. . You also cannot get a round trip discount like the private transfers. Save time, hassle and money by pre-booking a transfer above. You will thank us later.
Shared shuttles from Cancun Airport to Tulum
This is a more budget friendly option for getting from the Cancun Airport to the Tulum area. We actually recommend this option over the ADO bus option for several reasons. One, you will go to your hotel rather than the bus station where you will need a taxi to make the final connection. Two, you will not have to transfer busses of you get on an ADO bus that makes a stop in Playa Del Carmen.
Booking these shuttles are easy by following the link below to the official website. They will ask for your details and you will be set for your airport transportation. We do recommend booking them in advance since arriving at the airport without transportation can be confusing and time consuming.

How to take the ADO bus from the Cancun Airport to Tulum
ADO is the main bus company in the Riviera Maya. They connect all the towns and use large air conditioned busses like the one below in the photo. ADO is the only pubic bus company that services the airport. So this is the only public transportation option for getting from the Cancun Airport to Tulum.
There are only a few direct buses a day (5 to be exact) from the Cancun Airport to Tulum. The ride takes between 2 hours and 5 minutes and 2 hours and 25 minutes. The cost of the ADO bus from the Cancun Airport to Tulum is currently 288 pesos.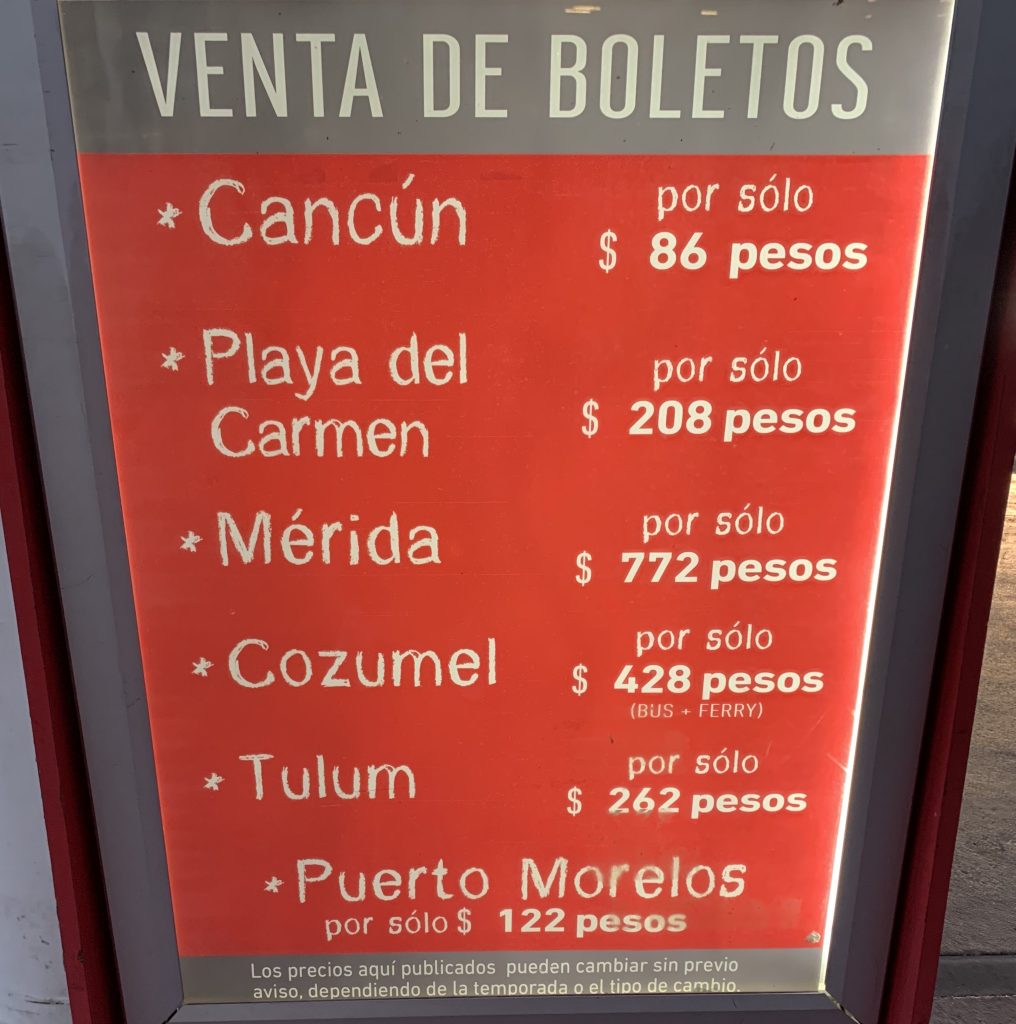 What times does the ADO bus go from Cancun Airport to Tulum?
Buses leave from all four Cancun Airport terminals. Usually terminal 3 and 4 are the international arrival terminals. Sometimes terminal 2 is used. There are different times and availability of the buses from different terminals. In general, the times are 10:55 am, 12:25 pm, 2:25 pm, 4:55 pm, 8:00 pm and 9:45pm. The exact time at each terminal will vary by a few minutes. Note: These times do change fairly frequently. Be sure to double check the ADO website for the exact schedule on the day you arrive if you wish to take the bus.
If these times do not line up with your arrival and you want to take the bus, the only other alternative is taking the bus to Playa Del Carmen and switch to a Tulum bound bus. Buses between Playa Del Carmen ad Tulum leave about ever 30 minutes. If you don't want as much transportation time, we recommend the private transfers above.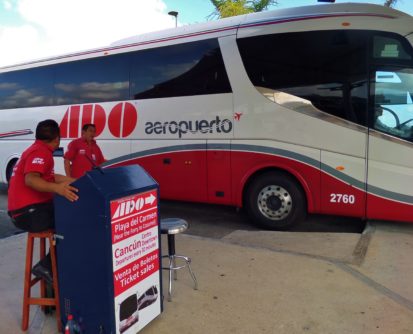 How to buy your ticket and catch the bus
After you go through immigration and customs you will exit into the airport. Here there are counters with car rentals and an ADO bus ticket counter. You can buy your timed tickets here for the next bus leaving the airport. They can advise you if you can catch a bus to Tulum or if it is better to take the next bus to Playa Del Carmen and transfer there to a bus to Tulum.
Most agents speak some English. You can buy tickets in pesos, credit card and small USD bills. Your change will be in pesos. After you have your ticket, exit the airport and look the ADO sign. There are seat numbers on the tickets, but often from the airport there is open seating. Large bags must be places under the bus. No luggage tags are given.
The buses are air conditions and comfortable. You might even get to enjoy some movie in Spanish that will amuse you while you travel down the 307 Highway.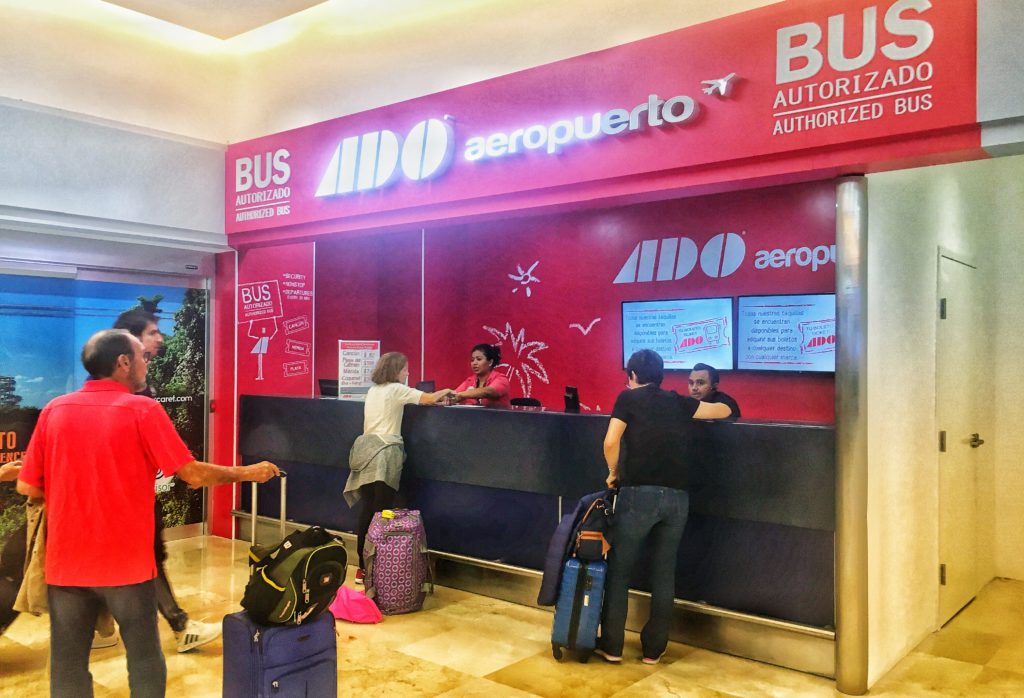 Connecting busses in Playa Del Carmen to Tulum from the airport
If you miss the Tulum bus you can take any bus to Playa Del Carmen since this is one the way to Tulum. Once you arrive in Playa Del Carmen you will be at the ADO bus station on 5th Avenue and Juarez Avenue. This is the ONLY bus station the airport bus goes to in Playa Del Carmen (there are two bus stations in Playa Del Carmen). At this station you will need to get on another ADO bus to Tulum.
You might be able to purchase a ticket at the airport for this separate trip (Playa Del Carmen-Tulum) if not, you can purchase it at the station. Buses are frequent to Tulum (about every 30 minutes) and the ride takes about 50 minutes.
Note: You can buy tickets to Tulum center (the main bus station) or Tulum Ruins. Both bus stops are close to town and you can take a taxi to your hotel from either stop. It is slightly preferable to take the bus to the center and get a taxi there.
Arriving in Tulum by bus from the Cancun Airport
Once you arrive in Tulum you most likely will want a taxi to get to your hotel. Tulum is spread out and the beach area is very separate from the downtown. Taxis do not have meters in Tulum so be sure to ask the price before getting in. See our complete Tulum transportation guide here.
If this option of getting to Tulum sounds like too much, you might want to consider a private transfer which will take you directly to your hotel.
Driving yourself in a rental car from the airport to Tulum
If you are going to be doing some sightseeing and day trips from Tulum you might want to have your own car. There are many car rental companies at the Cancun Airport. One alternative is renting a car in Tulum for just the time you need it and using one of the private transfers from Cancun to drive you from the airport to your hotel. It just depends if you think you will need the car each day of your vacation and ease the cost of this option.
If you rent from the airport, follow the easy signs leading you to the highway. The 307 "Highway" is the only road that runs through the state, so it is not a true highway, however it is easy to drive. When you get to the highway you only need to go right to Tulum and then it is a straight shot. You will drive through Puerto Morelos, Playa Del Carmen, and Puerto Aventuras. All of these towns have highway bridges that go over local traffic so it speeds your way to Tulum.
If you will be renting a car at the Cancun Airport be sure to read our guide on gas station scams. This will help you avoid some of the common things that some attendants try to pull.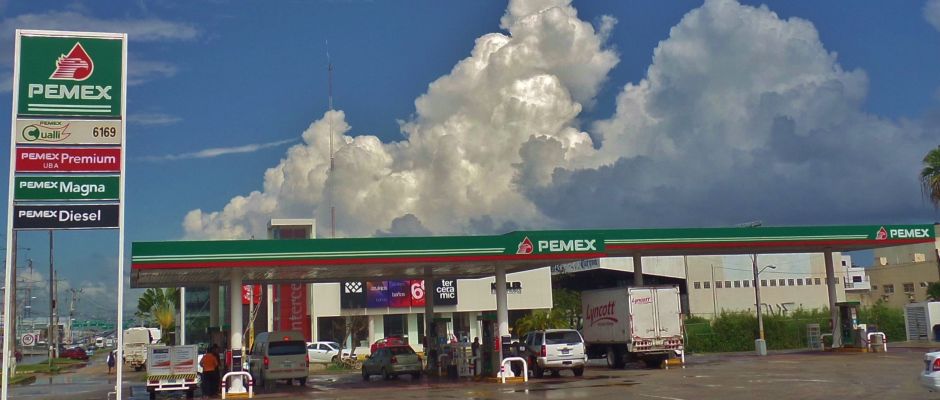 Police checkpoints on the way to Tulum
One thing that is different in Mexico are the topes (speed bumps) and police check point. There are three police check points on the highway from Cancun Airport to Tulum. Usually traffic funnels into one lane and police sometimes check to make sure nothing is out of the ordinary. Occasionally police ask people to pull over and they might want to see your rental papers and drivers license. This is all standard procedure and they are just doing their job to make sure people are not driving drunk, carrying illegal items or driving without a license. It is nothing to be nervous about, it is just different.
Once you arrive in Tulum it is easy to see the turn for the beach hotels or if your hotel is in the town, it is not too big and with a little map you should be able to find it easily. It should be noted that cell service is not that good in some parts of Tulum. So be prepared and know where you are going. The south end of Tulum is developing. This means dirt roads in places and no street signs.
For more on driving in the Riviera Maya, see our article here for things to be aware of.
Two other transportation methods from the airport
There are two other options to mention also. Since there are some large all inclusive hotels just north of Tulum and considered in the Tulum area, these might offer bus transportation. Hotel transportation is an option but see our video below for details. There are also taxis from the airport to Tulum. We however don't really recommend these for several reasons. First, taxis at the airport do not have meters or fixed prices. This means it is left up to negotiating and often people pay more for the service and waste time trying to set it up. Second, you do not get a round trip discount with a taxi since you will take two different taxis back and forth to the Cancun Airport. Third, since the distance from the airport to Tulum is going to take about one hour and a half, the larger private transfer vans are more comfortable for the trip.
Since you are headed to Tulum, Mexico…
Here are some other articles we have written that can help you with your stay in Tulum.
For the best things Tulum has to offer and all the activities around the area, see our guide here. If you are headed for Spring Break to Tulum see our guide here. For the best areas to stay in Tulum see our very detailed guide here.
Thank you for reading our guide on all the options for getting from the Cancun Airport to Tulum and back. We hope you have a great vacation in the area! If you need any other information or have questions, feel free to comment below and we will try to get back to you as soon as possible.