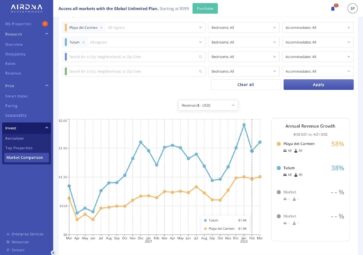 The Tool that Top Investors use for Real Estate in the Riviera Maya
For those of you that are interested and looking at the Riviera Maya for an investment, you know there are a lot of areas as well as competition. Competition in the sense that most people want to rent out their properties for some part of the year, and that means a lot of other people doing the same thing. Just like stock investors use a lot of online analytics to make important decisions, doing your homework and research for a purchase of real estate can help you make a better investment. We want our readers to have the best possible information when investing in real estate in the Riviera Maya. So here is one tool that smart investors use or their relators use and share the information.
The tool is an online analytics site called AirDNA. It helps users with dozens of numbers and date points and is one of the most complete websites for helpful information. So how can this tool help you? We will explain below.
What is AirDNA?
AirDNA was founded in 2015 and is headquartered in Denver, Colorado. AirDNA is not owned by Airbnb. What is AirDNA? AirDNA is a data and analytics company for short-term rental markets. It tracks performance metrics for more than 10 million Airbnb and Vrbo properties in 120,000 locations around the world. The information it provides users can be extremely helpful in knowing what current rental rates are, vacancies, what are the top income producing properties locally, and much more. To further explain and demonstrate what AirDNA is, we put together a video for our readers below.
Some 50,000 people globally use AirDNA. It is a subscription service and the price varies depending on the amount of rentals in your market you are looking at. Both Tulum and Playa Del Carmen are large rental markets, so the fees are higher for the Riviera Maya. If you own several properties or are looking to get hard data on a potential investment area, this can be a good too. There is a free trial that you can use, but it does not unlock all of the tools for you. Another option is using a realtor like Sebastian that already is an expert in analyzing data and shares it with his clients. We realize that not everyone will want to use or pay for this analytics tool, but we think it is important for our readers to know about it because so many diligent investors in the area use it.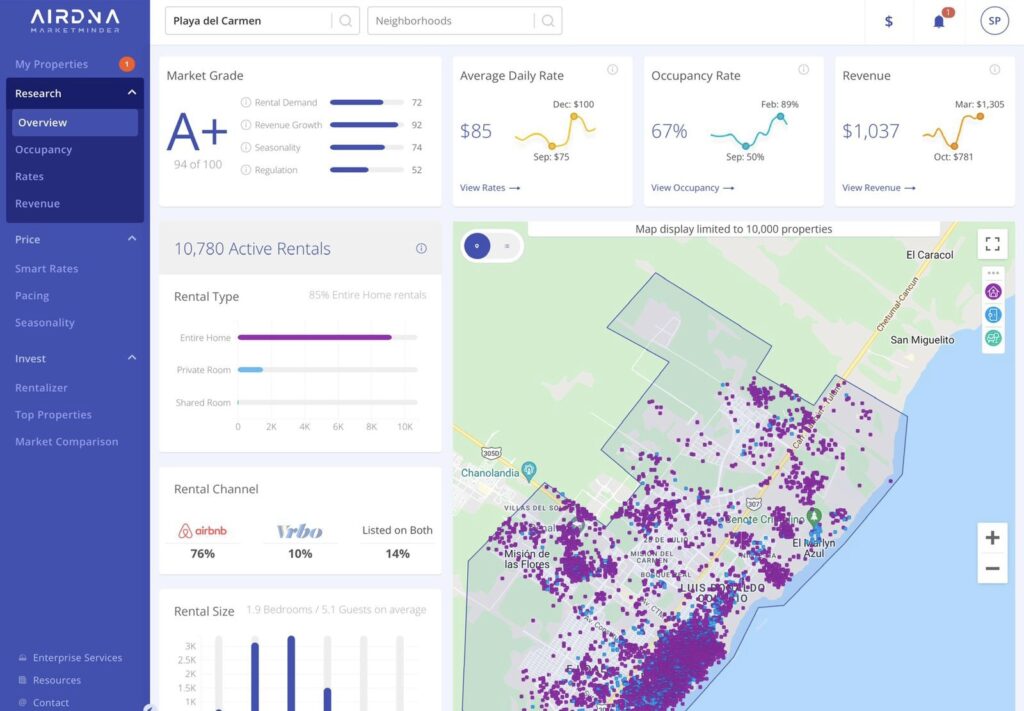 Our video explanation with a local realtor showing the tools of AirDNA
We met up with one of the recommended real estate agents on our website, Sebastian, to go over what the AirDNA platform is all about and what type of details you can find out. This video was going to be for another video about the difference between Tulum and Playa Del Carmen for real estate. The video was getting too long, so we decided to make this special video just for our readers. This video is online but only accessible by a link from our website. We hope you find this information helpful.
If you have questions or would like to work with Sebastian, below is his email address. It is best to include information such as what you are looking for, contact phone number and what time is best to call.


What things can you find out from AirDNA?
AirDNA's rental market research tool provides interactive maps and graphs with historical data about cities, neighborhoods, and individual properties. You'll be able to learn the following about the market you're researching:
Historical occupancy rate
Average monthly revenue
Booking lead time
Average daily rate
Average number of bedrooms/guests
Rental growth over time
Typical Airbnb ratings and cancellation policies
AirDNA's investment explorer also gives each market a grade for the following categories, which can help you estimate the success of a property in a particular market:
Rental demand
Revenue growth
Seasonality of rentals
Investability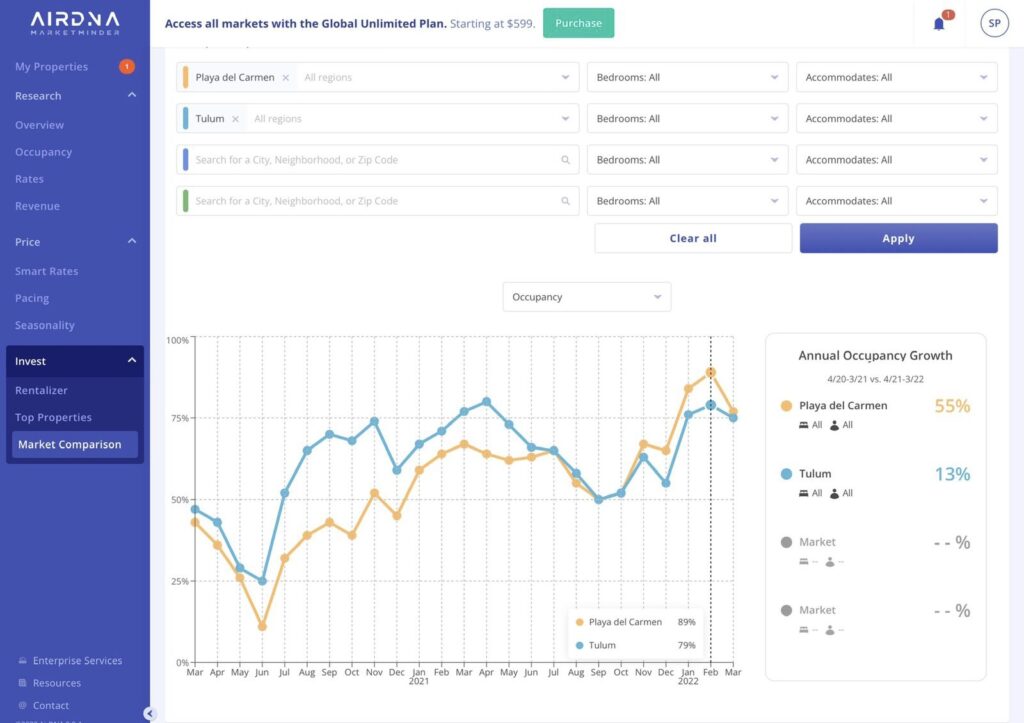 Why it is good to do your homework before buying in the Riviera Maya?
As soon as you land at the Cancun Airport, you start seeing billboards and advertisements for condo developments and investment opportunities. The Riviera Maya, which includes areas like Tulum and Playa Del Carmen, are growing at a fast rate. In fact Playa Del Carmen was one of the fastest growing cities in the world at one point. It has slowed down a little, but still grew at a rate of 103% in the past decade. Investment in the area is strong, both in public works and private development. With hundreds of new condo buildings going up, the rental market options for renters is growing, hence, it is important to purchase wisely.
The first thing people might ask about is ROI (return on investment). You will see advertisements for everything from 6-15% returns on many advertisements. See our article on the truth about ROI in the Riviera Maya real estate market. The return on investment varies a lot based on several factors like location, size, what type of management you have and overhead cost. The rental market is more competitive now, so it is even more important to analyze the date to make a good decision.
Researching presale real estate
Another factor that makes investing in the Riviera Maya real estate market different is the fact that much is sold presale. Most older properties are better suited for people that want to live in them. For investors, most look for new properties that have all the features that vacation renters look for in a property. This means that sometimes there is no comparable information for the exact condo building you are looking at or sometimes even the area if it is newly developed. This means looking at the area or greater area to see how desirable it is for renters and prices of rent among other things. AirDNA can help in this regard.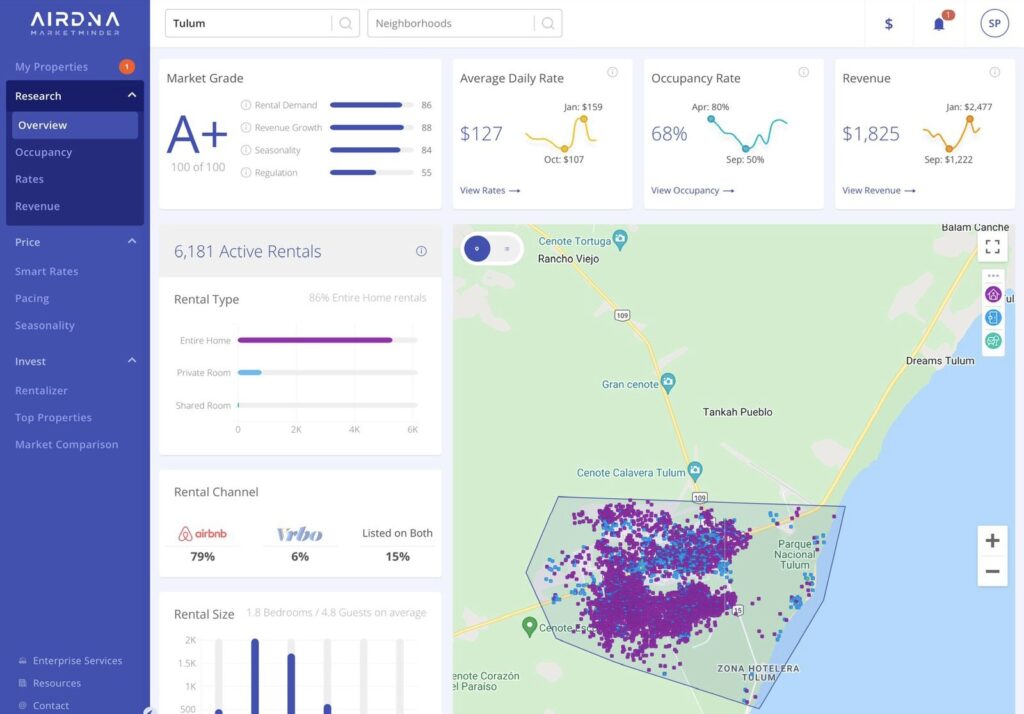 Be sure to check out our other guides like: