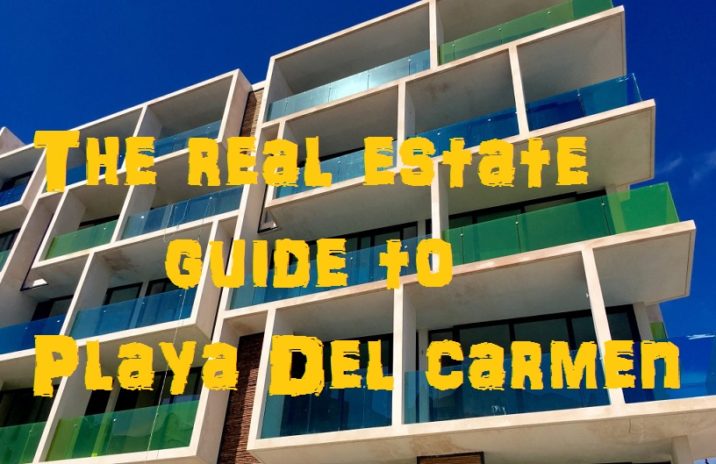 Playa Del Carmen real estate is hot! Here is the ultimate guide to where to buy, info on new condos and how is the real estate market for you. To begin with, we have put together a video talking about areas to buy in, what makes a good investment, and what things will affect the prices of real estate in the near future. We hope you find it beneficial.
Playa Del Carmen Real Estate
So you are thinking of buying into the real estate in Playa Del Carmen. Where do you start? You no doubt know a little about Playa Del Carmen and perhaps have come to visit several times before. If you are just starting the process to look at property and want to know a little more about the process you can read more here.
In this guide we will give some insider/on-the-ground observations from all the people we talk to here and tours we take of new developments and neighborhoods. We want to give you up-to-date information and some more in-depth information so you can make a wise investment. Best of all, we do not sell real estate, invest in Playa Del Carmen real estate or anything else associated with real estate so we are not going to steer you in any special direction just to make buy something that will profit us.
We are going to start with some thought provoking questions that we will discuss further below.
What are the biggest misconceptions about real estate in Playa Del Carmen?
Where should you buy in Playa Del Carmen?
What is going on in the Playa Del Carmen real estate market?
Should you rent over buying?
What does the future look like for Playa Del Carmen?
Lets start looking at some of these questions.
Misconceptions about Playa Del Carmen Real Estate
A lot of people have dreams of retiring or just living in a vacation paradise. However there are some realities you should know about. We don't mean to burst your bubble, but just tell you about some realities of life here in Playa Del Carmen. Here is a list of some of the misconceptions:
Mexico is a cheap place to buy.
The US dollar is strong, my buying power will go further.
I am going to buy a house on the beach.
The property is only 10 minutes to the beach!
I thought that closets and the kitchen came with the place.
You can buy a fixer upper in Playa.
I cannot buy because I am a foreigner.
I should trust a realtor that is from my country.
Getting a loan is just like your home country.
All of these topics come up with people looking to buy in Playa Del Carmen. To read a further explanation of these misconceptions in real estate of Playa Del Carmen see our article here.
Where is a good place to buy in Playa Del Carmen?
If you are just starting to look you might have one of three ideas in your head as to where you want to purchase. These are:
A place overlooking the ocean or oceanfront.
A place you can use for a rental, so you are looking in the center of Playa Del Carmen or a few fringe neighborhoods.
A quieter neighborhood that perhaps you can buy something for yourselves to live in. You want to live in Playa but do not want to live in the center of the action.
Lets now examine each one of these areas to see what options you have.
Beachfront property in Playa Del Carmen
Many dream of waking up on the beach but the reality is there is only a limited amount of beachfront in the world. What is beachfront in Playa Del Carmen is limited and there are only a few homes available, the rest are condos. If there are too few options in Playa Del Carmen you might want to see our map in this article about where the expats live in the Rivera Maya and Yucatan Peninsula. This might give you some insight into other beach front areas but also what it is like to live there.
You do have to keep in mind that if you are going to live beachfront, you are going to be sharing it with tourists. This is prime rental property and either way you cut it, you will make more off your property renting it out for a couple nights or a week then actually living in it. That is why many people prefer to buy beachfront but rent it out and actually live further back from the beach.
Where are the beachfront houses in Playa?
If you do want to purchase a home, you will need to focus on Playacar Phase 1. This neighborhood is a gated community that has upscale beachfront homes. You can read more about Playacar Phase 1 complete with price ranges and more details here in our article.
Where are the beachfront and ocean view condos in Playa?
If you are looking for a condo you will need to focus more on the north end of Playa from about 28th Street to 46th Street (AKA CTM Avenue). Most of the beach from Juarez Avenue to 26th Street is lined with small hotels or larger hotels and a few timeshare units. Of course you might settle for an ocean view. Usually the first few streets have ocean views from the upper levels. However most of the downtown has some view from the roof as long as your building is 4 or more stories. Some building have shared rooftop pools and decks that will give you that view you want without the price tag.
Just look at the amazing view this building below. This is two blocks off the beach and the view from the shared rooftop.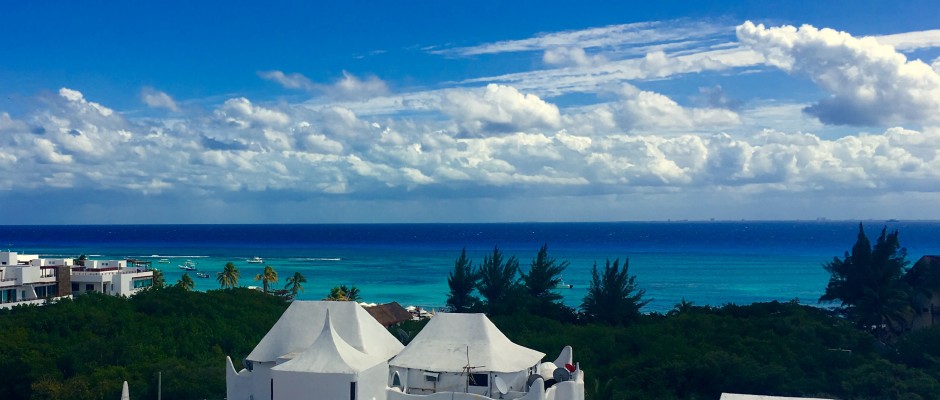 To learn more about beachfront property in Playa Del Carmen and the Riviera Maya, see our video below.
Where is it good to buy a rental property in Playa Del Carmen?
Many people look for a property they can rent out and perhaps visit once or twice a year and possibly move into in the future. Ideally some of the most rentable properties are between 8th Street and 46th Street and the beach to 25th Avenue. Then there are a few fringe areas like Grand Coral and Playacar to mention some.
Usually on of the first question when looking for a rental property is "What will be my ROI or return on investment". This is important to ask so you make a wise investment. It will make a difference where your property is. There are certainly more popular areas for people to live and rent for vacations. We created an interactive map below that should help you.
Important tips for buying property for an investment
Below are some things to take into consideration when looking for an investment property.
Residential areas of Playa Del Carmen for living
If you are moving to Playa Del Carmen you have several questions to ask yourself.
Do I want live where I don't need car?
How close do I want to services like the grocery store.
What is my budget?
After you answer these questions yourself, see what areas we suggest you look at below. Be sure to see the interactive map below this discussion.
Areas of Playa Del Carmen you do not need a car
One of the reasons why people like Playa Del Carmen is because so much is walkable in the downtown and you can get by without a car or maybe just a scooter. If you are going to be in Playa for a few months a year, want a car free life, or want a rental property for tourist, we suggest looking in the downtown of Playa but more specifically from Juarez Avenue to 46th Street (AKA CTM Avenue) and from the beach to 40th Avenue. These boarders will give you a good area to look at with a lot of options, mainly condos.
Playacar Fase 1 and 2 is possible to live without a car but life will be full of taxi rides to the supermarket and getting into the center of Playa Del Carmen. Playacar is a nice residential neighborhood on the south end of Playa but for almost all services you will need to leave the gated community.
What areas are good to live in that are close to services?
Where do people have to go most of the time? Usually to the grocery store and then to work. Maybe you wont be working when you live in Playa or working from home, so that is not an issue.
If you are going to be living in Playa you don't want to spend a lot of time driving everywhere. The rather off reddish violet color on the map below shows areas near most of the super markets and areas that have good road access and transportation. There are other super markets in the largest blue box on the map. This large blue area is more of a budget area for purchasing a home and mostly Mexican locals with a few expats. If you are looking for the lower end of the budget, then this area might interest you. For more on areas on certain budgets, see our next section.
Real estate based on budget
Lets face it, everyone has a budget and you can only spend so much. Budget is even more important in Mexico because most everyone is buying with cash, or what cash they have.
Prices in Playa are always going to be more by the ocean and will descend in price going back from the beach. Real estate prices are also effected by other factors in Playa Del Carmen. For example there are many buildings with cuartos for rent. See our article here on why this effects the price of real estate in Playa Del Carmen.
Here are three price ranges and what areas you might want to look in.
Budget Housing in Playa Del Carmen
If you want to keep your price tag under $140,000 USD you will most likely have to look on the other side of the highway. The 307 Highway is a big divider in price ranges in Playa. It is near impossible to find any condos under $140,000 USD below the highway. If you do find any, they usually are very small, or older and not in the best shape. Usually any of the cheaper condo in the center are mainly meant for short term rental investment condos.
Beyond the highway there are places from about $50,000USD and up. Many of these are in fraccionamientos (planned communities). These are a whole other type of real estate and if you are interested in these, you should take some time to understand the details of them. Here is an article where we discuss what it is like to buy one of these units and the special things you need to consider.
Midrange Housing Options
If you have between $160,000-lets say $300,000, the downtown can afford you a nice condo. The more expensive condos will be on the north end of the center. The Coco Beach section is now ranging from about $190,000 and up. In Playacar you can find condos in this range and a few houses in Phase 2 on the back side.
There are also houses in this range. These tend to be in developments not in the downtown or near the beach but rather gated communities. Some of them are El Cielo, Bamboo and Bali to name a few.
Actually with about $200,000-$300,000 range, you will have a lot of options to look at.
High-end Real Estate in Playa Del Carmen
If you are looking to invest $300,000-$2,000,000 in a nice property you should focus on Playacar Phase 1 or 2, and in Grand Coral where you can find condos lined with golf courses. Of course for $300,000 and up you can afford on the north end of Playa Del Carmen center and many penthouses in the downtown.
What is it like to buy a new condo, house or land?
Most people buy condos in Playa Del Carmen. There are a few houses in the center and even less available along the coast. Land is the least purchased type of property because for many it is too much planning to get a house built. Here are a few more details about each type of property.
Condos in Playa Del Carmen
Condos range in Playa from the size of a hotel room to three floor penthouses. Most of the condos are 8 years old or newer since most of the development has been in the past few years. You can find more Mexican styled condos or super modern design.
When looking at condos consider the size of the building and how many units there are. Some can have up to 100 units which and many of these will be vacation rentals. If you are looking to live/rent, take into consideration what the "neighborhood" will be like. With larger condo buildings you often get more services like pools, spa and front desk, which can all be nice to have. In smaller buildings you may only have a few neighbors but higher maintenance fees and less services. All of these things you will have to take into consideration when looking to buy a condo.
See our article about with lots of tips for buying property in Playa Del Carmen that will also be used for rental.
Houses for sale in Playa Del Carmen
Many of the houses for sale on the budget end are in fraccionamientos. These are planned community by developers. To see an example of an older fraccionamiento see our article on the Santa Fe neighborhood.
If a house is not in a fraccionamiento you might be looking in Playacar section at an upscale home or you might have found something that is a standalone house somewhere in Playa.
Land and lots for sale in Playa Del Carmen
There are three types of land basically in Playa Del Carmen real estate.
Land in the downtown. This will most likely become a multi story building at some point because the cost of the land is priced with the potential for what you can build on it. See our article on how Playa Del Carmen is growing up with the size and scale of buildings in the downtown.
Land in outlaying neighborhoods where you can build a stand alone house.
Lots in a planned development.
If you plan on buying in the center of Playa land we recommend you research fully and know the process for building approvals. It can be a lot of work but it can pay off if you build a multi unit condo building.
If you are looking for land just to build a house you might want to look at the area that is in front of Centro Maya just west of the highway. This area is a residential area with lots available and you will not be in a planned community where you need to build a cookie cutter home. This area also is pretty central and in a good area. Streets are just getting paved in this area and more services are being added.
If you want a building lot in a community there are several we will recommend to you. Ciudad Mayakoba is one and El Cielo, both of these are on the north end of Playa Del Carmen and popular with people looking to invest in building lots.
What about renting before buying or just renting?
Some people wonder if you should just rent or rent for a few years and then buy. This certainly gives you a good feeling of what an area is like and will help you make a good decision but will this make financial sense? We break it down in numbers if long term renting is better then buying in Playa in this article.
If you are interested in renting in Playa Del Carmen or are an investor and wonder what it is like to deal with renters, we recommend you read our article on renting in Playa Del Carmen.
What is the Playa Del Carmen real estate market like?
You might say that all this information is great but what is the real estate market doing now in Playa Del Carmen? Will my investment now be a good move or will prices fluctuate in the near future?
There is no doubt that Playa is changing and growing. You can see many photos in our gallery of new building going up in Playa here. Playa has continued to grow over the last decade and continues to grow. While more international people have been discovering Playa and more younger people have been moving to Playa that are not of retirement age, there is also the Mexican factor. It is a desirable area of the country to invest. Many of the other coastal cities are either not in the same shape or do not offer the range of attractions to visitors that the Rivera Maya does.
You might want to read our article where we talked to a real estate professional that has seen almost two decades of changes in Playa Del Carmen. He talked about what changes he has seen and what areas he sees developing. Also talking to a recommended real estate agent is a good start. We have a full article good realtors in Playa Del Carmen. We also have an article with videos about the buying process in Mexico here.
The downtown of Playa has seen the most changes and the infill is certainly taking place. Even when it is not all about living by the beach, it is the more cosmopolitan atmosphere that is drawing people to the city. Constituyentes Avenue is developing into a condo row with many new places available and the center is moving north as this area see more invested into developing it.
What does the future look like for Playa and the real estate market?
Baring a major downturn in the world market or a major epidemic, Playa Del Carmen looks like it is on a steady rise as investment funnels in. Having an understanding of Mexico and the global outlook is important in predicting what will come for this once quiet fishing village on the beach.
Within Mexico Playa Del Carmen remains one of the top places for people to invest and this is a major factor that has driven the market. Americans have always looked south to purchase and retire and this looks to be a continued trend. Canadians have been hampered by the lower Canadian dollar and this will slow investment coming from the north of North America. Europeans have not been a majority of investors, but as more financial instability arises in Europe there is a continued look across the Atlantic. Then there is South America. We have a larger contingent from Chile and Argentina coming to Playa to look at investing and getting money out of those countries as it is deemed safer here.
So overall when you look domestically and globally, Playa Del Carmen looks to be on a path of steady growth.
You might also be interested in reading our article on predictions for Playa Del Carmen over the next 5 years. It was in an article entitled Playa Del Carmen in 2025.
Some people are looking to areas like Colosio for a place to invest as Playa Del Carmen moves northward. To see what challenges people face when investing in Colosio see our article here.
We hope you have enjoyed reading about real estate in Playa Del Carmen. We will continue to write more about this topic and tour new buildings in the area. Also, we try to keep this article up to date like we do with all articles on our site.
Alternative real estate markets to Playa Del Carmen
If you are looking to invest or buy but are not sure if Playa Del Carmen is for you? Here are two other areas that are one and three hours away from Playa that still give some of that same feeling. The first one is Tulum. Tulum is growing rapidly and known for its eco chic style. See our article here about the Tulum real estate market.
Bacalar is also an area that is becoming interesting to some. It is more spacious than Tulum and has some advantages. See our article about the Bacalar real estate market here.
Do you have questions or comments about Playa Del Carmen real estate? Feel free to comment below or send us an email to us. You can find the contact us tab above under "About".