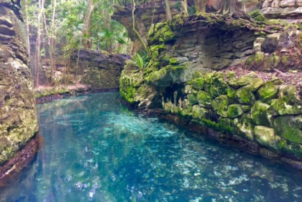 Secret spots in Xcaret Eco Park
Have you been to Xcaret Eco Park before? If you have you probably know how BIG the park is. There is so much to see and do there that you need more than a day to see it all. If you have not been to Xcaret, this is one exciting place to add to your list while on vacation in the Riviera Maya.  Xcaret has so many caves, tunnels, and hidden spots that you can miss some of these unique places in the park. We spent the day at Xcaret going around to some of the lesser known parts of the park so you can look for them next time you go.
We have been countless time to Xcaret and are always finding more things to do and see there. Besides the shows, grand show at the end of the day, underground rivers to swim in, the animals to see and so much more, there are also lesser known parts of this park. See how many of them you know about.
Our video of hidden things at Xcaret Eco Park
We spent a day at Xcaret going to some of the hidden part of the park. We wanted to show you some of the things people miss when visiting.
Places for you to find in Xcaret Eco Park
When you visit Xcaret Eco Park you are in for a big day of exploration! This park is so big that most people cannot see everything in one day. It was designed very well to accommodate guest. We always find that at times, we are all along in this big park. Even though there are many people that come each day, everyone gets spread out and exploring what they are interested in. Here are some of the lesser known parts of Xcaret Eco Park.
Paradise River boat ride
With crystal clear water and moss covered walls, you will take a calm ride on this pontoon boat. Your captain will steer the boat with a pole as he pushed it along. Here you will see some of the animals that live in the park and see carved relics that are Mayan inspired. This boat ride can be a nice relaxing thing to do between some of the other more active things to do in the park.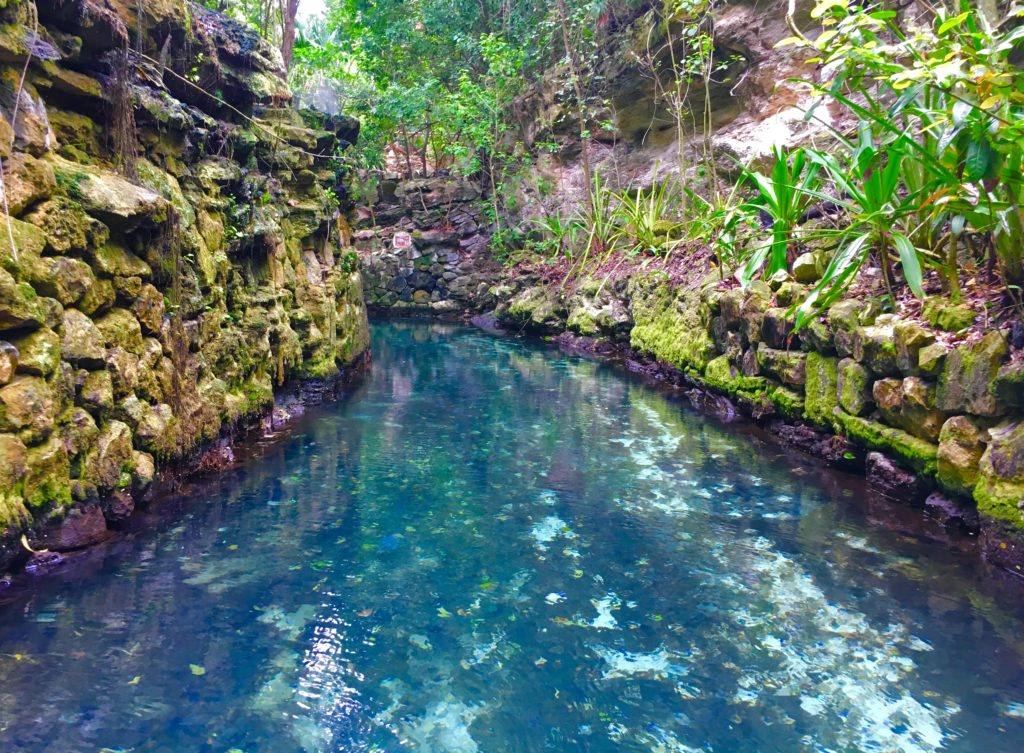 Children's World at Xcaret Eco Park
The Children's World is one of the newer additions to Xcaret Eco Park. This part of the park might be missed by many since they don't know it exist. This section of the park is just for kids 0-12 years old. There are waterslides, obstacles courses and places kids can just be kids. If you have young kids, make sure you find this corner of Xcaret.
The Hacienda at Xcaret
A hacienda is a colonial home and often were working farms here in Mexico. The Hacienda Henequenera is a 19th Century mansion where you can see what the production of henequen (a plant that has fibers for making rope and other products) looked like. Inside you will find a museum of Mexican folk art. Many beautiful pieces are on display from around Mexico and you will also see some unique things like Mayan instruments from the Yucatan Peninsula. The museum is air-conditioned and gives you a nice place to cool off.
Discover the secrets inside the Guadalupe Chapel
This peaceful place inside of Xcaret has two secrets. The first thing you might notice is the amount of people sitting there in peace. You might think not to disturb these people while they are quietly siting there. But, these are actually wooden cutouts of famous Mexican personalities. Walk around and get to know some of them.
The second secret thing about this chapel is the tunnels that go around the back of the alter. These are carved through the stone and are how people can get around in the back. These tunnels also lead to a spiral staircase leading to a secret exit.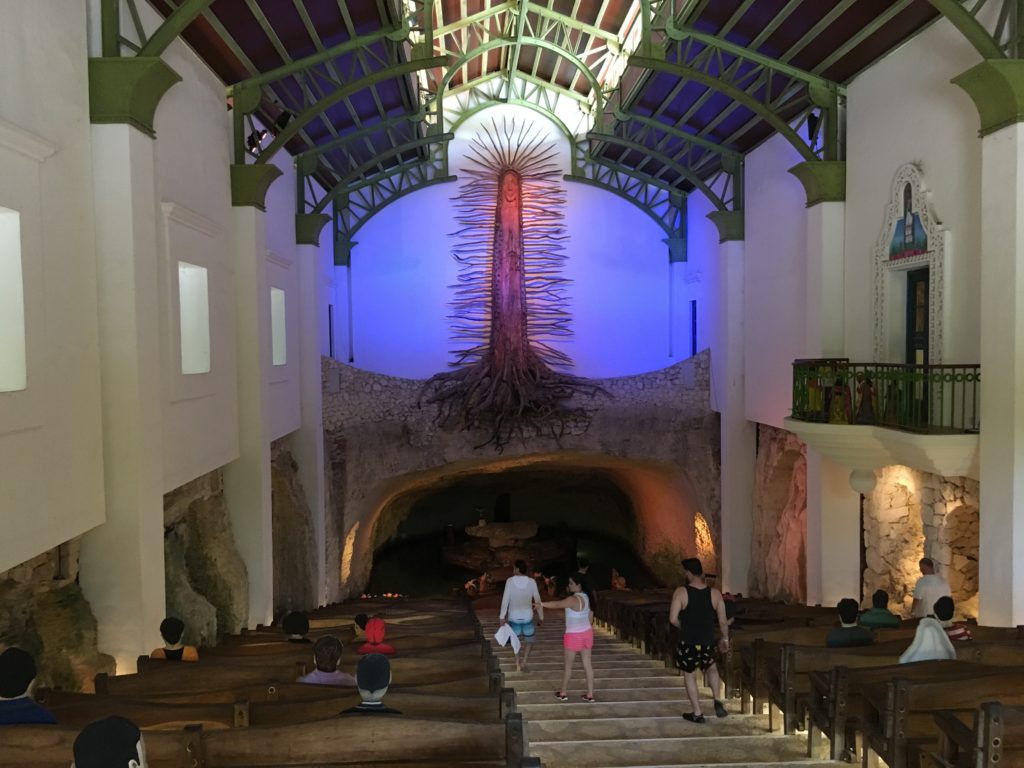 All the little places in and around the Mexican cemetery
The Mexican cemetery looks like a hill but it actually has a full structure under it full of tunnels and little nooks to discover. Be sure to take some time here and enter doorways to see what is there. From the backside there is an entrance that goes to the center of the structure where there is a cross. This area is pictured below.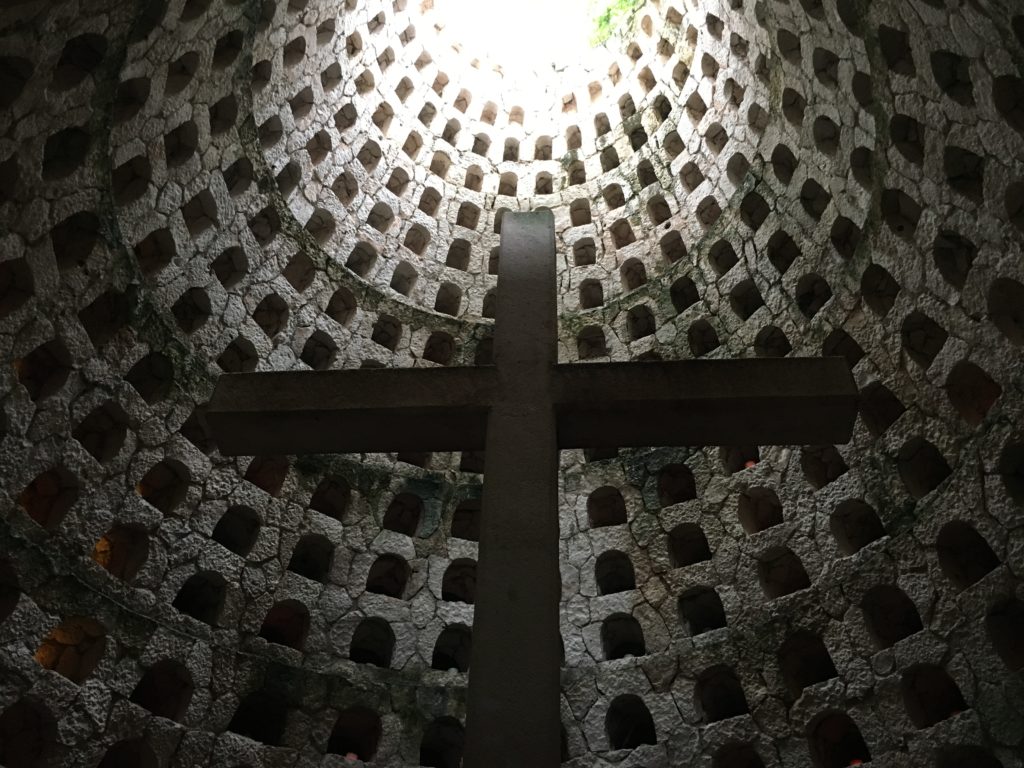 Don't tell anyone your secrets in the Whisper House
The gift shop by the Mexican cemetery is less visited but the building itself is unique to enter. In this building see the dynamic way sound is transported by it's shape. In place you can stand in the center and hear your voice like it is in your head and another place you can whisper and others can hear you perfectly.
Also in this gift shop you can see the optical illusion below. Is this stairs to a stain glass window?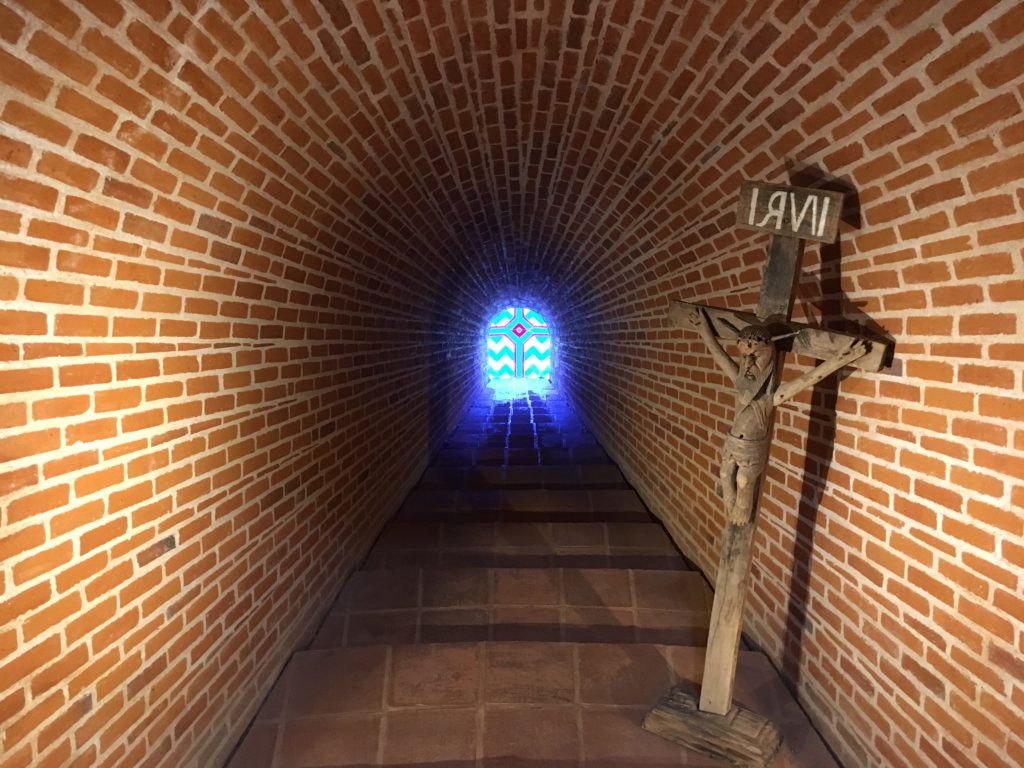 Mayan ruins at Xcaret
Many would expect to see Mayan ruins in this part of Mexico but at Xcaret Eco Park? Are these real or just a recreation? These are actually real! The word "Xcaret" in Mayan means small inlet. This refers to the natural area that is Xcaret Eco Park today. In the past this was an area where Mayans used it as a port for commercial trade. It was also a also a ceremonial center because this was a starting point for the ancient ritual pilgrimage by canoe to Cozumel, to worship the goddess Ixchel.
Scenic tower at Xcaret Eco Park
Get a great view of the Riviera Maya and al of Xcaret Eco Park from this tower! This is one of the things you can do here at the park. We suggest going here early or late in the day. We suggest a clockwise direction through the park to see as much as possible (you can read our guide here to Xcaret). After you enter and go to your left you will soon come to the scenic tower. Here you can get a sense of what the park looks like from above.
If you choose to come at the end of the day, we recommend around 6:00pm. This way you are near the theater for the grand show at night. Just get here before 6:45pm because that is when this tower closes.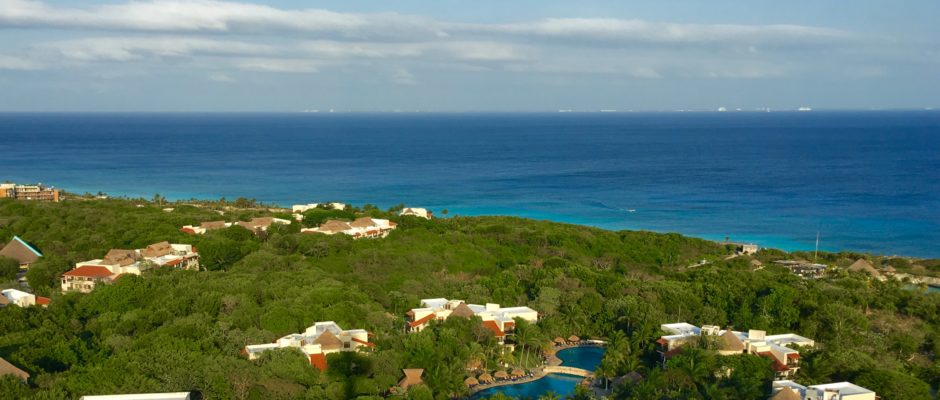 Secret way to get the best deals on tickets for Xcaret Eco Park
Many people just buy there tickets in the hotel lobby or when they reach the park. But do you know the secret way to save 10% or even 15% off of your entrance? Here is how.
How to save 15% off your tickets to Xcaret Eco Park
If you buy your tickets here 21 days in advance you save 15%. You do not have to worry about the weather because if you want to change the date, you can do so up to 24 hours before going. This is Xcaret's weather guarantee.
A little planning can mean that a family of four can save over $44 USD on your day at Xcaret. You can also decide of you want to add transportation or arrange to get there on your own.
Save 10% off your tickets to Xcaret
If you buy your tickets here 7-20 days in advance you save 10%. You do not have to worry about the weather because if you want to change the date, you can do so up to 24 hours before going. This is Xcaret's weather guarantee.
Children's discounts for Xcaret
Children ages 5-11 years old get 50% off entrance. Children ages 0-4 years old are free. These discounts do not apply to optional activities.

Have you been to Xcaret Eco Park before? What did you think? Do you have questions or comments? Let us know below, we would love to hear from you.