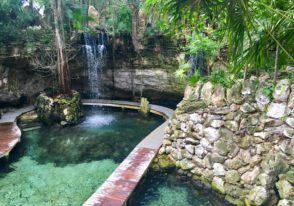 Children's World at Xcaret
There is a new part of Xcaret Park and it is just for kids! Children's World is a new section of Xcaret where kids can play and get all their energy out while exploring in a natural environment. This section of the park is meant for kids 0-12 and their parents.
This is a fun and safe place for families to enjoy some time.  Here is a little more about what you can discover at Xcaret's Children's World.
Our brief video introduction to Children's World
What types of thing can kids see and do here?
Go on a secret adventure!
Here kids will go on water slides, go through tunnels, climb and find their way around obstacles.
Cenotes for swimming
Kids love to swim and these natural swimming holes in the jungle atmosphere will bring out the explorer in your children. Xcaret thought of safety and young children when designing Children's World. These cenotes are shallow (maximum depths of 4-5 feet) and have life guards on duty. They also provide all sizes of children's life jackets.
Mini Aviary
Here kids can walk right inside with colorful birds. Parents can walk right next to their kids but outside the enclose.
Wading pool
This area is designed for parents and very young children to be able to splash in the water. There are also water squirts nearby that come up out of the sidewalk that kids love running through.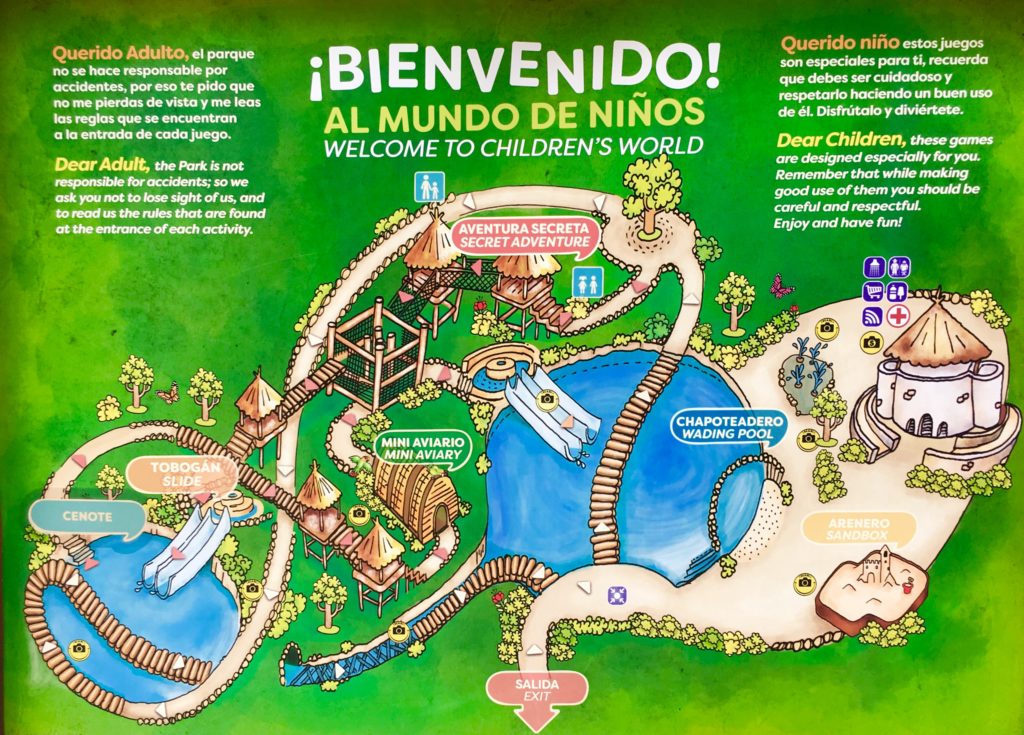 What other things are there for kids to do at Xcaret?
Xcaret Park is huge and has many things for people of all ages. For families with younger children here are some of the things that might be of special interest:
The butterfly pavilion.

This is an exciting way to walk though the natural environment and see many butterflies. This is actually one of the largest butterfly enclosures in the world!

The Aviary.

Almost all kids like birds. In this walk though exhibit you traverse streams and waterfalls while going through different environments to see over 1,500 birds.  Brightly colored scarlet macaws many other species are up close for kids to see.

All through the day at Xcaret there are small shows.

Here you kids can see colorful dances and animal shows to help them learn about nature. The grand show at the end of the day will have your kids on the edge of their seats as real horses run across the stage and the ever moving action carries you through the history of Mexico and to the regions of the country.

See the marine turtles.

These large turtle will be swimming below you in the water. Discover the six marine turtles that nest on the coast of Mexico and teach your kids about conservation efforts.

Swim in one of the three underground rivers.

Here you can take your family on a journey through the park. Every turn and tunnel takes you somewhere new! You never know what you will see next on these amazingly designed rivers.

Take a twirl in the scenic observation tower.

This scenic observation tower will go up 80 meters to show you a panoramic look at the Riviera Maya and the Yucatan Peninsula.

The Xcaret Aquarium.

Here you can visit the air conditioned aquarium and see over 5000 marine organisms. There is even a touch and discover tank for kids.

Snuba Family Activity.

This is like scuba diving to see the underwater world but much easier. This optional add on activity is for families and children 9 years and older. You can read about this Snuba Family activity here.

Adventure Kids.

This is a special add on activity that you can surprise your kids with. This is designed for kids to learn about nature. Your kids will get to meet small stingrays up close and learn about them. If you are interested in learning more about this activity see the link here.
How to save money for your families day at Xcaret Park
If you have decided to go to Xcaret for the day and only want tickets to this park, you can click the reserve now button below. This will take you to the official Xcaret website to book your tickets. If you also want to buy the photo package of your day in Xcaret you can do so in this link. All though the park there are cameras where you can snap photos. Even in the Children's World you kids can scan their bracelet and get a photo while they go down a water slide or jump into the water.
Plan ahead and get a discount!
Did you know you can save 10-15% off the ticket prices of Xcaret? It only takes a little planning. If you book 7-20 days in advance you can enjoy 10% off your admission. If you book 21 days in advance you can get 15% off. This is considerable savings especially for a family. You don't have to worry about weather because Xcaret has a weather change policy on the tickets. As long as you change the date 24 hours in advance you don't have to worry about a thing.

Where is the Children's World at Xcaret Park?
On the left side of the map below you can see the red square. This is where the Children's World is at Xcaret.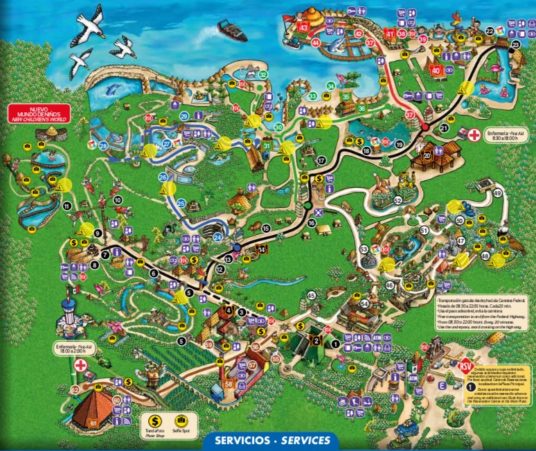 Did you know that Xcaret has even more parks  and tours available for you?
If  deciding between Xel Ha vs Xcaret was not bad enough, there are also the parks of Xoximilco, Xenses and Xplor to check out. You can read all our articles in the links. Xcaret does a great job as designing it's parks and making them unique experience for families. They also do tours to Chichen Itza. You can see our video and article here about the Xichen Deluxe tour to Chichen Itza.
Extra discounts for Xcaret's Parks
Be sure to check our article here for special sales and discounts of Xcaret's many parks.
Have you been to the new Children's World at Xcaret? What did you think? Let us know in the comments below, we would love to hear from you.