Xplor Playa Del Carmen is just 6 KM south of Playa Del Carmen on the highway. This is one of the more popular day activities especially among the adventurous type. Here is our guide n how you can maximize your time there and even get a discount for entry!
Xplor Playa Del Carmen
This is an all day adventure park that will add to your enjoyment of your vacation in Playa Del Carmen. The park is very well laid out and the series of tunnels, caves, paths, water features and vegetation that  take you to a separate world of excitement and adventure in the Riviera Maya. Xplor is part of the same family of parks as Xcaret, Xel-ha, Xenses, Xenotes, and Xoximilco.
Our video of Xplor Park
Like everything on our website, we visit it, experience it and let you know what it is like. Here is our video of what a day at Xplor is like.
Arriving at Xplor Playa Del Carmen
When you first arrive you will check in and pay if you have not bought a ticket already.
Tip: Get to the Xplor early. The park has enough activities to keep you busy all day and you want to have time to enjoy all the park and relax as well.  It opens at 9:00am. Most people arrive early, so lines will be longer. You can always get a jump on them by arriving first thing.
You will sign a safety waiver. Don't worry, the park takes safety very seriously and is a top notch park in this regard. You will also be given a safety helmet that you are to wear everywhere in the park except while eating. The cool thing is that there is a chip in the helmet. In various parts of the park there are cameras that capture your photo. In other parts of the park there are TV screens you can stand in front of and it reads your helmet's chip and shows just your photos. At the end of the day you can buy these photos. It is not cheap but if you did not bring a water camera and want the memories, then it is priceless, right?
First thing to do at Xplor are the lockers
The first stop is probably the lockers. You can store your stuff and prepare for your day. You can go barefoot but it is recommended you wear some shoes. Flip flops or loose sandals are not recommended since they can fall off while you are doing activities like the zip lines. You will get wet on most activities, so bring a towel to dry off at the end of the day. No towels are provided. Lockers are free.
Tip: Aqua socks are the best footwear for this park in our opinion. You can get wet and also have some protection for walking around. If you do have sandals with an ankle strap these can work well also. You can go barefoot as most paths are smooth but you do need shoes for the driving activity.
Getting around Xplor Park
The park is fairly easy to navigate. There is a giant heart sculpture in the center that makes a beating sound. You will crisscross this area during the day en route to other parts of the park. If you get lost the staff is easy to find and very helpful for getting you to where you want to go. Part of the adventure is finding the small paths and taking the tunnels, following the signs to the activity you want to do.
Tip: Most people go to do the zip lines first. The line is longer and it takes a while to get the flow going of people going from tower to tower. Instead of going with the herd, try one of the other activities first. In the afternoon the lines are always shorter.
What activities are there in Xplor Playa Del Carmen?
The activities include:
Zip lines (two different routes).
Driving on a trails in the woods that includes tunnels and fun features.
Swimming in a cave on a lighted circular trail.
Paddling a raft in the caves.
You can do all the activities once and if there is availability you can do them again. Usually is not a problem to repeat an activity.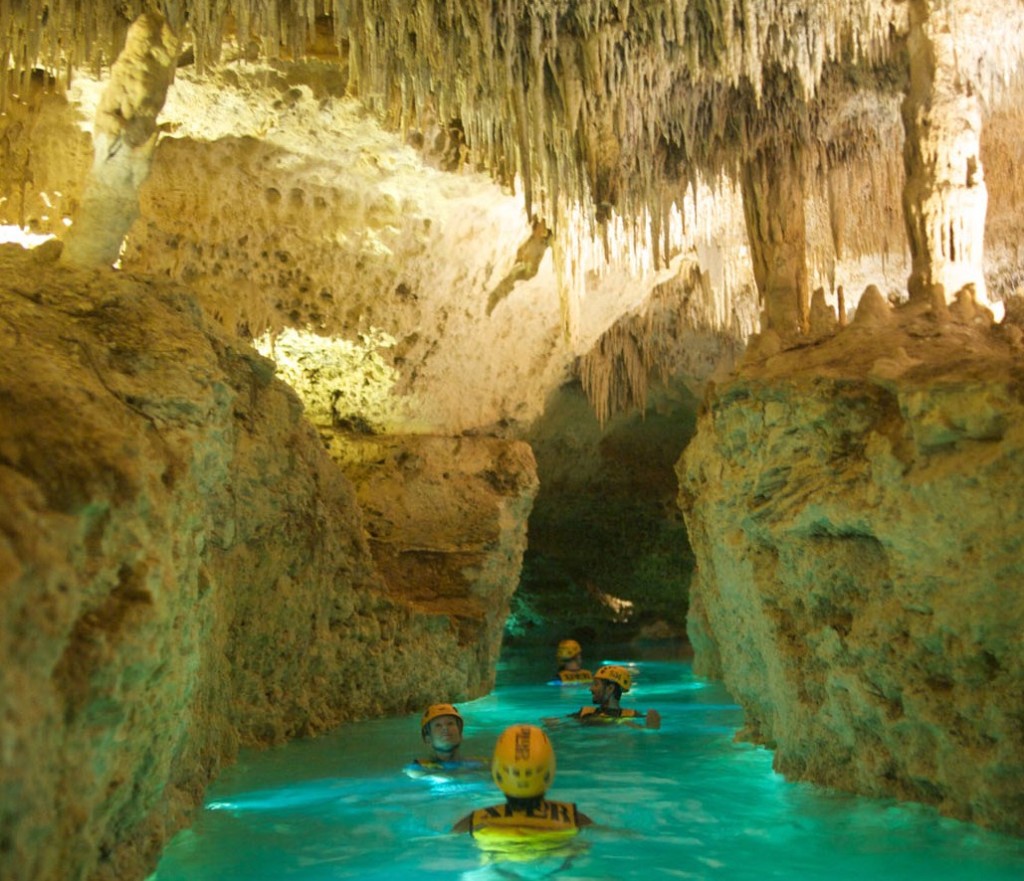 Restaurants and food and Xplor
With all the activity you will work up an appetite and there is a buffet open from 11am-5pm. The food is good and highlights some local Mexican cuisine as well and international favorites. You can eat lunch and stop back for a snack if you like. There is a smoothie bar in the park as well where you can get great shakes and fruit juices.
Tip: Bring a waterproof camera and wear biodegradable sunscreen. This is good for all water activities in the Yucatan and especially cenotes and eco parks. They are a delicate eco system and we can all help protect them by using biodegradable sunscreen and bug spray if you use it.
Tip: If you come by bus tour or group you will probably leave earlier then you would if you drive yourself or take a colective or taxi. So you can maximize your time if you provide your own transportation. See our info on how to take colectivos information here.
Photos at Xplor Playa Del Carmen
At the end of the day you can shop at the gift shop or look over your photos that were taken in the park of you. This park is a guaranteed good time for all. (Note that if you have smaller children there may be limitations on some activities. Older visitors can engage in any activity they feel up to. There is plenty of overlooks, hammocks and chairs to relax in).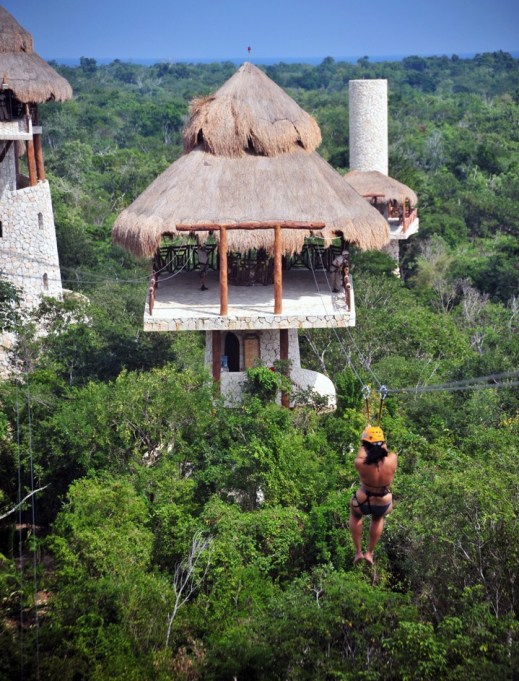 How much are tickets to Xplor?
We are an official affiliate of Xplor and offer a button below to buy tickets. This link will take you to the official site of Xplor and parent company Xcaret. You will get the best possible prices here and save more if you buy in advance. Prices for adults are normally $139 USD but if you click the Book Now button you can save 15%!

If you want a more adventurous time at Xplor, try going at night! Check it out in the link below!
Did you know Xplor is open at night for a separate experience? It is called Xplor Fuego. There are some difference between the daytime and nighttime, so we wrote this article to tell you about them.
Xplor Fuego takes you to the adventure at night. Zip-lines, ATV's, underground rivers and unlimited buffet under the stars make a whole new experience you must live. Buy on-line now and get up to 15% off.
Have you been to Xplor Playa Del Carmen? What did you like about it? Do you have some tips for fellow readers? We would love to hear from you in the comment section below.